Colonoscopy tomorrow - bowel prep not working yet. Any experience?
Hey folks,

In the continuing saga that is my chronic constipation, nausea, and pain after eating, I am having a colonoscopy tomorrow.  (I already had an upper GI and small bowel series that came back supposedly normal, but the colo-rectal doctor thinks it's adhesions and an "intermittant obstruction" in the small bowel that just isn't showing up on tests.)  I started the Movi-Prep over 3 hours ago and it hasn't yet kicked in.  I called the 24/7 Nurse line that my health insurance provides, and they told me onset is within an hour.  

I have to repeat a second jug of the prep an hour from now, hoping I'll get some action then.  I'm pounding the chicken broth and clear liquids and I look like a boa constrictor that just ate a bowling ball.  Ugh, I feel gross and miserable. 

Anyone ever have any issues with a bowel prep not working???  If no action after I complete the second jug, I'll call the doc and see what they say.



Ugh, oh no!!

I had a few problems.  I was using Nulytely, which is, I believe, just a larger volume of the same stuff you're using.  I drank the whoooole gallon of stuff plus a bottle of magnesium citrate and 4 dulcolax laxatives and I was still not running clear.  I called the on call service for my GI's office and the doc recommended another bottle of mag citrate.

I never did run totally clear, and ended up having to do an enema on the day as well.

After allllllll that trouble, I did end up still getting a satisfactory colonoscopy.

Does your GI have instructions on what to do if the prep doesn't work?  Mine had the number for medical exchange so a doc could be paged.

5'9.5" | HW: 368 | SW: 353 | CW: 155 +/- 5 lbs | Angel to
kkanne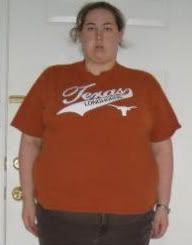 Just spoke to them.  Just finished my second container of stuff.  He said if I don't go within an hour to take 2 Duloclax pills and then use a Fleet's enema in the morning.  I can't believe there are over 2 liters of fluid just floating around in my digestive tract right now, just hanging out!!

That sucks, can't imagine how frustrating it must be to deal with constipation all the time. Think of the train: I think I can, I think I can...
Good luck, and good luck tomorrow
Highest:
454
~Surgery:
415
~
Current:

227
~
Lost:227
~Goal:
220
I had that problem! I was so worried, but I went to bed and woke up at 0300 the prep
started to work.

I even had a movement in the waiting room right before...but luckily that was the last of it and
it all worked out ok....


Good Luck!
Denise