Being brave - pics of my batwing arms and tummy...and some before and afters
I've had a lot of people ask me about loose skin and I have to say that my arms bother me the worst. I'm hoping they tone up a bit now that I'm incorporating weights into my exercise routine (I just started the weights this week).
I am still 22 lbs from goal (though I'd like to lose about 30 more lbs). I tried to get a few angles...
Holding my arm loose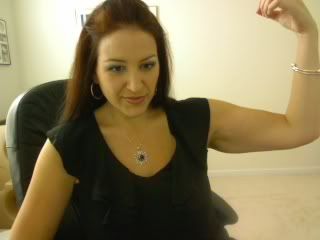 Making a muscle...grrrr


Raised up



Skin
reaching for my water bottle
Otherwise, my arms look pretty normal
My belly isn't too bad with undies on...keep in mind I also had a 8 1/2 lb and a 10 lb baby. I could use a tummy tuck but I'm not stressing over it. My skin has a bad reaction to surgical tape so I have a lot of little scars all over from my skin scabbing over where the tape was.


Yes, I still have cellulite
A few before and afters for those researching weight loss surgery. It's SO worth it!!


Me and my cute husband many years ago

Me and my cute husband yesterday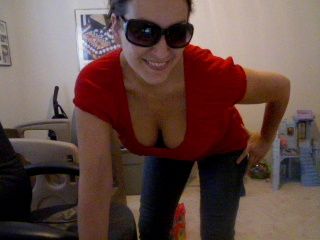 Thank you ladies!!

They really bother me but I self-paid for the VSG and have no money for plastics. I'm hoping that insurance will cover a breast lift/reduction but I won't know until I make goal (for insurance to pay, they have to remove a minimum weight of tissue from the breasts). I'll just have to live with the arms and stomach. Ah well.

Wow!  You are such an inspiration!!!  "All of you" looks great and no wonder your cute husband is 'twinklin' as he stands beside you!  I am not quite a month out from surgery (27 days) and can only hope for my 'ol arms to look as great as yours!  Keep it up!  And thank you so much for sharing!
Btw...I talked to my daughter's high intensity trainer (my daughter plays HS volleyball on the way to playing in college and is at 18%BF---ugh! so was her moma at 16 yrs old) and he told me that regarding all the studies he has read regarding skin and it's elasticity...even though some is genes and age...the best thing for skin is water,  'high quality protein, good nutrition and of course weight training.  He told me it might take up to 1 year AFTER I am at goal and consistant weight training to see where my skin on my belly and arms/legs/breasts will really end up at...so be patient with yourself.  You are much younger than I am...so I bet with a little time you will be where you want to be---but heck, you look great!
Wow, your befores/afters are amazing!  And yes, I agree, I would say don't worry about your arms at all!  They look so great!  But I understand how we all amplify things we dont like about our bodies :)
Your hubby is so cute!

Honestly, you look really good. I can hardly tell from the pictures. Hope you're proud of your accomplishments...You've done Great!!!

   Highest Weight: 380                      Consult Weight: 357             Surgery Weight: 309 
Goal Weight: 220 (9/29/10)      Revised Goal Range 215-220         Current Weight: 224
Plastics: Circumferential Lower Body Lift - 11/18/2011
              Gynecomastia - 6/14/2012