vit d deficient and low platelets..???
i got my blood work back today and my vit d is low ..im not surprised about it but im not happy about it either...also my platelets are low...i have a history with a blood disorder that causes low platelets but im wondering if anyone knows if there could be a connection between the two?? i have been feeling extrememly tired and woozy ...i have more energy thanks to the weight loss but im just tired..if anyone knows if there is a connection or what are some of the side effects of low vit d i would appreciate any information ...thanks

The vast majority of RNY patients, or anyone else walking down the street, probably have low levels of vitamin D. It's very common with over half of the US population.  A dry D3 is probably what you need. I used the script D from my PCP, but it failed to do hardly anything after 24 weeks. I take a dry d3, 5000  IU, 3 times daily with my calcium citrate. The effects of low vitamin D are numerous. Studies indicate the levels of 70-80 on labs for D greatly diminish the chances of colon rectal cancer, prostrate cancer, female cancers, MS or other neurological disorders, etc. So it's important. DAVE
Dave Chambers, 6'3" tall, 365 before RNY, 185 low, 200 currently. My profile page: product reviews, tips for your journey, hi protein snacks, hi potency delicious green tea, and personal web site.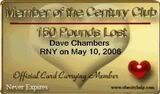 It's extremely common.

Did your doc write you a script?  If so, don't bother filling it, go to vitalady.com and get her D3-50 and use it exactly in the same manner you would have used the scripted form.


The scripted form is D2, which is a form that requires a great deal more for the body to actually utilize (like, hundreds times more).  Additionally, it is immersed in oil, and we malabsorb oil so we will malabsorb the vitamin contained within.  The stuff from vitalady is D3 (the active form) and is water-miscible or known as "dry" D.




My vitamin D level started at 22 on my first round of bloodwork. I took 3 months of high dose, script given to me, d. I also tried liquid d 2000 and a bunch of others while I waited for the next tests. It went up to 44. The dr was thrilled with that but I wasn't. I called Vitalady after reading all the reasons why you need your vitamin D level closer to 70. For 3 months I took Vitalady's dry d3 50k each day. My level is now 84. I'm thrilled with that and feel much better since I got my level up.

ITP? I was dx with it at age 30, so 30 yrs ago. My WLS did not affect it in any way at all. In fact, most of these 15 yrs, I've had "normal" if slightly saggy platelets.


Vit D deficiency is GUARANTEED for us. Pre-op, if tested, yep. Post-op, when tested, yep.

Andrea gave you all the details, and between us we could make your eyes roll out of your head with studies.

Don't MAKE u**** you with studies.

I don't have much on the ITP. Do you SEE yours or does it only show up on labs? And no, not related to D, except in the way that all the nutrients are inked together, which could eventually weaken the vessels a bit. (distant) However, ITP can kick up for no reason that we can see. When I "see" mine, looks like cayenne pepper sprinkled on my skin. I can only see it where I don't have freckles. OK, where I am not COVERED with freckles, to be more accurate. By the time I get a blood draw, the levels are back to low normal. When the blood draw is much lower, I don't see any spots. Weird.


Michelle
RNY, distal, 10/5/94 
P.S.  My year + long absence has NOTHING to do with my WLS, or my type of WLS. See my profile.
Sorta hijack -- you get the D newsletter today?

Interesting things for pregnancy and D.



Got it, didn't read it. The eye fixit was postponed til tomorrow.

You know, one of my staff has had not one, but TWO surprise pregnancies. She is not WLS. She was using BC, faithfully. She was 5 months when she found the first surprise. He is fine. She was taking 10k of D. I SO wanted that baby tested at birth. I guess the docs weren't as curious as I was. He was born in March, so when all the "babies are all born with rickets" hit the news. I'm pretty sure THIS baby didn't!

She also took Tender iron (150mg), and folic, so she didn't even get the fatigue. Well, until her belly was bigger than her height! LOL

Anyway, today she tells us, she is due in Feb. Her brain is trying to recover. Two babies in a year. Boys. She even changed BC pills! What's sad is that she wanted a total of 0 kids. She's taking excellent care of him, tho.

So, my staff have always taken at least 5k of D3.

Waaaaaaaaaaaaiiit. You don't spose D3 is what's causing all these pregnancies, do ya? Cuz, I mean, I'll have it delivered to a PO BOX!


Michelle
RNY, distal, 10/5/94 
P.S.  My year + long absence has NOTHING to do with my WLS, or my type of WLS. See my profile.
MIRENA.  It's a lovely thing.  And what's keeping me from having a 3rd little viking.



Don't get ****y, there, blondie.
One of my peeps, rny 2000, revised to distal 2002...... her #3 was born, as she says, with the ring in his hand. LOL
Pre-WLS
Michelle
RNY, distal, 10/5/94 
P.S.  My year + long absence has NOTHING to do with my WLS, or my type of WLS. See my profile.