Four Ingredient Frittata Recipe – Only 97 Calories!
February 2, 2017
This Four Ingredient Frittata Recipe is such a great breakfast for help to lose weight. It's not often that you find protein + vegetables in an easy breakfast (usually its carb + carb!) Since this is protein + fiber, it will give you a steady foundation to keeping your blood sugar in a balance that you're less likely to have cravings all day…and more likely to be full until lunch.
I make this often for just the kids and me in the morning. It's so filling and energizing. I always find it so much more exciting to think about cooking a delicious breakfast that has only four ingredients instead of several….since the kitchen always gets really messy later in the day! And we love the mess:)
It starts by sautéing a sweet onion and chopped zucchini: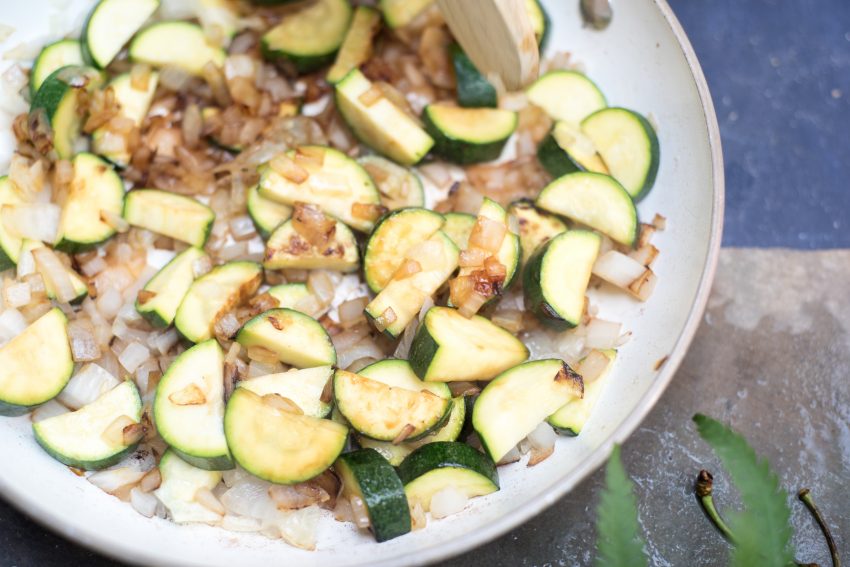 I wanted this recipe to be super-interchangeable, so it works for you with whatever you have on hand. Most of us typically have an onion, and as it starts to get browned, it just gets sweeter (and more delicious). If you don't have a zucchini – or it isn't in season – you can use spinach, mushrooms, chopped broccoli, tomatoes, bell peppers – whatever! Just sauté until they are fork-tender. (Note: if I'm making it for kids, I chop the veggies pretty small, so they can't pick them out! muhahahahaha)
Add whisked eggs & a handful of feta, and when it's done, you have this: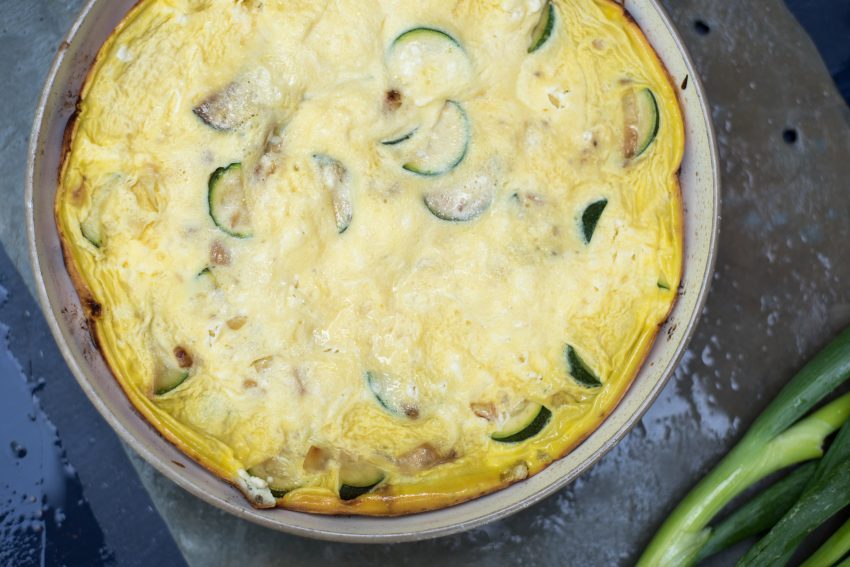 I love to top it with sliced basil & grape tomatoes. MORE VEGETABLES! A slice is only 97 calories (not that you should count; it's more about the quality of your food;), and 8 grams of protein!
Remember to be a good steward of that gift called your body! It was given to you for a special reason.
Four Ingredient Frittata Recipe
Prep time: 5 minutes; Cook time: 20 minutes; Total Time: 25 minutes
Ingredients
1 medium sweet onion, diced
1 medium zucchini, cut into 1/4 "half moon" slices
8 large eggs
1/3 cup crumbled feta cheese
1/4 teaspoon kosher salt
Directions
Coat a 10-inch non-stick skillet with non-stick cooking spray. Over medium heat saute onion and zucchini until softened and slightly browned, about 4-5 minutes, stirring frequently.
In a mixing bowl, whisk eggs and salt for 1 minute.
Pour eggs over zucchini. Top with cheese. Cover the pan and cook over medium-low heat until the edges of the frittata begin to brown and the center has set and has slightly puffed, about 8 minutes (this maybe a little longer depending on your heat level).
To cut frittata, turn out onto a cutting board, top side up. Cut into wedges and serve! We love to top it with fresh ripe tomato and torn basil.
Nutritional Info Per Serving
Serving size: 1/8 of frittata
Calories: 97.8; Carbohydrates: 3.7 grams; Fat: 5 grams;  Protein: 8 grams
Originally published on AnnessaRD, reprint shared with permission of Annessa Chumbley, RD.

ABOUT THE AUTHOR

Annessa Chumbley, RD, is a bariatric dietitian and her website "Annessa Nutritionist" provides inspiring nutrition information to the bariatric community and general public. She enjoys getting the community healthy through nutrition segments on Indianapolis' FOX 59 Morning News, and 93.1 WIBC called "Power Up Your Week!", as well as a local healthy cooking show.
Find more recipes from Annessa!  
Recipe Disclaimer: If you have specific dietary restrictions, allergies or a nutrition plan that you are following, make sure to read the ingredient list prior to consumption. All information on ObesityHelp.com is intended for informational purposes only. The information is not intended to be a replacement or substitute for consultation with a qualified medical professional. Please contact a medical professional with any questions and concerns.
---