Repost from the lap band board...1 year ago today!
It feels like just yesterday that I was sitting with my family doctor discussing my high blood pressure. I remember giving her a dirty look when she mentioned surgery. I will never again think that weight loss surgery is taking the easy way out. Reality is, that aside from being a parent, this is the hardest thing that I have ever done…and I haven't had to make major changes like some.  I had good self confidence, I was active, and had somewhat healthy eating habits. I have, however, learned this year that carbs are the devil!   
*
In one year:
I have lost 85lbs…
The doctor stopped my blood pressure medication because it is now perfect!
I have dropped 6 dress sizes, actually 7 depending on some outfits
My wedding ring needs resized…at least 4 sizes smaller
I wore 3 inch heels for the first time in years
Wore a dress…and it wasn't a special occasion
I have not had one minute of pain from my back/sciatica
Travis (DH) can pick me up again (without hurting his back too much. Ha!)
I actually do have clavicle bones and I LOVE them! 
I have an insane amount of space between myself and the table in a restaurant booth. It's actually annoying
I can cross my legs without maneuvering myself a certain way
I don't have to look for the armless chairs in the meeting rooms…my hips used to be to tight against them
I feel like I can breath easier now which is one thing that I never noticed
My skin is much nicer…again, carbs are the devil!
I can run after my incredibly fast 4 yr old AND catch him
I can sit in the back seat of the car between the boys' car seats and still have room.
Walked/jogged a 5K (I was walking while pushing the boys in the double stroller which was easily 90lbs total.)  The hills on that trail were no joke!
I am sure that there are so many more things that I haven't thought of.  I was upset at first that I didn't hit 100lbs...but now I am SO proud of myself.  Enjoy the pics!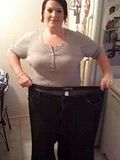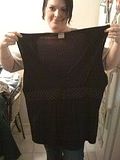 ~*Ashley*~ Highest weight: 330ish   Current weight: 198