Good Morning... Happy Hump Day
people I know personally who were on flintstones and or tums for their calcium ended up iron transfusions,  selinium deficiancy, rickets etc...  Flintstones are for CHILDREN... find a nice chewable bariatric vitaman that you like... Celebrate,  Bariatric Advantage (what I use) or any of the others...

the first time yoiu dump (if you do because only 30% of us do) you will think you are having a heart attack... you will no longer ask "what is dumpting"  just like the first time you get stuck or get the foamies... YOU WILL KNOW..,  

I dump weirdly.... I've dumped on fruit but not on candy.. I've dumped on low fat ice cream stuff but not full fat ice cream stuff... I've dumped on protein shakes cause I drank them too fast... BUT I do NOT dump consistently... never have so I am never sure when the dumping will hit me.

The doc that told me 6 hours of cardio a week is my internist not my Bariatric surgeon... she likes a lot of exercise but it's not excessive to be honest... 2 hours is excessive... an hour a day of yoga and then 45 minutes of walking 3 times a week makes her happy...

When I was first out my surgeon told me 30 minutes a day and I could divide by 10 or 15 minutes increment.  After being 3 months out my doctor expected me to walk 1 1/2 to 2 hours a week then add different exercises  toning and etc 3 times a week. Not all docs are the same for sure.  Make sure you follow what your doc tells you what you need to do.

You are only 5 weeks out and no you are still under the no heavy lifting and no major exercises.  ;)




I am who I am and accept my feelings wholeheartedly.
Those that mind don't matter, and those that matter don't mind.
Cira 249/144.0 current/goal 154/ 5'3" 10 lbs below my Dr's goal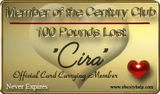 I missed Hump Day.  Had a dental procedure at 8:00 a.m. (extraction and start of an implant), took a vicoden and was totally out of it.

On the way home, I thought of this board - I stopped at the Cow in Reisterstown and got a kid size yogurt.  I remembered a member talking about the Cow and several memebers of this board meeting there from time to time.

Must say that I feel better this morning - only a little pain and swelling.  Time to get ready for work.

Have a great day all.





I miss going to the Cow!  Oh why did I move to WV?  LOL   Oh yeah the bigger house with a bigger yard for less money.  Oh yeah that's why!  lol  I have to keep reminding myself. 

I am glad you are feeling better today.  Vicodin is some good pain medicine. 

I hope you have a great day at work/

Cira
I am who I am and accept my feelings wholeheartedly.
Those that mind don't matter, and those that matter don't mind.
Cira 249/144.0 current/goal 154/ 5'3" 10 lbs below my Dr's goal