The Hole Between My Knees
This just struck me as funny.  Although it has been 9 years now.  One of my happiest moments was when I was laying in bed and put my knees together and I saw a little gap between my legs.  I watched that gap for months.  It kept getting wider and wider everyday.  Thats how I started each day to see how big my gap was.  So watch for that gap and then watch it grow.  It is a great reminder of where you are headed.  Just a thought.
Brenda
223/112/123  11 lbs under goal.  Normal weight.  My blog shows from the beginning of my journey  http://www.obesityhelp.com/member/steffan467/blog_page,9/
I have Lost a Whole Josh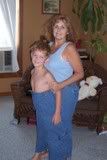 \ http://www.obesityhelp.com/member/steffan467/blog_page,9/
 
I thought this post was going to be about something else entirely.
6'3" tall, male. Maintaining a loss of 280 pounds.
Highest weight was 475. Consult weight 04/12 was 411. RNY on 08/21/12 at 359 lbs. Current weight 195.
M1 -24; M2 -21; M3 -19; M4 -21; M5 -13; M6 -21; M7 -10; M8 -16; M9 -10; M10 -8; M11 -6; M12 -5.
I'm pretty fat, but I have a "gap" between my knees. Actually, I have really muscular, well-defined legs. Should I be happier about this than I am? Because it's not all that important to me, honestly. The gap between my boobs is getting wider and wider everyday, too. They're practically in my armpits when I lie down. 
 Avoid kemmerling, Green Bay, WI
I got you beat. They are in my HUBBY'S armpits when I lay down. ( well the one closest to him anyway. ) 
I woke up in between a memory and a dream...
Tom Petty