3 Year Surgiversary Post complete with post-regain bikini pics!
It's been three years since I went down the rabbit hole and ended up in Onederland. I'm sure there are plenty of you who have no idea who I am, and I apologize for that. I swore to myself that I would never leave OH, and I never have but most days I only read. Usually all that needs to be said has already been said by the time I get there, so I just lurk. But one promise I will always keep is an update for my Surgiversary because I know how inspiring those posts were to me as a pre-op.
 Maybe I'm also a cautionary tale because I never quite made it to goal and I'm sure my carb addiction is to blame. I do wish I had taken the advice of the vets who told me to keep away from the carbs until I was at goal, and then add them back carefully. I went from 305 to 155, and then gained 15, ending up exactly where Dr. Smith said I would, at 170. And let me tell you, I'll take it! I have to admit to certain wistful gazes at those of you who ended up in a size 4, but I'm awfully happy in my 14's.
Pre-op, I was handicapped. I couldn't stand for more than 5 minutes at a time because of searing pain in my back, and couldn't walk much because of horrid foot pain. Now, I have my life back. I'm on stage again, singing, acting and dancing to my heart's content, and I never thought that would happen again. I hadn't been on stage for more than a decade because I literally could not stand long enough to do a show.
Pre-op, I wore a mask every night for sleep apnea and I'm free from that thing forever.
Pre-op, I wore tents and called them shirts. Now I have so much fun every morning just getting dressed.
I am forever grateful to the DS vets who waged the surgery wars on the main board and got my attention.
My surgery was complication free, and my labs have been a dream. I was always a bit of a supplement junkie, so the transition to post-DS life has been pretty seamless for me in that regard. If you'd like to see my supplement list, it's here. It's a spreadsheet listing dosages, when I take them, and prices. https://docs.google.com/spreadsheet/ccc?key=0ApYtkht_37xDdGtleklMTDVuVXhpMVN3LUdpWU53N0E&hl=en_US
I've had minimal bowel issues. I do have to avoid white flour and pasta to keep from getting painful gas. But (knocking on everything made of wood in my immediate vicinity) I still haven't experienced the stinky poos everyone talks about. I ain't sayin' my **** don't stink, but it's no more than pre-op.
I have had some stomach pain that I am concerned might be an ulcer. Dr. Smith has gently suggested that my alcohol use might be to blame. I don't drink much, but he is a firm believer in avoiding alcohol forever because it can cause gastritis and ulcers. I'm going to miss my daily glass of wine, but I'm going to try teetotalling for a while to see if that eliminates my distress.
On to the pics!

First, a couple of "before" shots:
And now, screw the haters! I'm rocking my size 14 bikini at the beach this week!
DH loves taking my picture.
And I love him.
And now some performance shots from the last couple of years:
The Great American Trailer Park Musical (Betty)
(This was, in a word, a HOOT.)
Cistern by Ray Bradbury (Anna)
(No, he didn't write the part for me, but we did get a phone call from Ray before we went out on stage!)
Noises Off (Dotty)
(Loved this show...very physically demanding and every night when I got undressed I would have to collect all the sardines that fell out of my costume.)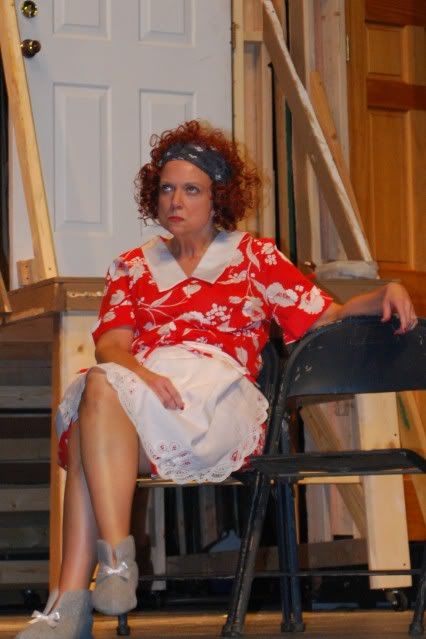 Cemetery Stroll (Susan Watson Leigh)
(I've done several of these portrayals of women from local history. My favorite is Mary Nail Blair, a blockade runner. I love bringing them to life and showing the young girls that we had strong, independent women in our history)
I love my DS!!
Just beee-autiful Queen Anna. Live long and prosper.....
Christine 
"Life is like a jar of jalapenos.  What you
do today, might burn your ass tomorrow".

Check out
www.dsfacts.com
for information on Duodenal Switch

 

You look terrific!  Your suit is beautiful!  And, you and your hubby look very happy.  Healthy and happy--that's what counts!

I'm just now getting the nerve to even to consider trying out for community theater parts, parts I hid from for 20 years while being overweight.  You inspire me!

Nicole
Lab rata data link-
One-half of a DS couple!  - I'M BELOW GOAL!
 http://bit.ly/DSExp  After a very rough start it's official--I
my DS!  

Romans 8:28

 
Looking for DS information? Start at 
 http://bit.ly/newDS
 and 
DSFacts.com