1 month post op LBL and pic
Yaaayyy, finally 1 month post op.  I _finally_ got my last two drains removed yesterday, even though they were still draining about 40-50cc/day.  Darn drains.  The exit sites were really bothering me though and now I just have to keep a close eye out for fluid collections.
I wear my compression garment pretty much 24/7.  Don't really like not wearing it.  Makes me feel very secure. 
I'm pretty happy with my results to far.  I think my incisions look pretty good.  Still very swollen though.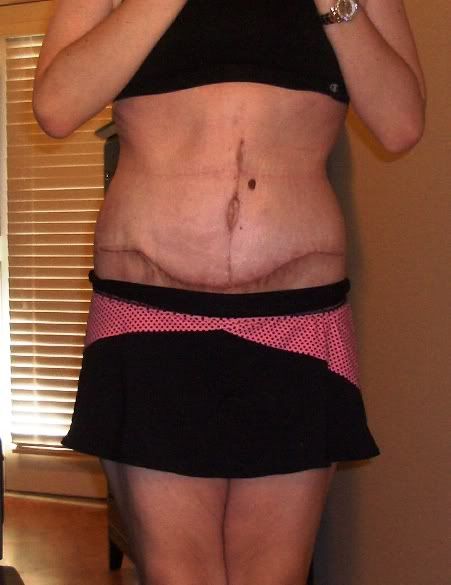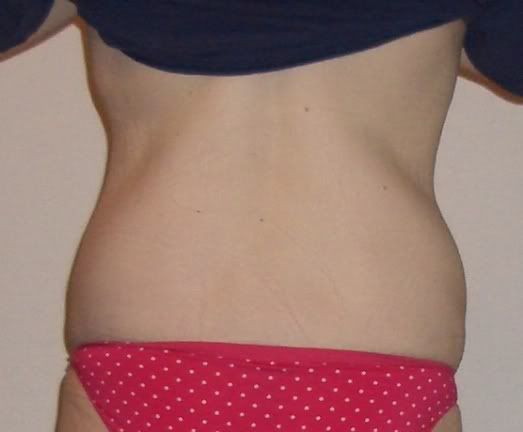 You look fabulous, Kayla!! Glad you finally got those pesky drains out!!


I like wearing my compression garment, too. Dr. L said I could switch to a spanx type garment now but I like the hooks on the compression garment. I don't want to struggle pulling anything up, especially since I ripped a hole in my incision this week!! 


Laura
Laura in Texas
53 years old; 5'7" tall; HW: 339 (BMI=53); GW: 140 CW: 170 (BMI=27)
RNY: 09-17-08 Dr. Garth Davis
brachioplasty: 12-18-09 Dr. Wainwright; lbl/bl: 06-28-11 Dr. LoMonaco
"May your choices reflect your hopes and not your fears."
I still feel really swollen around the incisions.  In the side pic, above the back incision you can see it's kinda poofy.

Not as bad as it was though.  My compression garment used to feel like it was suffocating me and now it's actually pretty comfortable.

You look amazing!!!  Good for you!
Laina B.
250 / 160
9/9/03 Lap RNY
(Dr Charles Beall, Tyler TX - AWESOME!!!)
5/13/11 Cholecystectomy, extended abdominoplasty (anchor cut), and mastopexy
(Dr Charles Beall and Dr James Saar, Tyler TX - AWESOME!!!)
8/26/11 Abdominoplasty revision
(Dr James Saar, Tyler TX - AWESOME!!!)
Hi Kayla!
I'm jealous! I am early in, 17 days out from surgery LBL. You look wonderful! I love how your back side has healed! And you have indentations at your hips! Right now, my hips have absolutely no definition! I look like a preteen lil boy! No hips to speak of!


You look wonderful!
cARMEN
PREK3
Nov 10,2009 I reached GOALL BYE  BYE  130 POUNDS! It wasn't about the FOOD, it was about what was eating at YOU!  Time for a Head adjustment!    **July 2011 Plastic Surgery Lower Body Lift
        Exercise  

  is not a LUXURY!
        Exercise  is a

 NECESSITY

Kayla - you must be thrilled!!
Look at that FLAT TUMMY!!!  Woo-Hoo!!!!   
You seem to be healing really well.  
Happy for ya, Hon!!!
XOXO!!
Julie
"Be kind, for everyone you meet is fighting a hard battle." - Plato
Stormy 918 is my Angel         Angel to DarcyMad, MizCharlotte, kmg9122,  Staceeann & dianeys73/Diane Davis
HW 258.5 /SW 250 /GW 140 /CW 125