8 weeks post op LBL!
I'll be 8 weeks out tomorrow.  And I'm thrilled TO DEATH!
My belly button is starting to look less alienesque.  It's actually kinda cute, IMO. 
I am still a bit swollen I think, especially around my belly button.  I still feel the need to wear my compression garment almost all day, everyday.  I am kind of sick of the garment, but I just don't feel right without it.
My tummy muscles are still ever so slightly sore when I sit up from laying down or sneeze.  I think my healing it that regard is getting slowed down because I have chronic constipation so my colon presses against my abs a lot.  Definitely not very painful though.
There is still some flub above my vertical insion (like right below the boob line.  It's enough skin that I can grab it vertically but not horizontally).  It bugs me, and I'll probably eventually have my vertical incision extended even further to get rid of it...maybe.  It may just bother me because that's kinda where my garment ends, so some of the fat spills over and I just don't like the way that looks!  haha
I had a seroma, got it drained, wore two compression garments at once (my medical grade one, and then a cheap one I got from Target - Hanes brand in one size smaller).  It was so much compression that it made me kinda uncomfortable at times.  I got another tiny seroma after that, but it eventually reabsorbed without being drained.
OK, I feel like I am itching TO DEATH.  I feel itchy on the inside.  I read that it means the nerves are regenerating, but it's driving me crazy because itching on the outside doesn't make it subside at all.  I have seen posts from people only still feeling this 10 months out...yikes.  I hope not.  Drives me crazy!
Oh, and I love my new flat mons.  Pretty much one of my favorite things of this whole experience.  Underwear fit so much better now.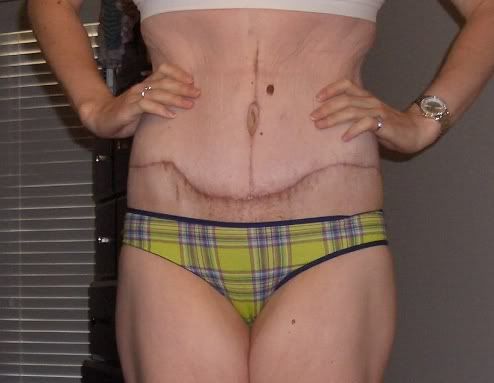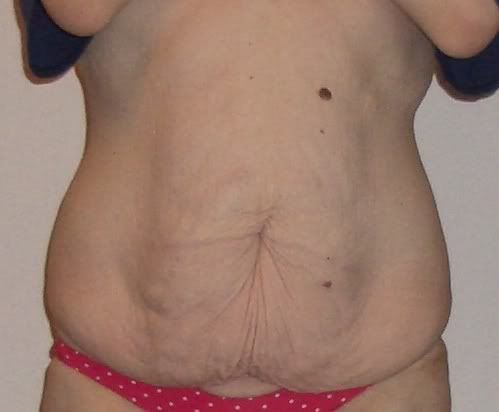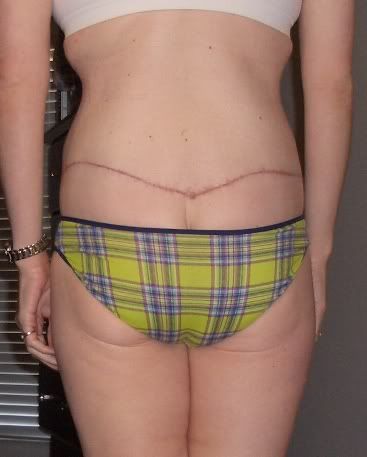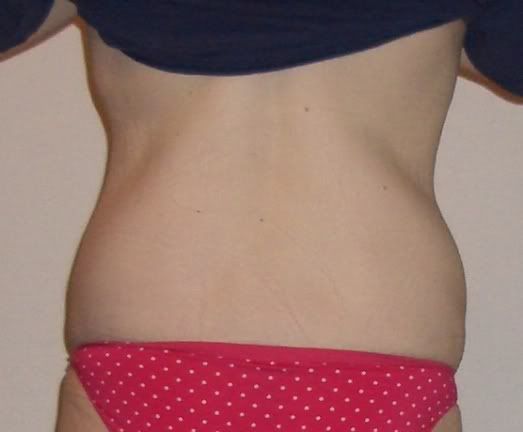 You look GREAT! I had a LBL 6 weeks ago, I have an appt. Today with PS in a lil bit.

Ilove the definition and your WAIST! Have you been out to buy a belt yet?

Keep posting, it helps all us who are after you to imagine what we hope to look like!
Carmen
Prek3
Nov 10,2009 I reached GOALL BYE  BYE  130 POUNDS! It wasn't about the FOOD, it was about what was eating at YOU!  Time for a Head adjustment!    **July 2011 Plastic Surgery Lower Body Lift
        Exercise  

  is not a LUXURY!
        Exercise  is a

 NECESSITY

Thanks for posting. I'm having mine in Oct. with the LBL and cut up the center so my hernia can be fixed, and I've been trying to imagine what it will look like. I keep thinking there's still a lot of fat there, but it looks a lot like your before and you look great in your after. Congrats!
Jan
Bay to Breakers 12K May 15, 2011 (1:54:40)           First 5K 5/23/11 (41:22)

Half Marathons: Napa:  7/18/10  (4:11:21)
   7/17/11 (3:30:58)   7/15/12  (3:13:11.5)
 SJ Rock and Roll: 10/2/10 (3:58:22)  Run Surf City: 2/6/11 (3:19:54) 
                         Diva: 
5/6/12 (3:35:00) 
HW
/

SW

/

CW

  

349

/

326

/
176


"Great spirits have always encountered violent opposition from mediocre minds." 

- Albert Einstein



Hi Kayla,
I wore my garments for almost 3 mo 24/7, then every other day & night for a couple of months.  Now, I'm wearing my abdominal garment at night only and I generally stay flat for most of the day & evening.  I'm 7mo out.  I used Benedryl for the scratching, and once I started back on my Vit E, it did get better.  I also used lots of lotion.  Once my stitches were out, I'd wear a little ribbed T under my garment.


Chris
HW/225 - 5'1" ~ SW/205/after surgery 215 ~ CW/145~ BMI-25.8~Normal BMI 132 ~DS Dr Rabkin 4/17/08
Plastics in Monterrey - See Group on OH Dr Sauceda Jan 13, 2011
LBL, BL, small thigh lift, arms & a full facelift on 1/17/11 UBL 1/21/13
Love my Body by Sauceda
My incisions look totally healed to me already.  I can tell in the last couple weeks that a lot of the surface stitches have dissolved already.

I am already back on vit E and I use aquaphor on the incisions.

I'll consider taking benadryl for the itchies...it's just so frustrating because I can't scratch them.  They are like on the inside.  So I can scratch and scratch and I just can't scratch that itch.  I try patting my belly and that helps a little.

Wow...still in your garment at 7 months?  Good to know.  I think I have a life sentence with this thing!

Do you exercise?  I am ready to go back to the gym and I feel like I should probably wear my garment while I'm there...but I'm afraid to get a whole bunch of sweat on it, I feel like that may wear it out faster.

I have 2 abdominal garments so I can trade off.  The only exercise that I'm doing is dancing.  There's lots of arm, core, leg work.  Not like working out in a gym, but it's fun and I enjoy it. 

The swelling isn't much, but at times I can look preggers, depending on the carbs or bloating.  Early out (2-4months), it felt better on, than not.  I did start washing the garments on delicate in the washer then hanging to dry, rather than hand washing.
Chris
HW/225 - 5'1" ~ SW/205/after surgery 215 ~ CW/145~ BMI-25.8~Normal BMI 132 ~DS Dr Rabkin 4/17/08
Plastics in Monterrey - See Group on OH Dr Sauceda Jan 13, 2011
LBL, BL, small thigh lift, arms & a full facelift on 1/17/11 UBL 1/21/13
Love my Body by Sauceda
Looking wonderful--cute butt!!

Question: Was there a reason in particular they chose to do the vertical incision? I had one surgeon suggest it, one who was neutral about it, and two strongly against it. The ones that said no said they only do it if there is already an existing scar there or a repair that requires the vertical incision.

Thanks for your information!

Denise
Check out my blog--menumealplanning.com. Tales of making meal planning managable, family fodder, and everything else under the sun. 

RNY 2/3/09, LBL/BL w/Augmentation 9/16/11
Start weight: 335 Current weight: 185 Goal weight: Whatever the hell I can maintain without driving myself insane!