MAY, 2004

I'm new to this whole process, but I've been spending quite a lot of time here, reading and asking questions and meeting people. I'm 46, single again and have 3 cats whose pictures follow, but no kids. I have an old, black moggie named Buster who is now 16. I wish I had a picture of him, but black kitties are just not too photogenic!!

And then there is Belle E. Button, my Princess ragdoll who is gorgeous and KNOWS it!! She's spoiled, but she deserves to be! She's my constant companion and who could ever resist those beautiful blue eyes anyway!!! Sorry her picture is so small.





This is Barney, the baby, who weighs in at a measly 16 lbs. All his sisters and brothers weigh much more, but in this house, he's the biggest boy!






This picture was taken by my ex-husband a couple of years ago. No wonder I want this surgery so badly!!




I live in Ocala, Florida and my choice of surgeon is Dr. Jawad who I have known for years since I work in the healthcare industry. I know his reputation and I've seen his work and he is the only choice for me.

I haven't seen my PCP yet, but just found out that I won't have to find a new doctor due to my new insurance because the doctor I've been seeing for years has just become a preferred provider!! Everything happens for a reason, right? I'll update as exciting new things happen!

MAY 18, 2004

An exciting new thing happened, so as promised, here's my update! I had my very first appointment with my PCP and this is the first time I've expressed out loud that I'm interested in pursuing WLS. I was nervous and could feel my heart pounding in my chest, and I must tell you that I was just THRILLED that my blood pressure was 145/90!! Nothing like a little high blood pressure to get a doctor's attention.

Anyway, I showed her pictures of me fat and pictures of me after other attempts at diets and she could see what I look like now. Then I told her that the definition of insanity is to do the same thing over and over and over and expect different results. She agreed. AND.....she asked me about my choice of surgeons and when I told her Dr. Jawad, she said that's EXACTLY who is the best!!

My doctor was also grateful that I had a letter of request all ready for her in writing and on floppy and immediately called my insurance to start the referral process!!!

SO............my journey has officially begun. Wish me luck, keep your fingers crossed and pray!!!

JUNE 10, 2004

I've been working hard to get some of the pre-op testing completed. I had some blood work done and discovered that my blood sugar was elevated, so there will be some additional tests for that. I had my gall bladder ultrasound done and discovered 3 nice sized stones in there - Larry, Moe and Curly I guess!! Also since the walls of the gall bladder are thickened, my PCP suspects that it's probably enflamed and may need to come out. My psych eval is scheduled for next week - hope they find a brain in there somewhere!!

This process is starting to seem more and more real to me. I've been starting to tell a few people about my decision and so far have been only met with positive encouragement. More later as my first appointment with Dr. Jawad is next week.

JUNE 23, 2004

I met with Sylvia, ARNP, from Dr. Jawad's office last Friday at a 3 hour orientation. It was very informative and I really like the office staff. I talked to Nicia, the House Insurance Guru and we set up a plan of attack for Aetna. We won't even give it a shot until August and then we will see. I had my meeting with the Dietician from The Diabetes Center and she pretty much confirmed that I am diabetic based on my labs. Of course, she also said that my numbers will improve as soon as I have surgery. I still have 2 PCP visits to complete, I need to have an H. Pylori test, I have an eye exam coming up and all the while, I have continuing dentist visits, plus a brand new boss!! Needless to say, time is going fast!

AUGUST 4, 2004

On Monday I completed my last PCP visit, so on Tuesday I picked up the copies of the last two visits and ran them over to Nicia at Dr. Jawad's office. She said I should give it about a week before I start calling to see if they received my information. That turned out NOT to be necessary because this afternoon, Heather called me and said that Aetna had already called her and I AM APPROVED!!! I yelled and screamed and yelped and almost cried! Heather was so patient and kind! I will be scheduled next week and the date will probably be in early September. I can't believe that Aetna was that easy to deal with, but my ducks were in a row and I had LOTS of prayer in back of me, too!

Because I firmly believe that my letter and my PCP's letter to Aetna played a big part in my being approved because they outlined my past history in a clear way, I am including them here in my profile so anyone else can use them for themselves. Also, since you can't do shortcuts with Aetna, here is the link on their website that outlines specifically what they require in order to approve weight loss surgery:

http://www.aetna.com/cpb/data/CPBA0157.html

My letter said:

Aetna Health, Inc.
P. O. Box 1125
Blue Bell, PA 19422

Gentlemen:

The definition of insanity is to do the same thing over and over and expect different results. After years of dieting without lasting success and months of considering the huge step of weight loss surgery, I discussed "insanity" with my PCP, Dr. Nina Hare. Together we agreed that weight loss surgery is medically necessary to prevent my health from further declining.

I have a long history of yo-yo dieting. I began dieting in high school and have been trying to lose weight ever since, but the effect of all this dieting is that I'm now much heavier than when I started. Last year, for example, under the direction of my physician, I followed the Weight Watchers program and even kept a meticulous food diary and lost about 30 lbs. only to regain even more. Some, but not all of the many diets I have tried through the years are as follows:

- Weight Watchers at least three separate times beginning in 1973
- Dr. Atkins many times, beginning as early as 1974
- Mayo Clinic Diet in 1981
- Followed the Diets Don't Work book by Dr. Bob Schwartz who said that if you simply stopped eating when you were not hungry anymore you'd be thin. I discovered it wasn't that easy. Tried in 1982
- Dexatrim which gave me the shakes in approximately 1983
- Body Type diet in 1984
- Herbalife in 1985
- Richard Simmons in 1988 and still have the Sweatin' To The Oldies video
- Chitosan pills in 1993
- Blood Type diet in 1996
- Slender Weigh in 2000 made my legs itch terribly
- Xenical in 2004

I have completed physician-supervised diets without lasting success. In 1989 I lost 72 lbs. in the Optifast program but quickly regained the weight. I am attaching documentation to show you my participation in that program. In 2001, I joined Weight Watchers and The Lord's Gym under the direction of Dr. Hare, again documentation attached. From May 2003 to May 2004, I again did Weight Watchers under Dr. Hare's supervision with attached documentation. I walked for exercise and worked out at home on my Tony Little Gazelle.

When I began looking into weight loss surgery, I had several co-morbidities. I am tired all the time and I am easily fatigued. I become out of breath with even the slightest exertion making it difficult for me to do my job that requires a substantial amount of walking. I have high blood pressure, my feet are swollen and hurt, my hips are painful and my back aches if I stand or walk for a prolonged time. I sweat excessively, suffer from stress incontinence and have heart palpitations. I have had bouts of depression for which I have had medication prescribed.

During the pre-op testing, a few more co-morbidities have been discovered that are affecting my life due to my weight. I have active periodontal disease. It has been discovered that my blood sugar is elevated, which is contributing to the dental infection. In addition, my left foot is partially numb and my eyesight has been failing rapidly in the last several months, due to the newly discovered blood sugar problem brought on by my obesity. I have gallstones and a thickening of the gall bladder wall that is suggestive of cholecystitis.

I have looked at the Aetna.com site and studied the requirements necessary to approve my weight loss surgery. According to the Aetna.com website, in order to be approved, all the following criteria have been met and supporting documentation is attached.

(1) My BMI is 43.5.
(2) I am over 18 years old.
(3) I have tried over and over to diet as outlined above without lasting success.
(4) I have followed physician-supervised diet and exercise programs, the most recent being May 2003 to present.
(5) I have no severe psychiatric disturbances.

I work in health care and I am well aware of the procedure and of the risks involved. I have been educating myself and have begun to take pre-operative steps to contribute to the success of the surgery. I believe I have also met the National Institute of Health's guidelines with regards to meeting the profile for surgery candidates.

In closing, I am an insured Aetna HMO member in good standing. I've paid my premiums and expect value for my consideration. I have been advised that I meet your published requirements for weight loss surgery approval and respectfully request a speedy approval.

Thank you for your consideration.

Sincerely,

Jan LastName

cc: Dr. XXXX XXXX (PCP)
Dr. Muhammad Jawad (Surgeon)
Atty. XXXXXX XXXXXXXX, Esq. (used with permission)

The letter that I found on ObesityHelp.com that I changed to fit my own history follows. My PCP didn't have much experience dealing with letter writing of this type and was very happy to help me out by signing the letter that I presented to her. Because I also kept weekly weigh in records of my own, she was also happy to sign off on that record as well. Following is the letter she signed for me:

Aetna Health Inc.
P. O. box 1125
Blue Bell, PA 19422

RE: Jan LastName
Group #xxxxxx
Member ID #xxxxx

Request for Pre-approval for gastric bypass surgery (CPT-4 Code= 43847)

To Whom It May Concern:

I have been the physician of record for Ms. Jan LastName for more than 10 years. She is 46 years of age, stands 5' 1" tall and weighs 223 lbs. She relates that she has a history of obesity since the age of 13 with a current BMI of 44.6. The body mass index is calculated by dividing a person's weight in kilograms by their height in meters squared. When a woman's BMI exceeds 27.3, that person is considered obese. The degree of obesity associated with a particular BMI ranges from mild obesity at a BMI near 27, moderate obesity at a BMI between 27 - 30, severe obesity at 30 - 35, to morbidly obese for patients with a BMI of 40 or greater.

Ms. LastName's weight condition has caused her significant health problems, some of which appear to be getting progressively worse as time goes on. Some of this patient's current health problems are high blood pressure (last measured at 180/90), heart palpitations, hip, leg, ankle and foot pain, and lower extremity edema. She experiences shortness of breath on any exertion. In addition, there is a family history of heart disease and Type II diabetes mellitus.

Ms. LastName knows the health risks associated with morbid obesity as well as yo-yo dieting, and has done her best to control her weight. In an effort to resolve her weight problem, she has undergone numerous weight loss treatment plans. While under my care, she attempted Weight Watchers in 2001 for 6 months, starting at 228.2 lbs. – ending at 189.4 lbs.). During this time she also joined a local gym and attended classes 2-3 times per week.

In 2003 she again attempted Weight Watchers and in the course of the last year, Ms. LastName lost and regained 30 lbs.

Ms. LastName has been under my care for more than ten years and during that time I have monitored her success/failure on weight loss programs. Ms. LastName's first weigh in at my office was at 173 lbs. and his/her weight today is 235 lbs. Her highest weight under my supervision was 235 lbs. and the lowest was 165_ lbs.

The most weight Ms. LastName has ever lost at one time was during the Optifast program in 1989 when she lost 72 lbs. that was covered under her insurance plan at that time. It has had no long-term success.

Ms. LastName has weighed nearly 200 lbs. since the 1980s and has been developing health concerns such as high blood pressure and leg edema since that time. Ms. LastName's repeated attempts at losing weight, only to re-gain it, have proven to cause her more health concerns. Ms. LastName is an active female whose work profession as a hospital liaison demands extensive amounts of walking, which her weight problems are impeding. In my estimation, it is time for a PERMANENT resolution to eliminate future health concerns related to morbid obesity.

From the success rate known from gastric bypass surgery and health benefits involved, I feel this would be the BEST solution for PERMANENT weight loss and beneficial for future health concerns due to morbid obesity and current health conditions from worsening. Obesity has been shown to directly increase health care costs. In an article in the March 9, 1998, issue of the Archives of Internal Medicine 17,118 members of the Kaiser Permenente Medical Care Program were studied to determine the association between body fatness and health care costs. The results showed that patients with BMI's greater than 30 had a 2.4 times greater risk for increased inpatient and outpatient costs than patients with BMI's under 30.

Americans spend an additional $33 billion dollars annually on weight-reduction products and services, including diet foods, products, and programs. Most of these expenditures, as is evidenced in this case, are not effective. Rather it can expected that Ms. LastName will continue to gain weight and the costs of co-morbid conditions, including the ones she already has and ones she surely will acquire as time goes on, will far outweigh the costs of gastric bypass surgery that we are asking you to please approve for this lady.

I trust this information will aide you in understanding the true severity of Ms. LastName's case and in facilitating the proper assessment. Please feel free to contact me if I can answer or clarify any questions you might have.

Sincerely,
XXXX XXXX, D.O.

AUGUST 17, 2004

Although I was approved on August 4, I have continued to fight with Aetna for them to send Dr. Jawad's office a written confirmation of my approval. I've been calling on nearly a daily basis and today I think I've gotten closer than ever to getting the written authorization sent. In any event, I now have a tentative surgery date of September 8, 2004, and of course I was instantly scared out of my mind!!!!


AUGUST 29, 2004

It's a quiet Sunday morning and I thought I'd update my profile a bit. I'm still pre-op and still 240 lbs. with a BMI of around 45, give or take. I'm on a liquid pre-op diet and that part isn't too hard, but eating one meal is. It's still hard to stop once I start!! The story of my life!!

My pre-op appointment with Dr. Jawad and at ORMC is for Thursday this week. Most of the time I'm pretty excited about the prospect of the surgery and becoming healthy and thinner. Once in a while I get a bit panicky, but overall, so far so good.

Here's my OFFICIAL "Before" picture, taken at Dr. Jawad's office. Attractive, huh??






I went to a Meet 'N Greet at Altamonte Mall yesterday and met a bunch of people off the OH.com Florida board. What wonderful, supportive people, each with a fascinating story to tell. I went with Joy XXXXXXXX, who is such a God-send! I'm glad to have her as my angel through this process because she's just ahead of me in the process and can warn me of pitfalls before I get to them. And she can share things like Milk of Magnesia with me! BWAHAHAHAHA!!

SEPTEMBER 4, 2004

Last Thursday I took off from work (gasp!) and attended the day-long pre-op marathon at Dr. Jawad's office. I got there early because I discovered that if I arrive early, I can sign in early and I can be the first seen and get out faster. There were 4 speakers who talked to the group of us (and our supporters) before we had individual exams with Dr. Jawad and his nurse, Sheila.

The first speaker was Joe Holter, the head of Physical Therapy at ORMC and he gave us easy exercises to do ahead of time. He will visit us after the surgery and test us on our knowledge of the exercises. They are not strenuous, but it does at least get us moving some!

The second speaker was Jennifer Duarte, the nutritionist that works with Dr. Jawad's group. She works for ORMC's Diabetes Center and is very knowledgeable about the progression of our eating following surgery. She gave us an outline of what we can eat and when we can eat it and answered our questions.

The third speaker was Sheila, the RN who works with Dr. Jawad at ORMC. She's never in the office except for the pre-op classes and I've certainly seen her at the hospital many, many times. She described the importance of vitamins and what we need to take and why. She also discussed the support groups that are available and urged us to attend for our own sake. She talked to us about the day of surgery and the routine and our rooms and discharge plans.

Finally Dr. Jawad came to discuss the surgery itself. He makes the pouches about the same size for all patients and does the proximal surgery because he's read that there are MANY more complications related to distal surgery. He had a checklist that we could also follow for complications and he discussed each and every instance that occurred in his practice. His incidence of complications are FAR below the national average. For example, leaks occur from 2.5 to 5% of the time and after over 1500 surgeries, he's had 5 in his practice - which is statistically nothing!! I felt VERY reassured after that!

We were then examined individually after being weighed. I didn't really have any questions except for when I could go back to work. He said he's seen me work at the hospital, and the walking would be good for me, so returning fast should be no problem at all. He is aware that I have gall stones, but does not want to take out my gallbladder with my surgery because if it needs to come out later, it can be done easily and on an outpatient basis.

After checking out at the office, paying the day's tally and collecting last minute instructions on what NOT to eat the day before surgery, I was given an envelope of paperwork to bring to ORMC pre-admit. Joy was SUCH a trooper through the whole long day's events, sitting quietly, waiting and waiting and waiting!! She didn't complain at all and was so accomodating! At ORMC I had an EKG, chest x-ray, blood work, UA and answered a bunch of questions. After seeing other people's face sheets and charts for work, it was strange to see one for ME!! I was lucky to get the pre-admit band put on my ankle instead of my wrist so it preserves my privacy. This band has to stay on until the nurse cuts it off on the day of surgery.

I'm ready to go, but unfortunately this weekend Hurricane Frances is also making an appearance, so the stress is really loading up! I'm waiting for surgery, but wondering if the power will be on!! What a weekend! Do I evacuate with my cats? Do I hang out here at home? Will Ocala once again be spared? All we can do is wait and see and take work calls in between!!! Surgery day will be here one way or the other, soon enough!

SEPTEMBER 17, 2004

My surgery was the 8th. I didn't get nervous or worried until I was on the little gurney in the pre-op area and my IV was being placed. The reality hit me then and I decided this wasn't just a walk in the park. Then it really hit me - hey! Let's go for a walk in the park!!!!! I got some versed and that was the end of THAT! I never saw the inside of the O.R., I don't remember the blue paper hat on my head, and I don't remember leaving that little pre-op room. The next thing I knew, I was in a darkish area in a bed and I was dry-heaving. That part wasn't fun, but the nurses had good drugs and kept me well-medicated.

What I didn't know was where my angel Joy was. No beds were ready for quite some time, so I spent lots of time in post-op, although that didn't bother me. I was well cared for and attended to. I swear there was a nurse next to me at all times, but I know that couldn't really have been the case. When I was finally moved upstairs, I had to walk when I got to the floor and I made one complete circuit around the entire 4 East-West and 4 North floor. The nurse was very proud of me. Let's face it folks, I was no hero, I was on drugs!! The night didn't go quite as smoothly with much pain and shaking from the demerol. I was glad when it was morning. When I got up out of bed, and the catheter was removed, I didn't go back to bed at all after that and walked as much as I could.

I was surprised to get breathing treatments but it did help my lungs which suddenly seemed a bit "wet". I had no desire to see my little holes or drains or anything after surgery. I wanted to feel better, and I just didn't, really. I was scared to think I'd be able to improve enough to go back to work as planned, but looking back now, I've come a long way.

Each day I've gotten better and better. The first day home I still didn't have power at my house and there I was, in a hot house and soon to be in the dark again. Because of a mix-up, my assistant told a ridiculous lie to my family about where I was when they happened to call my work cell phone that she was covering and I broke down and confessed that I'd had surgery. God is good, because Joyce (sister) came over to my house the night I was released and begged me to consider coming back to the family "compound" and stay with Mom and bring the cats too, so I could be cared for, surrounded by family, not to mention light and A/C.

The time off work recuperating at Mom's has been very comfortable for the most part. Laying down took about a week and my rear end is sore because all I could do was sit or lie on it. Now that I can get in and out of bed AND lie on my side, I'm happier.

Mom took me to my one week checkup. The JP drain was removed and two days after that, I stopped the dressings too because it wasn't "gooping" any more. The G-tube is still in place, but it doesn't bother me much. At least I can throw protein or pills down there if I need to. My energy level is pretty good, but if I'm a bit active one day, the next day I sleep a lot.

My boss called to see if I was doing well, and to confirm that I will be back to work on Monday. Because I had requested privacy about my time off, he couldn't send me flowers on behalf of the facility, but he wanted me to know he would have, had that been ok with me. It was sure nice to have support on all fronts. Like I said, God is good.

Did I mention I lost 12 lbs. in one week???? I haven't been weighing myself and really have no desire to do so. I go back to Dr. Jawad's to see Sylvia again in 3 weeks and will be happy enough to wait until then to see what my total for a month ends up to be. It's not as much about being a model as it is about feeling good, so the weight loss is an added bonus if I feel better.

The only glitch in the whole thing is that my pre-op chest x-ray came back with a report that I have bilateral enlarged hilas or something like that. I have to have a follow up CT with contrast next Friday to rule out possible adenopathy. I made sure Dr. XXXX, my PCP, has a copy of that chest x-ray for her records and she called to be sure she didn't have to do the Aetna auth for this. She said the x-ray could have been a procedure fluke of some kind, or maybe I didn't take a big enough breath and that I shouldn't worry until I have the CT results. Sylvia said the same thing too, so no worrying for me!!

SEPTEMBER 24, 2004

I had my CT Scan today and didn't enjoy it much. I guess I am already sick of people sticking me with things!! The CT was with contrast and the contrast is administered IV and of course that means my hand, since my other veins are impossible to find and I don't want them digging around. The CT itself wasn't too bad though. I laid on a table, put my hands over my head and was given a slow ride in and out of a large doughnut shaped machine. The machine told me when to breathe, when to hold my breath and when to exhale. The process took about 15-20 minutes. I guess I'll get my results at my next surgeon's follow up appointment on October 6, 2004.

OCTOBER 1, 2004

I attended Dr. Jawad's support group meeting and Sylvia, ARNP, saw me and took me aside to give me my CT Scan results. I have adenopathies in different places around my lungs and near my heart, but unfortunately, I don't exactly understand what that means. The report also says I have atelectasis (non-air spaces) in the bases of my lungs, but that could possibly be related to the surgery depending on how long that's been there. I also have diminished lung capacity on the left side. The report suggests sarcoidosis due to the enlarged and symmetrical nature of the hilar areas in both lungs, but then the CT scan said the most frightening part: "Lymphoma cannot be excluded." Well, personally, I think lymphoma SHOULD be excluded, because I'm NOT interested in having cancer OR going through chemo!!!!

I was going to have an appointment with an oncologist, but yesterday after my morning meeting at work, I flew over to my surgeon's office and asked for a copy of my CT report. First of all, I'd like to read and study it for myself and research the words I don't understand. Sylvia saw me and explained to the office person that she had given me my CT results verbally already and that they were going to send me to an oncologist. I told them which one I wanted, based on my insurance, and took the CT report to my PCP. I know my PCP doesn't have office hours on Friday, but I also know she is frequently in the office in the morning, so I took a chance that she'd see me anyway. Sure enough, she was MORE than gracious and took 15 minutes of her time to talk to me about the report. She explained that the oncologist could TREAT cancer, but since we're talking about my lungs, they can't biopsy anything and I need a pulmonologist for that. She offered her top two favorite pulmonologists. Of those two, I agreed with one, but don't much care for the other because he's a hot head. As a matter of fact, her favorite (and mine) was the same pulmonologist I had asked for when my father had needed one!! That made me feel good that I had been able to get my father the best in Ocala. Anyway, I went home and checked on Aetna.com for the list of preferred providers and happily, our top choice was on the list, so I called my PCP's office and they IMMEDIATELY got the referral and appointment made!! I guess this is nothing to screw around with.

The idea of a biopsy scares me to death. There's obviously NO way to do this non-invasively. They either have to do a needle biopsy through my chest, or do a bronchoscopy or a couple of other ways. I assume that it will mean that I have to go to the hospital in the morning, have the procedure and then lie around for the afternoon to be sure my lungs don't deflate. I believe it should be an outpatient procedure and I should be able to go home the same day, but of course, this will all be discussed on Wednesday. I've found that sarcoidosis many times resolves on it's own, so I'm wondering if the biopsy is absolutely necessary or if we can just watch this for a while, especially since I have no symptoms. On the other hand, I have no idea how fast moving lymphoma is and what to expect with that and if we HAVE to rule that out, then the biopsy will be totally mandatory. If the diagnosis turns out to be sarcoidosis, the treatment is corticosteroids - prednisone - which puffs you up, you gain weight and your appetite increases!!! Just what I was fighting against!!!

My appointment with the Pulmonologist is for this Wednesday at 1 p.m. and my follow up appointment at the surgeon's office is the same day at 11:15, so I hope to be able to squeeze in some work that day!!! My boss naturally said that if I have to have a biopsy and need to take off work even though I have no time coming right now, I need to do it anyway. That's nice to have support.

While at my PCP's office, she said that I looked thinner and asked how much weight I had lost so far. I told her I didn't know because I wasn't weighing myself, but at my one week check up, I had lost 12 lbs. She made me hop on the scale. I put the scale at the last weight I was and she checked her records to see my highest weight and then she pushed the little weight down, down, down, until it stopped another 10 lbs. down!! So in 22 days following surgery, I've lost 22 lbs. That's just about right!! I'll take that good news! My stomach is still swollen a bit though, so clothes aren't really any looser feeling to me.

Next week when I go for my surgeon's follow up appointment, I'll have my diet advanced to "soft". Thus far, for the past month, I've been on full liquids which does include cottage cheese, but that's as solid as I get. It will be nice to have an egg or maybe some tuna fish. I got the bill from the hospital for my surgery and it was nearly $47,000!! Good thing I don't have to pay all that myself!!

OCTOBER 6, 2004

I had a follow up appointment at Dr. Jawad's and now I've lost 25 lbs. in 28 days. I guess I won't complain about that. My diet has also been advanced, so if I want to, I can have an egg or even some cheese!! That sounds pretty good to me!!

I also met with my pulmonologist and he's agreed to do some non-invasive tests and he does not think I have lymphoma. It's been an excellent day!!

OCTOBER 30, 2004

Happy Birthday to me!! I'm 47 and on my way to becoming healthy!! I've lost 38 lbs. since surgery and although my recent PET scan still says that it looks like I have sarcoidosis and that lymphoma cannot be ruled out, I feel better each day. It's really getting time to join a gym and this next month I will do exactly that!

As for my lung/adenopathy problems, I've decided to wait and see for 3 months. In January I will go back to the pulmonologist and take a few tests and see what changes have been made. If my results are worse than they are now, then I'll agree to a bronchoscopy for a biopsy to see what's going on.

Other than that, I've had NO side effects from the surgery, except a big increase in energy, and I don't miss that G-tube! It was handy in some ways, but I'm happy taking my vitamins by mouth now!

NOVEMBER 7, 2004

There is an advantage to being a lightweight! It's funny to call myself that because I know how difficult it was to get through a day just a couple of months ago. Especially in the warmer weather, I'd get SOOOO out of breath walking between the two hospitals here in Ocala, which are located directly across the street from each other. I'd huff and puff and sweat like a pig!! In just this short time since surgery, and now that the weather is much cooler, I feel better, I have more of a spring in my step, I can walk (or shop) all day without getting tired and yesterday I even noticed that my hip didn't hurt AT ALL!! It was wonderful to hear my mother say to me that I look like I'm half the size I was!

But the big news today is this - my surgery was September 9 and just under two months later, I'm out of the 200s and now my weight begins with a ONE!!!

NOVEMBER 27, 2004

It's two days after Thanksgiving and I have so much to be thankful for! I've lost about 45 lbs. now and just today I squeezed into a size 14 again!!! I feel fantastic, I have lots of energy and haven't lost any hair that I'm aware of, although I'm very faithful in eating plenty of protein and taking biotin daily.

I joined a local gym and I go to classes 2-3 times a week and on Tuesdays I'm taking a line dancing class just for fun! Sometimes at the gym I swim laps, once I did the aquasize class that I didn't care for much, but I was tired and cold that day and I've been going to the step aerobic classes and enjoying them. I'd like to try the kick boxing class, but it starts at 7 p.m. and I hate going out at night, but one day I might try it.

The loss has slowed down, but just lately I've noticed a HUGE change in the way my clothes are fitting, so I think I'm going to see a big change on the scale coming up soon. Mom says that every time she sees me I look like I've lost a bunch more. Who knows? Maybe she's right!

A few people at the hospitals have noticed my loss and commented, but that number will grow as I shrink and I'm more prepared for that now.

I realize that there can be side effects or complications, but so far I've done exactly as I've been told and have had no problems at all. I have now started to add ruffage (romaine lettuce) as directed and have not had any problem with it. I'm a tad bit constipated, but that will change with the addition of the lettuce - or so I hope.

Stay tuned for more good news to come....

DECEMBER 16, 2004

There's not much new to report, except the weight keeps coming off, but more slowly now. I haven't had any problems with food, but I stick VERY closely to what I've been told to do. So far, I don't have any cravings for anything. The only craving I ever had was about 2 days out and I wanted a peanut. I only smelled them, but never ate any because I knew it could possibly hurt my new pouchie.

I've been enjoying the step aerobic classes at the gym and I'm getting better at it! Even the teacher has noticed that I'm better able to keep up. It's funny how one day I'll get so tired so fast in the class and other days I have total boundless energy!!

I've added the lettuce as instructed and anytime I eat some, my bowels are happier! I have even had a small salad to which I add protein of some sort. I'm so pleased with how this surgery has changed my life that lately I feel like a naturally thin person in a steadily shrinking body!! I want to pay close attention to this feeling and the way I'm eating so I can remember what I'm doing when the times get tougher!!

DECEMBER 24, 2004

I woke up to one of the best presents ever. I weigh 185 today! I went to my follow up appointment last week and now I can eat whatever consistency I can tolerate including nuts and fruit and so far I have not gotten sick on anything except for SF cheesecake. I dumped on that, but never did vomit or anything. I'm wearing some size 14 clothes, but other size 14s don't quite fit yet. I'm still enjoying exercising in the step aerobic classes and anticipate that they will be getting VERY full right after the first of the year. My labs were also perfect for the first time in a long time, including my glucose, so I'm very happy about that too. This next year is sure to be a good one!!

DECEMBER 31, 2004

Wow, what a year this has been!! I had WLS and my life is changing for the better by leaps and bounds! I've met some wonderful people too. I got an angel during my surgery that was there for me when I really needed someone and in return, I've been privileged to visit many fantastic people who have had WLS.

It's not quite 4 months since my surgery, but I'm within about a pound of being halfway to my goal already!! Funny how the numbers change so slowly sometimes, but the sizes drop off and then all of a sudden, the number change FAST! In the last few days, I've been losing nearly 1/2 to 1 whole pound a day and I have NO idea why, but I'm enjoying it while it lasts! I realize this will slow down again to a normal loss and that's fine.

I'm enjoying step aerobics, but have to be sure I stay WELL hydrated or my muscles get too fatigued and say "no way"!! My body is changing and my shape is improving too. I have lots of work to do, but I'm enjoying the process because reaching my goal isn't my goal and my life doesn't begin at that point. I'm living my life right now and trying to get the most out of everything now!

Happy New Year everybody!!! Hope we all have the best 2005!!

JANUARY 26, 2005

So far the new year has been just wonderful, but let's talk about vitamins for a second. I had been taking a nice multi- vitamin from VitaLady.com but when I ran out, I took what I had already had in the house. It was only a month supply and had enough Thiamin, so I thought it would be fine. The vitamins from VitaLady are capsules and the other vitamins were hard horse pills, but I was able to swallow them ok. When the month was nearly up (this happened about 2 weeks ago) I was suddenly feeling very run down and lethargic and my legs felt like lead when trying to do my step aerobics class.

I'm wondering if we can absorb better from a capsule form of vitamin and less well from those hard pills? Just a thought, because the week after this happened, I did get a cold for about 2 days. Now I've been back on the VitaLady vitamins for over a week and my energy has returned BIG time! Just something to think about!

FEBRUARY 05, 2005

OK, it's official. I'm done shopping in my own closet and now all the "skinny" clothes that I've been saving now fit me!! I'm getting more and more compliments and wolf whistles from co-workers on a daily basis and my self esteem and confidence is growing every day!

I feel just great and only my nails have suffered. I have discovered that I don't really seem to break down regular pills well, and then my absorbtion really decreases. I guess liquid anything would be best, but the taste is usually pretty nasty, so I prefer capsules. I haven't lost hair at all that I can tell and although I keep reading that everyone loses some hair, I'm here to say that at 5 months out, I haven't noticed one extra hair gone!

I've been using Fitday.com to track my diet and my weight and I'm still well ahead of the game in order to reach my goal by my first anniversary. I still feel like a naturally thin person in a temporarily overweight body and I'm still enjoying daily step aerobic classes!!

This has been quite the adventure!!

FEBRUARY 28, 2005

Life is funny. I've never been an ex-wife who hated her former spouse. I always regretted having to end my marriage and have always prayed for my husband. I didn't hold anything against him and I realize that I also had to take some of the blame for our ruined marriage.

Anyway, we seem to have found each other again, but not really in a romantic way. We are the best of friends. We talk most days and we've even been to dinner a few times. I have always been able to talk to my husband about anything and this hasn't changed at all. I can't imagine ever remarrying again (been there, done that once, and that was enough) but it's so nice to have a friendly relationship with the man to whom I was married. This is a surprise I wasn't really expecting and I don't think it's a result of WLS, but I'm enjoying this new friendship!

MARCH 20, 2005

Life has been good, with some trials at work, but that's the way that goes anyway! Sometimes work is easy and sometimes it's hard. Life as a WLS patient is, if you'll forgive me, a piece of cake! I've had no problems to speak of and feel energetic and happy. I'm fitting in lots of size small clothes and I'm so thankful for consignment shops.

I did splurge yesterday in the shopping area though. I went to Nordstrom and bought a size small top and skirt by Sarah Arizona. It's just gorgeous and for those of you who don't know that name, all the skirts are reversible and the top I got is a celery green 3/4 sleeve knit that's covered with sequins!! It's a tad on the tight side, but I'll shrink into it! I also tried on a fantastic St. John's suit. When I reach goal, I must have one!!!

By the way, at 158 lbs., I'm no longer obese!! I'm now just overweight and on my way to being a normal weight.

APRIL 9, 2005

What's been going on lately? Well, Prince Charles married the love of his life today and Pope John Paul II was buried yesterday! And as for me, I've been shopping!!! I'm shopping and I cannot stop!! Everything fits and that includes ridiculous sizes like Liz Claiborne size 6 stretch lime green jeans!!! How cool is that? The consignment shops are my life saver and taking my life savings at the same time, but it's so much fun.

(By the way, at this moment it is December, 2005 and I want to add to this part of my profile to say that these lime green jeans no longer fit!! They are TOO BIG!! Following is a picture of me in all my glory!!)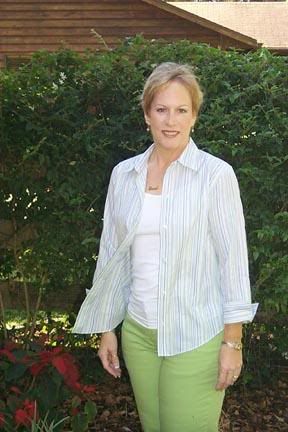 I continue to do step aerobics, but this week I only went once. I was depressed over my job and that happens sometimes and today was a day off for the first time in over a month, so I decided to..... you guessed it, SHOP!! It's such a pleasure to try on clothes and look nice! What a change!

The loss is continuing and in my entire journey, I've not had a single plateau (knock on wood)! I do what I'm supposed to do and I'm eating about 1,000-1,300 calories and nearly 100 grams of protein each day.

APRIL 20, 2005

I lost my job on Friday of last week and what a suprise that was, since I had been doing a spectacular job, always receiving praise and getting bonuses every month! Oh well, better things are just around the corner. I should have known that they would do this sooner or later.

I was asked out on a date yesterday! I said no because I am not attracted to this man, but I was completely flattered that someone would actually ask me. This is the first time I've been asked out in many, many years!! My ex-husband was the last man to ask me out, as a matter of fact! And that was 1993!!

I'm down 88 lbs. now - from 240 to 152 - as of this morning! It's been about 7-1/2 months since surgery - 09/08/04 to 04/20/05. I'm ready for a meeting and I'm wearing a darling straight suede skirt in size small and a crisp white Talbots shirt, size 4. Both are consignment shop finds, so they were also affordable! I have never had one single moment of regret in having this surgery, although I do sort of wish my tummy didn't look like it was hit with shrapnel. That's a very small price to pay and I wasn't planning to wear any bikinis anyway!!

JUNE 6, 2005

I was told I hadn't updated my profile in a while and sure enough, that's true! I'm down to 144 now and I still feel wonderful! I'm still shopping, but not quite as much, although I did find a cute little swim suit for the ObesityHelp cruise that's set for this September. It's black with tropical leaves and flowers on it. It's a two piece, but the top goes down to the bottom, so my stomach isn't showing and it's a halter top and the bottom has a little skirt. It's just cute!

I found a fantastic job the Monday after I left the last one! I was offered quite a substantial raise and it's still in the healthcare industry. So far, I'm doing very well and I love the people I'm working with! What a blessing the entire experience has been!

That's my update in a nutshell. I've been told by a few people that my profile has been meaningful to them, and I'm glad for that. I wish all readers the very best in their journey!!

JUNE 22, 2005

I had my follow up appointment at my surgeon's office and the first bit of news is that I weighed in at 140.0 even, which makes me a member of the Century Club!! I'm down 100 lbs. and what a rush that was!! I was wearing my reward at the time, which is a St. John's suit (that I got cheaper off eBay) and I was on Cloud 9.

The other part of the good news is that my labs were all perfect. The surgeon likes the B12 to be plenty high and it's on the high end of normal, so that's good. He says if you drop low on B12, it's sometimes a bit difficult to get it back up there, so I'm glad to know that my regimen is working! I take vitamins from VitaLady.com and will stick with them. I'm still also drinking AchievOne from BariatricEating.com and that's the best source of extra protein I can imagine!!

Now if I could just control my shopping!!!!

JULY 09, 2005

How did it get to be July already? I'm 10 months out and at 137lbs., I'm pretty excited. People say ALL the time, that I look fine where I am and I shouldn't lose any more. Sylvia from Dr. Jawad's office understands that at 5'1" and being small boned, the most I should weigh is 118 lbs., and I'm far from that yet.

I've started to get hungry. Let's face it, I'm not REALLY hungry but it feels like real hunger. Head hunger is very powerful and I don't know why it's come on me all of a sudden. I felt a bit depressed the other day also, and there didn't seem to be a reason for that either. My life is going just fine and the powers that be at work are very happy with my performance so far!

I've decided to spend more time on these boards and cut down on carbs and exercise more. It couldn't hurt!

JULY 30, 2005

I had such a good day yesterday! Although it was the last work day of the month and I've been working alone because my partner has been ill, still it was a rewarding day and was highlighted by my speaking to a group of PRE pre-ops at Dr. Jawad's office. I sure enjoyed that, although I must confess I somehow thought they were going to be having surgery next week!! I'll have to think about being a PRE pre-op and come up with better information the next time!

I would have talked about what to bring to the hospital, and what having a G-tube is like, but that's not what PRE pre-ops want to know. They wanted to know about eating in restaurants after the surgery and returning to a normal life and what it's like to have more energy and how you feel and what kind of vitamins did I think were the best and worked for me. Next week I will be talking to the pre-ops who will have their surgery the following week and I'm all prepared for that!!

I was flattered to have been asked to speak at all, and I just hope I helped someone! Hey! And the scale moved in a big lump and I've suddenly gone from 136 to 133 in about a day!! I'll take THAT, too!!! :-)

AUGUST 14, 2005

There's just not much new to report. I'm down to 131 now and I wear mostly 6 or 8 and some 4s. I feel wonderful and life is good. I still see my ex-husband but not romantically.

My mother celebrated her birthday this past weekend. On August 12, she turned 82 and she is doing so well and in perfect health! What a blessing she is to me.

I'm looking forward to going on the ObesityHelp cruise in September. The day I leave will be my one year anniversary of WLS - September 8.

AUGUST 28, 2005

I had an AHA moment last Thursday at the monthly support group meeting! The topic was was protein really, but we got on psychological issues and addressing our addiction to food and why we eat like we do and the issues that we use food to solve.

My lightbulb moment was when my friend who came with me and who is a Masters degreed psychological counselor herself, said that we can't do therapy on our own minds. There is work we have to do, but we need proper guidance from an outside trained source. A doctor goes to another doctor when sick, a dentist goes to another dentist for a toothache and they don't treat themselves!! DUH! To me it's so simple and yet so profound and I gotta tell ya, I'm going to check out what my mental health insurance benefits are and get me some help NOW!! My friend also suggested that journaling and being honest with ourselves when we do journal is very important and can be so useful.

I've been struggling with head hunger for about 2 months now and it's got me scared that I'll gain my weight back. I'm not so scared that I'm not eating and that scares me, too! Of course, this also means that while the scale is still moving, it's going very slowly as I edge toward my final goal number-wise. Sylvia, the ARNP at Dr. Jawad's office, is 100% right when she said we CANNOT do this alone and that's why the support group and private counseling is so important!

What a WOW! moment that was for me and that was the best support group!

To change the subject, I went shopping (again) yesterday and tried on size 6 all day long and not one single thing was too tight!! I've decided that I don't care what the scale says since it lies anyway and as of today, I'm officially at my goal. I wanted to be in a size 6 and comfortable with that, and I am. I think all the exercising that I've been doing has really toned my body into pretty decent shape, plus it's minimized the amount of hanging skin but it's also made my weight a little higher while at the same time, I'm in a smaller body!! I don't care what the number is on the scale, but to make it official, let's just say that anything below 130 is fine and 130 is my goal and I've made it just before my one year anniversary!! Yeee Hawwww!!!

Less than 2 weeks to go before I go on the ObesityHelp.com cruise!

SEPTEMBER 2, 2005

What a difference a week makes!! In that time, I've lost a couple more lbs.! Now I'm down to 128 and feeling fine, but the BIG news is about Hurricane Katrina. The news is devastating, but it also affected the ObesityHelp.com cruise. Because we can't leave from New Orleans, the cruise is now scheduled to leave from Galveston, Texas. It's hard to get excited about a cruise with all the people dying in Louisiana.

SEPTEMBER 8, 2005

I can't believe it was nearly 8:30 this morning before I realized what day it was. It was not just the day I was supposed to have started my vacation in New Orleans.

It is the one year anniversary of my WLS!! I got so choked up just remembering the different things that have happened in the last 12 months that I just was so overcome by emotion!

It's not just that clothes look so good, but I have my actual life back. I can work without getting tired, and I can walk and talk at the same time without getting winded and out of breath. I can RUN to catch an elevator, even in pretty shoes!! I can cross my legs in either direction. I'm constantly mistaken for a naturally thin person!! It's amazing!

So, I went right over to the flower shop and got a nice big plant for Dr. Jawad and his amazing staff and went over to the office with it. Of course, it's Thursday and that means Pre-Op Day, but I barged right on through anyway. Dr. Jawad was in the back but came right up to me and I told him I had come for a hug. I got that big hug and even gave him a kiss and tried to explain how grateful I was, but I couldn't express it!!!

I know everyone in the office is busy, so I left right away, but not before stopping briefly in the waiting room to tell the Pre-Ops (who were waiting for the next speaker) that it was my anniversary and that they were right on the brink of the BEST year of their life. One woman's jaw dropped and I could tell she was shocked that I was a patient.

I said ALL that just to publicly thank Dr. Jawad, Sylvia, Sheila, and all the wonderful caring folks at the office. You have given me back my life and I'm so grateful.

THANK YOU!!!!

SEPTEMBER 11, 2005

It's the anniversary of September 11, 2001, and there are memorial services and such on TV. It's Sunday and it's also the first day of my vacation with my newest friend Marsha, from Sheboygan, Wisconsin, who until last night, I had never met before. I feel like I have known her my whole life and we talked and talked last night about....well, everything I guess!

Marsha and I were supposed to go on the ObesityHelp cruise that is leaving from Galveston today instead of New Orleans that's been so badly damaged by Hurricane Katrina, but due to the huge increase in costs and the feeling that we just weren't supposed to go on the cruise, we both cancelled and got a full refund. So instead of totally giving up the idea of meeting and having a vacation, Marsha flew in to Orlando and we will spend a week together in Sunny Florida. I think we can put together a fine vacation here. It's not Jamaica, but for some reason we feel that this cruise was just not meant to be.

SEPTEMBER 15, 2005

I bought myself a "goal present" while on vacation with Marsha. The slide, pictured below, sits on a gorgeous omega necklace!! It's nearly a one-of-a-kind and my most valuable piece of jewelry, except for my engagement ring!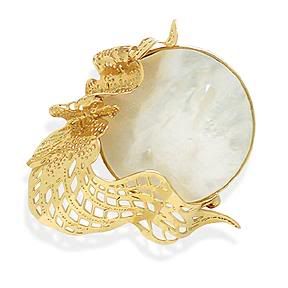 What a nice, relaxing vacation it was! We spent a few days at Long Boat Key and enjoyed the sun and surf of the Gulf of Mexico!! I'll have to come back here again!!






OCTOBER 3, 2005

You just never know what's going to happen to you!!

Emile, my ex-husband, stopped by this evening. We're divorced, but we still see each other as friends and get along very well together, but our marriage was a total disaster! Anyway, we hugged hello, and all of a sudden, he swooped me up in his arms. I guess what I mean to say is that he literally swept me off my feet!! He's never been able to do that before! The man is strong, but can't lift over 200 lbs. of flubber and flab. He and I were both pretty happy with this accomplishment of his AND of mine!! :)

OCTOBER 24, 2005

Although I'm a year out, recently I had a dream that someone handed me a glass of soda and I took a mouthful of it before I realized what it was. So there I was with soda in my mouth and I had NO idea what to do with it. It was frightening to me and I was so surprised that I had dreamed about this especially since I was never a big soda drinker anyway.

About 3-4 months ago, so that would have been about 8 or 9 months post-op, I dreamed that something had gone terribly wrong with the surgery and I was actually fat again!! I was so disappointed that I was back to my former shape and size. When I woke up I was SOOO relieved to see my skinny, somewhat bony upper body, you have NO idea!!!!

I guess my dreams are giving a voice to my inner fears about my future and keeping the weight off. I'm faithful with going to support groups and I think the opportunity to join with others helps to give us an edge to keep the weight off long-term. The surgery is a tool and it's possible to outeat it! We have to use everything in our arsenal to keep ourselves healthy! Next week I'm even joining an addiction 12-step program. I figure I will do everything I can do!

The really strange thing is that the scale seems to be moving a little again! I've been hovering between 126 and 128, but all of a sudden I dropped to 126 and this morning I hit 125!! I haven't changed my eating or activity habits at all, so I have no idea why this happened.

NOVEMBER 23, 2005

Tomorrow is Thanksgiving. Every year people spend time formulating goals for the future and making (and breaking) New Year's Resolutions. How could I have ever predicted what this year would bring and what blessings they would be?

First of all, I was lead to a church where I'm happy, at home, involved, and making new, wonderful friends. I began a new career in the Spring that I didn't look for, but being fired turned out to be a big blessing because I love my new job and it pays much more and requires FAR less of my personal time to be on-call.

I got reacquainted with my ex-husband and we are now good friends (but nothing more). In fact, here we are, having just enjoyed a lovely buffet, and able to make good choices and stop before exploding!!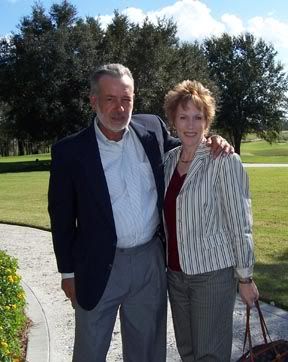 Last, but not least, I made it to goal, feel and look better than I have in years, and got my health back. Sure did make a lot of new friends this year in the process, too!! Last year at Thanksgiving I still weighed 195, but this year I'm nearly 120! I remember that being able to finally have a little salad was a blessing, but this year I can eat nearly anything, but still don't eat sugar and never drink sodas or alcohol.

What blessings 2005 held for me!!




The picture above was taken November 2005 at Dr. Jawad's holiday party. This shows (from left) fellow "Jawad Angel" Jody and my own personal angel, Joy, the inimitable Dr. Jawad and me!

I had a second party to attend this year and that's a record for sure! It was for work and was a President's Circle dinner with presentations and was quite fancy. The company paid for an overnight stay at the Ritz-Carlton in Orlando for us and a guest. Normally this dinner is held in New Orleans, but of course that was impossible and so they thought people might enjoy the Orlando area. It meant virtually no travel for me, but then again, I didn't have to worry about someone taking care of my cats, either! So here is Emile and I, having a wonderful time!!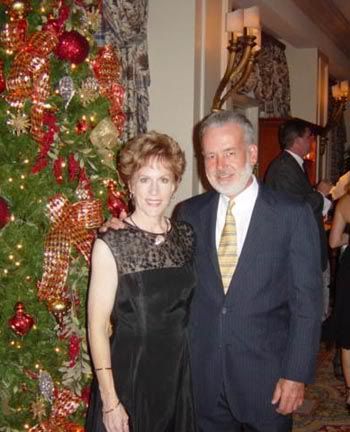 DECEMBER 26, 2005

This was a year full of blessings and changes. I could never have predicted some of the changes, but they were all good!! Christmas was quiet, but nice, and the best part is that FOOD doesn't have control of my life like it once did! I struggle with grazing some, but so long as I track every morsel in Fitday.com, I know exactly where I am, and I stop when I have had enough. I woke up on Christmas morning at 122 and that's where I've been for the past month. If I stay here, that would be fine and dandy as I'm a size 4 and don't want to be any smaller than that. There just isn't any more news at the moment, except to say that my next doctor's appointment is Wednesday morning, so I will see how my labs are, at that time.

DECEMBER 28, 2005

I had my appointment with Sylvia at Dr. Jawad's office today. My labs are fine, but my liver enzymes are just a tad high. This MIGHT mean my gallbladder may be getting ready to rear its ugly head, or not. We shall see, but everything else is right on track!

I finally read The Success Habits of Weight-Loss Surgery Patients by Colleen M. Cook. It was very good and very basic information. I have been visiting post-op patients now for a while and have now incorporated these Success Habits into the handout, so in case anyone is interested, following is a copy of the handout.

* * * * * * * *

SO YOU'VE JUST HAD WEIGHT-LOSS SURGERY….

May I suggest some resources and tips that have worked for me?

BEFORE AND AFTER; Living and Eating Well After Weight Loss Surgery – By Susan Maria Leach

From the book jacket, "Before And After is a journal of Susan's own inspirational story, where she shares her ups and downs, her tips and techniques, but mostly it's a book about hope for anyone who has a serious weight problem." This book is a page turner and so interesting and loaded with delicious and easy recipes!

THE SUCCESS HABITS OF WEIGHT-LOSS SURGERY PATIENTS - by Colleen M. Cook

1) Personal Accountability – Regular weighing, set attainable weight-loss goals, be honest with yourself
2) Portion Control – Achieve and maintain satiety (eat enough at each meal to avoid snacking, don't drink while eating and thereby emptying the pouch too soon, protein first always), avoid grazing
3) Nutrition – Protein first (70% of intake), value of veggies (30% of intake), understand carbs (good vs. bad), fat in the diet
4) Fluid Intake – Do not drink with meals, avoid caffeine, avoid alcohol, 60 oz. of water daily, carbonated beverages will expand the pouch and the stoma to allow more food and weight gain
5) Regular Exercise – Achieve your target heart rate, exercise regularly doing both aerobic and strength training (weights)
6) Vitamins and Supplements – Vitamins needed daily to include enough Thiamin (5-10 mg.), Calcium (1,000 mg.), Iron (150 mg. elemental NOT taken with Calcium) and B12 (1,000 mg weekly SL or a shot monthly), liquid vitamins are absorbed easiest, followed by chewable, capsules and finally pill form. Get a good multi-vitamin to maintain your health (and hair), not Flintstones.

SUPPORT – See Success Habit #1

JawadMD.com – Come post on the message board with other "Dr. J." patients ! ! !
BariatricEating.com - Known for great-tasting, WLS-friendly foods, protein choices, and vitamins, now with a new message board for even more support from other post-ops around the U.S.A. and the world ! !
Fitday.com – to track your intake, exercise, mood, etc. FREE online !


Dr. Jawad's support group in Ocala is held on the last Thursday of the month at 6:30 p.m. on the second floor of the West Marion Medical Building, adjacent to the hospital on SR 200 near I-75.

PROTEIN SHAKES – See Success Habit #3

Favorites among WLS patients include powders such as Matrix 5.0, Nectar, IDS and Protein Delite. Favorite Ready-To-Drink protein shakes include AchievOne, a coffee-based drink that tastes like Starbuck's Frappachino and Extreme Smoothie. All these and more are available on BariatricEating.com.

EXERCISE – See Success Habit #5

Walk, walk, walk – right from day one to avoid blood clots, but a
About Me
Apr 22, 2004
Member Since
---
Before & After
rollover to see after photo
On left is graduation day at Creating Keepsakes University, and on the right is my official pre-op picture!
240 #lbs
Not quite at goal, but down 100 lbs.! This is my official
140 #lbs
---
Friends

24




---
Latest Blog

1
Latest profile updates
---