June 8, 2005
I am scheduled for surgery this Friday, June 10th. I weigh 283 with a BMI of 44.5. whew! When did that happen? :-) But my highest weight was 292 when I first went for my first surgical consult. My life has not been awful because of my weight. I am blessed because I have many people who love and support me no matter what.But I noticed that little by little as I got heavier I stopped doing things with my family. I have a husband and a 12 & 14 yr old at home.We go places and I tire more eaily and have to be helped up the hills. I say "You go ahead and I'll wait here" a lot more. I avoid going place where we might have fun, but I might not fit. Like amusement parks.
I also have a 26 yr old son and a 3 year old grandson. And playing with him just wears me out!
But truly the main reason I need to lose weight is because I am diabetic. Just like my mom, my dad, my grandpa, my grandpa and assorted relatives. I have seen blindness, amputations, injections, infections and all sorts of things happen in my family as a result of the killer disease. I am afraid it will get me too. I want to see my grandson graduate from high school with my own eyes.
So I am ready and excited about my surgery on Friday. Dr. Apple at Naval Medical Center San Diego (Balboa) will be doing my surgery. I have been considering and learning about the surgery for a year now and I know about as much as I think I can without actually experiencing it. I have prepared my family. My mother lives with us and she will be a great help. I can't wait!

June 17, 2005
Here I am, one week post op with my open RNY and starting to feel human again! The hospital stay was awful, nice people, inadequate facilities. But terrific surgeons! Dr Apple delivered as promised with no complications and I was able to come home after 3 days. Woo Hoo! Like going to a restaurant with no windows, white walls and siting on hard benches but getting served the best meal of your life! HA! Notice the food analogies? Guess its fresh on my mind!
I have been existing on Glucerna shakes and crystal light and a little jello. I am starting to long for something with taste! I am not supposed to eat pureed food till my 2 week post op but when my husband called for the appt the only one open is 2 weeks fom now! Aghhhh! My dear husband is at the Naval Hospital now, doing battle to get his wife some grub!
I am walking around my neighborhood for exercise and getting a little stir crazy. Other than that I am doing great and my blood sugars are doing amazinging well. I hit my target almost everytime I test. YIPEE!!!!!


July 14, 2005
Went to the Dr. yesterday for my 4 week checkup. Everything going great. I have lost 38 lbs. My labs were "textbook perfect", my incision is neatly healed and he has released me from my 10 lbs lifting restriction. Good, because I told my daughter I would start weight training with her. Bad, because I have to start carrying groceries in from the car again! :-) I am still on soft foods for another months and then on to the "Regular Gastric Bypass Diet" that Balboa prescribes. I am having trouble finding things to eat that taste good but they tell me that will pass. I am also struggling with my water. If it isn't ice cold, I can't get it down. But in the middle of summer it's a little challenging getting ice all day. also challenging is getting enough protein down. I am doing Isopure shakes but have sent away for a variety pack of protein samples to try to find one I like. i am walking 1 1/2 miles at the track at the local high school. I like going there and will keep going until it gets too hot in the evenings. And best of all I am off almost all of my diabetes meds. :-)
At about 2 1/2 weeks i started getting very emotional (which I am not by nature) Turns out I was premenstrual, added with the changes during surgery I was a crabby mess. But as soon as my period started I was all better. :-) That was pretty intense though....yikes.

August 2, 2005

Yay!! I am off all my diabeted meds! My first and most important goal has been reached! I am very excited at not having to worry about my eyes or feet going south. (At least not from diabetes!) I have lost 49 lbs, counting the 6 I lost before surgery. Thats great but I am more pumped about the meds! I only weigh once a week to, so I don't preoccupied with the scale.
I have been VERY lazy about exercise. I havent been to the track in several days and now I am going to have to go to the gym because the football team has started practices out there. I think I will sign up for a class so that I HAVE to be there at a particular time. I am not good about just getting up to go. I am in no way a couch potato but somehow I don't think housework is going to cut it for all the exercise I need!
My son is getting married in 2 weeks and I was happy to buy a dress that is a size 20 instead of a 24 or 26. Sheesh! If he had waited a few more months, it could have been a 10! ;-) Ha! Actually I am just thrilled he is settling down. He is 26 and I had begun to think that he was just going to be batchin' it the rest of his life! He didn't even seem vaguely interested in settling down until he met Lauren a couple of years ago. And she has a 3 year old (my afore mentioned grandbaby) whom I couldnt love more. Life is good. :-)

August 15, 2005

WOW!! My son is married! Woo HOO!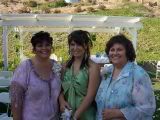 Me (on left), daughter Liz, and my mother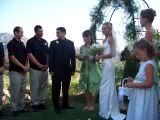 Lauren and Jeff with Liz doing the scripture reading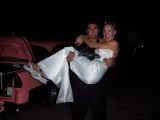 Off to Jamaica for the honeymoon!

September 15,2005
I went in yesterday for my 3 month check up. My surgeon, Dr Apple, was on vacation but Dr. Taller says everything looks great. I have lost about 70 lbs and he is very pleased with my progress. The only thing different he would like me to do is start counting my calories so that I have a good idea of how many I take in now and be cognizant of it later. Also talked to the nut, who is also very pleased. Both were looking forward to seeing my labs. They sent me down to the lab where I was told "No, you have to fast, so come back another day" I just dont know when I can do that but I will have to work out something very soon.
My mom, who has been living with us for about a year, is moving out in November. Lots of down sides to that, but the upside is that I will have access to my treadmill again. I love that thing and look forward to hopping on whenever I like.

October 19, 2005

We went to Disneyland last Sunday. I haven't been in a long time and we had a wonderful time. We went because it was my husbands Phil's birthday and it was his celebration of choice. :-) It was really lovely fitting right in the rides and tables and everywhere! And I was on my feet almost all day and the next day, no pain at all! I found plenty of yummy and safe eats thanks to my OH friends who posted their favorites. I did have trouble getting enough to drink though because water still makes my tummy ache and I didnt find too much else to drink. By the end of the night, I finally broke down and had a diet coke. I really needed some liquid!
Right now I am having no problem getting protein in. I have a proteing drink at work which is the nectars fuzzy navel with crystal light and ice and at home I will have 1 or 2 nectars lemon ice tea. Man, I **love** that tea! I also have some of the nectar bery but so far I havent found out what I like to drink that with. Between the drinks and regular food, I do great!
I have spoken with my endocrinology nurse and we are really excited about the progress with my diabetes. The surgical nurse at Balboa had reviewed my lab results with me and they are awesome! Iron, calcium, protein, electrolytes all perfect! And my thyroid as well. And my A1c is 5.4!!! For all you non diabetics, 5 is what normal people have (aprox) and my highest result ever was 13!! So, as you can see, big improvement. :-) And for the icing on the cake, I weigh 215, which is a loss of 77 pounds since my first surgical consult!
On another note, I am so blessed and grateful to have had such a complication free time of it. Only dumped once, hardly ever yak, have no pain, no nothing. When I think of what a happened to poor John and how much my poor friend Vicki has suffered, I am doubly grateful. Thank you Lord and thank you family for standing by me!

January 23, 2006

Oops! Guess it's been awhile since I last updated. I weigh 193. Haven't really lost much in November & December, maybe 10 lbs or so. But thats okay. Took me wayyy longer than that to put in on. Life is different in so many ways now. I have so much more energy. I can keep going and going! I don't know how I used to et everything done before!
My family is eating better now because I have the energy to shop and cook, even after a long day at work. Usually I make a menu on Saturday, shop on Sunday, and cook on Mondays, so the rest of the week I can go to.. ta da!... the gym! My daughter and I go Tues thru Fridays (if I dont have plans for Fri night.) I mostly just do the treadill but it feels great just to move. I do about 3+ miles an hour. I have a really nice treadmill at home but my daughter prefers the elliptical. And it keeps us honest being there!
We went camping a couple of weeks ago and my husband and I took a hike up the side of one mountain and back down the other side. I got winded at certain spots but really it was no problem. And I wasn't sore or wiped out afterwards! That was great! And Phil was delighted as he has always been an outdoor person.
By far the weirdest thing is when I see people and start talking to them and then realize they don't know who I am! It's happened several times but the last time I was in the restroom at church, wearing my lanyard Id (because I teach Sunday School) and I ran in to a woman who was my oldest sons teacher in high school, and later did music in my SS classroom for a year and started talking to her. She was talking back and then suddenly grabs my name tag and looks down at it and says "Wait.. who are you??" Then she goes "Rita??" I recognized your voice but not you!"
That was kinda funny, but kinda weird. While I am appreciative of peoples kind remarks, I am really not comfortable with the extra attention i get from the weight loss. I have always felt good about myself and the way people go on, it sound like a was somehow not nice to know before. Like I was unattractive and not fun to be around. My father in law said without thinking. "hey, its nice to hug you now" I guess it was a chore before. I know they dont mean it that way, but I am sad nonetheless. Oh well, I know this will pass.
when people get used to it.
On the upside, I get to shop in more departments. I can shop inthe regular womens dept and get 14-16's and it the womens too. I could care less about the numbers on the clothes. I am all about choices. If the jean am wearing are a 12 and the top is a 1X, I am still good with that!
The only real issue I have had is that I think I have a hernia. I feel it especially after exertion. I have an appointment with the surgeon on Wednesday, so I will know more than. Small price to pay for such a life changing procedure. I really feel great!

February 27, 2006

I don't have to to much to post. I am really busy as usual but I feel great. I am down to 186, still loosing slow but headed in the right direction anyway! I did go to the surgeon and the nurse confirmed that i do have a hernia but that the doc wont do anything about it until I get to goal. SHUCKS!!!!! It's not that it bugs me all the time but I have to be really aware of what I am doing or it does hurt. My daughter, Liz and I started taking a kickboxing class a few weeks ago and I LOVE IT!!! I have to say, I am not too great but the trainer is really good about alternatively pushing me harder and knowing where my limits are. I obviously cant do what my 15 year old can do, but i can do way more than I thought I could do! We take the class once a week (wish it was more!) and go to the gym 2 other days. I do the treadmill for 45 minutes and then the elliptical for 10-15 minutes. I hate that machine. I refer to it as the"spawn of hell" ! :-) Then I try to do the treadmill at home, one day of doing something fun, like taking a hike and I rest one day.Of course what I **plan** and what actually happens aren't always the same! we are pretty faithful to our gym days but the rest is subject to change.
Phil & I went to lunch with some OH SD Cali boardies this past Sunday at TGI Fridays. Mostly talked with Christine M & Jason her husband. I did visit awhile with Vicki M & Luana, and jst Hi'ed to Stacie, Stacie, and a few other people. I am kind of shy (My friends and family would **NEVER** believe this but it's true!) and so just starting to talk to people I dont know is difficult for me. Still fun though and the food was yummy! In fact a lot of food is yummy these days. I can eat so much more now. I really need to watch it. I feel in my heart that this surgery is my last chance to have a healthy life. I just don't want to blow it!