---
thirteen.: im in love.
Feb 04, 2009
or so....i THINK im in love. I'm trying to take it slow with him....but its HARD lol. Especially when you connect with someone in a way that you never have with anyone else. We'll see where it goes from here. *sigh*.....
a new picture for viewing pleasure....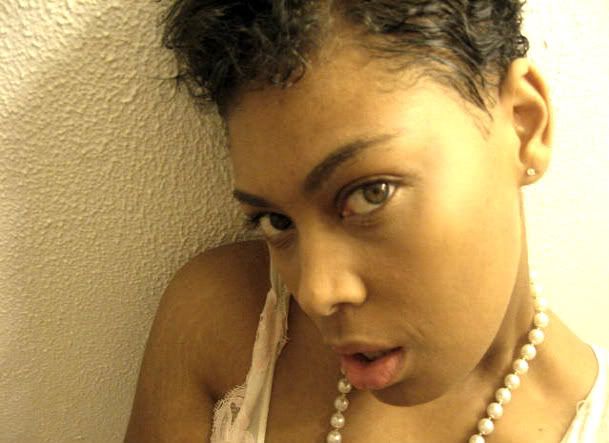 4 comments
---
twelve.: i did it!
Jan 29, 2009
Okay so...when i use to be fat!...I always wanted to cut my hair and wear it short.....but felt i never could because my face was too fat & round. So i made a vow that when and if i lost weight...I would cut my hair off and wear it short. As you guys can see from my pics...I've been slowly cutting it shorter & shorter for the past year. But yesterday i finally did it! I chopped it all off!...I'm not at my ideal size...but im close. Its a cool funky mohawkish type of cut but im wearing it with my natural curl  which makes maintaing it sooo much easier & me lazier...lol. When i looked in the mirror after my beautician was done. I couldnt believe how much i loved the cut as well as how it looks on me.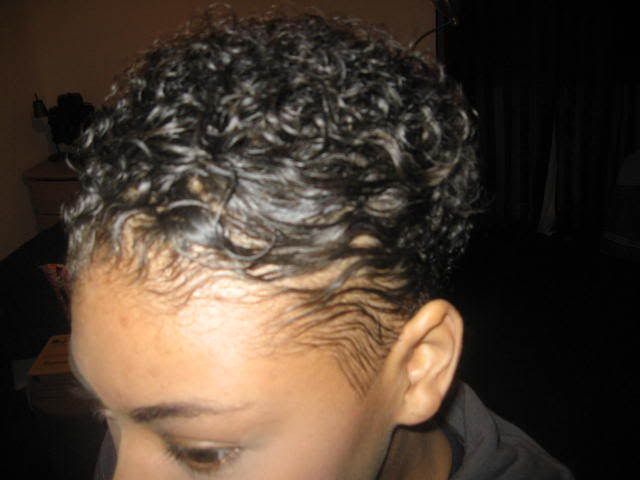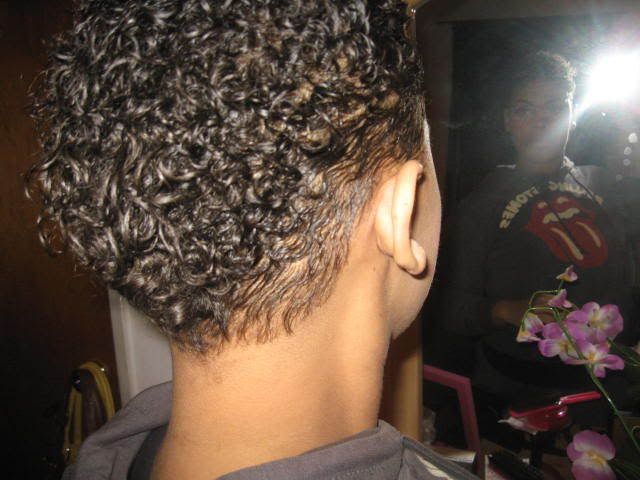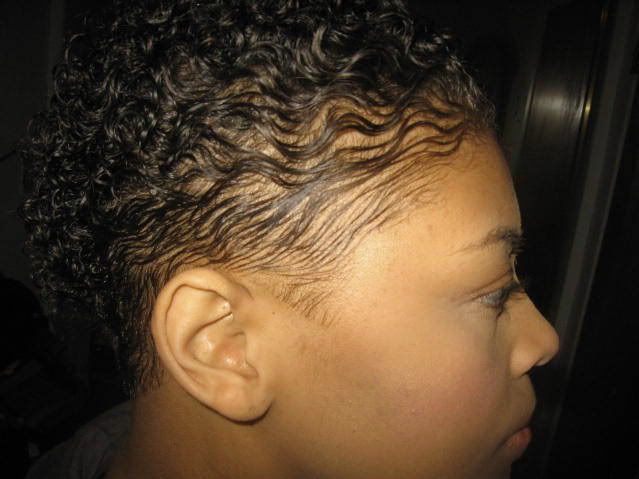 I feel liberated......
The year is starting off good....
2 comments
---
eleven.: L.A.
Jan 16, 2009
To the average Vegas is Sin City. But for me...Los Angeles is Sin ctiy! and everytime i go its an adventure out of my comfort zone. I've lost 20 more lbs since the last time i was there in Oct.! And I must admit I'm looking pretty fly now a days..LOL. So I ALREADY KNOW! I'mma get out there and wil' out!. Ok So the point of me going to LA is because one of my good friends chicago step...and they're hosting a steppers competition. So the entire weekend is geared around partying & dancing. The closer i get to LA my ego starts to surface. As if I'm Beyonce morphing into Sasha Fierce! It's crazy...but this place just does something to me! I'm more out going....Confident...Risky...Flirty....Vibrant! All the things im NOT...here in the Bay Area. But yet I'm unable to put my finger on exactly what it is about LA that brings this out of me! I'm tryna stay humble...lord knows I Am! But it's hard resisting those L.A. flashing lights...

1 comment
---
ten.: one year
Dec 30, 2008
December 27th, 2008:
Today i am proudly celebrating life!... not quite the birth of life from womb form. But more like a rebirth of ones self. December 27th, 2007 I took the first step in changing my life forever. I have no regrets, no complications, no snoring, no aching feet, no aching back, no darkness around my neck, no sores behind my knees, no dark spot on my facial cheeks, no stomach hanging to my thighs, no jelly rolls on my back, no aching bra straps, no sleep apnea, no hunger pains, no eating for comfort & love, no asthma, and most of all no depression due to my lack of self esteem. My mind is clear, open, as wide as the sky! NO more close mindedness. I'm free! One year ago....I begin to change. me. And i vow to never turn back. For i am on a cosmic journey...to just. be.....
"Life Is Not About Finding Yourself, Life Is About Creating Yourself" -

George Bernard Shaw
3 comments
---
nine.: shopping.
Dec 01, 2008
Okay. I know I'm a little nutty at times. But why do i continue to shop in the plus size section...when i know good and darn well I cant fit anything there. It's like a mental thing. Weird. But it's true ppl. Ive waited soooo long to be able to shop on more than 4 racks...and now that i'm able to. I still find myself surrounded by those same 4 racks..lol. I swear i don't know what's wrong with me yall. Its takes about 5 to10mins of being in the plus size section....before i remember i'm a size 12. And my section is over yonder! Guess it's bad habit...I don't know. And then i get in the regular ladies or juniors section and its soo much to choose from...I'm lost. Or i think i can't fit whatever is in my hand. *sigh*. Yall just pray for me...lol. I know i have problems. I'm trying....

---
eight.: fearless.
Nov 18, 2008
As I was cleaning out my closet this morning. I stumbled upon this picture of me & my cousins(i'm second from the LEFT) at my family's 2007 Black & White Ball. And I completely broke down. crying my eyes out. not quite because of how big i was. But because. I dont know the girl in this picture anymore. I've completely transformed into someone else. a different state of mind. a new look upon life. desires I've never yearned for. dreams that i can actually believe in. And i must say....it feels so fucking good!. So good that i cant even begin to form these feelings into words from the english language. at this moment. i have no fear. i am fearless.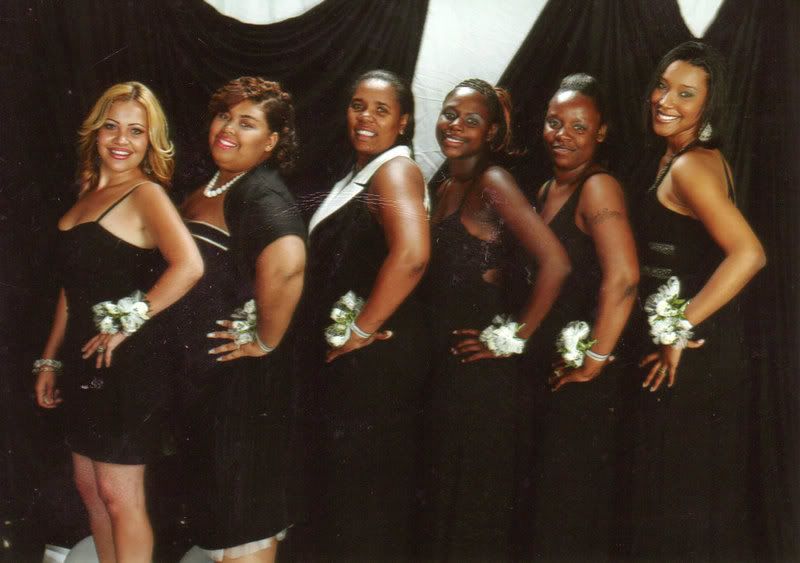 ---
seven.: happy.
Nov 07, 2008
I feel good today. my confidence is high. and there's a bright smile on my face . I'm 10 months out and I've lost 115 lbs. I have 40 more lbs to go before i reach my 160lb goal. But I'm very proud of myself so far. I've come a longgggg way! God is good.....


---
six.: Hollywood.
Oct 30, 2008
well my good ppl....I'm off for L.A in the morning. I'm super excited....because i know I'm going to have a good time. I'm a little worried though...because i don't wanna get sucked up into the whole glitz & glam of clubbing in hollywood. I'm use to being the fat girl holding up the clubs wall...trying to stay away from the flashes of light so no one would notice me and barf in their mouth from the sight of extreme horrid. LOL okay that was a bit much!...but that's how i felt! NOW..I look like every other hot chick in the club that everyone cant help but notice all while drooling at the mouth. But yet that's really not who i'm trying nor want to be. I guess i just don't wanna lose myself. And to be honest I'm still finding myself...trying to find my true identity. I'm still young and i know i still have a lifetime of growing to do. And im cool with that...its the RIGHT NOW at this very moment times that get to me. It's sooo easy to lose sight of the narrow path and venture off onto a path of the unknown becoming someone you've never seen. It happens everyday and not everyone actually return. I guess all i can do is ask god for strength & knowledge of self. to keep me humble and on the right path to better me as a human being in this life. I'm trying ya'll.......

---
five.: disappointed.
Oct 21, 2008
okay....Im like at a lost for words here. Eh In my previous post....i told you guys about my awesome date last Wednesday with the great UNDERSTANDING guy. All for it to come crashing down and BURN a week later. So pretty much...we had a second date planned last sat. and he stood me up. Which i didn't understand why....because ever since our first date he was telling me he was looking forward to our second date on sat. Saturday rolls around....no call. Sunday....no call. Monday....no call. Tuesday night(tonight)....i built up enough nerve to call and of course he didn't answer. So i hit him up via FACEBOOK....asking for an explanation. And this is what he said......

"Though it at first seemed like a good thing. Upon reflection I realised a major incompatability. Which is my unbelievable pre-ocupation with food. we would be better off with being friends, but I mean it. In my family love means food, I'm sure one or both of us would die. Then go blind. I went to cooking school for two years and am a trained chef. I think of food more than sex. It would not be good but can I call you next time I need that pizza?"..

now given....he KNEW! about my procedure as well as viewing this exact web page...before we even went out. SO WTF!?!?!?! you dont think it would work & you totally ignore as well as stood me up because i dont eat massive amounts of food...and when i did eat massive amounts of food you wouldnt even think TWICE to even turn your head to NOTICE me!!!!!!. I'm beyond annoyed...and trying so hard not to regret going out with him. I was embrassed when i couldnt finish my meal and he made me feel as if it was ok and that he totally understood. I guess not.  But right now i wish i didn't give him the time of day like i do every other guy. I feel so many different emotions right now...i cant even put them into words.  i'm totally done dating...


---
About Me
Jan 18, 2008
Member Since
---
Friends

154








---
Latest Blog

14
nine.: shopping.
eight.: fearless.
seven.: happy.
six.: Hollywood.
five.: disappointed.
---