Tired of being STALKED
Jul 02, 2011
It has been many years since I have posted here on my blog, but since it has been brought to my attention that my stalker is at it again I thought I would update my profile. I have never lied about my weight loss! I started my journey around 370 lbs. and loss between 45 and 50 lbs prior to surgery. I don't really remember now the exact about that I lost other than I lost 100 lbs. in six months! I did gain some weight about 2 years ago, but Praise God I went back to the basics and have lost all of it. I am not ashamed to post my weight 172.5lbs.! I check in at Dr. Freeman's office so it is posted there also! Some crazy hag has nothing better to do than to read people's profile and to try and stir up trouble has problems! My family can't go out for running into her and then she comes back here posting something negative about us. This has been going on since 2006 you would thing she would get tired of this and grow up, but I guess not!

For those of you who were keeping up with my journey I am doing great! I apologize to you for venting, but I am so tired of this particular person and I have NEVER said anything! It is just time to say somesthing!

May God Bless you all!
0 comments
---
Sept 2006
Sep 07, 2006
September 8, 2006
It saddens me greatly to be posting my feelings here today. I've been avoiding updating my profile because I always thought that I should be strong for everyone. I have thoroughly enjoyed my WLS journey. What an amazing ride it has been and yes, I would do it all over again. Like I have said numerous times in my profile, I would want Dr. Freeman, Tim and his surgical team to be the one to do it. I have had many obstacles on the road to losing the weight. Many that I have not shared on my profile because I believe so much in this procedure that I didn't want to disappoint anyone reading my profile. God has always been there to help me pull through the trying times. If you don't know Him, please take a moment to ask Him into your heart. He will NEVER leave you nor forsake you.
These past few months I have felt all alone. I can put up a good front and appear to be such a happy person, but finally my feelings have come out. I am going to share with you only in hopes that someone will gain comfort from this and it might be of help to someone else. I don't want pity or sympathy from ANYONE, but I will tell you what I do want. I want EACH of you who read this to remember me in prayer. Please ask God to give me peace where I need peace and the strength to carry on.
You see August 27, 2003 I lost my very best friend. My Mamaw; she was really no blood kin to me at all, but was a neighbor of mine. At the age of 5 she became my Mamaw and I learned to have faith in God and how to show love from her and many, many more things. She was my protector and my comforter. she was my everything! You see, I came from a very poor abusive family. I was raped many times from family members and my dad beat me beyond measure at times. It seemed like the more he beat me the more I loved him. I don't understand it; that is just the way it was. I spent my life trying to gain his acceptance. I loved my dad so much and I lost him just months after losing my Mamaw. Dad passed away March 29, 2004 while sitting at the breakfast table. He fell out of his chair with a massive heart attack. Dad did apologize for my childhood and I thought I had forgiven him, until his death and then I realized I still have all these feeling bottled up inside. Sometimes I want to hate him and then I get to feeling guilty about the way I am feeling. Dad and I talked everyday several times a day. He was my football buddy and my news buddy. I don't like TV, but I do watch Fox News and daddy always watched CNN or MSNBS. We were always on the phone talking about what was going on in the world. I loved football season because that meant that I was going to be spending more time on the phone with daddy! I miss my dad something terrible. As I type this tears are just rolling down my face. I really can't believe I am sharing this with you. I am the oldest of four children. I practically raised my siblings as mom was always at work and daddy was usually drunk. (He stayed this way until my son was born and I told him that I would not bring Bradley around in that type of environment) Thank God, for He heard my cries and daddy found the Lord! My baby brother who seemed like my own child, died in a car accident July 27, 1999. I never told my dad, but he was drunk when he died. That just broke my heart, but being the strong person of the family I took care of EVERYTHING! At that time that was the hardest thing that I had ever had to do. I've struggled and I've often wandered WHY, but I KNOW that God's plan is the PERFECT plan and I MUST accept it.
I had promised my dad that I would ALWAYS take care of my mom. Mom and I were never close until after I married and moved away. I could not stand her. She was so mean to me. My sister was her pride and joy, still is! (My sister is on drugs and has been since she was 15) Mom and I became close over the years and I considered her such a good friend. I enjoyed taking mom shopping and buying her nice things. I loved doing for her. She worked very hard to provide for us and never had anything for herself. Giving her attention and things that she liked was my way of giving back to her for all she had done for me. After daddy died, mom and I spent so much time together. If I were not in Tennessee with her; she was here in Alabama with me. We were constantly on the phone with one another. She was the first person I talked to in the morning and the last person that I talked to in the evening. In October of last year (2005) all this changed. She met some guy that is my husbands age and not of good character. My sister n law and I had encouraged her to meet someone because she is too young to spend the rest of her life by herself. We just didn't know she would meet this guy. I did background checks on him and found out that he was a criminal. I called mom and shared with her what I found out and she overlooked it saying that he had changed! Over a couple of months I saw my mom drifting away from her family and it was killing me. There was nothing that I could do. Just in the last few months have my assumptions become facts. She is hooked on drugs and alcohol. Crack cocaine and meth!!!! Now she is losing everything that she and dad worked so hard for. She is selling all her belongings. I have not talked to her in months. She told me that she hated me and my brother and wanted no part of us. Her friend has threatened to kill us and he threatened to rape my precious daughter while I watched and then he was going to kill me while she watched! He is a sick pervert! I just can't believe that my mom is doing this. She was never like this. I have contacted the police and her medical doctor for she is no longer taking her medication she is selling it! Her neighbor called me last week and told me that if I had done more for her she would not be in the shape she is today. God knows I did everything I could for her. I stopped giving her money in December because I suspected something was going on when I went home for Christmas and found out that he had moved in! I replenished her cupboards with groceries and made sure she had everything that she needed. I bought enough groceries for several months. I have been told that she has lost so much weight that she is nothing but skin and bones. The neighbor asked me why I could not buy her groceries every month. If I did that then I would be contributing to her drug problem and I refuse to be apart of that. I doubt that I will ever have my mom back and it breaks my heart. I miss her so much.
All of this brings me to where I am today. Some of you know I was near death in March and have really struggled overcoming all my health issues. To be honest, I am still struggling with that, but I don't like for people on the outside to see my pain. Only a few (three) of you know that my daughter is "special needs". She takes so much of my energy and some days I just don't know if I am even doing her any good. My son just started college and although he is going to the university here in town, I still have emotions with that. Bradley and I have a wonderful relationship and I am so proud of him. I have a wonderful husband. God knows I could not do anything without him. He has been by my side through many, many things. We lost six children due to miscarriages, I have had a brain tumor, and the list just goes on and on. I can't imagine my life without Mike Bellamy in it. When God sent him into my life he sent me a Guardian Angel. I was really afraid to marry Mike for our paths were so different. I was very, very poor and Mike was raised with money. I will not say that his family was rich at the time, but they were well off. We just celebrated 22 years of marriage. We have had our struggles as most married couples do, but God has always remained in our lives. I finally reached out to Mike this past week. I sent him an email to work to say goodbye. You see, I have set here many, many times trying to figure out how to kill myself. I tried and tried to get the gun cabinet unlocked. Well, I finally found the key to it, but daddy has some kind of locks on all the guns. Just this week I found myself on the internet trying to figure out which artery I needed to cut in order to die quickly; I scared myself so bad that I just went out and sat in the hot car for hours. I was afraid to come inside because I was afraid of myself. Thursday night I had terrible chest pains. I really thought that I was having a heart attack. Mike wanted to take me to the hospital, but I refused to go thinking that if I stayed here that I would die and it would all be over. Well, I woke up Friday morning and the first thing I did was call a doctor. I realized that I needed help! My appointment was at 9:30 and Mike came home and took me. He prescribed a couple of medications for me and I will be going to see other doctors as he will call me on Monday and let me know. I always thought that because God had blessed me with such a wonderful family that I could not be depressed and that it was just in my head. Well, God did bless me with my wonderful family, but this depression is real and it has a strong hold on me right now. I was told that writing would be good for me. I decided to tell you all about it just in case there is someone out there like me. Don't wait, go get help now. PLEASE pray for me that I can work through all of this. I am always the strong one and being the one that needs help is something different for me. I am learning and it may be a long road, I don't know. What I do know is that God is my Savior and through HIM, I can do all things! If you should want to email me you may do so at
[email protected]
Again, please know that I did not share my life with you in order to get pity, I only hope and pray that it will be of help to someone else. With Love ~ Becky
---
Summer 2006
Jul 09, 2006
April 19, 2006
As promised I come to you today with my story. Mike got my laptop back last Wednesday, but I have been waiting to share my story with you until after my local group heard it first. No disrespect to my family here, it is just that I felt like I needed to share it with my group first.
I would like to clarify a couple of things first though. Someone started a rumor that I have cancer; I DO NOT HAVE CANCER! Praise God for that. I have also received several emails advising me to and asking if I am going to sue MY doctor. That is the most hilarious thing that I have ever heard! ABSLOUTELY NOT!!!! I love him just as much today as I did the beginning of March. I feel God gave him the knowledge to save my life and that is exactly what he did. Dr. Bryan Freeman and his personal team saved my life with God's help.
Now, to tell you what happened; I had seen a gastroenterologist on March 7 who advised that I needed an EGD (if you remember I had been sick since 2/20 with a stomach virus). He wanted to make sure that I didn't have stricture. He also wanted to do a lap procedure to look for adhesions since I was having a great deal of lower abdominal pain and while he had me asleep he was going to do a colonoscopy. I listened to all of his advice and told him that I respected everything that he had to say, but since I work for Dr. Freeman I would like to discuss this with him. On the way out I told Mike why have second best if I can have the BEST!!!! So, I went straight to doc's office. As Mike and I were going in Doc and Tim were coming up the stairs. He said, "What's wrong Precious?" I told him that we needed to talk and he put me in room three. Within a few minutes Doc, Tim and Dr. J. (my joke) were in the room with Mike and me. We told them what the other doctor said and all that was going on with me and Dr. Freeman said, "Well, let's get this taken care of, we can do it tomorrow!" So on March 8th he did the EGD and told me that I have a very beautiful stomach (pouch)! The lap procedure for adhesions, I only had a couple, but during the colonoscopy a hernia shot out! So he repaired that. I was doing fine in short stay so Mike was allowed to bring me home. The next day I started to develop PAIN!!! Mike called poor Tim several times. I tried to just stay asleep because when I was awake I just hurt to bad for anything. The only thing that I was eating was the broth off of chicken noodle soup and vegetable soup at that time. Mom (Brenda Abernathy) called and said she was coming down Monday to stay with me. She stayed the night and got the children off to school the next morning.
That brings us to March 14th. I woke up at 4 AM and told Mike that I was dying. I remember telling Bradley good bye and to carry on with his dreams and to take good care of his sister. I remember calling my real mom trying to tell her good bye, but she was too sleepy to talk! As Sarah came in to tell me good bye for school I will never forget kissing that little forehead and telling her goodbye. I truly knew that this would be the last time she would see me. Mike had called the office and they told me to be at the doctors building at 8AM for blood work. Mom/Mimi had me there at 8! I didn't think I would ever be able to walk to just get inside the building and we were not parked that far away. They told me to go back home (nearly a 20 – 30 minute drive depending on traffic), I told Mike and Mom, heck no, I was going to the office and would go to sleep on doc's sofa. The ride to Anniston was miserable. I had nothing that would fit for I was swollen so badly. I do remember going to the office and doc coming in telling me how bad I looked and that I was going to the hospital. Because of all the hog wash with insurance I had to go to through the ER to be admitted and there were people lying everywhere. I remember telling Mike that there was no way that was going to be able to sit there log. About that time they called me back; told us that they had no rooms available, but within just a couple of minutes I had a room! I remember the nurse who gave me my IV because she was so good I didn't even know she had it in and I have terrible veins. I don't remember much after that until I was inside the OR and I remember Tim coming in with new head gear, of course it was Alabama and everyone was making a big deal over it! I remember Doc coming up to the left side of my bed telling me that I was going to be fine and he and Mary just squeezed me tight. Then they prayed with me.
Next I was in recovery of which I don't remember being there at all, but I had a WONDERFUL experience while there! A couple of the staff came up to my room and asked me if I remembered talking in the recovery room. I told them that I didn't remember being there and they told me that I had an awesome experience. Well, when they said that I told them not to tell me to let me tell them what I saw. I saw MY Lord Jesus Christ! No picture that you would ever see here on earth compares to his beauty. He never spoke to me He only looked at me with such a huge smile and a glowing light. I kept going toward Him to touch Him and He kept backing up. My dear Mamaw passed away August 27, 2003 of cancer. When she died she did not have one hair on her head. I want you to know that my Mamaw walked right through Jesus and took both her hands and placed them on my face and pulled me forward and kissed my forehead. She said, "Go back home, there is work to do!" That is just like her, she was always the person to push me to do my very best. I could hear someone singing and standing back behind the right of my Mamaw. It was Wynona Judd singing How Great Thou Art. This was so strange because this is the song that was playing on my Mamaw's tape player when she went to be with the Lord. A few nights ago, I woke Mike up and told him that I now knew why my Mamaw looked funny; she didn't have her glasses on! Of course not, when you get to Heaven you are PERFECT, she didn't need those glasses and oh, her hair. She had baby fine black velvet hair that she used to roll on those tiny sticky black rollers. Well, she had a head full of hair and every curl was in place. I can still feel her touch and smell her sweet breath. I know that many of you think I am crazy and you are right, I AM, but what I experienced on this day was REAL.
Now, back to returning to my room from the recovery room; Mike said I looked like a corps. My blood pressure at one time they said was 50 something over 40 something. I don't remember any of this. Mike said I received 6 units of blood. Mom/Mimi never left my bedside that first week. She stayed right there with me. The only part I remember of that is taking the call button one night and knocking on the table for her and now I don't remember why I wanted her. She and Papa stayed several nights with me. Bradley stayed with me during Spring Break during the day so his dad could work. Mimi and Papa had Sarah. I am being told that several of you visited and called and I am so sorry, but I don't remember any of it. I remember getting so upset with Doc because I missed my first support group meeting and they had to give me something to calm me down. I was 3 years out on April 8th and I have been going to support group meetings since 2/03. I was in the hospital for two weeks. I know Doc and Tim came in everyday and talked to me, but I only remember bits and pieces. Doc came in on that Monday morning and said," Do you want to go home?" Of course I said yes! He told me that over the last THREE days that miraculous things had happened with my blood work!
After returning home and getting off of the strong medicine while at a doctors visit I asked Doc what exactly happened to me? He said that when they did the CT scan it showed fluid in my abdomen that should not have been there. He said that he thinks that he nicked my small bowel while repairing the hernia.
I would also like to mention Tim! I NEVER really realized what all Tim did until this visit to the hospital. Tim is a very special person. How many people would call all hours of the night to check on you or to offer to drive you nearly two hours to someone's home? I will tell you this and of course it is only my opinion, but Freeman and Company would not be Freeman and Company without Tim and Joyce Johnson (Dr. J.) I have very deep feelings for the entire staff. They each have a special place in my heart. Just one word of advice whether you are a patient of Dr. Freeman's or of another doctor, if you are in pain, DO NOT put it off; call them! That is what they are for and they can't help you unless they know you need their help!
That is my story! I am not angry with anyone. If anything I have more respect for the entire Freeman team. The only thing I ask from you is to stop the rumors. He is a wonderful, very competent doctor. He is human! At least he was honest enough to tell me what he thought happened where many doctors would try to cover up. If anyone in my family or myself needed surgery and it was something that Dr. Freeman could handle you bet your bottom dollar he would be the surgeon of choice.
I have not mailed out any Thank You cards yet, but I do thank you from the bottom of my heart for all the cards, flowers, stuffed animals, candies and all the other goodies that you sent to me and my family. I still get weak at times and have been told that if will take a while to get over this. I have been very sick, but God sent me home so I know I am going to be okay and eventually I will be back to posting just as before. I love each and every one of you more than you will ever know. That goes out to you "lurkers" who email me from behind the scenes too. You are very important to me also! Have a Blessed Day!
June 14, 2006
I went into see Dr. Freeman for my three month check up today and all my labs were good! He changed my medicine for two weeks to see if it will help with the pain and I go back to see him in a couple of weeks. These last months have been very hard for me in more ways than one. Getting over this last surgery has been very difficult. Please know that it had nothing to with my weight loss surgery. I would do that all over again right now. So much has happened this year it is just hard to believe that it is half over. My son graduated high school with honors and my daughter is going into the second grade. Gosh, they grow up too fast!!! Bradley is now working in Dillard's as a Men's Sales Associate. This is a full time job and he kept his job at Chick Fill A as a part time job. He is staying busy!
May God Bless all who take the time to read my profile and if I can ever be of help to you, or if you need someone to talk with or just someone to say a prayer for you, please email me. My address is
[email protected]
Please remember me in your prayers. Skinny Wishes~ Becky
July 10, 2006
Just wanted to drop a note on here to let everyone know that I am doing fine. Battling headaches these days and I have had a flair up with my fibromyalgia. Other than that the new medication that Dr. Freeman has me on is working wonderfully. I continue to get stronger everyday. I am now doing my housework, well; most of it! LOL I have been enjoying these days with my daughter who is forever attached to my hips! It is great watching her grow and become interested in new things. We went shopping last week for school clothes and low and behold what did we end up shopping for???? Baby clothes!!!!ROFL I told Mike it kind of felt good, but there is no way we can have more children! Bradley said to not look at him, he didn't have time for girls; they cost too much!!! LOL So I guess for the time being I will just play babies with Sarah. Bradley works ALL the time! He worked 16 hours yesterday! I told him to do it while he was young, because once he got 40 he would not have the energy to do so!
We had a wonderful July 4th holiday. Bradley was able to spend it with us. Spending time with family is so important to me and I enjoyed our long weekend so much. I hated to return home! God has blessed us so much.
I continue to maintain my weight loss! YEAH!!!! I got down to 3 pounds from docs goal and then back up 2. I'm not giving up though!!! I will make it to 160 and then I hope to go on down to 149. I am big boned so I know that I will never be a "teeny tiny person" like some of my dear friends! I love watching the success of others! It just thrills my heart when a new person starts to post their journey and we are allowed to share in there journey!
Well, I guess I better get back to work. I posted a new picture that Bradley found a few weeks ago. That was my all time heaviest! My aunt said she believes I was at 375!! The picture was taken in July of 1999. My total loss is a little over 200 pounds!!! Gosh, that is so hard to believe! Until next time, May God continue to bless each of you and as always if I can be of help to anyone please feel free to email me at
[email protected]
Skinny Wishes~ Becky
These were taken July 18th, 2006. That was the last pair of jeans that I bought prior to having weight loss surgery! Allison, Sarah and I had a BLAST getting into them. I could not believe that I could get my ENTIRE body in ONE leg!!!
0 comments
---
Winter 2005
Dec 29, 2005
October 20, 2005
Well, I don't quite know where to begin! I have had excruciating pain in my abdomen ever since having WLS! You know, after a while you just get tired of telling people that you hurt when no one can find anything wrong. Besides that I NEVER wanted to hinder someone else from having this surgery by posting negative comments! Dr. Freeman has ordered tests after tests and NOTHING has ever showed up! A couple of weeks ago I had this terrible pain while rolling my hair and passed out! The curling iron burned my neck and thumb. I had second and third degree burns from that! Mike insisted that I go back to see Dr. Freeman and he firmly suggested that we do exploratory surgery to see if anything was going on with my surgery. Well, we scheduled surgery, and he found several adhesions as to which he took care of and also my intestine had a kink in it. I am not quite sure as to how to explain it to you. The important thing is that Dr. Freeman and Tim fixed the problem and now for the first time in over two years I can eat without hurting! Praise the Lord! Doc told me that I would probably gain twenty pounds after this!!! There is NO way!!!! Gosh, I sure hope he is wrong. I still have weight that I want to loose! Until next time, God's blessings to all of you! Skinny Wishes~
November 2005
I continue to do well with my WLS. October was a bit depressing for me and by the end of this month I realized that I had gained 17 pounds! I went back in my mind to try and re-evaluate myself to see where I was messing up and it was then for the first time that I realized that I AM and emotional eater! Things are not going well with the relationship I have with my mother. She has a man (boy) in her life now and she wishes to not have anything to do with me! That cuts like a knife! At first, I was very sad and hurt, then I was angry and now, well; each day gets easier. During this time I realized that instead of eating like I am suppose to, that I was grazing ALL day! I was eating lots of peanut butter and saltine crackers and cheese. I was not getting my protein in nor my water! I am starting back to the basics to see if I get loose the weight that I have gained. I was so close to my goal of 160 and know I have messed it all up! Through all of this I have always tried to be positive and only write about the good and never any negative, but I have come to realize that sometimes it is good to post the negative for someone may learn from our mistakes. I hope this is the case here.
I had my "new" family with me for Thanksgiving along with Mike's dad and we had a wonderful time! Glenn and Brenda were here from Guntersville. I thank God for them. A person could not ask for better "parents". Sometime I have to remind myself that they are really not my parents. I believe God puts people in our lives for a reason and I know that is the case here. Randall and Joie and the kids were here too. Everyone ate until they were stuffed and then all disappeared while Mike and I were cleaning the kitchen. We walked into the living room and EVERYONE was asleep, even the children!!! LOL Saturday we went to Guntersville for our "New Family Get-Together" We had such great fun. Shelly and Malory were there. It was Malory's birthday! Tammy and three of her children, Jackie and Tim and two of her children, Carolyn~, Aunt Mary, Randall & Joie, Torey & Allison, Diane came by later. We had fun sitting around singing hymns and Christmas Carols. We all hated to see the day come to an end!
I wish each of you a very Merry Christmas and a Happy New Year! May God continue to bless you no matter where you are in your journey! Skinny Wishes~
December 30, 2005
Boy, did this month ever fly by! Bradley turns 19 tomorrow! Sarah turned 7 on the 8th and I turned 40 on the 18th! Do you think we have enough activity for December??? I have lost three pounds of the seventeen I gained. Mike and I gave each other a membership to the gym for our birthdays! I really enjoy going! Some days is harder than others especially if my fibromyalgia is acting up. I went to Tennessee Christmas night and saw mom before Christmas Day was over. We stayed a few days with Mike's dad and then came back home to take down Christmas decorations and to get ready for Bradley's birthday. I thought the holidays would be hard for me since I can eat now without my stomach hurting, but you know what? It wasn't!! It was like I didn't even want what I knew I couldn't have. So weird! Do you think I would have walked on by chocolate fudge two years ago???? I think not! LOL When I want something sweet I try to eat an oatmeal cookie. I eat the regular ones. I would rather have one of the real thing than two or three of the others. So, what did Santa bring you all for Christmas? I got a new digital camera and I KNOW I am going to love it! Well, I better go for now and get busy or I could sit here for hours. Visit the Alabama Board sometime, which is where you will find me. Drop me an email and let me know how you are doing in your journey! May God continue to bless each of you! Skinny Wishes~
---
BARIATRIC BALL
Sep 21, 2005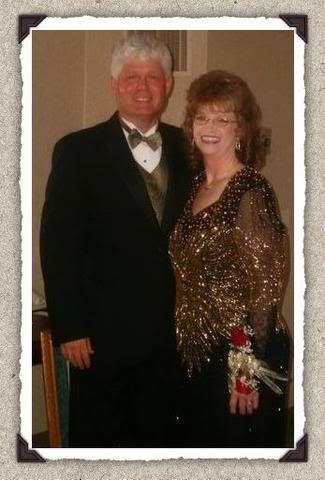 Mike and I

FREEMAN BARIATRIC BALL 2005
Angel of Healing presented to Dr. Freeman at the Freeman Bariatric Ball on September 10, 2005

---
August 2005
Aug 17, 2005
August 18th, 2005
Gosh, I can't believe I fail to update my profile. This is such an important thing to do. I apologize to those of you who have been following me and my journey. I am doing fine with my weight loss; maintaining, although I would really love to loose another 20 to 25 pounds. I am working very hard at that now. My husband and I have started working out every night. That is fun, gives us some quality time together and we both enjoy that! I have been real busy with our support groups! Yes, I said groups! I started one for here on Saturdays and we will be expanding to the Muscle Shoals area in September. Gadsden, Montgomery, Huntsville, look out because New Beginnings is coming! What better way to give back to those that are beginning their journey. Get involved in a support group in your area. I know people hate hearing me talk about support groups all the time, but that is the key to LONG TERM SUCCESS! We have seen it locally! Those who stay involved with the group seem to maintain their loss. Once they quit coming to the group they start to gain. If that happens to you, go back to your basics. Protein FIRST, Water (80 to 100 oz.), NO SNACKING, exercise and make sure you take your supplements. I cannot stress the importance of the last. If you fail to take your supplements you are going to run into all kinds of health problems down the road.

Well, I am supposed to be doing my laundry so I will close for now and I promise to update more regularly. Skinny Wishes~

0 comments
---
June 2005
Jun 16, 2005
June 17, 2005
Oh my! I can't believe it has been so long since I have updated once again. Life is just wonderful! I have had a sick daughter that has taken up some of my time and the other is devoted to our support group. I put everything I have into our group. It has doubled since I took over and I just feel so blessed to be a part of something so special! My weight is holding between 165 and 170. I am happy with that, although I would have loved to have gotten down to 149! I am still trying, maybe not as hard as I should! I feel fine with where I am at this time. I still have the stomach pains at times but no one can figure out why or where it is coming from. Sometimes it makes me think I am nuts!!! The children are doing fine. Bradley will be a senior in the fall and now has a SPECIAL "friend", so we are seeing very little of him! Now that takes some getting use too! Sarah is a mess. She poured water into her TV last night because she said it kept dying! There is never a dull moment in my life. I just wanted to say a quick hello since I have not updated in a while. If I can be of help to anyone please let me know! Love to all~~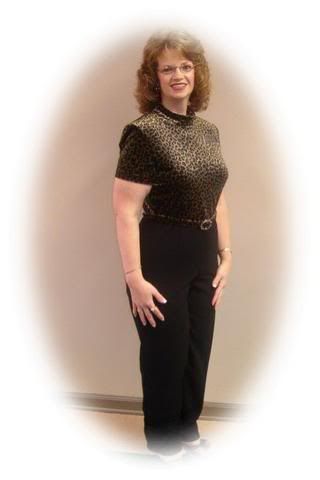 ---
2 years post op
Mar 15, 2005
March 16, 2005
Oh my, I did not realize it has been so long since I updated. Life is just grand! I get emails from people from all over this great country of ours and I am so honored that you have taken the time to contact me.
I have lost a total of 164 pounds plus the 45 prior to surgery!  My weight is 162  and my two year anniversary is around the corner. April 8th, 2003 was my re-birth! The only regret I have is not having it done sooner, but then I would not have had the BEST surgeon. The Best was worth waiting for!!!
The past few months I have been working really hard at trying to get new things going for our local support group, New Beginnings. Everything just seems to be falling right into place.
We will begin to meet the first Saturday of each month from 10-2 at the Tyler Center. Also, we have a yard sale planned for April 23rd from 7-3. Here is the letter I sent out in regards to that: Hello Everyone!
Warmer weather is around the corner and what do you think of at that time??? YARD SALES! YARD SALES! YARD SALES! New Beginnings is looking forward to hosting our first "F.F.P. (Former Fluffy People) Plus Size Yard Sale". We will be advertising this in the Anniston Star, Gadsden Times, and Buy Sell Bulletin and on local radio and television stations.
Our "F.F.P. Plus Size Yard Sale" will be on Saturday, April 23, 2005 from 7 AM to 3 PM. It will be at The Tyler Center Parking Garage, compliments of Regional Medical Center. We will use the first floor for parking and the 2nd and 3rd floor for vendors.
Vendors need to arrive at 6 AM and be READY TO GO at 7 AM. We will donate any clothing/items that people don't want to take home to an organization that assists disadvantaged people. So -you can take your leftovers home or leave them for donation.
We will be collecting the money for your space as you enter the sale on Saturday morning. There is no need to prepay. We will confirm spaces via email before the sale. (Please send an email to myself at
[email protected]
to reserve your space.) Spaces are 10 feet long and will accommodate a regular size folding table. You may purchase more than one space but must have a minimum of 15 pieces of plus size clothing for sale per space. Regular size folding tables will be available for you to use. You are certainly welcome to use your own tables and or clothing racks if you feel this would work better for you. At the end of the day you will donate 10% of your sales and receive a tax deductible receipt for your space fee ($15.00 per space) and for your 10% donation. It's a wonderful way to sell your clothes, buy others and enable our support group to fund social events and other benevolent causes. Reserve your space today as spaces are limited and will be available on a first come first serve basis. In event of rain we will still be able to have our sale here without having to reschedule.
In addition to selling plus size clothing you are welcome to sell household items, collectibles, regular size clothing, shoes, handbags, baby clothing and other baby items, DVD's, CDs and small electronics. Just remember - you must have a minimum of 15 pieces of plus size clothing per space. All items for sale should be clean and in good condition. Ask yourself: Would I buy this item or this quality item? You will price your own items and collect your own money. It will also be necessary for you to bring your own change as change will not be available. You should also provide bags for your customers to have something to carry their purchased items in.
Remember that each of you represent the entire weight loss surgery community. There will likely be individuals at this event who may consider weight loss surgery. Please be mindful of what you eat and drink and avoid junk food and carbonated beverages. You are role models.
With all of this being said...Let's go shopping!!!
Well, I will close for now. May God continue to bless each of you in your journey and as always, if I can be of help to you please email me. Skinny Wishes ~
Bradley going to his Junior Prom ~ April 9th, 2005

0 comments
---
Happy New Year 2005
Feb 11, 2005
January 3, 2005
Gosh, I can't believe I haven't updated in so long! I survived the holidays! It was hard, but I did it. We stayed in Alabama for Thanksgiving and we went to Tennessee for Christmas. It just did not seem right without Daddy there. I got up early on Christmas Eve and went and picked up Mother and we all went to the Cemetery. I know my dad is not there, but I just had to go. After that I was okay. I went back to mothers and made dinner. We always had Christmas on Christmas Eve and Mike's parents always had theirs on Christmas Day so it worked out great for us. We had Christmas breakfast at Papaw Bellamy's and I was up at 3:30 cooking! I was slap exhausted. After being sick it seems that the least thing I do I get so tired. I will be so glad when it all clears up.
I have to tell you something though. I got a couple of things for Christmas that I have always wanted. One I went and bought myself a leather jacket before Christmas. I have always wanted one, but could never find one that fit. I love it. Then I have always wanted a gold and diamond watch, but after Mike bought me my tennis bracelet and it would not fit, I never asked for the watch again. What a surprise when I opened my gift from Mike and it was a Michael Anthony 14kt gold watch with diamond around the face. Absolutely Beautiful!! It is too big!!! I couldn't believe he remembered that I wanted one. I have the greatest hubby! He is always doing something nice for me. He is so supportive of me in everything that I have ever done. He is my best friend and has been for over 20 years now. I am blessed!
I am still loosing! It is slow, but I am working very hard at trying to loose just a little more. I am one pound away from the goal that Dr. Freeman set for me and 12 pounds from the goal that I set for myself. I am not giving up; I believe I can do this. Mike, Sarah and I were at the mall shopping and Mike walked by us three different times and didn't recognize me. I finally yelled at him and he said, "Oh, I just didn't see you." I told him he just forgot what I looked like! I am in a size medium shirt from a size 28/30 and a size 12 pant from a tight size 26/28. This has not been an easy road. It is not the easy way out or a quick fix. It is something that you have to work at for the rest of your life. For me, I have never looked back! I would do it all over again. Call Dr. Freeman and Tim and I will be there! If I can be of help to anyone please email me. With Love, Becky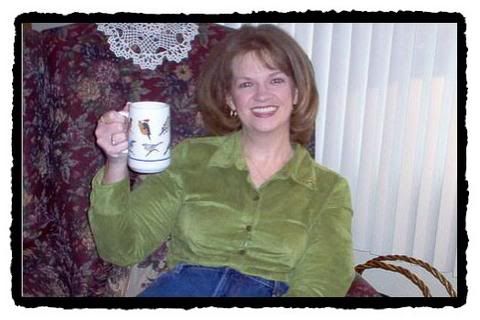 February 12, 2005

---
Nov & Dec 2004
Dec 24, 2004
November 14, 2004
I can't believe it has been this long since I updated last. The Ball has come and gone and we had a wonderful time. I really enjoyed meeting everyone and hearing all the success stories. Looking forward to next year's already!
Mike and I went Christmas shopping today. While we found some really good bargains for Sarah it became really depressing after a while. It seems that everything I looked at reminded me of my dad. He loved the holidays. Gosh, I miss him so much! I know the holiday season will be extremely hard for me this year and I really am not looking forward to it, but when you have two children life does go on. Daddy would want me to be my happy self and to enjoy life to its fullest and that is what I will try to do.
The weight is still coming off. I thought I had stopped loosing! I am in a size 12 and at 164 pounds. (-162 plus 45 prior to surgery) My goal was 160. I am very happy where I am, although I would like to loose the last 4 pounds.
Well, I will close once again. May each of you have a very safe and Happy Thanksgiving. It seems every year we have a little more to be thankful for. During this time of year may I remind you to keep our troops and their families in your thoughts and prayers. Skinny Wishes ~ Becky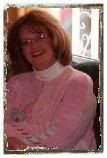 December 25, 2004

0 comments
---
About Me
Feb 22, 2003
Member Since
---
Before & After
rollover to see after photo
First visit to Dr. Freeman's office. 2/03
325.5lbs
---
Friends

133




---
Latest Blog

21
Sept 2006
Winter 2005
BARIATRIC BALL
June 2005
Happy New Year 2005
---