Nov & Dec 2004
Dec 24, 2004
November 14, 2004
I can't believe it has been this long since I updated last. The Ball has come and gone and we had a wonderful time. I really enjoyed meeting everyone and hearing all the success stories. Looking forward to next year's already!
Mike and I went Christmas shopping today. While we found some really good bargains for Sarah it became really depressing after a while. It seems that everything I looked at reminded me of my dad. He loved the holidays. Gosh, I miss him so much! I know the holiday season will be extremely hard for me this year and I really am not looking forward to it, but when you have two children life does go on. Daddy would want me to be my happy self and to enjoy life to its fullest and that is what I will try to do.
The weight is still coming off. I thought I had stopped loosing! I am in a size 12 and at 164 pounds. (-162 plus 45 prior to surgery) My goal was 160. I am very happy where I am, although I would like to loose the last 4 pounds.
Well, I will close once again. May each of you have a very safe and Happy Thanksgiving. It seems every year we have a little more to be thankful for. During this time of year may I remind you to keep our troops and their families in your thoughts and prayers. Skinny Wishes ~ Becky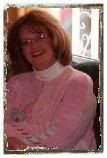 December 25, 2004

0 Comments
About Me
Feb 22, 2003
Member Since
---
Before & After
rollover to see after photo
First visit to Dr. Freeman's office. 2/03
325.5lbs
---
Friends

133




---
Latest Blog

21
Sept 2006
Winter 2005
BARIATRIC BALL
June 2005
Happy New Year 2005
---