Most recent posts at top...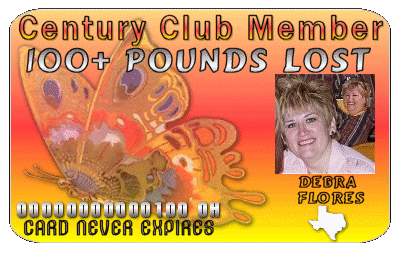 11/25/08 - Well I got my blood wroko and I am going to see if i can attach it here... i know we all say we are taking our vitamins but ARE WE REALLY??? I know that i have not taken mine in over 6 months I know how to beat the blood work and vitamin up right before....but this time i couldnt and this is a true blood count .... i am talking to the older people on here we really dont know the long term affects of this surgery



FUTURE COMMENTS HERE

11/12/07 - We went to San Antonio for Monica surgery on Thurs. 11/8/07 - of course I was running late and they held her till I go there before they took her back to do her surgery...she was nervous but calm...she did say she wanted to tell them no she didnt want to have surgery...I told her she is lucky she didnt tell them that....

The Nix girls were great...they were there with Monica every step of the way...Moncia had surgery Thurs. and was up walking a couple of hours later...and she was discharged on Friday...she is a trooper... she is going to be so successful with the surgery....

I got to spend a few days with Yvonne and Ramon and we had a great time.... we went to Starbucks Friday night to meet several of the SA people what a great group...you guys need to do that more often....

I came back home a day early cause I am pretty sick and had to take a few more days off work but I am so grateful for a wonderful job where I can work at home....

I am grateful for Ramon and Yvonne you two are the best friends I could ask for...love you guys...




10/03/07 - something i posted on the boards that i want to keep as a reminder to myself.... and to other who read profiles... this is for LIFE....

I really hope to help those that are just starting out and those that are further out and at goal or close to it…. I am sure I will get some flaming on this post but this is the honest truth and if WE can't be honest with each other than who can we be honest with???
Below is are all the test that I had done….
COMPREHENSIVE METABOLIC PROFILE (sodium, potassium, chloride, glucose, BUN, creatinine, calcium, total protein, albumin, total bilirubin, alkaline phosphatase, aspartate aminotransferase)
(Nc, K, C1, CO2, Glu, BUN, Cr, Ca, TP, Alb, Tbili, AP, AST, ALT) 
LIPID PROFILE (cholesterol, HDL, LDL, triglycerides, chol/HDL ratio)
(Fasting specimen), Tchol, Trig, HDL, Calc, LDL)
ALT (SPGT)
GGT
LDH
PHOSPHORUS – INORANIC
URIC ACID
CBC (HEMOGRAM/PLT/DIFF)
B-12 & FOLATE
IRON, TIBC, % SAT
FERRITIN
VITAMIN A & D (T3U, T4, FTI, TSH)
ZINC
MAGNESIUM
SERUM INTACT PTH
PARATHYROID


9/27/07 - Of course its been 3 months since I updated the Austin conference went really well it was sold out... then a few weeks ago 9/14/07 we had a OH conference in San Antonio it went really well and Monica is having surgery with the NIX group in San Antonio... this was just amazing how it happened... Jackie Guerra talked to the Nix Chix and asked them about doing the surgery for Monica... and then on Sunday announced it to the group that someone was going to have their surgery done... oh my gosh I was just crying and crying it was like a dream come true... Monica has been on the boards for over 4 years and her insurance has a clause that excludes weight loss surgery.... which really really sucks... but with God's favor she is having surgery this year.. never give up on your dreams.... 

I am going to Dallas today 9/28/07 to participate in the Walk for Obesity with Ramon and Yvonne... I am hoping I can finish the 3 mile walk... I havent been walking in a LONG LONG time.... I will post more about how we did once I get back...

As far as plastics goes I am doing great...still a little swollen in the tummy area but Dr. L said he would fix that if it doesnt go down... the boobies are nice and perky.... I am holding in a size 4 I am sure I could squeeze into a size 2... I do have a couple of pants that are size 2 and I do wear them...it all depends on the cut of the clothes.... 

I am going to be a grandmother again in Jan.... and having a grandson.. his name is going to be Kaiden Simon Flores.... cant wait to spoil another one... and of course my chubikins - Autumn Rose Flores is the light of my life... that little girl is walking already.... 9 months old.... she is a mini me.... 

Yvonne, Ramon and I have started a website www.rydobesity.com and trying to help people get surgery and learn to maintain their weight... Yvonne is 6 years out and Ramon and I are both 3 years out and all maintaining our weight... 

I am going to Seattle with work on 10/9 for a week and get to tour Boeing where they make our airplanes... pretty cool... cant wait for that... 

Guess that is it for now....




6/21/07 - Man where to start so much has happened since I last updated..... lets see... went to New York for New Years eve and spent it in time square with Maggie and one of my co-workers had a blast..... I had moved out on 12/29 and got my own apartment and enjoyed being alone I think I really needed that for the 6 months that I was gone.... have had so many changes at our house... I became a grandmother in Nov. of a beautiful little girl Autumn Rose Flores.....

I had plastic surgery on 5/9/07 - had a breast lift no implants, extended tummy tuck and lipo suction done.... by Dr. John LoMonaco... he is a great surgeon... I did have some complications but doing better... still a little swollen but really love the breast....he did a great job... I was so worried about the breast lift but that turned out great...

The support group is going great we have new people all the time.... that is one thing I really believe in having support.... cause there are times that we all go through things in life and fall back to old habits...and its good to have someone accountable to....

In April 07 I went to Irvine California for the OH conference and that was such  an experience....they had an 80's dance on Sat. night and Ramon (my best friend) and I dressed as the prom queen and the nerd... you can see pics of us on my profile.... Yvonne McCarthy also went she spoke on Sat. afternoon and did a wonderful job.... Yvonne is the most giving person you will ever meet.... you can also check out the website she created for me, Ramon and herself... www.rydobesity.com got to meet Jackie Guerra who also had weight loss surgery she was the drummer, the sister in the Selena movie.... http://www.youtube.com/watch?v=HJ7XE9KJyRM this is a short clip from the OH conference....

This weekend is the Texas OH conference in Austin.... it is sold out.... man does that feel so good...with all the work that was put into the conference...and of course people are still wanting to come and its standing room only..... wahhoooooo.... Ramon, Yvonne, Dr. LoMonaco and Dr. Garth Davis are all speaking at the confernce....cant wait to see and meet everyone....

I have to go pack for the conference.... I will update next week sometime....




10/07/06 - Here are a couple of pics from the wedding that we went to and my first formal...

 
Its LIFE… FOREVER…..
Sorry this is so long but there are so many newbies having surgery and they need to know this is for LIFE not just when you get to goal… and have maintained….
This is why being in a support group is so important and not a group that just sits around bitching about everything…but a group that really supports… that really can help you with what is going on… I know with my group we have some that are a little further out than I am so they are going through things I am just now going through and then of course we have the newer ones who are just starting and need to learn from our experiences…. But its like a kid you can tell them what you have been through and they have to experience it for themselves in order to learn….
Then of course there is the mental part of never really feeling that you are thin enough or small enough – that is one thing that no one prepares you for… even at 3 years out I still see the 227 pound girl… I still wonder can I fit in here… chairs, tables, rides, etc… am I really wearing a size 4, 6 or 8… from a size 18/20 pushing a 22….
Then of course there is the drinking part… going to be totally honest here…. I had been drinking at least 2 – 3 mix drinks each night…. Just to try and relax…. And not think about anything or worry about anything… well I know that those little drinks are loaded with sugar and of course for some reason I don't dump on the mix drinks…. And then of course the weekends are different…its more than 2 – 3 drinks… yes I know people talk about trading addictions and I never thought of it as an addiction cause I DON'T have to have it every day….. I can go a day or two without…. It's just an escape for me and I know that… I don't know how to relax or calm down my mind is always going on what needs to be done…. What I didn't do for the day……
Needless to say I have done this to myself… I didn't take my vitamins (I hate taking medicine any kind of pills – I only take ½ an ambien each night) and I haven't been eating like I should be… getting my protein in eating protein first…. Then vegetables...then the other stuff… no I eat what I want when I want and yeah I am at goal but last night I did weigh and the weight is creeping on not much but I am at 130 and that is my limit of where I will let myself get… once it goes over that I have always gone back to basics…. And gotten back down to 120 – 125… that is where I feel most comfortable….
I got a call from my doctor yesterday morning she left a voicemail and said she really needed to talk to me about my blood work that there was a lot going on with it…. So I called back 3 times yesterday and had to leave her voicemails…. She called this morning and asked if I had some time to talk… which that never is a good thing… I told her yes…..she asked me if I was taking my vitamins like I should be and I said honestly NO.. haven't in a long time… just started back up.. I feel fine why should I take them… forgetting about the agreement I made for LIFE…. And she said well it shows…. I am anemic again and all my B vitamins are extremely low… and if I don't get my iron up again I am going to have to get infusions which I did with the first surgery and believe me I hated getting them…  I hate getting any type of needles in me even a finger stick to check my sugar level… I panic and shake and sweat….. and feel close to passing out… so now I have to get a b-12 shot once a week for the next month and then more blood work to see if my levels have come up with the iron and b vitamins…..
A week ago I was asked by my best friend (Ramon) to get my blood work done…because honestly I haven't had it done in almost 2 years….yes I am 3 years out of surgery and feeling great… so why would I need to have it checked right???  Well let's see WE anyone who has had surgery made an agreement that this was for LIFE…. We have certain things we have to do for LIFE and getting our blood work done every year was one of those things… like taking vitamins every day is another one….like eating right is another one….
I really love and appreciate everyone here who has given advice and helped those just starting out…… and those who are further out… we all go through so many different changes in this journey….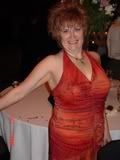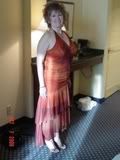 9/26/06 - Man havent updated in a while... I am holding my weight between 125 - 130 so I am happy.. really going to and have plastics soon....
The support group is going great...we are going each month... we had Dr. LoMonaco here at our last meeting and he gave a great presentation....
Cant believe its been 2 years already time sure does fly by.... now its just a matter of maintaining.... and eating right.... I am never hungry and that is my problem....I just dont eat as much as I should... I really try but when I am not hungry I just keep going and going and going.....
For the pre-ops...ask questions that is what we are here for... take measurements and pictures.... its amazing the changes that we go through and so fast.....
If you are looking for a support group and are in the Pasadena, South Houston, League City, Clear Lake area please feel free to join us...
Debra
227/205/128 @ goal
1st Surgery/Revision/Today
8/98 - 8/04 - today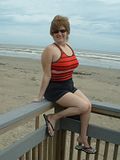 Galveston 9/24/06
7/21/06 - So many things I could write about. As of today I am weighing 123 I can go between 123 - 130 as long as I do not go over 130 I am happy. Clothes wise I have sizes from 2, 4, 6, or 8....
One thing that I wanted to kind of vent about that I see with the Texas board is the cliques... I know we all have them... we all have certain friends that we talk to daily, that we support daily or weekly for that matter... but you know I think its really ashame when you know that people go out of their way to get others to believe their nonsense and not knowing the truth about certain matters....
I ran into a lady the other day from the Texas board at the store and of course we both looked at each other and to see the difference is amazing we havent seen each other in a year... anyway...she asked how certain people were, how the support group was and I told her great growing we have speakers come in and she said she wants to come but she wasnt sure about certain people being at the meeting and I just told her to come not to worry about anyone... we are here to support one another and believe me we need that.... not all this back biting that goes on...
Sorry just had to vent some....
As far as the support group that we have in Pasadena I think they are the best - I love you guys so much...
Oh yeah the San Antonio conference.... well lets just say I was not all that impressed... I did meet some great people like Jennifer from SA...and Jonathan Fuller... and several others... of course got to see Yvonne again...and Ramon and help him out with his speech when he had some last minute changes to do on Sunday....I do want to say that the Houston and Dallas people that I have met are by far the most supportive people.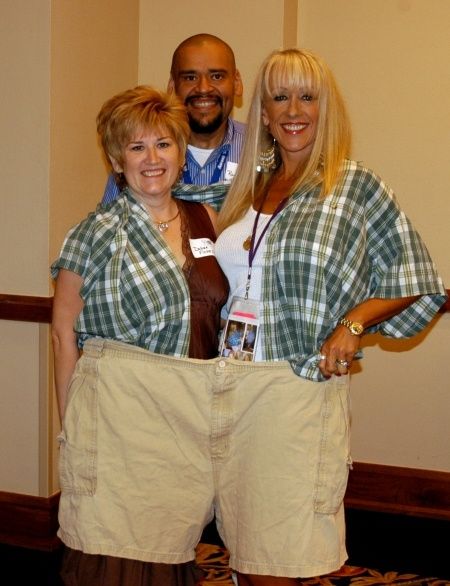 Yvonne & Debra in Ramon's shirt and shorts and there is still room...
Sorry about going off on a rant but sometimes we just have to get things off our chest and I am sure if I posted this on the Texas board it would get pulled...
I will be adding some pics from my 41st birthday party and some from the support group meeting.
If you have any questions please feel free to email me anytime...
Debra
227/205/123
1st Surgery/Revision/Today
8/98 - 8/04 - today
July 14th 2006 - Celebrated my 41st birthday... man I am getting old... but hey you are only as old as you feel and I feel like I am in the prime of my life....
On Sat. July 15th I had a birthday party... those that know me know I am like a big kid I always have a birthday party...lol... why not celebrate... anyway... we had about 30 people over went swimming, had some drinks, danced, hung out had some fun... my brother who I havent seen in a year came from San Antonio with his wife and kids... Jaime, Nicole, Tracy and Ramon came from Dallas - its always great seeing them and hanging out with them... Gina, Tracy & Kristal came... of course my girls Maggie and Lisa were here... Mark and his family...Diana and Bill, and several other friends who were not wls people... I am sure I am leaving some out... but I had a great time... thanks for celebrating my birthday with me...
6/24/06 - I know its been a while since I have updated my profile.... so much has gone on with my surgery.... I am maintaining between 125 - 130.... I feel great and I am healthy...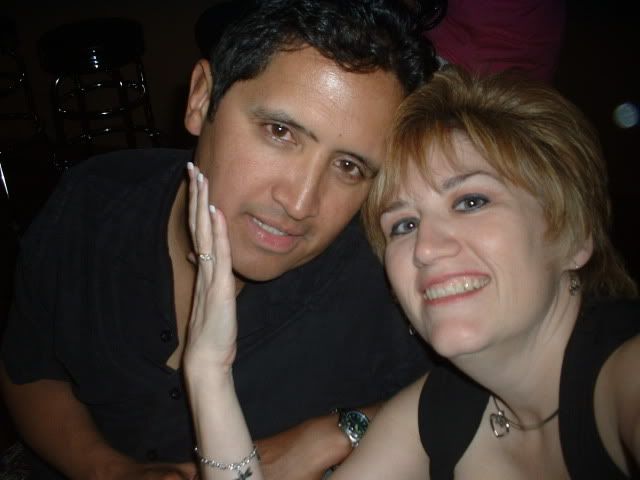 me and my honey....love you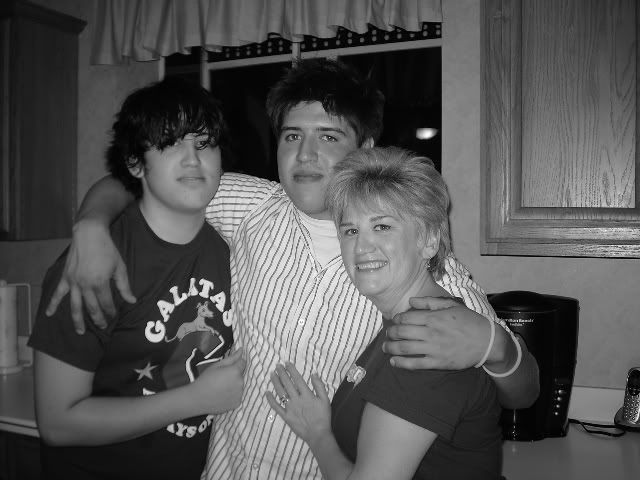 my handsome sons Mikael and Rudy - 6/06
5/05/06
We had a Houston dinner the night before skydiving and then had people over at our house... had a great time meeting so many people I talk to on the boards all the time..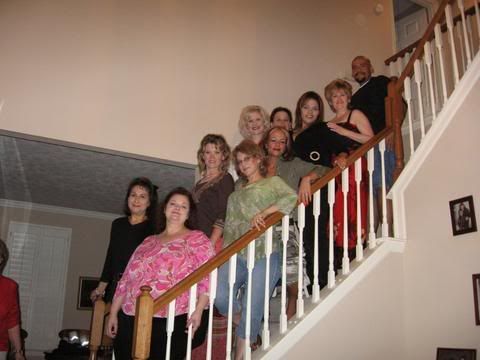 Group Pic at my house after the dinner May 2006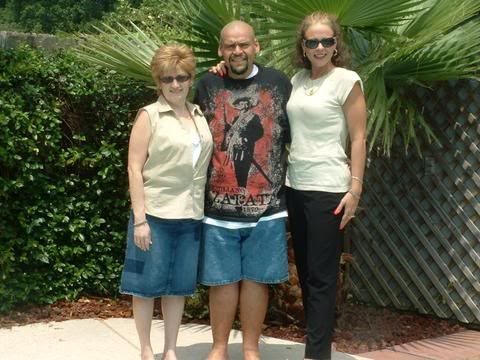 Me, Ramon and Erika May 2006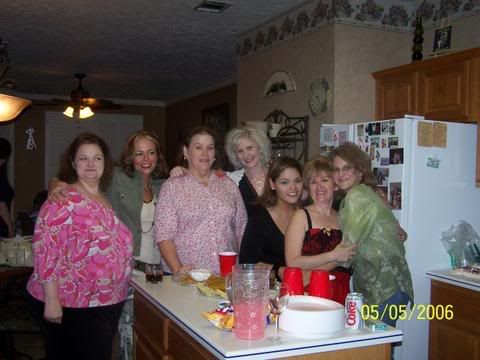 Group of girls after the dinner - we are so beautiful - Liz, Erika, Teresa,, Melissa D, Maggie, Me, and Janice... man have we all changed....
I have gone skydiving twice once in March with my husband and two friends and then again in May 06 with Delia, Erika, Michelle, Delia brother...there are pics on my photobucket if you would like to see them...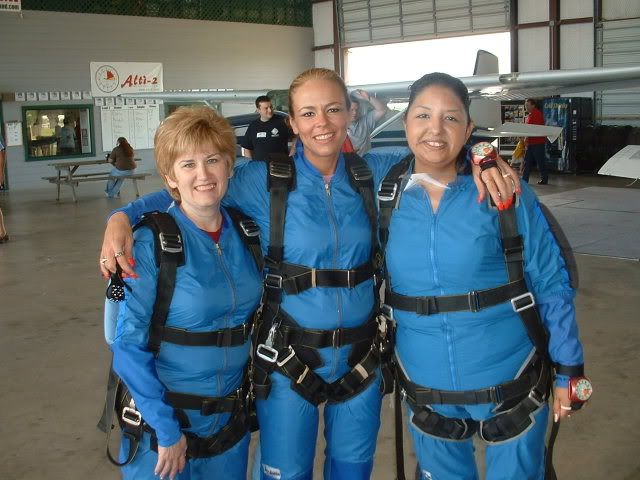 Me, Erika and Delia before our skydiving jump May 2006
Me coming down after my jump
I have a support group meeting here at my house the 3rd Monday of each month and just love the people in my group... very supportive group of women and men... I love watching the changes each month in everyone... I cant mention names cause I dont want to leave anyone off but the most remarkable lady that I am so happy for is Ann... she had a whole year of struggles and is now on the loser side and is doing wonderful.... love you Ann.... there are so many others... Maggie, Debbie, Charlene, Delia, Diana, Mark, Kim, Nancy etc... see I dont want to leave anyone off.... oh yeah Stacie my right hand person... she leads the meetings for me since I am kinda shy.....lol.. in a group setting....
I know I have not posted about my first surgery and having to have a revision... I will email anyone who wants to know what happened and why I had to have it done....
Cant wait for the San Antonio conference in July 2006 cant wait to meet so many of the new people and see so many of my old buddies... hear Ramon speak again... he is always an inspiration...
Anyone just looking into surgery please do your research... there are so many different types of surgeries out there and only you can make the decision on which one would be best for you.... you will never understand all the changes that we go through until you are there as a wls patient... its nice watcing the weight come off but the mental part for me has been the hardest thing... I still see the 227 pound person in the mirror....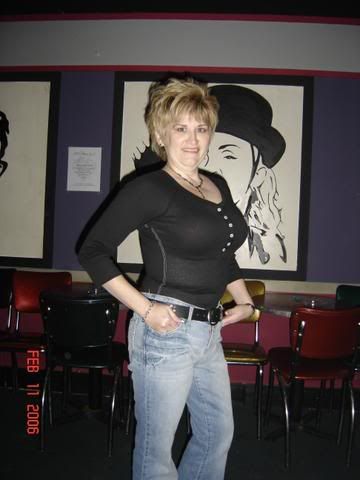 My 18 months pic and 100 pounds gone. This was at Gina's birthday party on 2/11/06.
12/26/05 - Its been 2 months since I updated.... I have been traveling alot and thought I would have gained some weight eating out and all... but when I got home I weighed 128... I couldnt believe it... felt so good.... I added some pics to my www thing... there is a pic from 1 month before my revision... I couldnt believe how big I was... then a pic from 10/05.... and there are a few photo albums from the Houston convention and christmas this year and a couple from my travels to New Mexico... this has been a great year.....

I have made a lot of friends here on the OH board... met several really wonderful people who I can actually call my friends... they know who they are and know that I love them.... and they mean the world to me... even though we dont see each other as much as I would like too but we do talk all the time and support one another.... not just in wls but in life... and that is the best part... we are the only ones who truly understand each other.... who else can you just start talking to about a boob job or hangin skin??? I know my husband looks at me like I am crazy but when I talk to someone else who has had wls they are just so cool with it....

 
Erika, Ramon & Debra my buddies from Dallas
OH yeah... as far as plastic surgery is concerned I am going to wait a little while... I want to get back to being debt free and then I will invest in the surgery...so maybe next year... I am happy wearing a size 4 or 6... I know once the skin is gone I will be in a 0 or a 2....
Anyone wanting information on the surgery please feel free to email... or post on any of the boards.... do your research.... this is a life changing event.... and its not the easy way out....
Love
Debra
227/205/128
1st Surgery/Revision/Today
8/98 - 8/04 - 12/16/05
10/27/05 - Well doesnt look like I update much.... I am bouncing between 132 - 135 now... I feel great... I have 2 consultations to narrow down my plastics... I know I want it done on 12/19... since I take the last 2 weeks of the year off... I am in a size 4, 6, or 8 depends on the clothes.....

I am looking forward to the OH convention in Houston on 11/19/05 cant wait to meet so many people who have helped me along the way... who are so supportive...

My advise to pre-ops... dont be afraid to ask questions and go to support groups.... almost all the people here had the same questions you have now....


5/10/05 - I cant believe its been 2 months since I have updated... so much is going on in my life right now... I am down to 135 pounds as of today and wearing a size 6/8... some 10's too...

Went to the doctor last month and I am doing great... can start looking into plastics for Dec. I already know that I want a tummy tuck and breast lift... I only have 15 more pounds to my goal... my doctor said as long as I feel healthy he is happy with my weight as of right now...

I am now a travel agent and just went to Hawaii, the most wonderful trip I have ever taken, hiked up Diamond Head...almost made it to the top but couldnt go through the tunnel, too closed up for me... buying a new house, selling my house...

Life is great I am so happy I had this surgery when I did

Debra

 
3/3/05- I am weighing 148 as of today... have lost a total of 50 inches all over my body... I am so glad I took my measurements before surgery and once a month... the numbers on the scale might be slow but the inches are dropping like crazy... I am in a size 8 or 10 jeans... I am wearing petite large tops... my shoe size has even changed... went from a 7/1/2 to a 6 1/2.. had to great rid of about 19 pairs of shoes... but that means I can go shoe shopping....

I am going to start looking into plastic surgery.. I have already talked to one doctor and really like him.. but going to another one soon.. I wont have plastic surgery until Dec. 05... want to lose as much weight and tone up as much as I can.. I am working out on a regular basis... and lifting the weights... feels good... I never thought I would say that.. I have never worked out in my life...

 
2/7/05 - I guess I am not too good at updating my profile... well this morning I weighed 152 and I am wearing a size 8 jeans and large tops cause I am not use to wearing anything too tight around the stomach area. I know this is not a lot of weight that I lost but I was considered a lightweight when I had my second surgery.
I am so happy with my results this far.
I have been going to Bally's to work out and I feel so much better when I go.
One thing I would like to suggest to pre-ops and people who are considering this surgery is you really need a support group. I go to a couple of support groups a month and really enjoy talking to the different people you meet on here. Learning new things about the surgery and keeping you going and taking vitamins, drinking your water, just the whole body change is a big thing emotionally...
I will try to update more often.
12/16/04 - I can not believe I have not updated my profile in a while.....Its been 4 months and my doctor just released me to start working out at the gym 12/13/04. I have lost 46 lbs so far and only have about 30 more to go... Went from from size 20 to a 12.... its been over 20 years since I have worn a size that small...

Starting weight 205 - 8/3/04 weight today 159.... its coming off slow but the inches sure are disappearing.. Cant wait till I really start my working out... that will start today....

People keep telling me I have to update my picture that I dont look like the old one... I will do that over the Christmas holiday.

I have enjoyed meeting several people from the Texas board and the support from each person.... thanks a whole bunch... it really helps to have people who understand what you are going through....

I will update again soon....

 
9/28/04 - It is almost 2 months and I am down 34 lbs. I started working out last week and walking 5 flights of stairs at work. I am feeling better. The weight loss is slow but the inches are coming off. I was in a size 20 and this weekend bought a couple of tops size 14, didnt try on any pants but my 18's are falling off... I am sure it will be another week before I HAVE to buy some new pants.

 
9/13/04 - Today is my first day back to work after 6 weeks.. I have lost a total of 30 pounds, it is taking a while for me to get use to working 8 hours again, but I am getting use to it... It seems I am losing more inches than weight... and my clothes are all too big but I am trying to hold off on buying any just yet.

 
8/11/04 went to the dr to have drain tube and staples removed went real well... i also lost 15 lbs.

 
8/3/04 had my surgery revision, everything went well i was up walking within 4 hours.

I had a vbg 6 years ago, had to have hernia surgery and hernia is back, want to get a RNY and have the hernia fixed at the same time.

I went to see Dr. Michael Storey in Pasadena, just for the hernia repair and talked to him about the vbg I had and he asked if I had kept the weight off, of course no I wasn't able to since I was throwing up all the time and the ring was too wide....etc. I received my approval letter on 7/17/04. I still had to go to the dietician meeting on 7/19, did that and talked to Tricia in Dr. Storey's office and asked if the approval letter I received in the mail was for the surgery... she said yes.. I was so happy I just started crying... I am finally going to get this done.

I have blue cross blue shield insurance and I didnt think they would approve but I guess since it is a revision and I have the hernia again they went ahead and approved. Dr. Michael Storey is a very straight forward dr. he does spend time with you in your room. I am so ready for next week.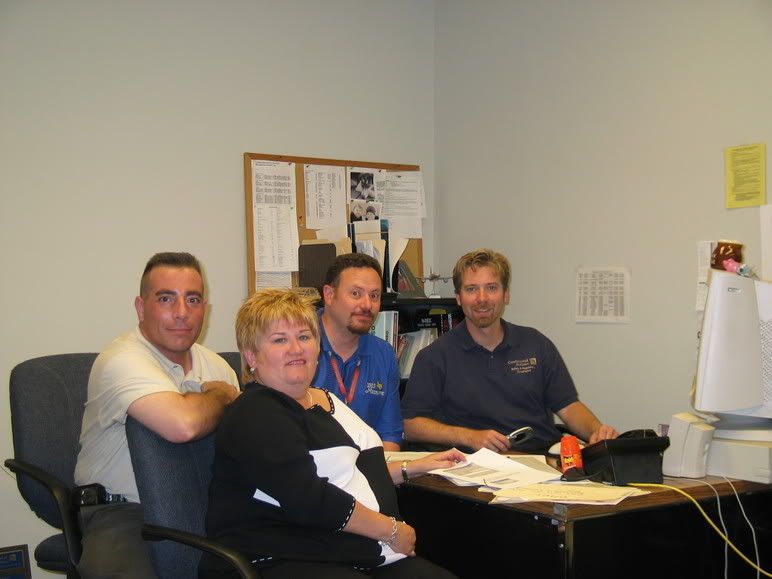 this is me before my revision... probably about 210 or so.. doing a training in Cleveland Ohio  
Those that really know me know I DO NOT like to open up like this but felt I had to at this point....