This is a picture of me with Dr. Duperier right BEFORE he took me into surgery (Lap RNY) on April 11, 2007.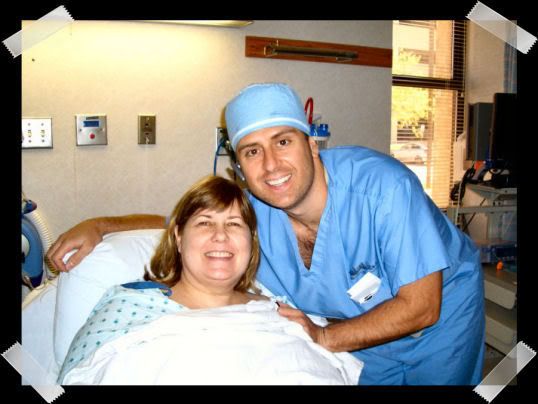 I started to think about Bariactric surgery several years ago when a friend got it done but at that time I was kind of in denial of my weight. I had to have Cardiac Bypass (double) and lost a lot of weight but then I broke my ankle and then I started to have back pain which limited me from doing a lot of stuff. I have done Weight Watchers, South Beach diet, Adkins diet and well as several other ones that I can't even remember the names of.
Istarted to have pains in my stomach which felt like I had a rock roaming around and also noticed I had problems swallowing food sometimes.. like it would get stuck in my throat. Had to go for an upper GI and they found paraesophogeal hernia large. I then was referred to a Gastroenterologist where they did a Endoscopy and Colonoscopy also because they found I was very anemic. They found that I had some linear ulcers in my stomach caused from the paraesophageal hernia. My Gastro doc sent me to Dr. Duperier because he is known for his expertise in fixing the Paraesphogeal hernias. He told me that I was also a canidate for Bariactric surgery but not for the banding. So I wasn't ready to do the RNY but would go ahead and schedule for the hernia repair. My father passed away and I cancelled it and then I decided I would go for all of it. Unfortunately, my insurance company and the school district that I work for has an exclusion for WLS. So after another doctor told me that the surgery sure would help me and proceeded to give me more medications.. I was so upset about my health being so bad that I made the decision to finance it.
So here I am waiting till the date which is April 11, 2007 for my surgery. I am doing this strickly for my health.. I feel like my quality of life now is bad and I am struggling at work everyday. I am hoping this will make a big difference in my life.

About Me
Mar 15, 2007
Member Since
---
Friends

42



---
Latest Blog

18
MOVED!
It's Been a Year
* ALMOST *
Leaving on a Jet Plane
Post Christmas
Still Loosing Weight
6 Months Post Op
Seminar in Corpus Christi, TX with New Dimensions
Hair Thinning
---