Please Visit....
www.in-your-dreams-designs.com
Put your own photo on t-shirts, mugs, mousepads,
puzzles and much more...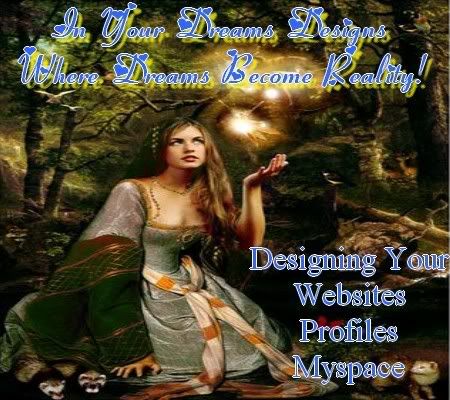 Email me for all your website & DVD design needs
All OH Profiles I do for free no charge at all its my
way of helping others on their journeys.
This Is The T-Shirt I am having made I did the
graphics thought you might like it. Its a little distorted where
I shrank it down so it would not take up as much
space i think you can click it to go to photobucket
to see it the original size. thanks God Bless and
good luck on your own journey.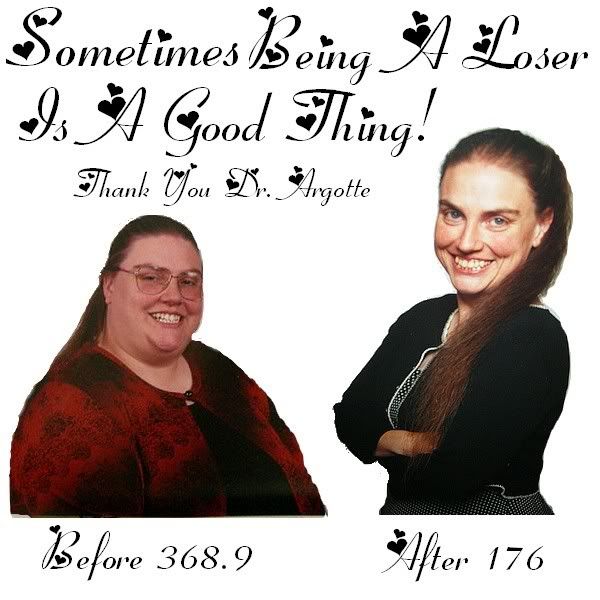 Music Video:DON'T LAUGH AT ME (by Mark Wills)
Music Video Code provided by Video Code Zone
This song used means a lot to me I know
it has something for everyone in it. But I
hope it always reminds me of where I
came from and to always put others feelings
first and to think before I act or speak.
I made this into a DVD that plays on any DVD player.
Thought you might enjoy it.
http://www.youtube.com/view_play_list?p=727001024B1B577B
THE STORY BEHIND THE HANDS
A tribute to Maw Mitchell, her name was Birdie Lou Annelene Mitchell
and she lived for the Lord her whole life after she had 7 children her
husband died leaving her to raise them. We lived next door to her and
when my parents were fighting she was our safe haven from the storm.
My one regret is that she never say me in church. When me and steve
first got married she had become ill and they were going to stick her in
a nursing home which she didnt want and steve came home one day
and said get your coat were moving in with your granny. We did and
we found out her blood pressure meds was messing her up and she
got better we had to fun packed years as we took her to the lake and
shopping and just let her live life. my family had let her sit in the house
till she was about crazy. when we first started staying she was so
scared because she was seeing things and people so at night we
pushed her hospital bed and her queen size bed together and i
would lay between her and steve and hold her hand all night so
she could sleep knowing i was watching to make sure noone hurt
her. then steve would wake up and fix her breakfast while i slept.
after she got better we moved to the bedroom next door to hers
and one night we heard what sounded like a gun shot and she
started to scream that someone had shot her we ran in and noone
had shot her when she went to get out of bed she pressed down
with her arm and it broke that was the sound we heard we took her
to the er and found out her arm had broke clear into. They admitted
her to the hospital and we found out she had bone cancer and there
was just nothing that the could do. She stayed in the hospital for
weeks i would stay round the clock then go home for 2 hours sleep
then come back. 3 weeks before christmas 95 i got sick and they
wouldnt let me see her one week before christmas i was well enough
to go back so on christmas eve she waswas breathing funny but they
told me it was ok and they would tell me if i need to call my dad.
Christmas morning I woke up and went to the bed I told my husband
that i always told maw that i couldnt make it without her and i felt she
was holding on for that reason. So while noone was there about 3 am
i leaned over the bed and told her it was ok I would be alright and she
could go when she wanted. So around 7am i was waiting for my aunt
to come so I could go open presents at moms so i said memaw would
you like for me to sing you some christmas songs. she shook her head
yes because she couldnt move her arms or talk and i sang her ever
song i could think of. I heard my aunt outside talking to the nurse so
i leaned over and kissed her and told her i would be back in an hour
i said maw you know i love you more than anything and she reached
over and grabbed my arm in a death grip and shook her head yes
and i said i know you love me to and she again shook her head yes.
I said well i got to go ill be right back and she let go i was shocked
because she had not moved in so long so i left and drove 5 miles to
my moms and went in and sat down and seen my dad fly by and pull
in I ran to the steps and he was running up the drive and i kept screaming
she died didnt she and when he hit the 1st step he said yes. I screamed
and the next thing i knew i woke up on my moms bed throwing up.
They told me that I had probly not got downstairs on the elevator
when she died. I think she was waiting for me to leave. It took me
years to celebrate christmas and listen to christmas music and
not cry. I remember the smell of her apron that she always wore
which i still own and her hands, we used to look at our hands
together and she would say when you grow up your hands will
look just like mine and you know what I never knew my granny
to be wrong as I look at my hands with tears in my eyes i still see
her hands in mine and mine do look like hers.
I truly love this graphic its on a shirt I own how true it is
and cute thought id share it with you all.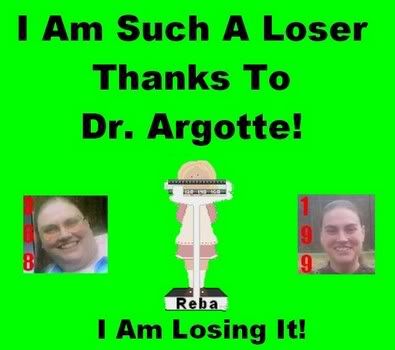 Here are some photos I took and I will be writing late
to tell the awesome things I learned there. i loved all the
class. I never thought I would learn so much in one day.
I recommend everyone go to a conference if you can.
Please take a moment and sign my guestbook

You have been marked on my profile map! Click to make your own visitor map.

Below are Pictures of everything I have went through so far Enjoy God Bless.
Me 205lbs. / pounds lost 163 Leaving for wls / 368.9lbs.
Jamie & Me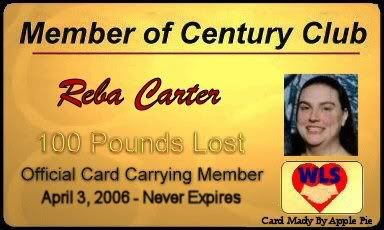 My God daughter (Jamie) was my angel. She did
things for me that my family would not have done.
I am not the biggest Winne the pooh fan but she is.
So Jamie this ones for you I love you girl.

About Me
Aug 08, 2005
Member Since
---
Before & After
rollover to see after photo
After surgry August, 2005
368 lbs.lbs
---
Friends

321




---
Latest Blog

54
Where does the time go??????
Well It's 3 Years People!
---