Finally! YaY
May 27, 2009
I have finally crossed the 100lb mark and the 100lbs since surgery! I am currently down 103lbs since surgery 118lbs total!!!!!
I am really proud of myself! I have worked really hard, made many changes and I feel so much better! I am really on my way! I love my RNY and all of my friends and supporters! I never could've done this on my own!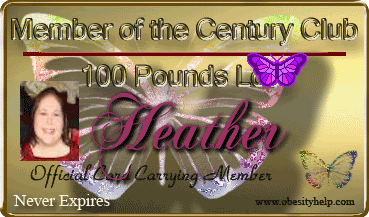 Thank you to Stephanie L. for this most FABULOUS Century Card!!


2 Comments
About Me
May 21, 2008
Member Since
---
Friends

177






---
Latest Blog

15
I love butterflies!
---