---
---
---
---
---
DECEMBER 2006-8 Months Post-OP
Dec 01, 2006
Free Countdown Clocks at WishAFriend.com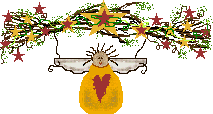 12-1-06-It's the first day of December and I am stuck at home because of the snow storm we got yesterday! 
I got on the scale today and gues what?  
I weigh 199!!!!! I finally made it to ONDERLAND!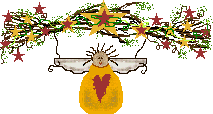 12-3-06-Today is my 8-Month Post-OP Anniversary!  Here are my new photos!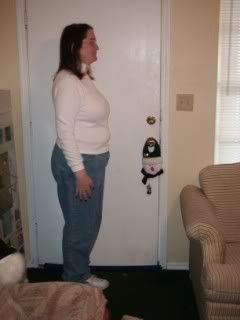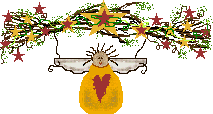 12-5-06-Had my "Girls Night Out" tonight with my Tupperware friends.  We get together once a month to eat and catch up on each other.  We usually eat at Chili's, but decided to eat at Home Town Buffett so we could have the private room to exchange gifts.  I was dissapointed when I called Home Town to see if I could get a discount or a kids meal, but they have a corporate policy not to give out discounts like that.  I did call the corporate office to make a "complaint" and told them that many other resturants DO give discounts, and my family would not be able to go there until they do.  I just don't eat $11 worth of food.  I did go there on our girls night out and paid regular price.  I decided I had eaten PLENTY before my surgery to cover what I did not eat tonight!  Now don't get me wrong, I don't mind getting a regular meal, but I like to take the extra home to eat on again for another meal, and you just can't do that at a buffett.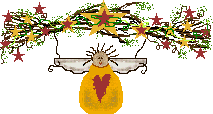 12-8-06-Had our monthly crop tonight.  I made bbq with the little smoked sausages (when I say I made, I really mean my husband made!!) We were suppose to bring something we traditionally make during the holidays, and my mother-in-law makes this every Christmas eve.  I used Carb Smart bbq sauce to make it pouch friendly for me!  Of course, since it was in a round, basketball crockpot...I ended up spilling half of it in my car when I stopped to quick....I guess I will have to get used to the bbq sauce smell.....:).  I worked on my project, before and after, photos to give to my surgeon and his staff at our Holiday Party on next Tuesday!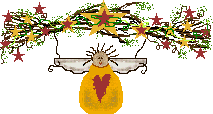 12-12-06-Had the Weightwise Holiday party tonight and it was alot of fun.  My husband bought me to of Chef Dave's cookbooks and had them autographed for me as a Christmas present.  It was great seeing people I knew from the support group meetings, and also meeting a lot of new people!  Here are some photos my husband took of me and the staff!

|
View Show
|
Create Your Own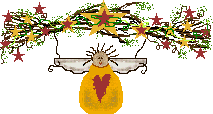 12-16-06-My Dad took us to the Yellow Rose Dinner Theater by our house to see their Christmas show and it was GREAT!.  We had so much fun and the food was wonderful.  I hope to go again sometime!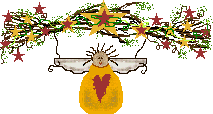 12-21-06-Someone sent me this "poem" and I thought it was great!  I don't know the author, they were not listed!



"Why Jesus Is Better Than Santa Claus"

 

Santa lives at the North Pole….

            JESUS is everywhere!

Santa rides in a sleigh….

            JESUS rides on the wind and walks on water!

Santa comes but once a year….

            JESUS is an ever-present help!

Santa fills your stockings with goodies….

            JESUS supplies all your needs!

Santa comes down your chimney uninvited…..

            JESUS stands at your door and knocks, and then enters your heart when invited!

You have to stand in line to see Santa…..

            JESUS is as close as the mention of His Name!

Santa doesn't know your name, all he can say is "hi little boy or girl, what's your name?

            JESUS knew our name before we did!

            Not only does He know our name, He even knows our address too!

He knows our history and future and He even knows how many hairs are on our heads!

Santa has a belly like a bowl full of jelly…..

            JESUS has a heart full of love!

All Santa can offer is a HO HO HO….

            JESUS health, help and hope!!

Santa says, "You better not cry"….

            JESUS says "Cast all your cares on me for I care for you"!

Santa's little helpers make toys….

JESUS makes new life, mends wounded hearts, repairs broken homes and builds mansions!

Santa may make you chuckle but….

            JESUS gives you joy that is your strength!

While Santa puts gifts under your tree….

            JESUS became our gift and dies on a tree!

 

 

Please remember that
JESUS is the reason for the season!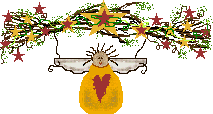 12-24-06-We always spend Christmas Eve at my in-laws and have a great time.  We have the traditional food we always have and then pass out the presents 1 at a time.  It takes forever, but it great fun.  I took over 300 photos that night.  The last present handed out is always from Santa, for someone on the naughty list.  It's Coal!  I always vote for my husband to get it, but he has missed out for the last 3 years, I just don't get it!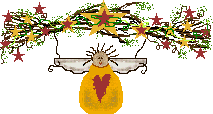 12-25-06-Christmas morning we spend with my family.  We went to my dad's house to open up presents there.  My 2 brothers and his family was there.  We had great fun opening up our presents.
My Dad and me last Christmas! 


My Dad and me this Christmas!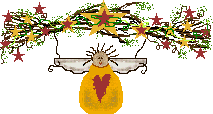 **IN LOVING MEMORY OF MY MOM**
JUDY ARNOLD
I love you mom and miss you very much!
10-3-1940 - 12-25-2004

**IN LOVING MEMORY OF**
Michelle & Holly Chambers
Killed by a Drunk Drive 12-25-2005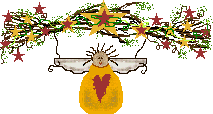 CONFESSION TIME

I did pretty good "eating" wise during the holidays, and I only had trouble on 3 things.  The first was I had made some suger-free snickerdoodle cookies from a recipie I got on this website.  I LOVED them, but could'nt stop eating them.  They were a trigger food for me, so I will not make them again for a LONG time!  The next item was suger-free Cinnamon Rolls (I had been wanting them for a long time and thought I would treat myself for Christmas).  I ate a couple and dumpped a bit.  So I won't be doing that again, if ever.  The last thing, was regular cheesecake.  On Christmas day, we had a traditonal turkey and ham dinner and for dessart, all kinds of pie and cheesecake.  I have had carb friendy cheesecake, and sugar-free cheesecake pudding before.  All they had was regular cheesecake, so I figured, why not, if I get sick, I'll get sick.  I DID NOT GET SICK!  It was about 22 grams of sugar.  It kinda scares me that I didn't get sick.  I know I will need to watch this for now on.

On a good note, I did decide to get back to exercising on a regular basis and have been riding my bike and walking much better this last week in December!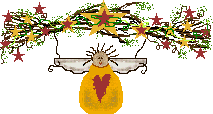 ---
---
---
---
---
About Me
Feb 09, 2006
Member Since
---
Friends

52





---
Latest Blog

15
2008
APRIL 2007, 1 YEAR WLS ANNIVERSARY!
MARCH 2007, 11-MONTHS POST-OP
FEBRUARY 2007, 10-MONTHS POST-OP
JANUARY 2007, 9-MONTHS POST-OP
DECEMBER 2006-8 Months Post-OP
November 2006, 7-Months Post-OP
October 2006, 6-Months Post-OP
September 2006, 5-Months Post-OP
August 2006, 4-Months Post-OP
---