Vitalady's Lab List and Recommended Ranges
Jan 19, 2010
From Michelle (vitalady)

Not to be construed as medical advice, this list includes labs we have had performed as gastric bypass patients.  The first group, every 3 to 6 months for life, as we are able.  The second group, annually, as long as the results were comfortably within normal limits for more than 2 years in a row.
 1st Group
 *80053          Comprehensive Metabolic profile: (sodium, potassium, chloride, glucose,BUN, creatinine, calcium, total protein, albumin, total bilirubin, alkaline phosphatase, aspartate aminotransferase)  (10231)
* 84134          Pre-albumin:
* 7600            Lipid profile: (cholesterol, HDL, LDL, triglycerides, chol/HDL ratio)
* 10256          Hep panel: includes ALT (SPGT) & GGT)
* 84100          Phosphorous – Inorganic:  (718)
* 83735          Magnesium:
* 84550          Uric Acid:  (905)
* 7444            Thyroid panel: (T3U, T4, FTI, TSH)  (84437; 84443; 84479; 84480)
* 85025          Hemogram with platelets:  (1759)
* 7573            Iron: TIBC, % sat
* 83550          Ferritin:  (457)
* 84630          Zinc:  (945)
* 84446          Vitamin A:  (921)
* 82306          Vitamin D: (25-hydroxy)   (680)
* 84052          Vitamin B-1: (Thiamin)  (4052)
* 84207          Vitamin B-6: (Pyridoxine)
* 7065            Vitamin B-12 & Folate:  (82607; 82746)
* 83970          Serum intact: PTH
* 83937          Osteocalcin:
* 84597          Vitamin K:
* 85610          PT:
* 85730          PTT:
2ND GROUP
* 593              LDH:
* 31789          Homocysteine, Cardio:
* 83921          MMA:
* 367              Cortisol:
* 84255          Selenium:
* 84590          Vitamin E:
* 82525          Copper:
 For diabetics: *496 - HEMOGLOBIN A1C   
POSSIBLE DIAGNOSIS CODES
  269.2              Hypovitaminosis
 268                 Vitamin D deficiency
 275.40            Calcium deficiency
 266.2              Cyanocobalamin deficiency  (B12)
 281.1             other B12 deficiency anemia
 281.0              Pernicious anemia
 280.9              Iron-deficiency anemia
 281.2              Folate deficiency anemia
 285.9              Anemia, unspecified 
 269.3              Zinc deficiency
 244.9              Hypothryoidism
 250.0              Diabetes 
 401.9              Hypertension
 276.9              Electrolyte and fluid disorders
 272.0              Hypercholesterolemia
- - - - - - - - - - - - - - - - - - - - - - - - - - - - - - 
 *579.3             Surgical malabsorption* 
 *579.8             Intestinal malabsorption  *
 
*  Bands or sleeves should not use these codes as they are not accurate.
 *Some insurance companies will not pay for any procedure that uses these codes.
LAB TARGETS
  This is NOT medical advice, just my own targets for the main blood levels I watch. 
Protein: 7's  
Albumin:           4's
Pre-Albumin:   20-30's
Iron:                 80-100
Ferritin:           200-300
HGB:               12+
HCT:                36+
Vit A:               60- 80
Vit D:               80-120 
Calcium:           9.0-9.4
PTH:   20-40
Vit B1:             Mid to top of range
Vit B6:              Mid to top of range
Magnesium:      Mid range  (but also go by if we have leg/foot cramping)
Zinc:                 Mid range
Vit B12:           1000 +
Folate:              Top of range
AST (sgot):      Below 40
ALT (sgpt):      Below 40
We usually want to "meet or beat" pre-op levels.  In some cases, higher is better, and in other cases (Cholesterol, PTH for example), lower is better.
The only things *I* don't mind being on the high end of out of range are Ferritin and B12.  But that applies to ME. 
My doctors don't show interest in any of these until I am out of range. *I* am interested when I begin heading that direction.
0 comments
---
flourless, sugar free, no splenda peanut butter cocoa cookies
Jan 15, 2010
Here's my take on flourless PB cookies.  I added chocolate.  What could be better?
1 cup peanut butter
1 Egg
1/4 tsp stevia extract powder (see
HERE
for tons of wonderful information on this product)
1 to 1.5 scoops protein powder (I used Designer whey french vanilla...but anything will work)
2 tablespoons unsweetened cocoa powder (I used Hershey's Special Dark)
Combine well.  Roll into balls, flatten with tines of fork, bake at 350 for 10 minutes.
You can also add vanilla extract, but I often forget it and my cookies taste just fine.
Now, I just KNOW once you see these photos you will hopefully go run off to buy some stevia extract powder because I simply cannot sing its praises enough.  Yum--these cookies are the bomb.  THIS is why you need to go buy that extract.  Because you don't have to use a whole cup of splenda to the batter in order to add stability, you're able to REALLY boost the nutrition of these cookies with the addition of protein powder.  No Splenda aftertaste - only yummy goodness.  I recommend the NuNatural brand.  It's NOT bitter at all -- other brands can be.
They have a nice peanut butter flavor.  The cocoa flavor isn't strong, but it's there and it's yummy.  Look how beautiful!  These make a sturdy cookie.  The outside has a delightful chewiness and the inside -- wow, a little softer and delicious.  They do not crumble.  These are also awesome when you flatten them extra-thin and they get a little more crisp.  It would make an awesome pie crust.
Mmmm....
Look that that.  Yum.  Are you hungry yet?  I am.  Or at least I would be, had I not just polished off like 6 of these puppies.  Do you SEE that wonderful outer chewiness?  And how the inside is more fudgy?  Can you really resist?
Try these.  Try stevia extract.  Separate yourself from the carbs and potential stomach upset of artificial sweeteners and sugar alcohols.  You won't go back.
2 comments
---
Try Stevia Extract Today!
Jan 15, 2010
What is Stevia?  It's an herb used for sweetening, and it's amazing.  Now, a lot of us have tried Stevia and some have found it bitter.  Never fear--give this brand a try.  I LOVE it.  It is SO delightfully sweet, all natural, and no yucky stuff like maltodextrin which is found in so many non-sugar sweeteners.  I was a Splenda lover through and through.  I just had to have 2 packets in my coffee.  But in large amounts, it upsets my stomach.  With an extract, there's so little actual bulk, there's no crap in it to upset your stomach. NO SUGAR ALCOHOLS as are found in things like Truvia.
It is soy-free, wheat-free, milk-free, gluten-free...and of course carb and sugar free, too.  100% natural amazingness.
NuNaturals NuStevia Pure White Stevia Extract
can be purchased
HERE
at iherb.com.  If you've tried NOW brand stevia or some other brand -- give this a try.  It's infinitely better.  I buy this stuff at my local health food store for about $10 and it lasts approx 1 month for all my sweetening needs.
Here's what it looks like:
(See that in the background?  That's my butter dish!)
Here's what the bottle look like.  Look closely: that's 1oz of this fine, white, beautiful, sweet, lovely, WONDERFUL powder.  Teeeensy tiny amounts.  If you're not sure you got the right stuff, look on the back panel, the serving size will be 1/64 to 1/32 of a teaspoon and I believe it says there are 700 servings in that tiny bottle.
How to use it:
COFFEE! - I use approx 1/16th of a teaspoon for a whole cup.  Or, this much:
That's a 1/4 tsp measuring spoon, yes it's ancient. :)  And yes folks, that's all the powder you need to sweeten a whole cup of coffee.
KOOL-AID:
Buy some unsweetened Kool-aid, and make an entire 64oz of it.  Add a scant 1/4 tsp of stevia extract.  There is your sugar free, artificial sweetener-free beverage.  No aspartame.   Cheap.  Delicious.  I make an entire 64 ounces almost everyday.
Greek yogurt:
takes about 1/16th of a tsp as well per cup.
Baking:
Baking with stevia extract can offer some challenges, because you lose the bulking quality of sugar or Splenda.  My way around this is to add protein powder, which actually thrills me to death because it improves the nutrition of the final product without flour.  Watch out for the post I'm going to make using Stevia extract in flourless PB cookies.
Buy it, try it, you won't be disappointed.  Let me know what you think!
I haven't had to buy splenda packets in about 4 months since I discovered this great stuff...I'm on my fourth bottle.  I use it every. single. day. in my coffee and kool-aid.
1 comment
---
update on me...almost 25 months out
Oct 21, 2009
I thought I'd kinda give an update on my last post where I chronicled some issues I was having
http://www.obesityhelp.com/forums/DS/4033701/DS-causing-majo r-hormone-production-pituitary-hypothalamus/:
Low hormone levels, low FSH, low LH, etc!
I did end up getting my MRI done, and it was clean.  No pituitary or hypothalamus tumors.  Good news.  Also confusing news.  Because now I really don't know WHAT to do to fix my problem, except try to gain weight.  I did make an appointment with a reproductive endocrinologist and I'll see her next week.  Curious to see what she says.
As many know, I was a very big proponent of low carb dieting.  At this point, I do still feel it's an acceptable way to go about post-DS dieting as a start.  But, it's not appropriate for ME.  I'm an active 22 year old college student.  I walk to class everyday.  I do muscle toning exercises 1-2x per week.  And, I think I may just be a really good malabsorber than many,  There was just no reason for me to be eating 40g of carbs per day. 
So, the first week had me shoveling carbs into my gullet faster than you could imagine.  Basically, every craving I'd had that I denied myself of got fulfilled within a one week period.  Candy, ice cream, chips, cereal, waffles, syrup, fudge, fruit.  LOL.  I kinda felt awful (physically)!  I decided that I want to stick with some healthier forms of carbs - whole grains, etc.  I eat lots of oatmeal, whole grain cream of wheat, kashi cereals, quaker oat cereal, triscuits, and fruit.  I'm really just not CRAVING the junk very often, but I'll eat chips, candy, french fries, etc as often as I really desire them.  I just don't want them that often.  I don't COUNT carbs, but I think I've gone from practically no carbs to about 250g/day. 
I'm still trying to focus on protein a lot, too.  Sorry Lori, I'm still not on the shakes, but I am making whey protein cakes like 3-5x per day! (protein powder - 1 scoop whey + 1/2 scoop muscle milk chocolate, 1 T dark unsweet cocoa powder, 1-2 T veg oil, 2-3 T of SF syrup, plus enough water or milk to bring it all together into a brownie-like batter...then nuked for about 40 seconds!).  With eating carbs, I know my body is using THOSE for energy before protein, so all the protein I take in can be used to repair my body.  I'm pretty curious to see what my labs do.  They were already pretty good as far as protein goes, so I expect them to be perfect in that area next time lol
Anyhow, though my weight ranges up and down quite a bit, I think I've gained about 9 pounds in the last 4 weeks.  I definitely have a more predictable amount of energy.  I still have some unexplainable low-energy days, but they used to happen almost everyday, and now they are more like 1-2x per week.  No improvement hormonally though.  Still getting hot flashes, night sweats, disturbed sleep, sexual dysfunction, no period, etc.  I know it'll take time, though.
Thankfully, I haven't experienced many issues digestion-wise from the increase in carbs.  I still shun simple breads and enriched flours out of habit, though.
Gaining weight is kind of a mindgame, because I really don't think I look sickly skinny or anything.  Anyhow, I've asked around and my trainer says my face does look fuller and the 9 or so pounds looks good on me. I did decide to continue working out 1-2x per week, but cut out heavy cardio.  It just doesn't feel right to not exercise.  I feel better when I exercise.  I have a better mood, more energy, my body functions better.
Anyhow, I took some photos recently and I'm really proud of how my body looks, plus I haven't really posted anything recently despite my 2 yr surgiversary passing.  So, here's me, 2 years out, 22 years old, 200 pounds down, 5'9" weighing approx 155 lbs.  Yes, I'm dying for an LBL...all my excess fat/skin/tissue is around my middle and everyone asks when/if I'm expecting.  It sucks, but I don't have enough funds to use the surgeon I want yet, so it's on hold for a couple years, I think.  Nothing I can do about it, I don't beat myself up about it, but I just wish people would be more tactful and learn to STFU cuz nothing ruins a good outfit like someone asking you when your baby is due!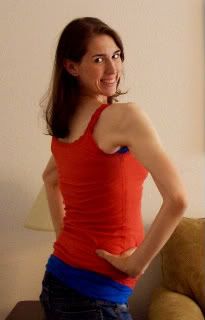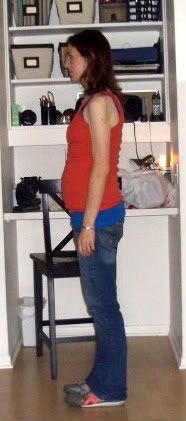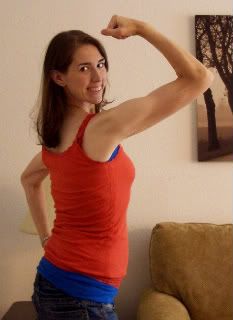 http://www.obesityhelp.com/forums/DS/4047449/update-on-me-hormone-stuff-gaining-weight-photo-whoring/
3 comments
---
almost 13 months out
Oct 22, 2008
I figured it was about time for a new update.

All things considered, I'm doing well.  I'm doing resistance training with a personal trainer 2 days/week for an hour each time, then cardio about 3-4 days/week for about 30 mins each time.  I like the way exercise makes me feel and I really like my new little baby muscles.

My struggle: gaining muscle makes me gain weight.  The number on the scale goes up in huge amounts and I can't stand it.  I'm supposed to be eating more complex carbs to get my through my work outs, and every time I see a gain, I want to go right back to my super strict low carb eating.  But I also don't want to lose any muscle mass that I worked really hard for.

Other issues: I'm going through some sort of digestive distress with gas and can't find the culprit.  I have an ovarian cyst. Every couple of days, my stomach gets so uncomfortably distended.  It makes me feel gross and it makes my clothes fit funny.  Only problem is, no one seems to be able to tell whether this is a digestive problem, bacterial overgrowth, hernia, scar tissue, or something relating to the cyst.

I guess I'm just having a really hard time adjusting to not losing weight anymore and this bloating issue also really messes with my confidence and comfort in my body.

I had to pick up a part time job to pay for the personal training, so now I'm a full time student, working about 22 hours a week at a local health clinic, and dedicating several hours a week to the gym and I just feel burnt out and really tired.  I need a vacation.

Otherwise, my health is good, though.  I'm more fit and I have a lot more stamina to get through the day.  I really do enjoy everything I'm doing, but I gotta keep it real about the tough crap too.

I should be getting my 1 year labs back soon, too.  I can't wait to see the results.

---
10 months post-op!
Jul 24, 2008
Hello!  Well, another month has flown by and I'm now 10 months post op.  Feelin' good, eatin' good; everything is good!  Time is going by so fast now.  I remember when the months were just crawling by when I was newly post op.  I thought I'd never be here.
Stats: I now weigh 176.  I lost 7 lbs this month, which makes for a total of 177 lbs since surgery, and 192 lbs lost since my highest weight.  The handy-dandy lab rat site informs me that I've lost 93.7% of my excess weight.  I wearing sizes 10/12 in pants and around a L/XL in shirts.
I got a small amount of labs done and they came back much improved over my last labs.  Got my iron and vitamin D up (thanks to vitalady!) and now I have to work on my folic acid.
Yesterday, I had to do some short amount of exercise for one of my biology labs.  Last year, something like this would have embarrassed me to no end because it would have been so hard.  It still sucked, but I didn't break a sweat from running around and climbing 10 flights of stairs.  I've also been thinking about joining a gym so I can try to build some muscle which I've NEVER had in my entire life.  Seriously, I can't even do a push up.  Not even a girlie one.
Also, I filmed that video testimonial for my surgeon and realized that even though I totally suck at talking on camera, talking about surgery (especially to pre-ops) is really fun and rewarding and I hope I can find a good way to stay connected to the bariatric community.  You guys are all so wonderful, and I never would have made it so far without everyone's support and knowledge, so I hope I can do a good job at sharing that with everyone else. 
As always, please feel free to PM me about anything, even if you're a lurker and even if I've got no clue who you are!
On to pics!
---
9 month update
Jun 26, 2008
I am still doing really well.  I lost about 15 pounds last month, and I now weigh about 183 pounds.  I've lost 185 pounds total, and 170 pounds since surgery.  I wear a size 12 pants and L or XL tops.  I am half the size I used to be, and I've got the pictures of me and my old pants to prove it!
I'm doing really well with protein, vitamins, and water, which hasn't been as true in the past.  I'm glad that I finally got the hang of things. 
So many things have changed that I can't even think of all of them.  I'm very very pleased!
---
5 month-ish update
Mar 01, 2008
I haven't updated in awhile, so I figure it must be about time!
As of today, I weigh 230lbs.  That's a 138 lb loss total, 123lbs since surgery.  Some days I cannot even believe it, and I feel like my scale might be lying to me. 
I wear a size 18 in pants from Old Navy.  I can wear a size XL shirt from there, too.  I definitely feel smaller on the bottom, but I just don't feel that much smaller on top, for some reason.  I no longer need to wear wide-width shoes, but I do still wear an 11, and I don't see that changing.  Bummer.  I had really hoped to lose a shoe size.  Oh well!  Not the biggest worry in the world.  It at least feels good knowing that I can buy clothes in a regular store that is not Lane Bryant.
I am able to be more active in my daily life without being exhausted, but it's really hard to notice those effects because they are SO gradual.
I rarely feel hungry.  I just don't eat as much as other DSers do, but my loss is magnificent to me, so I try to not let that bother me.  I do feel food temptations rarely but they are weak and I am very, very dedicated to staying low-carb so that I can lose all of my excess weight.  Pretty much everything I eat is either protein or vegetables.  It is a weird thought that vegetables are now a supreme treat to me.  To be honest, I do look forward to a time when I can eat more volume and more variety.  I just hope I don't have to wait a whole year to get to that point.
I am constantly amazed by this DS miracle surgery, though.  I just do not crave things like I used to.  Pre-op, I would get some sort of food craving in my mind and I would be fixated on it to the point of not being able to concentrate.  There would be nothing on my mind except the food of choice, which was usually either pizza, fast food, ice cream, or chinese food.  I would be unable to function mentally until I not only ate said food, but binged to the point of discomfort on said food.  Well...no longer!  Now, I occasionally want to eat something, but it's no big deal.  I find that if I indulge the craving, I am totally bored with the food after about 2-3 bites.  If I just don't feel like indulging the craving, which I usually don't, the craving doesn't eat away at me and usually goes away rather quickly.  The most interesting part is that most of the time, the things I want to eat are protein and vegetables.
Hair:  totally falling out.  I hate it.  I am contemplating a haircut, but am on the fence about how short to go.  Everyone I ask has a different opinion.
I really try to stay on top of my nutrition, vitamins, and water.  If I ever slack off a little, I can REALLY feel it (especially with the water).  If I don't drink enough water, I get chapped lips and a dry mouth.
Regrets?  I don't know.  At first, it's so easy to feel regrets because you just feel lousy.  Now, there are just so many things that I can do that I couldn't do before.  I feel more confident when I meet new people.  I feel more comfortable in my body.  Sometimes, I feel regret when I wish I could eat more.  It doesn't happen often, but it happens occasionally.  Whenever that happens, I just remind myself of how much better I feel and how wonderful a change this has been for me, and I instantly forget my regrets.
I have 66 more lbs to lose until I reach a normal BMI.  To a normal person, this probably sounds like a lot.  To me, at this point in my journey, it really feels do-able.  It certainly feels like a lot less than the 200 lbs I started with.  Yeesh, in only 5 months?!  I am so exhilarated.
I'm going to Las Vegas next week, which I'm thrilled about.  I know I'll be able to walk all over the place without being exhausted simply from carrying my own body weight around.
So, basically, I'm excited about my life and what the future should bring.
I
MY DS!
---
Two Months post-op
Nov 28, 2007
I'm finally 2 months post op and I feel really good!  I got my full amount of energy back around 6 weeks out.  I am still struggling with nausea, but it is getting a little bit better as long as I eat enough.

I've lost about 65 lbs so far (50 lbs since surgery).  I can tell in the way that things fit that I am getting smaller.  I know my legs and butt are getting smaller because those areas are getting really baggy in my pants.  I'm wearing 28's right now, but they are a bit too loose in the waist and I may need to go down to a 26 soon.  I can also tell that my fingers are skinnier than usual, because my rings are way too loose, and I had to stop wearing them.  I've always hated my sausage looking fingers, so I am excited that they are losing size along with the rest of me!  As far as I can tell, my ring finger size has gone from a 10 to an 8 or 8.5.

I was cleared to eat whatever I can handle at my last post op appointment, yay!

I am experiencing some hair loss.  It's not coming out in clumps yet, but it is noticeably coming out a bit easier than usual.

---
One Month post-op
Oct 23, 2007
I'm officially one month post op!  In some respects, this has been the longest month of my life, yet sometimes it feels like it flew by.

I don't have much to add.  I'm still drowsy and physically tired, and still getting full really fast.  My diet hasn't progressed much further than what I listed before, so not much to add there either.

I don't know how much weight I've lost because I don't have a scale and my appointment with Dr. Ganta isn't until next Friday.  I'm not really all that concerned about the weight loss right now, anyways.  Just trying to focus on liquids and protein and trusting my DS to do its job.

I guess that's about it so far! :)

---
About Me
May 19, 2007
Member Since
---
Friends

247




---
Latest Blog

31
almost 13 months out
10 months post-op!
9 month update
5 month-ish update
Two Months post-op
One Month post-op
---