update on me...almost 25 months out
Oct 21, 2009
I thought I'd kinda give an update on my last post where I chronicled some issues I was having
http://www.obesityhelp.com/forums/DS/4033701/DS-causing-majo r-hormone-production-pituitary-hypothalamus/:
Low hormone levels, low FSH, low LH, etc!
I did end up getting my MRI done, and it was clean.  No pituitary or hypothalamus tumors.  Good news.  Also confusing news.  Because now I really don't know WHAT to do to fix my problem, except try to gain weight.  I did make an appointment with a reproductive endocrinologist and I'll see her next week.  Curious to see what she says.
As many know, I was a very big proponent of low carb dieting.  At this point, I do still feel it's an acceptable way to go about post-DS dieting as a start.  But, it's not appropriate for ME.  I'm an active 22 year old college student.  I walk to class everyday.  I do muscle toning exercises 1-2x per week.  And, I think I may just be a really good malabsorber than many,  There was just no reason for me to be eating 40g of carbs per day. 
So, the first week had me shoveling carbs into my gullet faster than you could imagine.  Basically, every craving I'd had that I denied myself of got fulfilled within a one week period.  Candy, ice cream, chips, cereal, waffles, syrup, fudge, fruit.  LOL.  I kinda felt awful (physically)!  I decided that I want to stick with some healthier forms of carbs - whole grains, etc.  I eat lots of oatmeal, whole grain cream of wheat, kashi cereals, quaker oat cereal, triscuits, and fruit.  I'm really just not CRAVING the junk very often, but I'll eat chips, candy, french fries, etc as often as I really desire them.  I just don't want them that often.  I don't COUNT carbs, but I think I've gone from practically no carbs to about 250g/day. 
I'm still trying to focus on protein a lot, too.  Sorry Lori, I'm still not on the shakes, but I am making whey protein cakes like 3-5x per day! (protein powder - 1 scoop whey + 1/2 scoop muscle milk chocolate, 1 T dark unsweet cocoa powder, 1-2 T veg oil, 2-3 T of SF syrup, plus enough water or milk to bring it all together into a brownie-like batter...then nuked for about 40 seconds!).  With eating carbs, I know my body is using THOSE for energy before protein, so all the protein I take in can be used to repair my body.  I'm pretty curious to see what my labs do.  They were already pretty good as far as protein goes, so I expect them to be perfect in that area next time lol
Anyhow, though my weight ranges up and down quite a bit, I think I've gained about 9 pounds in the last 4 weeks.  I definitely have a more predictable amount of energy.  I still have some unexplainable low-energy days, but they used to happen almost everyday, and now they are more like 1-2x per week.  No improvement hormonally though.  Still getting hot flashes, night sweats, disturbed sleep, sexual dysfunction, no period, etc.  I know it'll take time, though.
Thankfully, I haven't experienced many issues digestion-wise from the increase in carbs.  I still shun simple breads and enriched flours out of habit, though.
Gaining weight is kind of a mindgame, because I really don't think I look sickly skinny or anything.  Anyhow, I've asked around and my trainer says my face does look fuller and the 9 or so pounds looks good on me. I did decide to continue working out 1-2x per week, but cut out heavy cardio.  It just doesn't feel right to not exercise.  I feel better when I exercise.  I have a better mood, more energy, my body functions better.
Anyhow, I took some photos recently and I'm really proud of how my body looks, plus I haven't really posted anything recently despite my 2 yr surgiversary passing.  So, here's me, 2 years out, 22 years old, 200 pounds down, 5'9" weighing approx 155 lbs.  Yes, I'm dying for an LBL...all my excess fat/skin/tissue is around my middle and everyone asks when/if I'm expecting.  It sucks, but I don't have enough funds to use the surgeon I want yet, so it's on hold for a couple years, I think.  Nothing I can do about it, I don't beat myself up about it, but I just wish people would be more tactful and learn to STFU cuz nothing ruins a good outfit like someone asking you when your baby is due!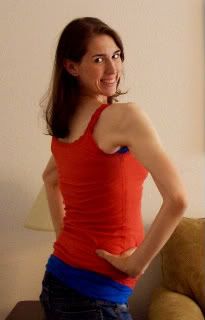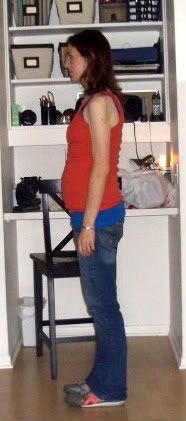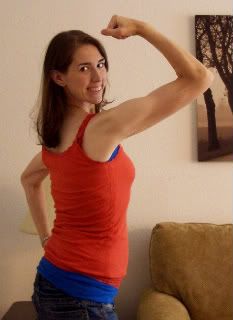 http://www.obesityhelp.com/forums/DS/4047449/update-on-me-hormone-stuff-gaining-weight-photo-whoring/
3 Comments
About Me
May 19, 2007
Member Since
---
Friends

247




---
Latest Blog

31
almost 13 months out
10 months post-op!
9 month update
5 month-ish update
Two Months post-op
One Month post-op
---