3 Year Surgiversary
Sep 20, 2011
It's been three years since I went down the rabbit hole and ended up in Onederland. I'm sure there are plenty of you who have no idea who I am, and I apologize for that. I swore to myself that I would never leave OH, and I never have but most days I only read. Usually all that needs to be said has already been said by the time I get there, so I just lurk. But one promise I will always keep is an update for my Surgiversary because I know how inspiring those posts were to me as a pre-op.
 Maybe I'm also a cautionary tale because I never quite made it to goal and I'm sure my carb addiction is to blame. I do wish I had taken the advice of the vets who told me to keep away from the carbs until I was at goal, and then add them back carefully. I went from 305 to 155, and then gained 15, ending up exactly where Dr. Smith said I would, at 170. And let me tell you, I'll take it! I have to admit to certain wistful gazes at those of you who ended up in a size 6, but I'm awfully happy in my 14's.
Pre-op, I was handicapped. I couldn't stand for more than 5 minutes at a time because of searing pain in my back, and couldn't walk much because of horrid foot pain. Now, I have my life back. I'm on stage again, singing, acting and dancing to my heart's content, and I never thought that would happen again. I hadn't been on stage for more than a decade because I literally could not stand long enough to do a show.
Pre-op, I wore a mask every night for sleep apnea and I'm free from that thing forever.
I have so much fun every morning just getting dressed.
I am forever grateful to the DS vets who waged the surgery wars on the main board and got my attention.
I've been complication free, and my labs have been a dream. I was always a bit of a supplement junkie, so the transition to post-DS life has been pretty seamless for me in that regard. If you'd like to see my supplement list, it's here. It's a spreadsheet listing dosages, when I take them, and prices. https://docs.google.com/spreadsheet/ccc?key=0ApYtkht_37xDdGtleklMTDVuVXhpMVN3LUdpWU53N0E&hl=en_US
On to the pics!
First, a couple of "before" shots:
And now, screw the haters! I'm rocking my size 14 bikini at the beach this week!
DH loves taking my picture.
And I love him.
And now some performance shots from the last couple of years:
The Great American Trailer Park Musical (Betty)
Cistern by Ray Bradbury (Anna)
Noises Off (Dotty)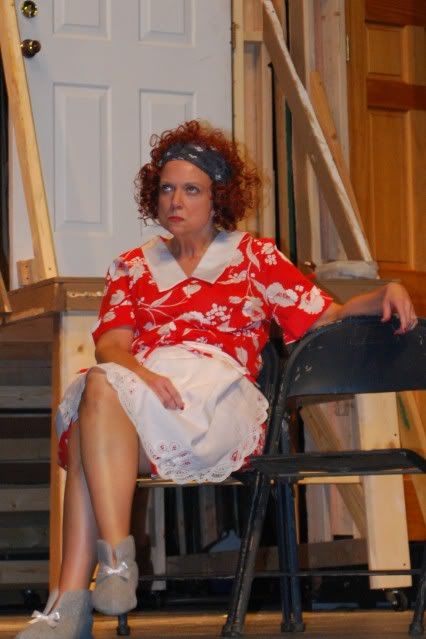 Cemetery Stroll (Susan Watson Leigh)
0 comments
---
Vits & Sups
Apr 24, 2010
I've never taken the time to actually figure out what I spend per month on supplements, until today. Since it took me a long, painstaking time, I'm going to try to paste the spreadsheet here for posterity. I forgot until I was over halfway done, to include the discount Iherb.com gives me for ordering so much, so it's actually a little less. Pre-ops, don't panic. I am a supplement junkie and always have been. Not all of this is DS-related stuff, like the glucosamine, etc.
Well, it didn't paste as a spreadsheet. But here's a link to the
Google Spreadsheet.
0 comments
---
19 months post-op
Apr 23, 2010
Wow!! I just accidentally clicked onto my profile and realized just how long it's been since I've updated! Well, life is great. I'm 4 pounds from goal. I'm busy as hell. Right now, I'm rehearsing every single night, playing a lead role in "Noises Off" at the local theatre. Still drumming with the African dance troupe. Participating in the Cemetery Tour as an actor portraying a local historical character. On my feet all the time. Pre-op, 5 minutes on my feet meant horrible pain. It's almost hard to remember what that was like. Wow. Life is good. I haven't had any pics taken very recently, but I have had several taken since the last ones I posted here, so here are a few.
First, just because I love this pic of me after a rock show where I sang with a couple of buddies from high school: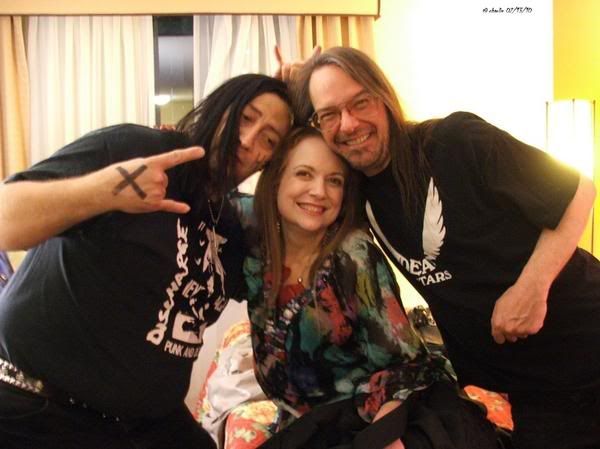 At the Sweet Potato Queens parade: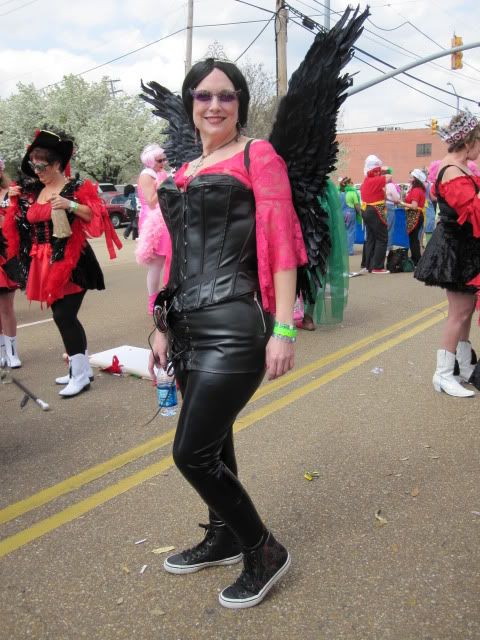 And wearing jeans, which I NEVER wore pre-op:
0 comments
---
10 months post-op
Jul 25, 2009
Just copying my latest AW posts from the DS board:
Today was my 10-month surgiversary. I didn't lose all my weight in 6 months like some, but I'm still losing slowly (3 pounds this month) and if I never lost another pound I would still be thrilled with this brand new life. I ran into an old friend on the street tonight and the poor man could barely string a sentence together. It was something like, "Anna...you're so... slender...and so... blonde!" ROFL I love those WOW moments.
I had a bit of a meltdown in the dressing room at Cato's last night though. When I walked into the store, I automatically went to the right, to the plus sizes. But I quickly realized I wasn't going to find a damn thing that fit. Holy Crap! Was I going to have to walk to the
other
side of the store? How embarrassing will that be?? Surely there's nothing over there to fit me!! I had to force myself to go over there. So I was trying on several shirts, mostly XL (yes, not 4x! not even 1x! XL!) and as god is my witness, every one of them swallowed me alive. I lost it. I just started bawling like a baby girl right there in the dressing room. I came home with 2 brand new shirts, size Large. Plain old "L".  And do you know that when they put those regular sized clothes on sale, those bad boys are cheap as hell??
Then, this morning, as I have done every "casual Friday" morning for the last 4 months, I tried on my dream jeans. You know the ones. The ones you saved from your skinny days hoping someday to get back into them? Well, this was the morning. I actually wore them to work:
But I digress. I promised ass pics.
First, my pre-op ass in all it's glory, playing in the fountain downtown at the last NADS meeting before my surgery:
And now, that self-same ass today, getting into the truck on the way to work: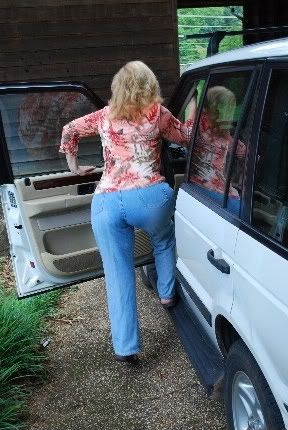 Viva la difference!!
AND THIS POST:
Sorry. Don't mean to be attention whoring so soon after my last session, but I promised Shani I'd post a pic of my new outfit. I'm a drummer for an African dance troupe, Poza, here in north Alabama. We performed yesterday for the W.C. Handy Music Festival.
Here's my new African garb: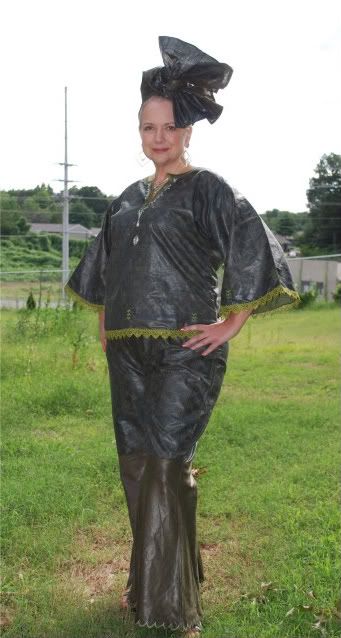 That is all.
1 comment
---
9 Months Post-op
Jun 17, 2009
Well, on the one hand I can't believe it's already been 9 months. And on the other hand I can't believe it's only been 9 months since I got my life back. I guess it's time for a real update. Let's see:
WEIGHT:
I still have about 50 pounds to go, to get to my dream weight but realistically I'll be thrilled to lose about 30 more. From my all time high of 305 pounds, I've lost 116 pounds; from my first appointment with Dr. Smith 112 pounds; from surgery 106 pounds. I'm now at 189, firmly in One-derland. I love that even on doctors' scales I'm registering in the ones. I have no desire to be skinny and honestly I would be thrilled if I never lost (or gained! ) another pound.
ENERGY:
Finally I've got it back! I was very, very tired til about the six month mark, but now I feel like I could conquer the world. We took a week's vacation to the Gulf of Mexico last week, and the difference was amazing. It used to be such a chore, just to walk from the condo to the beach. Now, it's just no big deal to go back and forth, take long walks on the beach, follow my bliss!

FOOD:
Love it! My food aversions to meat are pretty much gone. I tolerate just about anything, but do avoid white flour and pasta completely because I don't want to take a chance on gas. I keep things fairly low-carb; between 50-100 grams a day. I make sure to get plenty of water, which is all I drink except for a big mug of coffee and a protein drink every morning. I love the DS lifestyle!
CLOTHES:
I've gone from a 28/32 to a 16W in pants and a 14W in tops. I haven't made the switch to Misses sizes because the Womens sizes tend to accommodate my hips better. I've always been a definite pear-shape, and that hasn't changed. As you all may have noticed. I kinda like to perform and play dress-up, and that sure is a lot more fun these days!! You should have seen the face of my African drum instructor last week when he saw me in full African garb at performance. He hadn't seen me since I was his student 2 years ago and I thought his eyes would pop out of his head.
SKIN:
Getting droopier all the time! Especially inner thighs and arms. But I look great in clothes. And I have recently made the decision that I just don't give a rat's ass what anybody thinks of my bat wings and I am wearing short sleeves if I feel like it. I'm 45 years old and I have earned the right to be comfortable in my own skin, regardless of how well it fits. It's unlikely that I'll ever be able to afford plastics, so I'm going to enjoy the body I have.

CO-MORBS:
Sleep apnea is gone!! No more Darth Vader mask every night. I'm off all of the COPD meds too; I was using two different inhalers, two nasal sprays and an antihistamine pill every day. Now the only prescriptions I take are Nexium and Prometrium (to regulate my cycle). I'm still getting used to being able to be on my feet for hours without searing pain in my back, legs, and feet. It's truly unbelievable and I do have to remind myself that I am not limited in the ways that I was!
GRATITUDE:
I'm swimming in it. Deep thanks to LeaAnn who showed me the DS Light, to all the Renegades and Karlene Dittrich without whom I would probably still be fighting to get my DS. To my OB/GYN who actually kept good records of my weight and weight-loss attempts for the last 10 years, to my amazing surgeon and his fabulous staff, to my husband who has been nothing but supportive every step of the way, to my former employer the New York Times for overriding the evil BCBS of AL and approving my surgery,  and to every single one of you on the DS board without whom I would probably go insane.
On to the  pics!
First, a random "before" shot:


On vacation last week: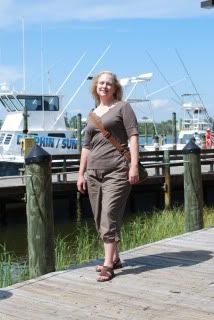 And a beach shot:

I love my DS!!
1 comment
---
6 months post-op
Mar 17, 2009
Things seem to be moving so slowly! I'm losing about 7 pounds a month. Doesn't seem like much when you've been losing 20-30! So I'm a little conflicted. I know things are supposed to slow down. I get that. But are they slowing down too much? Do I need to limit the carbs even more? My instinct is to keep on going the way I've been, because I'm very comfortable with it and I am losing. I think sometimes it all just seems too good to be true.
Here's a pic from my 6 month Surgiversary, which also happened to be St. Patrick's Day!
3 comments
---
4 months post-op
Feb 06, 2009
Well, I'm a little late in writing this. It's been a busy month! I'm 4 and a half months out, and DH took some photos on my 4 month surgiversary. I'm doing really well. I was down with pneumonia for several weeks and now that I'm better the energy I fell is just amazing! I had the most wonderful "WOW!" moment yesterday. I had stopped by a convenience store for water on the way from work to rehearsal, and as I was standing in line I half-consciously glanced at the monitor showing the customers from the back. I saw my enormous morbidly obese butt and that same wave of embarrassment came over me that always does when I see my reflection in public. Then I woke up and realized
that was the woman standing next to me!
I was the
normal
sized woman beside her with the cute jacket and great hair!! When I got home and told my husband about it I just lost it and started bawling. Poor thing, he didn't get it. He said, "And this makes you sad?" LOL
Anyway, here are the pics. There's a before and after of my hair too. It's getting a little thin, and it was looking pretty raggedy as you can see. I had it professionally chopped and I love it!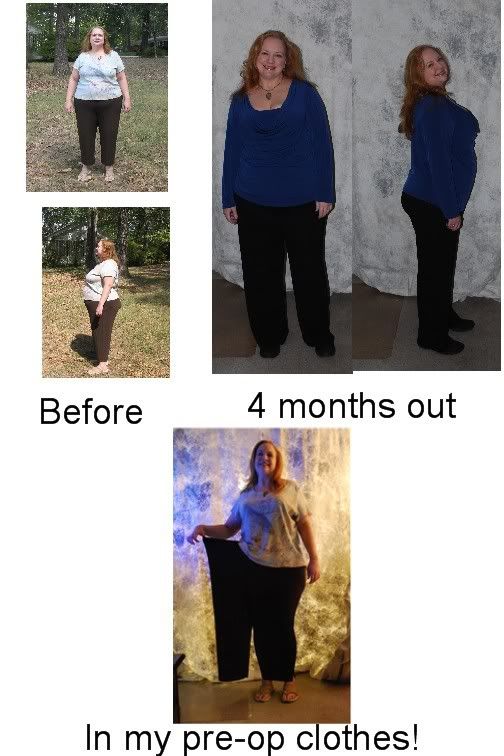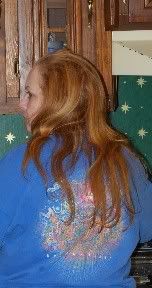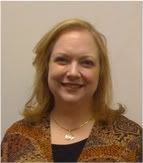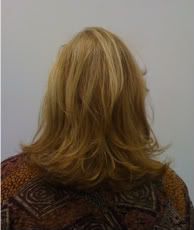 9 comments
---
3 Months Post-op
Dec 17, 2008
OK, I've never tried to take my own pic with a cell phone and these are pretty awkward but I wanted to get pics on my surgiversary so here you go! I've lost 62 pounds now and everything is perfect! I'll have my three month followup with Dr. Smith on January 5 and I'm looking forward to seeing my labs. But I feel good. I haven't been working out like I should, and I feel a little weak, from muscle loss I guess, but I'm much more active than I ever was pre-op and I'm enjoying life!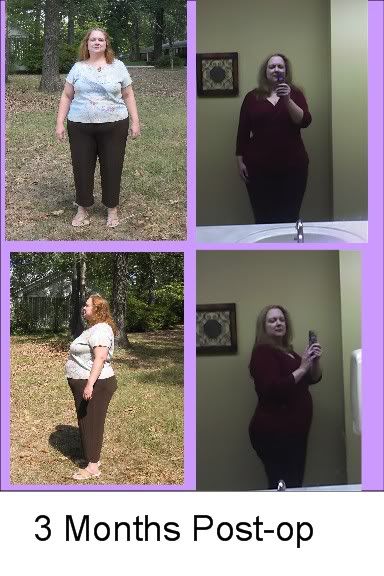 ">
2 comments
---
2 months post-op
Nov 28, 2008
I'm about a week late posting this, but here we go! I'm doing great.  Here's a couple of pics from Thanksgiving:
This is me with my husband:

And with his sisters:

I ate absolutely everything I wanted on Thanksgiving, including dressing, sweet potato casserole and pecan pie, and still dropped a pound the next morning. I love my DS!
I feel like I should be giving a better update with more details but there just isn't anything to tell! I feel normal and I'm loving life! I'm down 54 pounds so far and I can finally tell a difference in the mirror.

---
One Month Post-op
Oct 17, 2008
Wow! What an amazing ride this is! I'm down 38 pounds and loving it. I find that I actually enjoy eating small amounts. Food really had become a chore to me and I love being able to grab a few spoonfuls of cottage cheese and call it a meal. Or, if I'm in the mood, I can also have prime rib with baked potato smothered in butter and sour cream. This, in a word, ROCKS.
I had my one month check-up with Dr. Smith by  phone yesterday and I really didn't even have any questions or concerns to talk to him about! My only problem is fatigue. I still need my naps. But otherwise I feel great, am eating well and I re-started my exercise program this morning in the pool. 
I'm back at work, just half days for now and that is tough because I'm still expected to get in a full day's work in four hours. It's stressful as hell but it's better than trying to tough it out all day long.
I keep having to remind myself that I'm shrinking. I was just on eBay looking for a skirted swimsuit for our trip to the Gulf next month and I had surfed the size 24's for several minutes before it dawned on me that I wear a 24 right now and this trip is a month from now! I have no idea what size I'll be then. I don't wear skirted suits to the gym every morning...those skirts just get in the way when you're exercising but on the beach I like to hide my scary scary inner thighs. I guess I'll have to do some fast shopping the week before.

According to Carolyn's formula, I'm at 25% EWL! That's a month early, so I feel great about my progress. I know I'm due for a stall any minute now and I'm prepared for it.
I have still had no bowel issues whatsoever. Not even stinky BM's. I had ordered a couple different scents of Poo-pourri and still haven't had the chance to test them out.
I am struggling with my fluids a bit because I just can't tolerate plain water. I did discover Propel fit powder, and that's helping. It's like Crystal Lite except that it does not have Aspartame. I think it does actually have some sugar in it (isn't sucrose just another name for sugar??) in addition to Sucralose (Splenda) but it's only 3g carbs for a half packet, and I only use about a fifth of a packet to a glass of water.
So there's my progress report. I love my DS!!
---
About Me
Jul 25, 2007
Member Since
---
Friends

125





---
Latest Blog

24
2 months post-op
One Month Post-op
---