My Back ground: - Pre op.
Oct 17, 2006
Mother of 2, married 26 years to a wonderful, supportive man.
My name is Margie and I have been an RN for 26 years, with a special certification in Occupational Health, working in 'Health' Promotion at a large manufacturing company in Dothan, AL. I Have been feeling hypocritical, since.. I do not feel healthy with all this extra weight!
I Have always battled some with what I now look back on as 'mild' weight problems. Lost 65lbs after the birth of my second child with WW and kept if off for years, in fact, I even taught WW's at work and lead a group working out to Richard Simmons' "Sweatin'to the Oldie" tapes. But after becoming ill with several auto-immune problems, through medications, inactivity, and yes... OVEREATING, I have found my self morbidly obese! However, unlike after the weight loss after the birth of my 2nd child, years ago, the weight will just not come off no matter what I do and have only gained more in the trying.
I have been considering WLS and doing research on it for over 2 years and praying for guidance. Had my first appt. with Dr. Snow just before Thanksgiving- '04. I prayed that if God meant for me to have this surgery that the application would just go through smoothly. If I had 'push back' or trouble, I would take this as a sign He didn't want me to proceed. The request letter went into my insurance company just befor Christmas '04 and I got the approval on my 48th Birthday, 12/30/04!! Thank you God, I have my answer! Happy BirthDay to Me!
********************************************************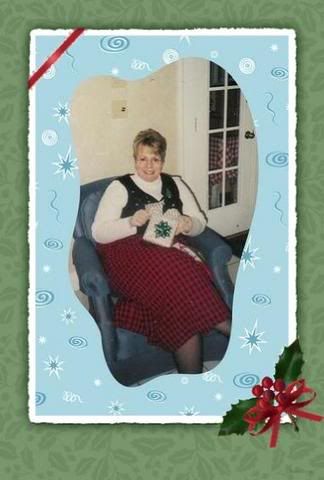 Christmas 2004  250 pounds


**************************************************

Jan.25, 2005
Just a week and 3 days pre-op. I have been doing a lot of reading of other OH members profiles about their surgical experiences. Some I find reasuring and others frightening. But, I do want to know the truth about what to expect so I appreciate everyone's candor. I have had 2 C-sections, usin only epidurals and never have had any general anthesia. So I do not know what to expect from being 'put to sleep'. I guess what concerns me most right now is post op infections. There is so much staff infecting the hospitals in Dothan right now, that it is frightening. But my surgery is in Mobile and their infection rate is much lower right now than Dothan's. Anyway, I believe that God is in control here and He will give me the strength to handle what ever happens and I know that my surgeon is very experienced and top knotch in his field. So, I am praying that God will grant me peace and serenity as I go into this surgery. I am also praying for concentration abilities. It seems all my thoughts and even my DREAMS are tied up in the surgery and it is hard to concentrate on life at hand... like work, and getting the clinic and office ready for my absence. HA!
&&&&&&&&&&&&&&&&&&&&&&&&&&&&&&&&&&&&&&&&&&&
Friday Jan. 28 2005
Well, I can't help but think that this time next week... I will be just out of surgery - hopefully.
The time is coming quickly and I have so much to do to prepare at work and at home. I had all my preop blood work and chest
X-ray done in Dothan with my Dr on Tuesday and today I had my abdominal ultrasound at Flowers Hospital. I will check next week with Dr Snow's office to make sure they received all the test results. Don't want to drive to Mobile for the big day and then the results not be there!
I still haven't told my family. I live near all my in-laws and they know about the surgery and are very supportive. However, my family lives states away and are thin people who have had the attitude that if you just 'close your mouth and push back from the table' you will keep your weight under control. So, I haven't told them. I am not sure I am going too either. Well see. I am praying about it.
**************************************************
2/3/05
Well, we are about to head to Mobile! We can Check into the Guest House at the Infirmary by 3:00 and I want to get there, get settled and be near a bathroom when I start the Mag Citrate. It has been tough at work getting ready to be gone for a while, plus not being able to take any of my Aleve, or Predinsone for 10 days has really made my aching joints and muscle HURT.
I will update after we return!! On the way to a NEW ME!! Yeah!!!!
&&&&&&&&&&&&&&&&&&&&&&&&&&&&&&&&&&&&&&&&&&&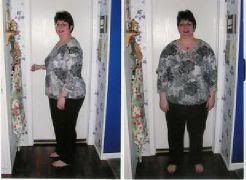 272
2/3/05 The night before surgery !
_________________________________

3/17/05
I didn't realize how long it had been since I updated!
Surgery went well, not near as much pain or discomfort as my 2 c-sections. Learning to eat the new way has been more difficult than I had imagined. I have great difficult eating any meat/eggs - and am having difficutly getting in enough protein. I have gotten the powdered protein sample pack from bariaticeating.com and they are all great tasting! I am having a shake every moning on my hour drive to work and it has made my energy level go way up.
Wt today - 232! 6 weeks post op tomorrow. 39 lbs gone forever!
**************************************************
3/29/05
Well, I now know why I have had so much trouble getting in any protien! My stoma (the part of the pouch that is connected to the small intestine) had a strictue. I ended up back in Mobile Thursday 3/24 and was admitted since I was so dehydrated. My stricture had become 100% and I couldn't even keep down water. The GI Dr., Dr Cross, went in with a scope on Friday and opened it up with a little intrument. Not a big deal at all. The dehydration, the vomiting and all meds they gave me to have the scope were the big deal, and driving the 3 hours to Mobile!
BUT now I know what 'normal' is and I will not allow the stoma to become closed again with out notifiying the Dr. I thought I was having a hard time with solid foods because .. I wasn't chewing it up, or it just didn't agree with me, but as long as I could get in soup, milk products like yogurt, I didn't worry - until I woke up and couldn't even get in water with out vomiting! Fun, fun!
I am eating fine now and haven't found anything that has caused me upset so far. The Dr. says the stoma might close off again and I would have to have the endoscope procedure again. Well, I will cross that bridge when it comes, but right now, it is heaven to be able to eat 3 -4 oz of food at a time!
Yea!!
Wt. today - 231- I slowed down when I wasn't geting in even 500 calories. Now that I have increased my protein intake I am losing again!
&&&&&&&&&&&&&&&&&&&&&&&&&&&&&&&&&&&&&&&&&&&&&&&&&&
4/6/05
I am still eating fine and keeping everything down. My weight loss has really slowed down, however. I weigh 230 today! Only one lb this week, but it has also been that time of the month - maybe I am retaining. The good news for me is I have started walking a mile a lunch! I can also cross my legs! I can climb up the stairs at work and not be out of breath! I feel better than I have in years! More energy and less joint and muscle pain. So I have quite of 'non' scale victories to shout about. I am 8 1/2 weeks out and have lost 42lbs. From all that I have read on the boards and from other people's profiles - it is not unusual to have periods of slow weight loss and then you lose several lbs at once. So I am not worried yet!
I am going to try to increase my water and protein intake. I get busy at work and probably am not getting in enough water.
Well, until next update - 'over and out'! HA!
**************************************************
4-8-05 -
Well 9 weeks out today! The scale moved today!! Last postin I was discouraged that the scale had only moved one lb, but that is what I get for weighing the middle of the week! I am going to try to discipline myself to just once a week or I will make myself crazy with every little oz that I don't think is going away fast enough!!! But I weighed in today at 228!! Woo Hoo! And I bought 'mother of the bride' dress yesterday in a size 16!! It is a little tight in the hips, but I figure in another 6 weeks that it will just right!
44 lbs gone forever!
&&&&&&&&&&&&&&&&&&&&&&&&&&&&&&&&&&&&&&&&&&&&&&&&&&
4-15-05
10 weeks today and another 2 lbs gone - so that is 46 lbs gone forever!! I was starting to get discouraged about the rate of loss, but a month ago I was 8 lbs heavier - so 8 lbs in one month is GOOD! I am trying to not be impatient. After all, a slower loss will allow my skin to shrink some and not be so saggy.. Ha! (it was saggy before!! gravity is attacking at age 48!) Didn't get as much walking in this week. Will try to do better this coming week!
**************************************************
4-20-05
Well it isn't Friday and I try to wait to weigh in on Fridays but I couldn't stand it. I could feel that I had lost weight so I just weighed and I am down 2.5 lbs!! Woo Hoo - I have moved off this 'plataue!
So 48.5 lbs gone! I have really increased the protein AND activity. Walking almost every day at lunch and on the weekends working in the yard - enough to get my heart rate up. I haven't been 'up to' working in the yard for several years. It is SO GOOD TO FEEL GOOD again.
&&&&&&&&&&&&&&&&&&&&&&&&&&&&&&&&&&&&&&&&&&&&&&&&&&

4-22-05
I know, I know, I was only going to weigh in on Fridays but I couldn't help it and weighed in on Wednesday 4/20/05 because I could just 'feel' that I had lost weight. So, this is Friday and guess what?? I lost even more!! Now I have lost the milestone number of 50 lbs!!!! Woohoo!!! I am so excited. My clothes are just falling off of me and I am having to buy some cheap, in between pants to work in. I have a lot of older tops that I saved even tho I had gotten to fat for them so I am 'rediscovering' them. Wearing a 16/18 bottom and a 14/16 or LG/XL shirt.
I am shoping in the 'regular' ladies sizes again!
This surgery has been the best thing I have done for myself. I have more energy than I have had in years.!
**************************************************
4/28/05
Well, it is almost Friday and time for my regular update and weigh in! (tomorrow I am 12 weeks post op!)
Two lbs gone this week, so I am now 52 gone and am down to 220. Only 62 lbs to goal!!!
I have not had a good week physically this week. I am just very fatigued and 'achey'. I have been running a slight temp. I think that some of my old auto-immunine problems are raising their heads of again. Since surgery I have truly not had any of the 'old' symptoms. I pray not, it has been so wonderful to feel GOOD again. I am going to go to the Dr. this afternoon and get some labs done. Maybe I am anemic or my B12 or thyroid levels are off. I am praying that is all it is. I DO NOT have time to be sick!!! I am the mother of the Bride! The big day is just weeks away now! May 21st! Anyway, I am going to be positive about this and give to God. HE IS CONTROL!!!
&&&&&&&&&&&&&&&&&&&&&&&&&&&&&&&&&&&&&&&&&&&&&&&&&&
5/5/05
Three months post op as of yesterday. And I have lost another 2.5 lbs this week! Yeah!!! Woo hoo!!! 217.5 !!! Hopefully won't be long until I am under 200. I have had a much better week this past week physically. My aches and pains from the fibromyalgia/arthritis are gone. Don't know what set me off last week, but that was the first real trouble with my fatigue and pain since surgery. Praise God it is now gone - I pray for good, but if not at least until after Daughter's wedding. (5/21/05)
I orderd the Vista Vitamins for post bariatric surgery pts. from on line at BariatricEating.com I think they have given me more energy. I just ordered a month to try and I had no idea from literature that it would be 4 capsules 2 X per day. But they are right,they are easy to swallow and break up in the pouch, so there is no trouble getting it into the duodeum. Have had them for about 4 days. And I can tell a difference. This is Thursday again and not my reg. Friday update but as I do this at work and will not be at work tomorrow (taking off for some wedding preparations.) I am updating today.
If anyone is reading this, that is pre-op - the decision to go ahead with this surgery - or the guidance from above to do this surgery - has been the best thing ever for me. I am feeling better than I have in a long, long time. And feeling better about how I look. Can't wait to get in to 'onederland' (under 200lbs) - I know I will feel even better!
God Bless!
**************************************************
5/23/05
Well, I made it through my daughter's wedding and son's graduation! And praise God, all went beautifully! Now it is just recovery time. I know that if I had not had this surgery I would not have been able to do all that I did for the wedding and son's graduation/birthay party. I just did not have the energy 62 lbs ago!!!
Any way, the scale has moved some more! I am now down 62 lbs.
Woo, woo! I am now 210. Only 10 to go before I am under 200! Cannot not wait!!!! I got lots of compliments at the wedding and did feel confident in my new size 16 dress! Best of all is how much better I am feeling. Only thing is I am bruising pretty severly. I have always bruised easily but I have many, many terrific ones right now. (in fact I put concealer on my lower legs to hide the ones that showed through my hose at the wedding!) I go back to see the surgeon on Monday 5/30. So, I am hoping that he will do labs to see what might be out of whack. I am still taking all my vitamins.
Well, until next time!
Grace and Peace!
&&&&&&&&&&&&&&&&&&&&&&&&&&&&&&&&&&&&&&&&&&&&&&&&&&



May 21, 2005 My daughter's wedding! 3 1/2 months post-op. 210 pounds


6/3/05
Well I am 4 months out tomorrow!! I have lost 63 lbs. I am a little disappointed that I have only lost one lb in 2 weeks, but I haven't been walking like I should and have been snacking a little too much. I have increased my water and protein. I did not make the Dr.'s appt. 5/30 and will reschedule. It was Memorial Day and the weather was terrible. I didn't want to fight the Mobile traffic and I 10 for the 3 hours to get there.
Anyway, no regrets about having the surgery. I would do it again in a hear beat! I have been surprised these last several weeks about the 'head hunger' that I have been dealing with. I think that my old habits of needing to feed anxiety and depression have reared it's ugly head again. I know it is post wedding blues - I miss my daughter! And the anxiety of getting my son ready and off to college. My old friend of food is not there for me anymore. So, I must find a healthy replacement. I know if I had not had this surgery I would have just eaten myself into a funk last weekend! But I ate a few bites of this and that and could eat no more. So WLS KEEPS me from binging like my old pre surgical days! Thank you, Dr. Snow. I also know that this is why my weight loss has slowed these last several weeks. But I am back in the saddle and doing all the 'right things' again.
Till next time!
**************************************************
6/9/05
The scale is moving but very slowly! I have lost 2 lbs, but I know I have lost more inches this week. I think I am in a 14/16 pant now. I had bought a size 18 and a 16W pair of pants 2 weeks ago and they are very baggy now. I am getting alot of compliments and lots of people saying I do not need to lose any more weight. Weird, because I still have over 50 to goal and it strange to be getting so many comments from people I hardly know here at work. (we have of 700 employees here) I have been very tired this week and sort of depressed. Don't know what all that is about. But I am excited that the scale is moving in the right direction. I am going to see my Rheumatologist this afternoon, who I haven't seen since surgery. I will be able to tell him that most of my aching joints and muscle pains are gone for the most part!
A 'non-scale' victory to report also! I am wearing my wedding and engagement rings again! (our 27th wedding anniversary is the 17th of this month!) About 5 years ago I had started just wearing a cheap band as a wedding band as I had gotten too fat to wear my rings! I am excited about that!!!
Still no regrets! I would do all of this over in a heart beat!
Till next time!
&&&&&&&&&&&&&&&&&&&&&&&&&&&&&&&&&&&&&&&&&&&&&&&&&&
6/15/05
Well, I couldn't wait until Friday for weigh in - so I hopped on the scale today and 2 more lbs gone!! Woo HOO! I am 205 - I just can't wait to be in 'one'derland again! It has been over 5 years since I weighed under 205! And I am knocking on the door right now!
I get a little discouraged at the 'slow' loss, but hey, 2 lbs a week is 8 lbs a month and I haven't been able to lose like that since 1992! I also think it is probably better on my older skin to shrink somewhat slowly! Maybe I won't have too much hanging skin to deal with when I am at goal. My 'wings' will probably be my biggest concern. I want to be able to wear sleeveless shirts and not be embarrassed. It is HOT HOT down here! 98 today with a heat index of 110!
Till next time!
************************************************
Friday 6/24/05
I am 200.5 lbs!!! I am so close to 'onderland' I can hardly stand it!!! Next week I plan on being there!!! Woohoo!
Been doing ok, still kinda of dragging engery wise, but I think it is my pre-op co-morbids:Fibromyalgia, Hasimoto's Thyroiditis and Sjogren's Syndrome that are raising their UGLY heads again, more than anything to do with WLS. My job is very demanding and having a 2 hour commute every day is a drain - not metion getting really expensive with gas being what it is today!!
I know that my symptoms from my auto-immune problems are not as severe as they were 71.5 lbs ago, but for several months post op they had completely disappeared (I still say it has something to do with the IV antibiotics I had while in hospital)and I sure loved being symptom free for those months. I wish it would last... but the very nature of these diseases is to be cyclic so..I am NOT going to get discouraged. God is so good! I am sooooo much better in so many ways than I was this time last year. I would do this surgery over tomorrow, if I had to, it has given me my back.
Until next time.
&&&&&&&&&&&&&&&&&&&&&&&&&&&&&&&&&&&&&&&&&&&&&&&&&&
6-28-05
I had that feeeling again, that I just 'felt' thinner, so even tho, it hadn't been a week, I jumped on the scales here at work (medical scales, where I always weigh). And Woohoo! I am below 200 for the first time in at least 5 years!!!!!! 199lbs! It was a wonderful feeling to set the scale for 200lbs and see the needle tip to too heavy - so I moved that big weight over from the 200lb mark to the 150! Of course then I had to run the little weight all the way over to 49, but still it was a great feeling! Didn't know if I would ever, ever be below 200 again. It feels great!!!!
**************************************************
7/5/05
5 Months post-op yesterday! I have lost 75 lbs! I am surprised I lost anything this week, as I 'cheated' more than I ever have over the 4th. I do not dump on sugar - which is good - and bad - cause I am tempted to eat things I know I shouldn't - and I know I will not have any immediate consequences. I broke down and had a small bowl of homemade peach icecream on Sunday at a 4th of July family cook out. I was wonderful!!! But it was only a SMALL bowl. Last year, it was two medium size bowls! I also, snacked more than usual ove the long 3 day weekend and didn't get the protien in as I should of. .... So, back in the 'saddle' again today. Still having some significant constipation troubles - despite the stool softener and adding flax seed to my diet (2Tbs ground).
Would I do it all over again? YES, in a 'New York Minute'!
&&&&&&&&&&&&&&&&&&&&&&&&&&&&&&&&&&&&&&&&&&&&&&&&&&
7-12-05
Well, another 2 lbs this week! 195 Yeah! I am firmly in 'onederland'! The flax seeds seem to be doing the trick for me with the constipation issues. I have started on the new chewable Citracale Calcium with Vitamin D. I have had on going trouble with brusing - have always bruised easily, but it has been 10X worse since WLS. My reumatologist did some blood work and I am deficient in Vit. D and he thinks with is contributing to the bruising. So we will see, I think it is a little better after only taking them for a week! The size 16 pants that I bought last month are really getting baggy. Last week I bought a medium T shirt type top and it is not too tight!
Until next week!
**************************************************
7-26-05
Well, I have some new challenges to face now. Michelin Tire company where I worked as the Occupational Health Nurse Specialist outsourced all of the Medical services with some national company that will adminster all health care services through out Michelin - USA. In other words I am no longer employed by Michelin. They gave me a nice severance package, but the day they told me Friday 7/22/05 - was my last day! It was quite a shock - needless to say. So, I am putting my trust in the Lord and will try to find a job in nursing that He wants me to do. But even with my faith, I am weak inside at times... and I used to handle this kind of stress by eating. I can not do that now. Thankfully... and in some ways not thankfully. Eating was my stress relief valve. WAS my stress relief valve. Now I am channeling this into more positive energy. It is time to clean out some closets here at home. I have to get my youngest off to his Freshman year at UF - Gainsville. Boy this is a year of many many changes. Major surgery, RNY which was wonderfully successful. A big wedding to plan and carry out. My daughter marrying and moving out. Son graduating from HS. Losing my job. Sending my youngest off to college. Empty nest. and hopefully a new job to start. Eventful. Not necessarily bad changes, but change to me .. good or bad, has always been stressful.
Anyway, I have lost 3 more lbs and am now 80lbs down. Woo hoo!
&&&&&&&&&&&&&&&&&&&&&&&&&&&&&&&&&&&&&&&&&&&&&&&&&&
08-11-05
Have not updated in a while. I have been dealing with some depression and have been very busy. Not having a job has been good - in that I am getting alot of needed projects done - but being an Occupational Health Nurse has been such a huge part of who I am for so long, it is strange not being able to say I am employed.
One of the projects I am dealing with, is finishing up closing my dear friend an cousin by marriage, Marta's estate. She asked my husband and my to be the execuators of her estate several years ago. (she was 45 at the time). We agreed to do so, however, it was one of those things we never really thought we would be called upon, or if we were it would be so far in the future that we would be expecting it somehow (natural death from disease). However, Marta was Bi-polar and lost her battle with the disease last summer. We really thougth she was coping well and dealing with life well, so it was a great shock. The estate has been a mess... many investments to sort through. The beneficaries out of state... the house not being able to be delt with until professionally cleaned (we did not find her for several days in summer heat) then probate... Well, now it is time to deal with the emptying of the house. It is very difficult for me to even go in the house. The smell is gone, but the memories are still there.
Also, Colin, my last child at home is about to be gone. We take him to Gainsville FL on the 17th for his freshman year at school. I have been very busy getting all his 'stuff' together for his apartment. I know I have not really delt with his upcoming absence from the nest yet.
AND A JOB! I have a few leads that I am working on. 3 weeks into the unemployment. I have 6 weeks of serverance pay left.
Any way... despite eating more than usual I have lost another 5 lbs since last update. Stress has always been my trigger to over eat. But I am trying to stay busy and focused. Plus being home... it is just easier to over eat than when I was a work.
Until next time.
**************************************************
9-14-05
Been a while since I updated. Down 91 lbs. Am now 7 months out. I pretty much can eat what I want now and surprised myself the other day, getting sick and vomiting after eating a grilled pork chop. I guess it was too dry. Still now job... but am going to Ark. to see my 90 year old mom on the 23rd of this month. I am excited to see her, she will soon be 91!
I've had to buy more new clothes in smaller sizes. I recently bought a dress in a size 12 and pants in a 14 and tops medium. I can hardly believe. New underwear too! It is exciting to look in the mirrow and think.... oh, I know you, it is good to see you again, instead of ' Oh, yuck, don't look too long at the fat lady in the mirror." My B/P is 115/70 and I have just about quit taking my pain meds for arthritis and fibromylagia. I still have a flare from time to time..., but NOTHING like before WLS.
Dealing with some other issues... job searching and trying to cope with an empty nest. But.... this is life and I am much better to handle it ... with confidence than I was 7 months ago!
Do the surgery again? In a heart beat.
&&&&&&&&&&&&&&&&&&&&&&&&&&&&&&&&&&&&&&&&&&&&&&&&&&
12/01/05
Been a while since I updated. Wow.. time goes by quickly. In just a few days (12/4/) I will be 10 months post op. I am 10 lbs from goal! I have lost 104 lbs! Woo Hoo! I am wearing Medium tops, just bought a medium winter coat. Still need 12 to 14 for pants though and 12 for dresses. Friends tell me I look too thin, not lose more... but honestly I am not trying it just is coming off slowly no matter what I am eating.
I pretty much eat what I want... trying to get in the protien. I often don't even think to eat lunch as I get busy and 'forget to eat'! LOL I never could understand how folks could say that prior to WLS! Seems like I was so focused on weight and losing all I ever thought about was FOOD!
My only complaint is my bowel habits. Every few weeks I get an "attack" of pain in my lower abd, with terrible bowel cramping like I am going to have diarrehea. Sometimes I do have loose stools and sometimes just the terrible cramping. This happens whether or not I am constipated. I am taking stool softeners and usually have a 'regular' small movement every day but still have this 'attack' every few weeks. Fibromyalgia can cause irritable bowel and I have had that prior to WLS... but nothing on this pain scale. Will discuss with my Rhuematologist at next visit and with surgeon for one year update if not before.
I am tired alot... and depressed alot ... not because of the surgery ... but because of being out of work and having an empty nest, I guess. And dealing with my autoimmune problems. They are much, much better since surgery...but still here and back with a vengence lately. Ah well, such is life and I am so thankful to be dealing with these problems as a thin person.
Some sagging skin issues especially my arms... bat wings! lol. But my abdomen and thighs are not too too bad. Don't think my insurance would cover any surgery for plastics as I don't suffer and medical issues. I would like to have my arms done so I could wear sleevless shirts and not be embarrassed. But if not.. no big deal.
I got a note from dear Gail, Dakota Mom, missing me from the AL OH board. It meant a lot to me, so I will try to get back into the boards. It is difficult from home as this dial up is so very slow.
Well, bye for now.. if anyone is even reading this! LOL
Grace and Peace




**************************************************
2-20-06
It has been a little over a year and I have lost 112 bls! I am only 2 lbs from goal. I haven't been on this site in some time as our home computer has crashed and died. I hope to be starting a new job soon and possibly will be able to update and chat on the AL board more. I am feeling great. Wearing a size 10 in most everything - even.... drum roll here... even in jeans!!!
Possilbly would like to explore plastic surgery for my bat wing arms, but otherwise I feel I am very fortunate in that my skin is not too saggy.
I have missed every one on the AL board and hope to be more active soon. Please take care.
Grace and Peace,
Margie
**************************************************

4/20/06
Well I am back at work. I am working for GE in Dothan, AL as their On Site Occupational Health Nurse. I worked here 3 years ago and left for what I thought was more security! LOL Big Corporations are in a constant state of flux. But it is good to be working again and I am enjoying be back at GE, seems like home after being here for 7 years.
Well, I think I am having complications - even though I am almost 15 months out. I think I have an internal hernia. I have had interminttent bouts of cramping abdominal pain, sometimes with vomiting and diarrhea. The bouts are sometimes months apart and I used to try to associate it with food, but for the last 3 bouts, (Dec, Feb and last weekend - Easter!) I know that it is not food related. The bouts are worse and last longer each time. The last was for 3 days. I almost went to the ER, but did go to the Dr. on Monday - my reg. doctor as Dr. Snow is 3 hrs away. By the time I say my Doc on Monday the symptoms had subsided. But he has ordered an Abdominal Cat Scan for tomorrow. So maybe by Tuesday of next week I will know something. I sure don't want more surgery but I sure do not want to have a strangulated bowel either. I just hope I have no more bouts until I at least get a diagnosis.
Well, got to run. I am now 7.5 lbs below goal. Don't want to lose any more wt. I have NEVER said that in my life before! lol
Grace and Peace,Margie
********************************************
5/3/06
Well, I have picked up a few pounds - and that is ok. Now I am 154 which is still 4 lbs under goal.
I am having a complication though. I have an internal hernia, maybe two. Dr. Snow will do Lap. repair -hopefully out pt- on 6/2/06. I have been having intermitent abd. pain for several months now. Every few months. The last 'spell' was Easter weekend. I spent the whole 3 days (was off Good Friday) curled up in a ball on the couch. Had to take the left over narcotics I had from the RNY surgery. But by Monday was fine again. The Cat scan was read as 'normal' by my PMD and local radiologist. But I saw Dr. Snow, my RNY surgeon on Monday and he and his radiologist looked at the Cat Scan and per their practiced eyes saw two suspicious places that they believe are internal hernias. I would like to have the surgery sooner than on 6/2 but I have just started a new job and have to travel to Orlando for some training and do not want to be sore when I go... so I am praying that I do not have another episode of abd. pain until this thing is fixed.
Still would do RNY in a heart beat. Am doing so well in every other way! No C-PAP, no more B/P problems, much less meds for my auto-immune problems.
Got to run.
************************************************
5/10/06
Well those lbs I picked up are gone again.... back down to 151. I think it is because of these internal hernias. I am really afraid to eat... and am just trying to get in lots of fluid and protien drinks! I do not want another episode. Had one 3 days ago... not as bad as at Easter... but with lots of diarrhea again and terrible cramping.
Can't wait to get this surgery done and be through with the pain!
Still would do the WLS in a heart beat! I am feeling great otherwise and am active and healthy.
Bye now.
***********************************************
5/26/06
I have lost more weight. I am 148 today. (I actually moved the 150 wt. over and used the 100 to weigh on the clinic scale here at work. Haven't had to do that for years and years) For the first time in my life I do not want to lose any more weight. I keep creeping down the scale and I do not want to have to buy a different set of clothes. I am wearing an 8-10 and at 5'8" I think that is just about right for me. I have had several more episodes of the terrible stomach pain, from the internal hernias. Last night was pretty bad and I had a lot of diarrhea with it. So I get all this fixed next Wednesday 5/31/06. Maybe when I am with out the abdominal pain the weight will stablize. I know that I just can't eat much if at all when my gut is hurting and cramping so. I can't wait to have this surgery and get rid of this unpredictable pain.
We leave for Mobile on Tuesday night - actually will be staying at my daughter and SIL's house in Pensacola Tuesday night so we will just have an hour drive to Mobile Infirmary Wed. am . We have to be there at 0700.
Well, if anyone is reading this I will update after surgery.
*******************************************
6/12/06 Well, I had the surgery on 5/31/06 and ended up having 8" of my small bowel pushed back through the hole in the mesentric tissue as well as a gallbladder removed that had 3 stones in it. No wonder I was so miserable! I must say that this surgery was more painful than the RNY! I think it is because it was out pt and the oral meds just don't cut the pain like the IV meds and IM shots. Also, I was so 'physched' about the WLS surgery... I knew what to expect and I really didn't with this surgery. I really had trouble eating for about a week after surgery and still had a lot of intestinal cramping and tremendous amouts of burping type gas, like I had before surgery. But about 10 days post op, I turned a corner and am feeling much better from the surgery and also much better than I did before surgery! Am so glad that my Dr. Snow knew to go in there and look, as the CT scan was initally read as normal here in Dothan! The Gall bladder problems were a surprise, but the internal hernia was right below the gallbadder area too, so I am sure the pain signals were all being interpreted as the same thing!
Glad to be back at work! And Glad to be feeling good again!
********************************************
7/7/06
Well I am holding steady at 144 to 145. I thought I might gain after my gall bladder and hernia repair surgery, now that I can actually eat with out getting sick. But I have been checking my weight every day.. (I know, not a good idea) but I want to know what my maintenence intake should be and if I see that scale moving up, I will know to back it back down. I figure that I am eating 1200 - 1500 calories per day... I used to gain on 1500! I am trying to still get in at least 60 gms of protein per day and usually more like 80. My gut is feeling better but my autoimmune problems have been pretty painful lately. I think the stress of the surgery has got it going again. Stress plays a huge role in my illness. But I know it will settle back down soon. It always does this wax and wane thing. Well, got to run.
Grace and Peace,
********************************************
7-28-06
Thanks to Becky Bellamy, from the AL OH Board, I now have pictures on my profile! She did a great job! And I am so appreciative. Things are going well for me as far as my gut goes. No more severe intermittent abdominal pain! And I can eat normally - well at least normally for someone with a pouch! I am having lots of my Fibromyalgia type symptoms, fatigue and pain. I gave been a bad girl since the Surgery 5/31/06 and have not been exercising! I know exercise is so important with folks with Fibro. I bought a Cirometrics CD that was recommended on the main board, and I WILL START IT THIS WEEKEND! TOMORROW! NO more excuses! LOL The weight is still holding between 144 to 146. I have been adding more foods back to my diet. I did find out that watermellon is NOT good for me! LOL I had a terrible attack of gas pain after I had a good amount of the 4th weekend.
Well, got to go, and Thanks again to dear Becky Bellamy!
********************************************
9/1/06
This has been a tough week, but am much better now. I have been having weird gas type pains in my back under my rib line. I know it isn't my gall bladder! Tremendous amounts of burping gas. To the point it sounds like I am burping up my toes nails and pain like a knife in back and radiating around the left side and into my lower left front side. Saw my PCP and she put me on Protonix and told me to take 2 Xtra strength Gas X's before each meal, and to lay off all milk. She wanted me to try this for a week and then maybe get another Cat Scan. Also it is so hard for me to have a bowel movement...threre is so much cramping pain and diarrhea..
BUT!!!! Praise God I have been milk free and doing the above meds and haven't had near the pain or gas. But I haven't had to go the bathroom either... so we will see. I am still losing weight. I am 138 today.   I am not trying at all. I am eating what I want... concentrating on protein. Trying to add calories back in... but it is slowly melting away. I am getting bony. Had to but some size 6 pants yesterday as the 8's and 10's are too big. I am 5'8 and that is just too small. I have no curves anymore, no but... and certainly no bussom. What a 'problem' to have?!?! If I can get this bowel evacuation thing to be less painful and have less painful gas, I think I can eat enough to gain back some weight. If not... then back to Mobile to see Dr. Snow. I just don't want there to be anything wrong that needs more surgery! BUT .. if anyone is reading this that is contemplating surgery... I would still do it all over again. I am healthier, despite these problems then I have been in years. No BP meds, no C-PAP machine!
Till next time...
___________________________________________________
11-16-06
Haven't updated for a while - been so busy.    Still having some gas and crampy type pain in my gut.  Nothing like prior to my internal hernia repair... but still distressing when trying to work.... Taking lots of Gas X.  My primary Dr. has started me on Zelnorm, and I think it has helped some.  I have picked up a little weight and a staying pretty steady at 144.  I think that is a good weight for me, but nothing lower. At 138 I really was starting to look 'wasted' and not healthy.   144 is 14 lbs below my orginal goal.... but that is ok.  Comfortably wearing an 8 in pants and tops.  Some 6's.   My Fibromylgia symptoms have been bad for the last several months so I am continuing to battle this.  Fatigue is a constant, but my blood count was good and I will get a complete work up next month.  Trying to be good with all my vitamins.  I am interested to see if the sub linguinal B12 is doing the trick.  May switch to monthly shots.   The last OH magaize stated that most post ops don't really start showing vitamin deficets until about 18 months out as we have quite a few stored.  So, my last blood work at a year out was great..... the count next month may be more telling of the efficentency of the vitamins. I am taking the Baratric avantage Chewables... and they are quite easy and tasty to take.   
Well, until my next update.    Grace and Peace
**************************************************************

---