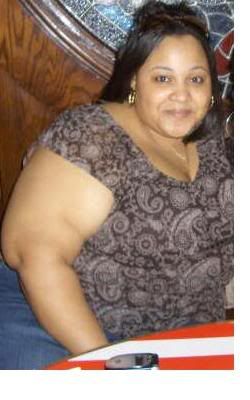 ------------------------------------------------------------------------------
---------------------------------------------------------------------------
July 2004
I am in my early twenties and the extra weight I've carried all my life finally caught up with me. I have shortness of breath after any kind of physical activity. I am 295 lbs at 5'2 and it's difficult, to say the least. I spend the day making my friends and co-workers laugh. Then I go home everyday sad inside because I have let myself get to a point where I don't really trust people. I constantly feel like people are watching me and making fun because I'm so heavy. Every day I put on my makeup and try to play up my "pretty face" so everyone will ignore the weight. But I can't ignore it any more because my lower back kills me when I have to stand up for more than 5 minutes. I never Never EVER take the stairs. I wait on buses for 30 mins because I dread walking a few blocks to the train station. It's about time I wake up and do something about this.
7/16/04
I got the referral to see Dr. Rajpal from my PCP. She loves him, I think it's her homie or something. She is all for WLS and so am I. I called Rajpal's office and made an appointment for 7/29/04.
7/29/04
My best friend and I went to consult with Rajpal. He was alot nicer than what I expected. He answered all of our questions and I felt pretty confident choosing him to do my surgery. One thing that bothered me was him saying he hasn't had any complications so far. (Nothing major that is.) I thought that was bullshit but I couldn't really back it up so I said I would wait and meet some of his patients who have completed surgery.
7/31/04
I went away on vacation so everything regarding surgery was at a stand still.
8/30/04
Ok, I'm back in Brooklyn and now I gotta get thisstuff cracking before it gets too late and work/school kick my ass.
9/10/04
I went to Brookdale hospital to do my psychologial evaluation with the dude Rajpal refers all is patients to, Dr. Tarapore. He was cool except the $150 (cash) fee he charges. He asked a few questions and just got me to talk and talk and then bam! He said he would have the evaluation in Rajpal's hand by the next Friday. Oh yeah, I kinda questioned him on the necessity of the psych eval. and he basically told me he doesn't really reject anyone...he might just have them meet with him a few more times then give them approval. So I'm thinking, why not just have the eval's ready already, like a template, and just copy and paste for everyone, don't meet with them (a waste of time for everyone involved), and just have us mail him some money (maybe about $75). But that's just me.
9/19/04
I went in to see the nutrionist in Rajpal's office. She was kinda crazy because she doesn't listen for shit she only talks. But I guess that's just her thing. She hooked it up and helped me get the nutrionist's contribution done for $50. She must be another person in Rajpal's crew...so far it's my PCP, Rajpal, Tarapore, and now the nutrionist (sorry, forgot her name..it's definitely on my check though, she wrote it in herself). I am getting kinda excited now that most of my field work is done for my WLS. Now it's up to Rajpal and Lucy to get me approved and to get me a date.
Everyone, please think good thoughts and pray that I get approved!!!
Congrat's to all of you, wherever you are in the WLS journey, I'm wishing the very best for you.
11/04/05
Hello all,
It's been over a year since I've updated this and unfortunately, no surgery to report as yet. My chosen surgeon refused to even apply for my surgery to GHI earlier this year. I wanted to do my surgery over the summer. But he said that we would get denied so it's a waste of time to even put in the request. He said that I needed to wait until the insurance transfer period at my job and change to HIP. So it's been 6 more months and I finally turned in the paperwork to my payroll secretary yesterday. I don't know how long it takes to transfer over but I do know that at the very latest I need surgery next summer, july 2006. I am even thinking of doing a back up consultation and preparation with another surgeon incase Rajpal falls through again and gives me a bogus excuse. PLEASE keep me in your prayers and best wishes to all of you on the WLS journey.
Mel
Sunday, April 16, 2006
Hey, it's 2006, almost two years since I've been trying to get approved for surgery. It sucks but I finally see the light at the end of the tunnel. I had to change my insurance company to HIP and everything is going smoothly. My PCP gave me a referral to see Dr. Rajpal, did all my blood work and EKG. However, since my nutritionist meeting and psych eval is "out dated" I have to do those both over again. Hence, pay another $200 out of pocket to repeat the same steps. Rajpal says those things are only good for about six months and HIP will reject it if they see that. Not sure if that's true or not but fuck it, I just want a date. He told me if I get those done right away I could have a date as early as May but I tolf him I wanted the first week of July and we have a tentative date of July 6. I'm off work this week so I will get those things done and try to get approval by the end of the week. By the way, I've gained 4 lbs in the past 2 years but it actually feels like 50. I'm recently dealing with a tough break up and just stress in general. This weight does not make it easier. Anyway, Good luck all and keep me in your prayers.
Saturday, April 22, 2006
I finally have a tentaive date! July 6, 2006! I can't explain how excited I am. I saw the psychologist again and did the evaluation. But he took it a step farther and pressed on some issues I have with my mom (who abandoned me at the age of 16). He gave me clearance for the surgery aspect and recommended that I see a therapist. So I guess I'm fucked up in the head AND I will soon be a loser...NICE! I see the nutritionist tomorrow (again) morning and then I'm offiically done until the blood tests right before surgery. Please continue to keep me in your prayers and I will do the same.
Love,
Melissa
Tuesday, May 2, 2006
PLEASE pray for me all...I still don't have a final approval for surgery on July 6 and I'm getting nervous. I say a great quote from a "loser" on another site. She says "Never put a question mark where God has already put a period!" I love that quote and I need to believe right now. I should be hearing from my surgeon's offie this week on whether or not I finally got approval.
Tuesday, May 30, 2006
Hey everyone,
Just wanted to give a quick update...I heard from the surgeon's office and I have to go to the Bariatric Center on Thursday. I'm so excited and I don't even know what the appointment is about. Hopefully, this meeting means that I'm one step closer to becoming a loser. I will let you guys know what happens. Also, I have started dating an ex of mine and he is making me so happy. I am glad we are trying us out again and that he loves me regardless of how heavy I am. I will update after my appointment on Thursday.
June 26, 2006
AAAPPPPPPPRRRRRROOOOVVVVEEEEEEDDDDDDDD!!!!!!!!!!
God truly answers prayers. I'm scheduled for next thursday, July 6. I'm so excited right now. Two years in the making and this is finally happening. I was on cloud nine all day. PRAISE HIM!!!! I need an angel so anyone willing please help me out.
Love,
Mel
Friday, June 30, 2006
I got my approval letter in the mail from Healthcare Partners/HIP. However, I already knew I was approved since they called my home last friday afternoon (the next day after they recieved my request from Dr Rajpal's office). My copay is $0.00!!!! This is so exciting. Today I had my pre-op testing and labs done. When I got to Brookdale, I had to sit and wait about an hour to be seen. A tall beautiful girl named Priscilla was in charge of processing my paper work. However, when we got to her cubicle she told me how excited she was for me for having WLS. She took out her "before" pic in which she was about 320 lbs. She reassured me I was making the right decision and gave me a few pointers on success. She said to WALK, WALK, WALK ASAP and as often as possible. She failed to do so and is stuck at about 200 lbs. even though she is gorgeous she says she knows she would be even heatlhier and more fit if she exercised. She says don't fuck with rice or other foods and try to test the waters. Dumping is real and the pain is ridiculous. We talked about concerns and she made me feel so much better that this is the best thing right now and a blessing. I know God sent her to work that day just for me. She promised she would come up to my room on thursday to visit me.
They took about 4 vials of blood, urine, a chest x-ray, pregnancy test....all of which will be repeated the morning of surgery. The process took about 4 hours including lots of waitng time. I do believe Priscilla was an angel but I also need an OH angel...please someone! Let me head to the boards to see if I can find one. Love you all! Let's get through this together.
July 1, 2006
I can't believe I'm finally going in on Thursday. I hate that this has consumed my every thought. I have put my family, boyfriend, and friends on the back burner right now. I haven't told my sister about surgery yet because I know she will burst my bubble and have something very negative to say like "well, did u really try to lose weight?" or "all you have to do is ......" She will go into how easy it is for me to lose weight when she has never been above 130 lbs. It hurts that I don't have a great support system right now but I'm wondering if it's because I didn't really open up to others about my real feelings about my weight.
On a good note...I actually opened up to my Dad and told him how much it hurts that he doesnt support the surgery. He broke down and told me he was just scared of something going wrong while I was in surgery. It was a real eye opener because I didn't realize he cared so much in that way. Fortunately, he decided to go with me to the hospital on Thursday morning. So now at least I have him and my best friend going. I don't think my boyfriend is going because he has meetings all day. But I'm sure he will visit at some point. GOOD LUCK and GOD BLESS everyone here at OH. Let's get through this together.
July 6, 2006 TODAY IS THE BIG DAY**********
I don't know if I can get any sleep. It's already 1:33 am and I'm supposed to be leaving for the hospital at 5:30. I can't believe my day is finally here. OH PLEASE PRAY FOR ME! I am quite nervous but I know I need to just trust in God right now. Surgery scares me but I know He will be with me every step of the way. Thanks so much to everyone who signed my page. And a special shout out to the BAF Family, you all are wonderful. I will update as soon as I can after surgery. Love you guys, let's get through this together!
Tuesday, July 11, 2006 - GOD IS BETTER THAN GOOD!!!! I LOVE HIM SO MUCH.
By the grace and mercy of the Lord I am officially a post-op. I just came out of the hospital this morning. I had surgery on Thursday morning (july 6) and felt pretty well up until Friday afternoon when they conducted my swallow test. Unfortunately, the fluid did not pass from the pouch successfully. I throw up all the liquid and blood. Needless to say I was scared for my life. I began to regret doing this. The doctors told me I would have to stay but they wouldn't give clear answers so I was frustrated. My parents, friends and family were there as much as possible. My faith in God really proved to be the deciding factor in how things would be. I leaned on Him so much and found comfort that He knows what's best and He was the really one with the answers, not the doctors. My suggestion to everyone is to try hard to get that gas out asap because it causes alot of pain and swelling. Eventually, the swelling in my stomach went down and I was able to tolerate the 1 oz feedings each hour. Since it had been 6 days since I had eaten real food, I was excited about apple juice and SF Jello. 1 oz of Jello is fine but the 1 oz of apple juice is just not enough but I realize that I went through this for a reason and it's too late to mess up on something as silly as drinking too much apple juice. My stomach hurts, well it's sore and painful when I move or stretch. It was a hard process to go through and I'm sure I will be happier about it as time goes by. Right now it's just one hour at a time.
Thursday, July 20, 2006
Hi All,
It's been exactly 2 weeks since surgery. I weighed myself when I got home from the hospital and I was heavier than when I went in. I think the IV and pms made me bloated so I was 308 (302 before surgery). Now I am 278 which is the lowest I've been in about 5 years. So I guess I'm down 30 lbs. Praise God! It's difficult because I'm still on liquids and I miss chewing. Also, I am not getting enough liquids in for the day so I'm tired alot. The vitamins, protein, and medication are hard to get used to and before I look around the day is over. Last week the scale jumped numbers alot faster than this week but I really do think it's because I'm not being good with the drinking. Your body will hold on to what it has if you stop replenishing it. Thanks for all your messages of support, I really appreciate and need it. Best wishes to those of you with upcoming surgery. Hey Vee Love, I'm with you all the way on your journey, don't worry about how long it takes because God is just preparing you. Let's get through this together.
Mel
Wednesday, August 2, 2006
I think I have hit my first plateau. My scale has been stuck on 270 for the past week. But I praise God every step of the way. He knows what's best and I have claimed victory so it's just a matter of time. I need to work harder on getting liquids and protein down. It's a struggle though. I do not have an appetite whatsoever and New York is having the worst heat wave right now. These make it hard to do what's best. Anyway, good luck to all my WLS fam and let's get through this together!
Mel
Saturday, November 5, 2006
I am now 236 lbs.  I've never been this weight in my adult life and I love it.  I can move around so much better than I could before.  Even though I have a long way to go I am still very grateful.  I haven't been in to see my doctor lately to get his weight for me (which always seems to be higher than what my scale at home says).  I am not feeling the new style of obesityhelp.org yet but I guess I will get around to it.  The hardest part of this has been that I am still very lazy and don't exercise when I know that would help me.  Let's get through this together!
Mel
January 7, 2007
Hey family!!!  I can't belive I haven't updated in 2 months.  Well I am down another 10 or so pounds at 226 lbs.  My biggest problem lately has been social drinking (which I'm blaming on the holiday season rather than myself).  I know it's a really bad decision and it's slowing the weight lost.  Besides that, I still haven't been exercising like I should.  If there is anyone considering surgery reading this, please know that you must work hard and don't expect great things to happen without putting in that work.  Please pray for me that I get better at this.  On a good note though, I saw a lot of my friends from high school and everyone commented how great I looked, it felt sooooo good. 
Let's get through this together!!!
Mel

Photos

302
unhapy