Introduction
Oct 18, 2006
INTRODUCTION

I have been trying to get this surgery done for about a year. I checked into 5 or 6 years ago but didnt follow through. I seen dr. O about a year ago and he was afraid I couldnt walk enough to keep from getting a blood clot so he wouldnt do surgery until I had my back fixed so I had to do that first. I dont think anything could hurt as bad as that surgery did. I have a premature detiorating spine. I had to have it fused in two places. one where it was broke as a child and another where it deterioated because of the first injury not healing correctly. I never knew nor did my parents that I had ever broke it. I have 6 brothers, and I was always upset as a child. Boys can be so mean. anyway. I had that fixed in april and it was one of the best things I ever done. It doestn hurt like it used to all the time. It is still sore sometimes and that is okay because I can walk without pain. And I dont ever remember being able to do that. So now I want more than ever to get this weight off.
---
September, 2006
Sep 18, 2006
September 9, 2006

Well everything is okay. It is interesting trying to keep peace in this family. I hope travis graduates this year. Bob is such a tryrant when it comes to Travis. Right now I wish I had never married him. but I am sure this too shall pass. That seems to be my saying now days. I guess I shouldnt post this today as I am not in a real good mood. I have lost close to 80 pds in 6 months and one week. Not a real slow loser but not fast either. I was hoping to have 100 pds gone by 6 month but I will take the 80 pds gladly. I am now down into size 20 jeans button up. And 18 stretch band weight. I am doing well. I still have around 90 pds to lose to get to goal. I wish it would hurry up. I know I am inpatient. I look back at my post and see how all I do is complain about how I hate it here. I really try to keep a positive attitud, but it is so hard. I really think I made a big mistake Marrying Bobl I am so confused most of the tije. I dont know what to do or who to talk to. I feel sometimes it is all I can do to keep my sanity. I feel financially trapped. I have to figure out what is going on or how to get out of here. One day at a time. I have to really watch my temper. I just want to pack up and leave but I dont know how I can afford too. And Travis is so confusing he hates Bob but doestnt want to help move. It is like you cant have it both ways. Anyway stop it marie, Sometimes I may just need a place to vent. Sometimes I just want to get in my car and not stop till I am so lost no one can find me. I guess I am getting depressed. I will be fighting that for awhile.l Maybe I should just go sign into a psych ward. At least it would be a vacation. Oh and I havent told no one but I have Barretts esophagus which I have to get checked every year as it leads to cancer. The took a biopsy a few weeks ago but havent heard nothing yet. well got to go bye love marie


---
July, 2006
Jul 18, 2006
July 7, 2006
Well, the wedding went off rather well. Sometimes I think I shouldnt have gotten married though. Especially today, Why do men have to be such [email protected]#$. Bob has been in a fowl mood all day. OH by the way I am down to 243 pds. Bob weights 237 so I will catch him soon. I cant weight I think when I catch him he will do more to loose. He wont want me to weigh less than him. Okay here is a link to our wedding pictures. or some of them at least I havent gotten all downloaded yet.

July 29,2006
Well I was right, I knew when I caught up with Bob he would start doing more. He is walking more. And is following his drs diet to the last t. He did discover he was diabetic and I knew that was coming. I told him to have the doc check him and he is. But he is doing very well at following the diet. I am proud of him. As for me I am bouncing between 235 and 238. Which is about normal for me I am losing about 1 to 3 pds per week. I am being an Angel for an OH member. I do believe I will enjoy it. I have already made up a care package to send to her. And she sounds so nice on the phone. My son has moved in and that is a ride of its own. Yeah a 64 year old and a 18 year old. No one every said life was dull at my house. One day at a time. This too shall pass. love marie

---
June, 2006
Jun 18, 2006
June 5, 2006
Well, I went to doc on May 31, 2006. Both Ann and My nut thought I was doing good. I have lost 51 pds. So my scales must be fairly accurate. I also am getting married on June 24. That is a wow for me. i am excited but yet at the same time wonder if I am doing the right thing. HHmm... Bob can be so controlling at times but so can I . He can also be so rude. I do love him, I guess you take the bad with the good. well go tto go bye love marie




June 16, 2006
Well the wedding has grown into a fairly good size wedding and I wanted a small wedding but that is okay I guess. We are getting married at the park, and then having an reception at the park after. I didnt realize that a wedding was so much work. I think we will have around a 100 guest. The think is that we cant do any decorating until the morning of the wedding and then I have to get hair done, how am I suppose to do both. I guess I will do the decoration real early in the morning and hope no one tears it up before the wedding if some kid decides to make a joke of the pavillion I will not be happy. Someone is going to have to stay at the park and watch things while I get dressed and hair done. Sometimes I think I should have just got married in a court house and gotten it over with. well write more later. love marie


---
May, 2006
May 18, 2006
May 3, 2006
I called one of the nuts. here is my post on the results. I will never call again after this. everyone says they think she thinks propel is sodapop. well if you ask me if she thinks that then she shouldnt be in the nut business especially for bariatric patients. and the nurse didnt think it was a good ideal either. I wonder if she knows what propel is either.

Yesterday I called my nut and asked her how many calories I should be eating. She told me that I shouldnt be worrying about calories this early out. and asked what I was eating. I told her that I was eating mostly meat and a few veg. I thought I was doing good. I am down 43 pds in my ninth week out. I drink propel as my main source of water. Have from the beginning. It settled better than regular water although I can drink regular water now. the propel goes down better well she informed me that I shouldnt be drinking propel. and that I should be drinking protein shakkes. Which the other nut told me that they wanted me to try to get all my protein from food instead of the shakes. talk about mass confusion. Then this morning my doc nurses called and says the nut told her I was drinking pop and eating things I should not eat. well that is a flat out lie. I never drink much pop before surgery and havent toouched it since surgery not one of my triggers or missed items. I dont think they know what they are talking about one tells me one thing another tells me something else.. But they have me so upset and confused I dont know what to eat and I just cannot stop crying and that is not me. here is a typical day of what I eat.

first--- propel water 16.7 ounces and vitamins

breakfast--- one egg, or 1/ 3 cup otameal, or 2.oz piece of cheese

Lunch--- 3 oz meat, a tblsp of veg. or some type of bean soup, chilli,

water again after one half hour after lunch

dinner--- repeat of lunch, sometimes or a piece of fish, or soup

propel again after onehalf hour after dinner

snack----- soup, or piece of cheese.

I did eat a couple of bites of cake on my birthday. but I never eat bread, seldom eat fried foods, no pasta, no sweets.



May 9, 2006
Well my nerves are all over the place.. Bob told me the other day that he did not want to get married to me.. Well so that is the end of this relationship. I dont think he understands that I mean ithe made his choice now I am making mine. I am going to get my trailer cleaned out and try to paint it before I move back in it. But if I move in it. Painting it will give me something to do to keep busy. I wont be on the computer no more when I move back to my trailer. I cannot afford these types of things. I will be on a very very tight income. Bob doesnt think I will do this. write more later bye


May 24, 2006
Well I guess I am getting married, when Bob seen I meant what I said he decided he was willing and that he wanted to marry me. I talked to him and gave him that this had to be something he wanted to do not because I was moving out if he didnt. And he said he wanted to marry me. After five years. We will be married on June 24, 2006. At least that is the plan right now. I am so excited I went and bought a dress. And book a preacher and pavillion at the park, and ordered a cake, And Nana and Aunt Judy are doing the food. And I have a wedding ring. And I still have to get flowers and shoes, and get paper plates and such and some music. And I think we will be set mostly. WOW. me married at 42 years of age. Can you imagine. Right now that is all I can think about. well right more later I am down 50 pds I think. My three month is the 31 so will know for sure then.



---
March, 2006
Mar 18, 2006
March 8, 2006
Well It has been 8 days since surgery, it was an interesting week, The surgery went well. They took me to the surgery room and that is all I remember until I woke up. And now I cant remember a lot of what happened there. I spent three days in the hospital. I do remember asking them to get me up because my back hurt so bad. It was so stiff. and I remember having to drink the stuff to do a upper GI to test for leaks. I still have my drain, get it out friday. Eating is okay, I am still on liquids and that is okay with me as I have no appetite. I spoon feed myself, broth off of soups, CIB, gravies, puddings, jello, and have eatin two scrambles eggs with gravy to soupy them. everything is sugar free. And I am not hungry. What I eat seems to be fine with me. I am so suspriced about that. Seems as if I am eating all the time ever so slowly. Bob has been somewhat of an ass (so what is unusally) he told me day after I come home I was the one that wanted this surgery. cause he was made because he had to help me. jerk. I want out of here so bad wont be long I hope I am giving the girl notice to get out of my trailer. I just dont know how I am going to pay the bills, car payment, and lot rent and utilities. I may have to stay awhile longer. till I figure it out. Tomorrow is my first doc visit after surgery. get my pratt drain took out and will see how much weight I have lost. wish me luck. well I cannot think of anything else to tell you all bye love marie


March 17, 2006
Hi, well I had lost 10 pds when I went to the doc. last week. I will take that. I am at the stage where I wish I had not done this. This too shall pass. I have felt weak and nauseated alot lately. Not really bad nausea just a little. I discovery that I feel better as the day progresses. I am still eating a lot of soups. I just dont have much of an appetite. I just eat because it makes the nausea better. I am taking my vitamins and such. I guess I am doing okay. I have discovered that water is heavy, dense something, I have to add something to water or it sits so heavy. like propel, crystal light, I drink a lot of tea. It is hard to get in the liquid and protein. I am trying. love marie




March 21, 2006
I am doing better, the nausea is just about gone now, occasionally I will feel nausea but not too bad. One day I did it too much egg. Wont make that mistake again. Made me so sick. But really I am able to drink a lot better actually pretty easy. I can eat just about anything I want at this point it seems like, but the doctor said purree until the middle of April, so I am mostly sticking to soft foods still, soups, refried beans, chicken salad, tuna salad, some mashed potatoes, jellos, puddings, eggs,, I have ate some fried chicken and it seems fine. I really dont have much of an appetite expecially in the morning. yuck nothing sounds good in the morning. I try to drink my CIB then but it has been hard to pare lately. Maybe I will try to drink it later in the day. I will see tomorrow. well bye love marie


---
February, 2006
Feb 18, 2006
February 13, 2006
Well I am off tomorrow to my information seminar, nutrition session, whatever you want to call it. Where the teach you what you can and cannot eat, how, when , what, where, and why. I think it will be interesting. love marie will write more later. Oh by the way a lady name Loris is sending me some clothes, isnt that so nice. She posts on the BMI over 50 board, so I guess she read my profile. Seems funny that people are reading my profile, guess I see it as a journal that is supposed to be private, but if it helps someone else learn how to get and that the do have the option of wls, then I want to help them. well bye love marie


February 16.2006
I made it back from the preop session. I got a better prospective of Ann so that is a major plus. She wants me to feel welcome to call anytime I need to. and made that real clear. I learned that I am having open, because of my previous surgery, even though one of them was lap. He wants to make sure that he can see all the blood vessels. I think bob learned a lot. he went with me. He had Ann laughing didnt take her long to figure out that he wasnt quite right. Sometimes I laugh at him so much he can be funnny and he is trying to find something out he is so afraid someone is going to think he is stupid for asking a questions. He makes a joke out of everything. Shoot I dont know about anyone else If I didnt ask I wouldnt know how to do anything. I have two really smart Uncles that have always been my inspiration. If I dont know how to do something usually I can ask them and they will tell me in a way I can understand. One is a retired plant engineer and the other was a airplane, jet mechanic. anyway, I am not happy about the open surgery. I keep telling myself I should be happy that I am getting to have the surgery. So many people have been denied and/or dont have the funding or insurance. It is just that my back surgery hurt so bad I am scared to have another surgery. I will do it though, being scared is normal. I know I can do this. love marie




February 24, 2006
My uncle had a heart attack, he is fine. he had two blockages that they fixed and sent him home. Now he and my aunt are argueing about what he can do. So all is well in a 50 year marriage.Well I went to my sleep apnea test on Wednesday. And yes I do have sleep apnea, They called me while I was in champaign and they changed my surgery date to February 28 , yeahhh two days earlier. And I seen the doctor today and he said everything was fine. I also losts 3 pds on the preop diet. just had to do the surgery early because of his schedule. He had to be in Trauma center On march 2. so decided to do it early. So they rushed me into my physical and blood work and I had to have a chest x-ray because I test positive for tb even though I dont have it. Has been that way for years. I have to spend night in hospital for sleep apnea machine Sunday. And I will stay in champaign on monday also. So that I can have surgery tuesday. well I love you all and wish me luck. Hope everyone is all well. I miss you but I have been so busy. I am so sorry that I havent responded to your posts. but life has been so busy lately. love marie




February 26,2006
Hi, well it has been an eventful week. I have went from Indianopolis to Champaign a couple of times. And had my sleep apnea on Wednesday the 22. that was a real pain in the ass. All those wires stuck to your face while you are sleeping. It was a good thing that I had not had much sleep the night before or I never would have slept with all that. They called me to take it again on Sunday (tonight). So back to champaign I go. two more days until surgery. the eating is so hard. but I have to not eat or it might mess up the surgery. go to go love marie


---
January, 2006
Jan 18, 2006
January 3, 2006

I decided not to hide my profile I have nothing to hide. I just am not going to put my real name on here so that it can not be googled. There isnt much to do but wait now. I guess I can tell you more about me and my family. I have a boyfriend we live in his house because he has a house and I have a trailer old one at that. So I rent it out. dont make much money on it just enough that it cuts back on some of the expense of owning it. Not many people can afford to rent here. There is few jobs and those that do have jobs, usually buy there homes. I guess that is what you get for living in a small town. The kids went home so they could go back to school. So I will clean house today. and start putting up the christmas decorations. I am supposed to go play cards tonight. but I dont know if I will. It depends on how I feel tonight. I will write more later. love marie, bye


January 8, 2006

Today is sunday, tomorrow I will go to see the surgeon and I will find out for sure if I am going to get this surgery done. I think Ann said that I have been approved but not sure if dr is going to do my surgery. I will probably be gone for a few days and I will post as soon as I can what the results are. love marie bye.




January 9, 2006

Good Morning everyone. I am up already. It is about 4:00 o'clock and I have been up for about one hour so I gave up trying to go back to sleep. hope everyones day is a good one. . I will be seeing my surgeon today so hopefully I will get an official approval and/or a surgery date. It has been a year since my first date this month. So I have been in this process for a year now. I actually looked into it 5 years ago but didnt follow threw. I am excited and nervous about today. I will be either disappointed or will officially know that I am getting surgery and I am also nervous about that. Do I really want this. Yes, I am tired of being heavy. I know I need to nip this in the bud. My legs swell, I have had back surgery and my spine is weak and I need to get the weight off of it. But another surgery oh my. My back surgery took so much out of me. But It does feel so much better. It was a very successful surgery. I dont want to be diabetic and it does run in my family. I dont know if my relationship can sustain this change in lifestyle. But we cant live on ifs. I guess I want someone to tell me I am doing the right thing. but I am the only one that can make that decision.




January 10, 2006

I had an appointment with Dr. O yesterday and he said everything is fine. He asked me some questions about my psych history and if I was ready for this surgery. He was very presistent about how dangerous this surgery is and making sure I knew there are risks. He said it was time to crunch. I took that as it was time to get this done. He said Ann would call me to schedule my sleep apnea and surgery date. Ann smiled at me as I was walking out as if she was smiling for me and I took that as encouragement. I dont know if my boyfriend and I can withstand this surgery. we fight all the time. and today seems to be worse. Sometimes I just want to leave so bad I dont know why I stay.




January 13, 2006

I am adding a list of things I want to be able to do.

1. Be able to tie shoes --done
2. Be able to run and/or jog--too much damage to knees
3. Be able to go hiking.
4. Walk up stairs without getting out of breath.--done
5. Fit easily into restaurant booths--done
6. Be able to tend a beautiful garden again.
7. Go to an amusement park and fit on the rides.
8. Find clothes in the regular sizes instead of plus sizes.
9. Sit in chairs without worry of breaking them.
10. Learn to ice skate
11. Be able to sit without feeling like I am laying down all the time.
12. Be able to cross legs--done



January 18, 2006

I have a consultation for a sleep apnea test on Feb 22.




January 19, 2006

Myra finished my profile, didnt she do a wonderful job. It is so beautiful, I just love it. Everything is fine, I am waiting for my sleep apnea consultion. bye love marie




January 19,2006

Ann called today and scheduled the surgery for March 02,2006. I have to go for post-op nutrition class on feb. 14. Sleep Apnea on the Feb.22 and see Dr O on the 24. She said the hospital should call with a date for my physical also. So I guess it is time to just wait now. And get prepared to change my lifestyle. bye love marie


---
December, 2005
Dec 01, 2005
December 2, 2005

Well not much has happened. I was told that medicare doesnt need preapproval and that medicaid was given preapproval within 48 hours. I called ann but she has not returned my call. So I guess I will just wait for awhile. After awhile I will make a appointment with dr. o so I can find out what is going on.. I dont think ann likes me very well. love marie, bye


December 7, 2005

Well I have heard nothing but I guess it has only been eight days. Seems like it has been forever. I wouldnt think it would take so long. Trisha said it took about ten days for her to get the letter and then she called Ann and they gave her a surgery date. So I am keeping my fingers crossed. Bob and I went christmas shopping today. I guess I never told you about Bob. Bob is my boyfriend of 4 years, I really dont think we will make it after I have this surgery. we fight all the time. but when I had my back surgery he was supportive so maybe it will get better. I also have two kids, a boy 18 and a girl 17. I had back surgery on April 1,2005. That was interesting. It was the most painful surgery I had every had. Really slowed me down. But I guess not being able to walk would do that. A whole lot. But it did the job I dont think My back has ever felt so good. I know my back is one reason I have gained so much weight, not all, but I have always even as a kid had back problems with my back. my back was broke as a small child and heeled crooked.Since the surgery I can walk without it hurting so bad. I can not walk fast, rather slow, but it doesnt hurt and I thought if I can get this weight off it would be better for me. well I will write more later love marie, bye




December 10, 2005

I am in the process of getting dsl so if it takes a while to get back on line. you all know why. I havent heard anything and it has been about two weeks. I dont know if I should call or not yet. I guess I will wait a while. Maybe I will call Monday. love marie, bye




December 12, 2005

Hi, well I feel better about Ann. I called her today and she called back and was nice. She said medicare didnt require approval but medicaid did and that they were waiting on that. Also she said she had a confirmation number to show they have recieved the paperwork. She thought that the holidays was throwing it behind schedule. I hope she is right. Anyway, Sarah left the grand kids today. It has been hell, They are wild, but I have made Bob deal with them most of the time. well I will write more later. love marie, bye




December 14, 2005

I am trying to learn how to add my own photos, so here goes Well I have added to photos below but when I add to text I either get pictures to big or to small, I will ask penelope for help. love marie, bye.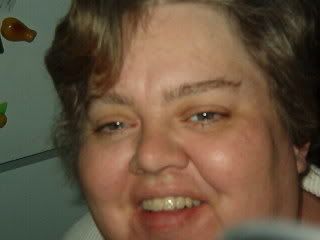 Me


December 21, 2005

I called ann today and she informed me that my paperwork had been sent in the 12 of December. I was under the impression that it was sent in on Nov. 28. So I guess that is why it is taking so long. I looked at my profile and I know she called me on the 28 or 29 and told me she had sent it off then. But when I called back on the 12 of december she said she had a confirmation number but she didnt tell me that she had just sent it out. When I called her today she said that it had been sent out on the 12. love marie, bye




December 30, 2005

Well I called Ann today and she called me back, I am scheduled to see the dr. on jan. 9, she said my insurance was approved and he wanted to see me before he scheduled an appointment for surgery, because of something on my psych eval that he was worried about. I hope he doesnt change his mind because of the psych eval. I will have dr K and dr. Ahmed send him a letter of approval if need be. But surely they wouldnt have approved me for the insurance if it was that bad. Anyway, at least I seem to be getting somewhere. hopefully they will give me a date on the 9th when I see him. will write more later. love marie, bye


---
november , 2005
Nov 05, 2005
November 5, 2005

well i find a lot of stuff interesting in this site. I introduced myself to the message board tonight. It didnt take long and everyone was welcoming me to the message board. Since it has been awhile since I was on the internet I see a lot of things have changed. I think we are going to Arkansas this coming week to get a dashound puppy. My brother raises them and said i could have one to replace one that was killed last year. I have a red dashound named Red now. He is so cute we go to the park everyday and walk. He likes to go there.well bye for now. love marie, bye




November 9, 2005

Well I have 1 more week before psych eval I am so I just wish this was over. I dont know why they make this so hard you either need the surgery or you dont. I dont understand but then I guess i am not suppose to. love marie, bye.

November 15, 2005

Well two more days to my psych exam, I am so excited I got a new puppy last weekend. My brother in Arkansas gave it to me it is a dashound I named her miss priss but we seem to be calling her missy. It didnt take her long to learn her name. Anyway i just wish this was over. My son maybe coming to live with us. I just wonder how long after psych eval before they will schedule surgery date. I dont like dr. o nurse so i am going to have to learn how to handle her or I guess my reaction to her. She is not very cooperate or informative when you ask questions. She doesnt seem to like wls patients i dont think. She informed me that Dr. O had more important things to do then wls patients. I didnt think that was nice but I thought maybe she was just having a bad day. Hopefully it will get better.got to go bye.




November 17, 2005

Hi, well tomorrow is the psych day will find out if I am mental sound enough for surgery. I hope they dont hold my past psych history against me I will see. I have a history of Major depression. I guess I need to go to bed. bye




November 25, 2005

I called Dr. O office today to see what happen with my psych exam and they said I had to take a sleep apnea test and that they would have Ann call me. So I called Dr. Yassin to see if he could speed anything up. Well he called and said they said be patient that they had not even gotten my psych eval yet.




November 29, 2005

Ann called today and said she sent the paperwork to medicaid/medicare and was waiting on approval and that I would get an approval or denial letter before them but she didnt say how long. I have heard it take 7 to 30 days. So I guess I just wait. love marie, bye


---
About Me
Oct 28, 2005
Member Since
---
Friends

203




---
Latest Blog

63
I been working!!!!
update---b 12 low
Hypoglemic Diet
no job!!!
---