Second Try Around...

(You can find my notes on the 1st time down below)
January 25, 2006
Today is My 1 Year Anniversary!
January 25, 2005 I had Gastric Bypass with Dr Aguirre in Ensenada, Mexico. I can not even describe the joy and excitement that I am feeling each day due to this surgery.
I am so thankful for all the support from everyone here on the boards and for Doctor Aguirre and Rosella and all the staff at the Hospital.
I started this journey weighing over 425 lbs with a BMI of 57.6 (Super Morbid Obesity), I was able to loose some weight before my surgery and the day of surgery I was weighing 375 lbs, today I am weighing 213 lbs with a BMI of 28.8 (Moderately Overweight) and would like to loose 13 more lbs. I have gone from a 4x shirts to a large/medium shirt, I have gone from size 58 pants to size 36/34 pants.
I have met so many wonderful people due to this surgery and look forward to the many more memories to come.
Thank You
Tracy
425/375/213/200
Here is a what Gina sent to me today for my 1 Year Anniversary :
December 27, 2005
WOW… It has been so long since I have updated my profile, I am so sorry for that but I will try to catch it up. I have lost 161 lbs since my surgery and my total loss is 211lbs, unless you have had this surgery you could never imagine the happiness that this surgery can help you find. I love the way that I feel and look and am enjoying life. I am now wearing size 36 pants, I can fit into a 34 but it is a little tight, I am also wearing size large shirts and some of them are fitted. My BMI has gone from 51.7 to 29 which puts me in the overweight category!!!!
I hope everyone had a Merry Christmas and are looking forward to a New Year. I was able to meet Gina's MOM she came over to Gina's house for a couple of days, it was so nice that we just hit it right off and it was like we had know each other for years, she is alot like Gina always smiling and laughing.
Thanks CoCo!!!
I got to meet the rest of Gina's family and it was like we had know each other for years, they all just welcomed me in, it was so nice to laugh and cut up. I am sure if I would have been Pre Op I would not have felt so comfortable around them. Gina and I got to go meet my family and spend the day with them; it was so nice that my family fell in love with her.
Here is a new Profile picture:
Here is a Picture from Thanksgiving 2005 & Thanksgiving 2004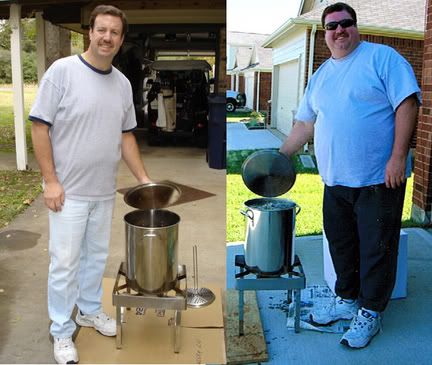 Thanksgiving 2005-Thanksgiving 2004
July 6
Well I have lost 126 lbs; I have been feeling great and for the first time in about 15 years I have started running again. I was stuck on a plateau and it was the only thing I could think of to get it going again. I have been running 3 miles at night or in the morning on top of my work out on the elliptical machine. I was in Las Vegas 2 weeks ago and let me tell you I just kept going and going, I could not get over all the energy that I had. Also for the first time in forever I had no trouble with the airplane seat and DID NOT have to use a seat belt extender. I feel like my eating is back to normal again, meaning that I get full quickly. I called and talked to Cindy Vickers the other day, she had surgery the day after my, it was nice to talk to her. I'm still wearing size 42 pants but I am noticing they are getting looser but I still have a little ways to go before I need to buy some new ones. We had our 4th of July block party and it was great that allot of the block showed up and I did not have any problems.
June 5
Well I am still at 117 lbs lost; I am really having trouble getting this weight loss to kick in again. I saw the Rumatoligist last Thursday and we had a good visit, she confirmed what my findings were on the GOUT issue, as well as explained several more things. Here is what I am taking for Gout – Colchicine 0.6mg 1 time a day This works in the joints and helps to dissolve the crystals, Allopurinol 300mg 1 time a day, this works in the liver and reduces the Uric Acid level in the body, Prednisone 1st week 10 mg a day, 2nd week 5 mg a day, 3rd week none, this works as an anti-inflammatory. I have been pain free for about 1 week and it feels great. I will have some more labs done after the Prednisone is out of my system and we will see how it looks. If I feel Gout coming on again then I am to start the Prednisone again, if full Blown then I am to take 40mg the first day. I did start working out I worked out 2 days last week and will try to get more in this week.
I have been feeling HUNGRY in the evening, it is kind of freaking me out and scary in the same but I am trying to deal with it and not snack.
I have not measured in 2 weeks and have not taken any pictures but I will do it tonight.
May 31
Today I have lost 117 lbs and I am HAPPY to report my feet are feeling GREAT! I will see a Rumatoligist on Thursday so we will see if she can help me figure out why I have been having such a hard time getting ride of this GOUT. I am looking forward to working out today; I have not been able to work out in weeks. I'm getting excited about my Las Vegas trip on June 20th. I was so busy this weekend I did not get to measure nor did I take this weeks pictures so this is 2 weeks I did not do them. I had a great Memorial Day Weekend, I planted a Rose Tree out beside my garage and some Dwarf Hibiscus, also for Memorial Day we had allot of friends over and had a cookout. I had to go and buy some new clothes this weekend, it is so nice to be able to look in the paper and see all the sales and to know that they will have clothes that will fit me. I have been trying to wear some of my Pre Surgery shorts to work out in the yard in, well the other day they just feel to my ankles while I was working out in the yard, luckily no one was around to see. I am now wearing XL Shirts and XL/42 Pants. Well I hope everyone had a Great Memorial Day and felt as good as I did…
17 Week Picture - May 29th
May 27
Today I have lost 113 lbs and I have still been trying to get my GOUT under control. I went again to the Doctor yesterday to get a steroid shot it seems it is the only thing that will help; it got to where I felt like I was a 90 year old man because I could barely walk. He is sending me to a rumatoligist so we will see if she can help me get my meds dosage right. I am really thinking that it has something to do with the Malabsorption issue that this surgery creates. I am going to Las Vegas on June 20th so I have to get this fixed by then. Because I felt so bad this past weekend I did not get to Measure nor did I take this weeks pictures, but I will do it this weekend. I am surprised my little pouch is not complaining from all the Medicine that I have been taking lately. Oh well I hope everyone enjoys the weekend…
May 19
Today I have lost 108 lbs and still having some problem with GOUT. I had to go to the DR yesterday to get a shot, he also up me on my medicane.

I had a WLS moment yesterday for the 1st time since my surgery I sat down in a booth to eat and I had tons of room, I felt normal.
I also got allot of my weekly pictures posted today on my profile, scroll down and have a look at them. Next I will get my Loss Chart posted. I got to drink this past weekend for the first time after surgery, I had some Crystal Lite and some Rum, it was good and it did not hit me too hard. I am now looking for some Sugar Free Strawberry syrup to try to make a Strawberry Daiquiri.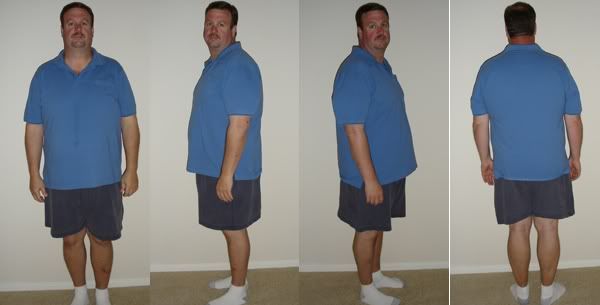 15 Week Picture - May 15th
May 11
I have been stuck for about a week trying to hit that 100 lb lost and I am happy to report that when I weighed this morning I had jumped from 99 lbs yesterday to 102 today. I would like to think Dr Aguirre, Rosella and all his staff as well as everyone at the Hospital again for giving me the tool to be able to do this. I am buying new clothes and boxing up old ones about every 2 weeks and I love it. Today at lunch I saw someone across the room and they had not seen me in a while, their jaw about hit the floor when they realized it was me!. I can not wait until the Reunion this year it is going to be exciting to see Dr Aguirre and everyone else.
May 10
Today I have lost 99 lbs and have been having some problem with GOUT. I thought that I would not ever have to deal with gout again after my surgery but looks like I still have it. I am working with my Doctor to try and figure out what is causing it for me. I tried to take a Vicdon last night but it just did not work on taking the pain away, so the Doctor called me in some Liquid Tylenol with Codeine and that helped, look like I will need to just stick to a Liquid Medicine when ever I can. I only have 1 lb to go to reach my next goal of loosing 100 lbs in just over 3 months. It is so nice to be able to wear "Normal Clothes" , I don't have that many yet but that is OK, some of my 4x shirts that I wore Pre-OP feel like dresses now so I have just keep boxing them up. Since my last post I have been trying to concentrate on getting my daily protein in to stop the hair loss and to try to break through the plateau and that seem to be working, I will try to keep it up.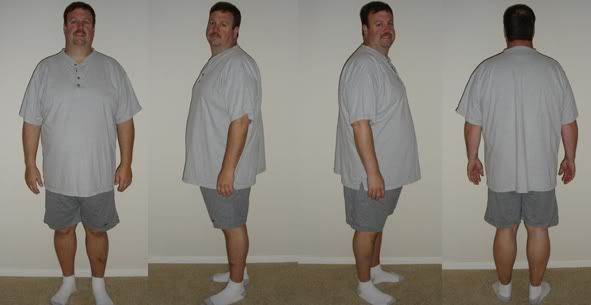 14 Week Picture - May 8th
May 03
Today I have lost 94 lbs; I seem to have hit a small Plateau that I have been trying to get past. I lifted weights allot last week and I gained 2 lbs, it has to been the weight lifting because my eating was about the same. Several of us friends got together Saturday and went to Traders Village and Sunday we all went up to The Antique Rose Emporium by Independence, TX it was a very nice weekend and we had a great time. Last night several of us went to Olive Garden and I had some soup. As much as I hate to stop lifting weights I think I will for a bit so that I might get to the 100 lb mark, but when I measured this weekend it showed that I am still loosing inches. I am starting to see people talk about the Reunion in September; I'm excited about this as it will be great to meet all the people from the "South of The Border Forum" . I think I am starting to loose some Hair, I'm seeing it in the sink in the morning, its not allot yet.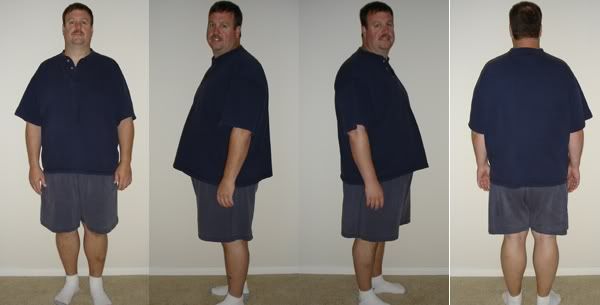 13 Week Picture - May 1st
Apr 26
Well today I have lost 93 lbs, and as I am nearing my next goal the 100 lb Century Club, I am really trying to stay focused on my Protein and water intake as well as my workouts. I have increased the resistance quite a bit on the Elliptical Machine because my target heart rate was just too low. Also last night I started lifting some weights, not enough to strain anything but I needed to start building my chest and arms. I am having a MRI this Thursday on my left knee (It has been hurt since December) so I need to check with Dr Aguirre and see if the staples are metal. I am now wearing size 46 pants (Fit loose but not at 44 yet) and size 3 X shirts (2 X still a little tight)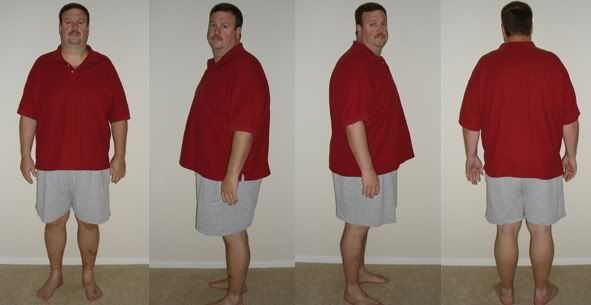 12 Week Picture - Apr 24th
Apr 22
Someone needs to kick me in the Butt for letting me go this long and not updating my profile. Well I am just short of my 3 month mark; I am happy to report that as of today I am down 88 lbs and am just over the ½ way mark to my goal of loosing 175 lbs. This surgery was a life saver for me and I am feeling great. I am starting to hear "Oh I did not recognize you!" here at work. I have just about boxed up all my Pre Op clothes as they no longer fit me. Tonight I will go to a work dinner and will see allot of people that I have not seen in a couple of years, it ought to be interesting. I can not wait till I can start lifting weights, my biceps are so small, but I looked and Dr Aguirre says wait 4-6 months. I have been measuring every week and taking weekly pictures, I will try to get those up soon. I have been missing my surgery buddies and I really hope they can make it to the Reunion later this year.
11 Week Picture - Apr 17th
10 Week Picture - Apr 10th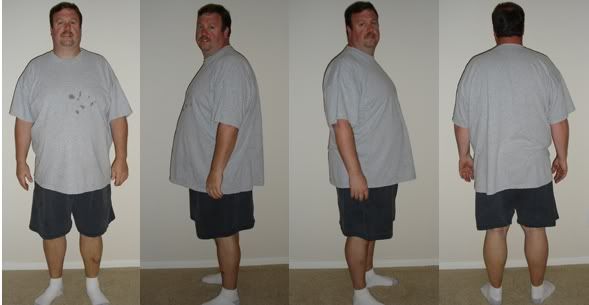 9 Week Picture - Apr 3rd
No Picture
8 Week Picture - Mar 27th
7 Week Picture - Mar 20th
6 Week Picture - Mar 13th
5 Week Picture - Mar 6th
4 Week Picture - Feb 27th
3 Week Picture - Feb 20th
Feb 18 - 24 Days Post Op
Well I finally uploaded my trip info, I guess I have really fallen down on updating my profile, I will try to do better. As of this morning I am down 41 lbs. For 2 weeks I did not loose any weight so I have started working out again on the Elliptical machine at work again and that seems to get my body to start giving up the weight again. I was able to work out everyday this week.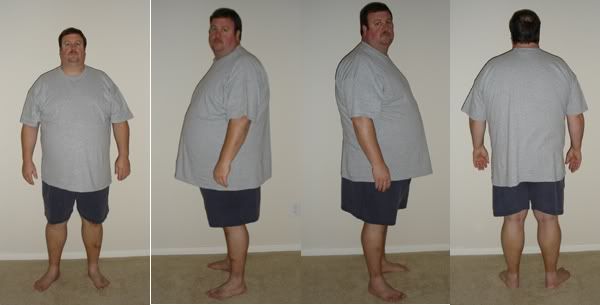 2 Week Picture - Feb 13th
Feb 2
– Today Bambi picked us up about 8:30 and took us to the hospital so that I could get the last of my staples out. Getting the staples out did not hurt but they are all gone. I did get to see Dr Aguirre before we left the hospital it was nice being able to tell him goodbye and a big Thank You for the surgery. We left the hospital about 9:00 am we stopped at one of the tollbooths that has a little rest area about 10:15 so that I could get out and stretch and then we headed on to San Diego. The boarder was not that bad because we were able to get into the car pool lane because there were 3 of us so that made it quit a bit quicker, we arrived at the airport right about 11:00am. We got checked in and even got a bulkhead seat so that will make it easier to get up and move around.
Feb 1
– I went down to the park this morning and sat out in the sun and watched as they were still putting all the Carnival stuff up to celebrate Mardi Gras. Later about 1 pm Rosella picked us up and we went to get my G-Tube out and ½ the staples, the tube and staples really did not hurt at all. My scar is really looking good, I thought it might be a little raised but it is not if is really flat and looks good. I got to meet Tami as she was just coming in to have all her blood work done. Also I went up and saw GerrAnn but she had just got to her room and she was just trying to come out so I left. I went down to the park again this evening and just sat watching. GerrAnn's husband came home so we were able to visit with him for a while before he went back up to the Hospital. I started packing and got what I could packed up.
Jan 31
– Well Cindy and Mike left this morning it was sad to see them go because it was so nice having them here and someone else to talk with and do things together. But that also means that I only have 2 more days till I fly home. I slept so horrible last night because of my cold so I finally asked rosella if she could get me something and she got me some cough syrup. I was a little afraid it would make me sick but it didn't. Went and ate with Larry and GerryAnn at a restraint down in the tourist part of town called El Sol it was so nice because they were playing American music and all spoke English. They had some soups so I order the one that look like it had the most water base or broth, I ordered French Onion. GerrAnn was eating lite because thin is the night before her surgery. I ate about 10 cc of the soup because it was a very spicy and I do not want to be testing my new pouch. I also got about ¼ tablespoons of refried beans and really water them down I just took a little taste. Later GerrAnn came over and we took pictures because she will leave the apt to go have her surgery in the morning at 7am.
Jan 30
– Well today Mike Cindy (A couple that was in APT #2 and my surgery buddy) my Mom and I all went out shopping. We walked down to the tourist part of town and down to the huge flag down by the water. Today Cindy and I ate out for the first time and it was at la tourgua, we thought about trying some tortilla soup so we asked for a sample but we looked at it and could tell it was too spicy, so we split a yogurt, just as he was bringing the yogurt I told Cindy that we do not know if this is sugar free. That made us both a little scared so we just took some very tiny bites that might have eaten 1 table spoon total. We ended up walking about 4 hours today and it was a work out but it was a nice time. We meet GerrAnn and Larry tonight. We played cards again and then left so they could start packing.
Jan 29
– Well today is my first food day, I really have no interest in food though. I was going to try some cream of wheat but it just seemed to thick so I went with some chicken broth, I was able to eat somewhere between 1-2 ozs it really is nothing more then flavored water but it was a start. Today I get to have my drainage bag off all day and put it on tonight to sleep with. Well for lunch I ate about 2.5 oz of Strawberry SF Jell-O. We played cards over at mike and Cindy's we played a game called Phase 10 it was fun.
Jan 28
– Well today is finally my water day and wow does water feel so good, however it does taste different but I will get to sip on water all day. I had my shower about 8 this morning and the nurse then changed my bandages. I can not believe how much better you feel as each day passes. Today I get to have my drainage bag off for 4 hours in the morning and 4 hours off in the evening. I started taking a couple of 1 hour naps during the day and it really makes a difference in how I feel. We walked to the Hospital and back tonight to check on someone, the walk was about 10 blocks and it was a workout but it was a good one.
Jan 27
– Well today I got out of the hospital and it was so nice to get out. But I am in the apartment and it is just not comfortable here. Their really need a recliner in here and the TV is in the bedroom and it really need to be in the living area.
Jan 26
– All I can think about is how thirsty I am, I keep wiping my mouth with the washcloth and it feels so good. I really have no pain other then having to cough to get all the crud up but also I think I came down with a cold the night before my surgery.
Jan 25
– Rosella picked us up about 7am and I was so ready to go, I went in and they took me back and wrapped up my legs and started the IV. I meet with the ansteniaoligst and then was taken to the operating room. They out on some music and then started giving me some medicine, I remember getting the epidural but I was pretty drugged up so it was not that bad even though it took several times to get it. That was about the last thing that I remembered. Next thing that I remember was being in my room, I do not remember too much the rest of that day.
Jan 24
– Our flight left Houston about 9:30 am. The movie was Vanity Fair and it really was not that good, Bambi was waiting when we landed and he was so nice and just took over on getting us on the road. The drive was so nice going down, the rolling hills and the ocean was so nice. We got into the apartment and then Mom and I went to eat and Mahi-Mahi, I had swordfish and it was so nice. We went that night and meet with Dr Aguirre and it was nice to finally meet him.
Jan 22
Well I woke up this morning and went and had Breakfast outside, we have a small lake, and it was so peaceful. I'm so weird because I try to hold all my emotions in but really the only thing I am feeling is Peace. These last 2 days have gone so fast. I have worked out in the yard some today and will start packing soon.
2 Days till I leave!!!
Pre-Op Picture
Jan 21
Well today is the last work day before my surgery. I have tried for 3 years to have the surgery and it looks like it is finally going to happen. I can not wait and I hope that I am able to write a little each day so that when I get back I can tell everyone about "My Ensenada Experience". I can't wait till Cindy and GerrAnn and Tami get down there, Ensenada sounds so nice to walk around so I'm pretty excited about that. I thought that I would talk about my clothes so that I will remember the sizes in the future. I am wearing size 52 pants that strech out 4 inches, also I am wearing 4 XLT shirts.
3 Days till I leave!!!
Jan 19
Well I just thought I'd write and say I have now had closure with Burger king and Jack in the Box, it is fast approaching but I still wish I was leaving in the morning. I'm still meeting lots of new people here on all the OH Boards and it is so nice reading their profiles and seeing the difference this surgery has made in their lives. I have my surgery buddies, ones that are having their surgery while I am down there, and really can not wait to meet them. I'm really hoping that I will feel well enough to go and do some sight seeing because it sounds so nice down there. I'm still running from anyone that I think could be sick, for some reason I really have a fear of catching a cold or something, I know call me crazy I should be worried about allot of other things but I'm not. I will start packing this weekend; I have already gone out and bought all the little odds and ends that I did not have.
Well again I wish I was leaving tomorrow but it will be here soon!
5 Days till I leave!!!
Jan 17
Well in 1 Week I will be Flying out to San Diego, I'm really getting excited, but also still waiting for that 1 thing to pop up and STOP this surgery. Who knows what that could be but after my VA experience (See below on "My First Try Around") I just have to be causes. It's sad but I have really been causes about being around people that are sick with colds that would be the last thing I would want to catch just before my surgery.
I know I'm probably sounding like some kind of freak but I have been trying to have this surgery for about 3 years. I fought the Insurance Company BC/BS State of Texas and they have Exclusion, during that battle (Which I do not know anyone who has one) someone told me that VA does the surgery. So I started looking into that, it took me about 6-8 months to be able to see a Doctor. When I went into see the Doctor she had no idea if they did Gastric Bypass surgeries or not. So I went around the Hospital asking, and the consensus was 50/50, some thought they did and others thought they didn't. Well come to find out I guess there are only a couple of VA Hospitals in the country that have a Doctor that does them.
Later I found out about Wilford Medical Hall at Lackland Air force Base in San Antonio, TX as they perform them there. I talked to my Doctor here at Houston VA and she gave me a referral to Wilford Medical Hall. It took a couple of months to be seen there and after that I was on my way to having the surgery with them, after getting all my Pre-OP Test done. The waiting list was just over a year, so to make a long story short (Full Story below) it got to within 1 week to my surgery and someone realized I was coded wrong and that I had not retired with the military which excluded me from being able to have the surgery at Wilford Medical Hall.
So I was crushed and devastated as well as back at Square One. After some time of trying to pick myself up from this fall I was able to start trying to get the Houston VA to send me to one of those couple of VA Hospitals in the country that do perform the surgery. For some reason the attitude seemed to change and they were not allowed to refer people out for Gastric Bypass again I was crushed, also I never told any one but I was really feeling like my Body was not going to hold out another 10 years.
So my only hope to go to Dr Aguirre in Ensenada, Mexico, I started looking into that and it was going to be around $10,000 dollars, I had no Idea how I was going to be able to come up with that but I just have to have it done, because living in my Body really make life Hell.
I think my Parents could sense how I was feeling and could also since the early signs that probably in 10 years I would not be alive. Then just out of the blue one morning my mother called me and said that she and my dad had talked and they wanted to pay for the surgery! Well you can imagine all the thoughts that went through my head, of course I wanted to run out and schedule a date right off with Dr Aguirre but I couldn't because was it really fair that they should be having to spend all that money on me when it was them who worked hard for along time to earn that money. I was torn because I wanted this surgery more than anything but also really did not think it was fair that my parents should have to pay for it. After some talking with them I went ahead and scheduled it with Rosella who is Dr Aguirre's Daughter.
I will write more later but for now…
7 Days till I leave!!!
Jan 09
I have been working on my packing list as well as a daily plan while I am in Ensenada. I was able to work out 4 days last week, it is hard because my knee has really been hurting but I keep on because it does not seem to make it any worse.
14 Days till I leave!!!
Jan 07
I did a follow up with a Nutritionist today and I'm sure glad I did. It had been about 16 months since I went last and I really learned allot from her. It was perfect timing for me because I have been preparing for when I get home after surgery. I have talked to some of those who will be in Ensenada while I am there and can't wait till I can meet them. Also I have talked too lost of people who have already had their surgery there and I really can not tell you how much they all have helped in me getting ready for this.
16 Days till I leave!!!
Jan 03
Well I leave 3 weeks from today for Ensenada, MX to have my surgery with Dr Aguire. I finally started this past weekend working on my list of things that I need to take with me. I am working on a Menu now for when I get back of things that I can eat. Also I need to research some Protein drinks, I have been drinking a Protein shake for Breakfast for several months now put out by Healthyfix but I do not see them listed anywhere on any sites dealing with Gastric Bypass. I will post more later.
DEC 21
WOW I can not believe it has been so long since I updated my profile, I will try to do better. Well in 4 more days I can start saying that my surgery is in less than 1 month. Being that I work for a college we are off work till Jan 3rd do I will start working out more trying to loose some of this weight I have put back on before my surgery. Also I will start putting my list together of all the things I need to bring with me to Mexico. I have made several friends here and also with some of those that will be having surgery the same time as myself in Mexico so I can not wait to meet them.
Take Care and Merry Christmas!
Nov 10
I have really missed everyone, but it was such a shocker to be just 1 week away from surgery and to find out that because of being coded wrong I am not eligible to have my surgery there. I had to leave the board for a while because it just hurt too much reading about everyone else and the success that they are having.
So enough of the Pitty Party... I'm back with a new plan....
I have a Surgery date of
Jan 25 2005
with DR Aquirre in Ensenada, MX.
My First Try Around...
I could not get anywhere with BCBS of Texas, so now I am going through the VA. I have found out that Wilford Hall @ Lackland Air force Base does the surgery.
Sept 11
- Went to Wilford Hall @ Lackland Air Force Base in San Antonio, TX. They are going to do my surgery, attended
their briefing class and got a list of all the test I need to get before they will give me a surgery date.
Oct 2/03
- Did all my blood work.
Oct 3/03
- Had my Echo Cardio Gram(SP) done.
Oct 6/03
- Did my Sleep Study (already have Sleep Apnea since 1999) but it is still required.
Oct 8/03
- Had my EGD (Upper GI) done today.
Oct 10/03
- I have my PSYC Eval
Dec 03
- I am the Heaviest that I have ever been over 425lbs
Feb 04
- Weight 390 lbs - Knee Surgery (Right Knee) - Torn meniscus, not really sure when I did it, after surgery gout set in this made it allot worse.
Mar 04
- Checked with Wilford Hall still on the waiting list
Apr 04
- Went to the support group meeting at Wilford Hall it was nice to meet everyone and talk to those that have been through the program.
May 04
- Weight 381 lbs - Received a call from Mrs. Keys, says if I will loose 20 lbs Doctor Bowers thinks he can do my surgery via Lap and not Open. Not sure how I will do it because Left Knee is needing Surgery.
June 04
- Weight 381 lbs - My company just finished a New GYM and we have some of the best equipment, I am now working out 4 days a week now. Doing about 30 minutes a day on the Elliptical machine and 30 minutes on the Cycle machine.
June 04
- Weight 373 lbs - Weight is just falling off about 1-2 lbs per day, also for some reason working out is not causing my knee to hurt any more than it already is.
July 04
- Weight 363 lbs - Weight still falling off I have lost about 18 lbs. Left Knee is not hurting any more, I think all the movement has smoothed it out. I'm still working out, now up to 40 minutes a day on the Elliptical machine and 40 minutes on the Cycle machine.
July 04
- Weight 353 lbs - I have now lost 28 lbs, I'm really hoping to hit the 30 lb mark before my surgery.
Aug 04
- Weight 352 lbs - I have now lost 29 lbs, I'm really hoping to hit the 30 lb mark before my surgery. Recieved a call today.. I Have A Date.. it is Aug 24th 2004!!
Aug 16
- Weight 351 lbs 6 days till Surgery - Went to San Antonio for my Pre Op stuff with 6 days till my surgery and MY ROLLER COSTER RAN OFF THE TRACK! They figured out that for some reason I was coded in the system wrong when Houston, VA sent my referal over and I am not eligible to have the surgery with them now. They thought that I had retired from the Navy and being that I had not, I was not suppose to be able to be seen at the base. So now it looks like I am having to start over.I HAD A Date.. it WAS Aug 24th 2004!!
Oct 10
- Weight 358 lbs No Surgery in sight - I just thought I would give a little update, I have been talking to VA here in Houston and they now will not send out for a referral for Gastric Bypass. This experience has totally ROCKED my world. I do not come to this site much any more because it just hurts too much seeing everyone talking about how much this surgery has changed their lives and also hearing everyone talk about they have a date. I was always the nicest person and always had a POSITIVE attitude and now I'm 180 degrees from that and I do not want to be that way but I just can not help it.
Photos