Surgery Thoughts & A Fun Summer
Jun 29, 2007
April 27, 2005
I'm going to attempt to recall my surgery experience and hospital stay. I realize it was a MONTH ago tomorrow, but this is when I've taken the time to put it into words. My surgery was the first one scheduled for that Monday morning, March 28, 2005. I had to be there at 5:30am. Anyone who knows me in the least knows full well that I am absolutely NOT a morning person! Typically, my husband had missed the turn to let me off by the front door, so I had to semi-sprint up the hospital driveway and past Valet Parking (it was waaay too early for them to be there!) That I managed to be at the hospital at 5:45am was a miracle in itself. There were a jillion people already in the surgery pre-op waiting area when I arrived, which really annoyed me. But to be truthful, everything annoys me in the morning ;) So I put my name on the eternal list of pre-op admissions, and waited impatiently for my husband to meander into the lobby. Who knows what ungodly hour the poor admissions employees had to be at work, but they were rockin'! I finally got admitted (and adorned with the beautiful hospital identification bracelet), and we were sent up to the surgery floor.
I had to call the pre-op nurse to come take me into the official pre-op pt. area because it was also too early for the volunteers to be at the pre-op waiting room! That was when I had to say my temporary good-bye to Craig. He looked sad as I walked away with the nurse. I was a little nervous since I knew the surgery was finally REALLY going to happen - and the reality hit me when I saw the gurney and the monstrous hospital gown that were waiting for me. After I had disrobed, put on the tent, and hoisted myself on the gurney, the real waiting began. One of the nurses had the pleasure of installing my IV line. I'm pretty sure it was a garden hose. Eventually, the surgeon's assistant wandered over and introduced himself - his name was Paul - and that was the last I ever saw of that guy. Then, the anesthesiologist came over and introduced himself. His name was Jeff, an irony that was not lost on me even at that early hour - that is my brother's name. What really tickled me was that when he spoke, he reminded me of my cousin's husband. What a combination! I told him that I was a real wimp with anesthesia. He went to get some anti-anxiety medication (that I'm sure is standard for pre-op patients), and as soon as he put that in my IV, it was lights out. I don't remember ANYTHING after that - not the trauma of the N/G tube going in or out - nuthin! I don't even remember one thing about the recovery room.
The next thing I knew, I was in my hospital room. I vaguely recall being in some sort of pain, and as soon as I hit the panic button (the narc button!), I was back in La-La Land. I am thankful that my uncle Bill was there in the waiting area with Craig, so that my husband didn't have to be there alone. However, in all the hullaballoo, Craig forgot to call my parents & let them know that I made it through the surgery with flying colors. I later found out that they were beside themselves :( My parents had planned to come the next day, per my request, so that I would hopefully be more lucid during their visit (they live 2 hours away). I do remember waking up and seeing Craig and my uncle Bill - then I fell back asleep, and when I woke later, I was surprised to see my aunt Nan (my aunt acid). She has always been very special to me - she's only 10 years older than me (and Bill is only *5* years older than me!) - but I didn't know ahead of time that she was coming to see me. That just made my day! Nan brought the coolest arrangement of flowers - red Gerber daisies & purple irises, (my favorite colors - in fact, my wedding colors!) in the most stellar bent purple glass vase!!! Nan lives an hour north of me, so it was great that she had come to see me even for just those few minutes. I know that I got several phone calls throughout the day & who knows what I told them! LOL!
Below are a few pictures of me the day after I got home from the hospital.
This is Bandit, me & Rylie (shaking as she loves to do)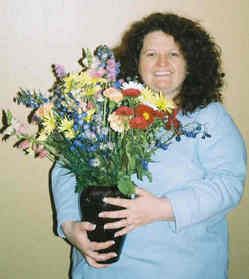 These are the beautiful flowers some of the women from work sent me for my recovery!
-- To be continued --
May 29, 2005
Wow! Yesterday was my 2 month anniversary from WLS! I thought I'd lost about 40lbs, but when I stepped on the scale, I realized I've actually lost 47lbs! I couldn't believe it! Craig & I have 2 rolls of film to get developed today, so I will have some more pictures to add to my profile.
6/10/05
July 2005
7/3/05
I can't believe it's been so long since I took the time to update my profile! I just had my 39th birthday on June 26th & had my 3 month surgery anniversary two days later. Time has gone so quickly. I've lost 60lbs now! I finally fit in a 22/24 top - down from a 30/32. This is the smallest I've been in years :)
August 2005
8/2/05
Another month has just flown by. I had a little vacation in San Diego (went to the International ComiCon with some of my Matrix friends) & immediately after that - the very next day - my grandpa was scheduled to have an extensive hip replacement (bone grafting & leg lengthening) - but that got postponed at the last minute, and so he stayed with us for a WEEK! Now it's been a week since his surgery, and he's doing extremely well. I might add that my grandpa's surgery was done at the hospital where I work, since he needed a specialist. (He lives clear across the state from my husband and me, and it was pointless to have him drive 5 hours home, and another 5 hours back on the following week.)
That's just part of why I've been so crazy-busy lately! Well...and I have managed to get some shopping in ;) I am SO amazed at the miracle of this WLS - and so thankful every day that I had it done. I've now lost 70 pounds in 4 months! I am wearing size 20 pants & shorts and size 18/20 tops!!! HOLY GUACAMOLE! I haven't seen those sizes slinking over my body in yeaaaaaars! I prefer to wear clothes loosely - I don't like bumps and bulges everywhere. It's such a nice change to have clothes fit comfortably and not have to mash myself into them :) My mother-in-law resized several of my clothes on the 4th of July (I'm so thankful & happy that she did that for me!), and I already need revisions AND have a ton of other clothes for her to alter for me.
Another plus is that people at work are really starting to be majorly impressed with my weight loss. They are all so supportive of me, and it makes me happy to be the center of good attention! Thanks to everyone who checks my profile and who cheers me on! You know who you are!!! My family is also constantly wowed by my results so far. They are very happy that I finally am able to lose weight, keep it off, and be healthier.
I know I'm all over the board as far as my thoughts tonight...but I wanted to remark that I've had many WOW moments lately. The biggest was when I carried in a 44 lb bag of dog food from my car. That darn bag was friggin' HEAVY, and I struggled to haul it inside. It dawned on me that I had already lost almost 20 lbs more than that at the time - how the heck did I get around with all that extra weight?!? That made me realize just how much freer my body is now - how much more energy & endurance I have - and that I AM getting smaller! The other WOW moment was when I was clothes shopping on Saturday. I was at my favorite store, Fashion Bug, and every single top I tried on was an 18/20. Not only that, but they all fit to my specifications! Just 4+ months ago, I dreaded the dressing room because I truly hated my body, and how it looked like a sausage smashed into 30/32 tops. SO SAD! Now I'm doing the Snoopy Dance because I fit into 18/20s, and they look good! That was only half of the WOW, though! When I paid for the clothes, I wrote a check - so the clerk had to see my driver's license (as usual). I was beaming and had to tell her that I hadn't fit into this size for FOREVER. She asked me how much weight I'd lost, and I told her 70 lbs. She looked at my driver's license photo and said that she could really tell a difference. I started to argue with her, thinking that I weighed less in that photo than I do now. I was thunderstruck to realize that I do indeed weigh less than that picture, and by a fair amount! Hee hee, and I *almost* weigh what my bigole white lie driver's license weight states ;) - just 6 pounds more! If I could have done a backflip, I would have, right then and there! The clerk asked me how I'd lost the weight, and I told that I had WLS, and that I'm very happy with it. I gave her the address to our lovely OH home here. I'm such an advocate for this site because it's a tremendous asset in learning about different options for losing weight. The lady next to me in line had overheard our conversation, and congratulated me on my success. I was on Cloud 9 as I floated out of the store!
---
Post-Op Wanderings
Jun 29, 2007
APRIL 2005
4/1/05 April Fool's Day - How Appropriate!
I am home from my surgery - 4 days out now. I am shocked at the inner demons that I'm having to face now that I can't eat to fill that void. I've posted a little on the board, which has helped me vent more than I thought. I'm going to re-post what I wrote here.
RE: Help me ..can't stop crying!
Response from Julie / Scraps Young.ren at 9:08 PM PST on 04/01/2005
Aurora, CO - RNY (03/28/2005)
Thanks Megan for being so honest - and to everyone for sharing! I've only been home a couple of days, but have been feeling lost and hungry at all times! I find that I have a LOT of anger ...rage actually. I wish the tears would come, but they don't yet. I never thought I'd have such a hard time with the liquid diet. I feel cold (the opposite of pre-op me) constantly, and as though nothing satisfies me. I don't want to eat s/f jello or drink milk or have a s/f popsicle - because they all make me feel colder! And broth - I am SO over that now! I was so frustrated last night, that I opened a can of Pringles and licked the top chip. What a nutjob I am! I do have A LOT of things to do around the house - joyous chores & getting rid of crap that I have avoided doing forever - but I just can't scrape myself up off of the couch (and from under the blanket) to do any of it. I don't wanna face it! I've decided that I'm going to start my "Food (or lack thereof) Journal" so that I can really track what I am drinking. I don't think I'm getting enough milk or enough water during the day. Maybe that will help with my control issues. And I definitely need to journal my thoughts and feelings. This has helped to vent!
Thanks again,
Julie 
April 7, 2005
Wow. I get so caught up in the board here & looking at profiles, reading the message boards, etc. that once again, I've neglected to update my profile.
Today was my 1st post-op visit with my surgeon. He said I'm doing well, but that I need to kick up my exercising - esp. with the upper torso. I'm right on par with the expected weight loss - I've lost 18lbs!!! I was amazed! I knew that my clothes were looser, but I had no idea I'd lost that much. He said 2lbs a day is what I should be doing. He was also ok with my starting the pureed foods a lil' early, but he gave me some good pointers as how to stay on track with that.
I am in remiss in mentioning that I attended a support group this past Monday. It was my 1st WLS group I'd attended. It was a small group, and I enjoyed meeting the ladies there and hearing their stories. At that point, I was only a week post-op. They were all amazed that I was already attending a meeting & that I was out in public in general. It really helped me to calm some of my food issues by getting feedback from the others. It was also nice that the majority of the women there had Dr. Tillquist as their surgeon, even though it wasn't the main support group associated with his office. I always enjoy meeting and learning from people.
Last night was also the 1st meeting of my womens' group (since my surgery) & everyone could tell that I'd lost weight. They thought I looked great and that I am getting around really well. It was good to do something from my "normal" routine that felt like I was getting back in the swing of things!
I have to say that I am very appreciative of all the love, concern, and barrage of phone calls that I've been receiving from so many members of my family! My Grandpa calls me several times a week now - he's very proud of me for having the surgery :) My Aunt Acid (Nan)(she's cool - I just call her that - and she likes me to do so) and my uncle Bill have called me regularly also. My parents, my brother & his wife (Hi Sandy!), my in-laws, and my husband's sisters have all been calling as well. It is quite noteworthy that my brother has actually called me on the phone at least 3X this year, which is beyond remarkable, as he is a man of few words!
I just realized that I never wrote about my stay in the hospital. Doorknob! I will go back and do that tomorrow.
April 19,2005
The VERY scary picture of me in the hospital. Don't I just look thrilled! And (R) me now, 25lbs lighter.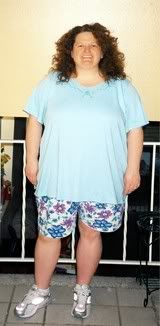 ---
Julie's Reasons For Having GBS:
Jun 29, 2007
1. I'm all-too-quickly approaching 40 - June of 2006 (eek!), and I am determined to be healthy and fit for the rest of my life! It's so damn easy to stay the same - not make any changes. But I'm worth more than that!
2. Enough of this "people liking me for who I am, not what I look like." *I* don't like how I look! *I* am always tired, sweaty, & out of breath. That changes NOW.
3. Being a slave to PCOS & infertility. Screw that! I'm fighting back!
4. Feeling 20 years older when I get up from my desk due to back/hip pain from being MO.
5. Hating exercise for a jillion reasons, incl. asthma, hives (yes, I get hives from working out - really quite sexy), being so self-conscious that I hate being seen exercising, having no concept of "feeling good" after exercising, etc. I want to consider exercise to be my friend - not my enemy.
6. Wishing that XXX only referred to a Vin Diesel movie & not my clothing size.
7. Dreaming of wearing sexy, beautiful, MATCHING bras, underwear (NOT the circus tents I own) & lingerie bought from Victoria's Secret or anywhere "normal."
8. Feeling good enough about myself to WANT to have sex. With the doggone light ON!
9. Being so well insulated that I'm always too friggin' HOT!
10. Actually having people refer to me as "Petite," and really mean it. As it is, I'm a Hobbit - and a plumpette at that.
I'm pretty tired right now, so I'll have to continue my train of thought another day.
March 26, 2005 Saturday Night
This cute lil' tyke is moi, circa 1966. Note the lovely blob of a physique - add big boobs and big hair, and it's me now!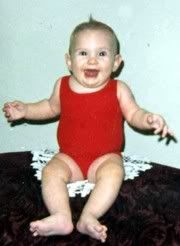 I feel like I'm in some weird vortex...I tried to spend the day making food choices for the last day of my favorites - but nothing really hit the spot. Well, I *did* have a Mountain Dew that was pretty kick-ass, but nothing else even came close. I got a Subway sub-of-the-day (roast beef), but made the mistake of having it toasted. Instead of nice, soft, chewy bread, I got vaporized toast. It had no structural integrity at all. Such a disappointment! My angel, Kimberly, was going to take me out for one last Dairy Queen treat. She got Taco Bell & I got Pizza Hut (at Taco Hut), and we went back to my house & watched "The Incredibles" with my husband. We completely forgot about DQ, and by the time the movie was over, they were closed! As my co-worker Dana would say: "Whaaaat-waaaaa!!!" I have a notion to dash out to Safeway to get a pint of Ben & Jerry's Chocolate Heath Bar Crunch (SOOOOOOO evil-ly yummy!)...but I know I'd just eat the whole damn thing. However, my asthma has been a real biatch today & I simply don't feel like going anywhere. And I just remembered that I have a fresh pineapple upstairs in the kitchen, so I'm going to have some of that. After all, I've got to watch my figure >B) (That last symbol is my wicked incognito smile...see the sunglasses?...uh, nevermind.) I can just hear my angel calling me a DORK! 


---
The Beginning of My Journey
March 17, 2005 Happy St. Patrick's Day!

MAJOR kudos and thank-yous to Rene, the OH volunteer Profile Queen! My profile is SO beautiful thanks to her help!!! And I appreciate the opportunity to chat with Rene (via e-mail) while my profile was being spruced up :)

A stellar thank-you to my dear friend and angel, Kimberly Suazo! She will be providing updates online while I'm in the hospital. ** My surgery date is Monday 3/28/05!!! **

Another BIGOLE thanks to my girlfriends in my Womens' Group - Xi Epsilon Eta (Beta Sigma Phi) for preparing a surgery gift basket for me, full of very thoughtful goodies: 2 books of short stories, 3 puzzle books, a micro-mini radio that fits in your ear, a beaded bracelet kit, B&BW lotion & lip balm, 2 pairs of slippers (one pair - SO cute! - is grey kitties with blue eyes), small foam rocket launchers (evil grin! - the nurses had better watch out!), and best of all, a huge metal case containing a rainbow of 56 gel pens (half of which are sparkly)!!! Anyone who knows me well, knows that I am a gel pen fiend - the sparklier, the better! I am so grateful for this very unexpected but much appreciated gift!!! Thanks again, ladies!

Now onto a more serious note: yesterday was my pre-op testing day. It wasn't as bad as I had anticipated - just some blood draws (thanks to my nurse, who was a pro at getting blood from the gigantor veins in my hand & not trying to find the impossible veins inside my elbow bends! - Is there a proper term for that part of the arm?) and an EKG. I'd never had an EKG before, so that was interesting. I was supposed to go to work after my testing, but I got a severe case of Reality Checking. There are a lot of other things (changes) going on with my friends that I'm rather distressed about, and the combination of that and thoughts of my surgery were just too overwhelming. I ended up having a BIG asthma/panic attack, and as the night progressed, it didn't get much better. I even had to drag out my old nebulizer (and expired albuterol solution - eek!) to avoid a trip to the ER. Today is better, but I am still gimping around. It is so scary not being able to breathe :( It makes me all the more eager to have this surgery so that I can work some of this doggone weight off & be able to breathe easier.

Many people - esp. my husband - have remarked that they are surprised that I am so non-challant about having GBS. It's not that I don't take it seriously...it's just that I've been battling being overweight and unhealthy for so long, that I am ready for this change in my life. I have made peace with it. And I have had other, more invasive surgeries that I've had no problems recovering from. Believe it or not, I'm actually MUCH more frightened of the thin Julie who has been trapped inside me for forever - she's a sassy woman!!!

March 24th, 2005

Today was my pre-op visit with Dr. Tillquist and his nurse, CJ. I asked them tons of questions & they were very patient with me. I got weighed (UGH - 10 pounds more than my initial consultation), had my measurements done, my blood pressure taken, and a picture taken as well. I knew I was going to have my picture done, so I wore the outfit I have on in the picture where I'm holding my puppy, Bandit (bottom of the page). Gotta go out in style!

I haven't been updating my profile for a while because I have been without internet service at home until late last night. We had to do a system recovery $&*%@!!! But at least I can gimp along on the internet here at home, & not have to stay late at work to post. Arrgh!

It has been SO difficult to concentrate - focus - even think in work mode this week. I've got a bit of a problem with OCD (there's a big shock!), so I have been understandably obsessing about my surgery and the new Julie. I'm not sleeping well again - probably due to impatience & excitement. Additionally, I'm totally a night owl, so it's very easy for me to stay up late and sleep less. After a few days of that, it catches up to me. Tomorrow is my last day at work before my surgery. It's going to be a loooooong day - mostly because I only got about 3-4 hours of sleep last night. My husband and I went out to lunch after my pre-op appt, and by the time we got home, I was a zombie. I laid down for a quick nap, as I was supposed to go in to work after lunch. The next thing I knew, my husband was telling me that it was 4pm-ish. Welp, no need to go to work at that point. Consequently, I have a lot of loose ends to finish up with tomorrow - AND, lucky me - I'll be doing all that with the help of my charming friend Aunt Flo & her evil partner Sir Crampsalot. What a joy!


Here is a list of things that really piss me off:

* "Normal" weight people who claim that morbidly obese people would be thin if they just pushed themselves away from the table & started exercising. Grr!!!
* Being invisible (ie, FAT).
* Having people scrutinize my grocery store purchases.
* Having to hear my tall, thin SIL saying that she needs to lose weight.
* My friends / family saying that I'm "not that big (HEAVY) - they guessed 50lbs less than what I weigh. "There's NO WAY you could weigh that!" Yes, I'm sure the hospital's scales are at least 30+lbs off. (rolls eyes) Gimmie a break!
* Anyone questioning whether I've really thought this through. **KICK!**

I'm quite sure this will be a running list, as plenty of things continue to irritate me ;)



---