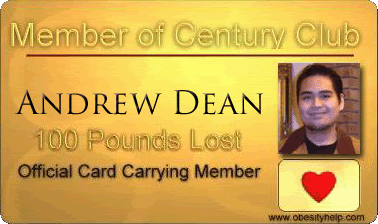 [Vegas Aug. 5th 2005]



Wuddup peoples,
Hey ya my name is Andrew I'm 22 and live in Southern Cali. I've been representing the Big Brothas my whole life. I hit the two-hundred pounder mark before I even got to highschool durring 7th grade. Much love to those [OH.com] members who sent me many kind words to this account on the week of my supposed surgery date on Nov 11th. Unfortunately somehow I forgot to take the abdominal ultrasound the week prior and had to be rescheduled. So Dec 14 is my NEW DATE now, and I CANT WAIT!


[My mom and I at the international airport in France Oct. 11th 2005]





12.14.2005
Todays the day. Its 1:33 AM right now and my surg is scheduled at 2:00 PM today. I'm pretty hungry right now, I didnt eat anything other than my last BIG MEAL for all time, Prime Rib and Lobster at Lawry's in Beverly Hills (Totally Appropriate Last Meal for anyone in CA). I was a little worried about not being accpeted because 2 days ago I gave blood, and I'm pretty sure it had traces ofweed in it. But now that they gave the green light I guess it don't matter. I've waited 5 long months for this, and since then I've been binging like a madman, "Last Supper Syndrome" they call it. Eating every meal as if it were your last. I put on almost 30 pounds since my family doctor suggested I get this surgery in July! The madness is over and now the losing can begin, look out stomach you're about to get "shrankin".


[Me knocked out a day after surgery]

[Me still achin in the hospital "asking" for more painkillers.
Official Weight on first day out of Surgery: 348]





12.16.2005
Well I'm home now, the hospital was deffinately an experience. Really hated how painkillers would only be give every hour, cuz after like 15 minutes the pain from the incisions would sting like hell. I was there for just a day and a half. When I got to stay in my own hospital room they had that handheld button that releases painkillers, oh boy I was tapping that button like I was playing a star fighter videogame. Stomach still hurts right now tho.


[Here I am 2 weeks out and 20 pounds down]




01.13.2006
Its almost been a whole month now and I'm really starting to get a feel of this new lifestyle. I carry my daily meds with me, and I've been taking 9 oz a day of the protein drink advertised on this site called Profect, all one flavor cool melon. It tastes horrible, and makes me gag after swallowing but hey, only 9 1oz feedings to put up with and I'm done. None of that "every 15 minutes drink 1 oz of protein drink for 30 oz" garbage I had to do with Isopure. Durring my full liquids phase I think I went overboard with the Campbells soup, I'd down a can of condensed Tomato soup, Pepperjack cheese soup, Cream of Brocoli, or strained chicken noodle. The whole time eating the entire cans worth each day when the book said to only eat 1 oz. I found out later from my doctor that liquids go straight through my new stomach pouch, no wonder I can down the entire cans worth in one sitting! The entire 2 weeks I've been eating the soups I've never lost weight, I stayed steady at 313 and at times went back to 315. Well last week I went to sport challet and bought me an Ab Lounge Ultra like on TV. I just follow the 10 minute workout for beginners on the included DVD each night, its pretty easy and you do feel your abs being worked. Just 2 days ago I just moved on to pureed foods thinking it would be great, but turns out eating these solid foods kinda hurts. U feel the whole thing slowly going down ur throat and it feels like ur stomach is cramped until it makes its way down to my stomch pouch, and u CANT drink nothing till 30 minutes AFTER your meal, no drinking durring it. I made the mistake of drinking Crystal Lite iced tea with my very first purred stage meal and ended up downing it in like 6 minutes STILL being hungry. The trick is to not have any fluids to dillute the food in the pouch, cuz then it just goes down the drain like soup would, Believe me, I thought 1 oz of scrambled eggs, a Tbs of oatmeal, and a Tbs of apple sauce would no way satisfy me like an entire can of Campbells used to, but 10 minutes into it, I had to save half of it for later, cuz that 2 oz of food kicked my ass! An I was happy it did. Funny thing too, these past 2 days I finally broke my 2 week long plateau! I'm down to 311 now.


[4 Months Post-Op at my cousin's wedding]


[Again at 4 Months Post-Op with family]


[5 Months Post-Op on my 22nd Birthday]


[Yea, thats alcohol in that Long Island Iced Tea]




06.18.2006
Hellllllloooooo OH.com readers! Damn its been a crazy 5 months, and as you can see I've been one hell of a lazy updater. Well lets get to the right to the action, I weigh 265 pounds! So thats 83 pounds down so far. I'm eating solid foods now, and taking 3 flinstone vitamins, 4 tums, 4 scoops of Designer Whey protein everyday, and a B12 pill that melts under my tounge every mon and fri. So far I've only experienced that notorious "dumping syndrome" one time, it was like around my 3rd month post-op and it happened cuz I wanted to taste some Lays potato chips, just like 4 of them. Big mistake, the grease and saltiness had me dry heaving trying to force it back out. Since then I've been able to handle Lays when I tried another handful 2 weeks later. I've been keeping busy since last journal entry, I have a job now. Just a mere dishwasher at my friend's Filipino family ran restaurant in Rancho Cucamonga. I noticed ever since I started working at the restaurant the weight loss went a lot faster because before that I've just been "potatoing it up" on the couch all day. My coworkers always laugh when I take a break and eat, cuz I use the really tiny dipping bowl which holds like 7-8 ounces as my food bowl for rice, mango salad, and 2-3 strips of chicken or beef. The bowl is small enough for me to palm and flip upside down without dropping it. I still haven't exercised regularly since I got the surgery and I know thats really bad. I plan on signing up to a gym just as soon as I get promoted to Delivery Driver at the restaurant in the next month. That way I wont feel so damn wiped out once I'm trough with my shift. I also don't do that waiting 30 minutes thing before drinking liquids during meals. I drink liquids anyway and I still get stuffed on the small amount of food. I uh, also still drink alchy, I've noticed I can get pretty buzzed from single shots of rockstar and jagermaister, before I'd need like 6 shots of jager to star feeling warm and lauffy. I've also started getting hand me down clothes from my friends, and its so awesome! Especially since all my XXL shirts I've been wearing the past 4 years were all plain boring solid color designs, I finally feel like I'm wearing "PEOPLE CLOTHES" now.


[Wearing my apron taking self timer pics with my phone in the work restroom]


[Finally got rid of the facial hair, how u like it?]


01.09.2007
Hello again OH.com community! I've been missing for over 6 months and alot indeed has happened. First off I'll start with the most obvious life ordeal I had to go through. On Dec 16th at 3AM me and my nephew were driving home from Casino Morongo and got into a car wreck in which my nephew's Toyota Celica was totaled and they had to cut through the roof to get me out of the passenger side. Thankfully we both survived, I spent 1 week in the hospital.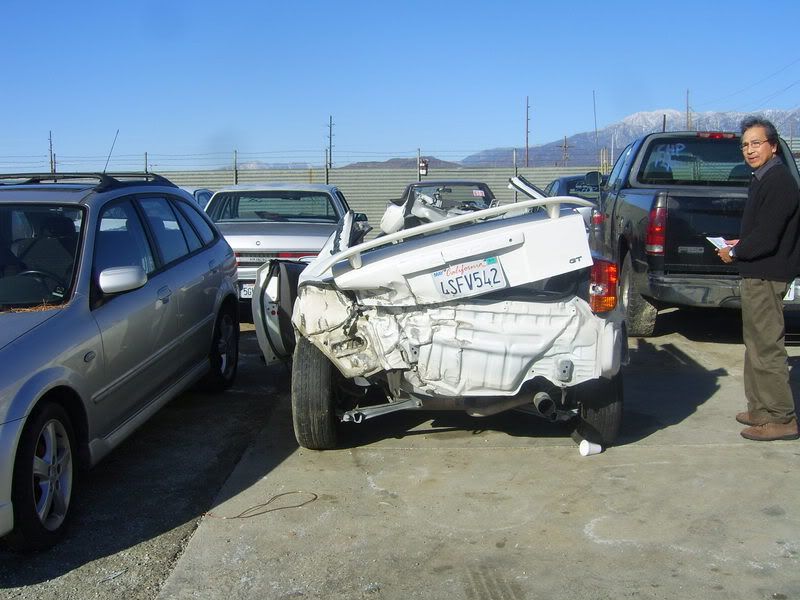 [Back of the wrecked Celica]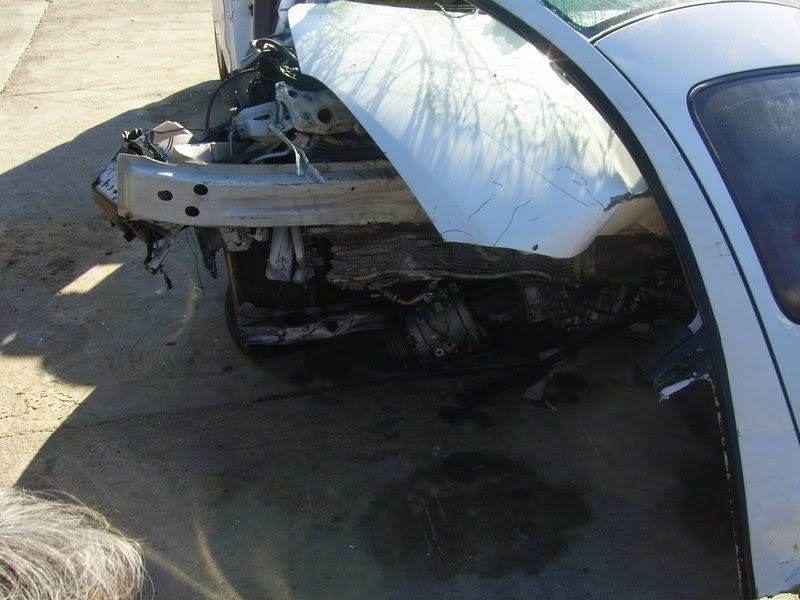 [Front of the wrecked Celica]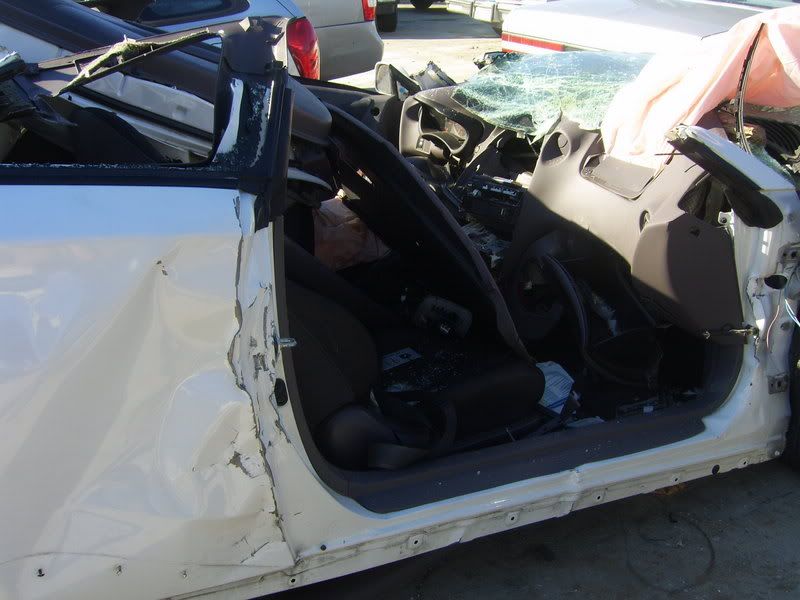 [Passenger side of Celica where I sat]
Unfortunately we did not escape this accident completely unharmed, my nephew broke his tailbone and has to wear an upper body brace for 6 months, I didnt break any bones, but did have head bleeding and had to get my scalp stapled closed and had internal bleeding. The result of that bleeding, surgery in which they REMOVED 12 FEET of intestines on my already altered RnY Gastro Digestion system. And keep in mind the average body has 25 feet of small intestines, so I have half that now, as well as a stomach that holds 6 ounces.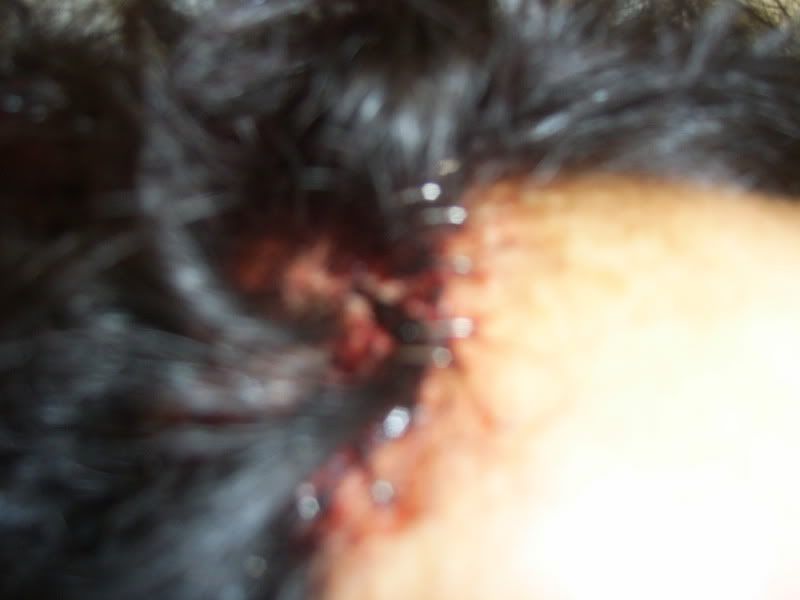 [Close up of the over 16 staples in my scalp after the accident]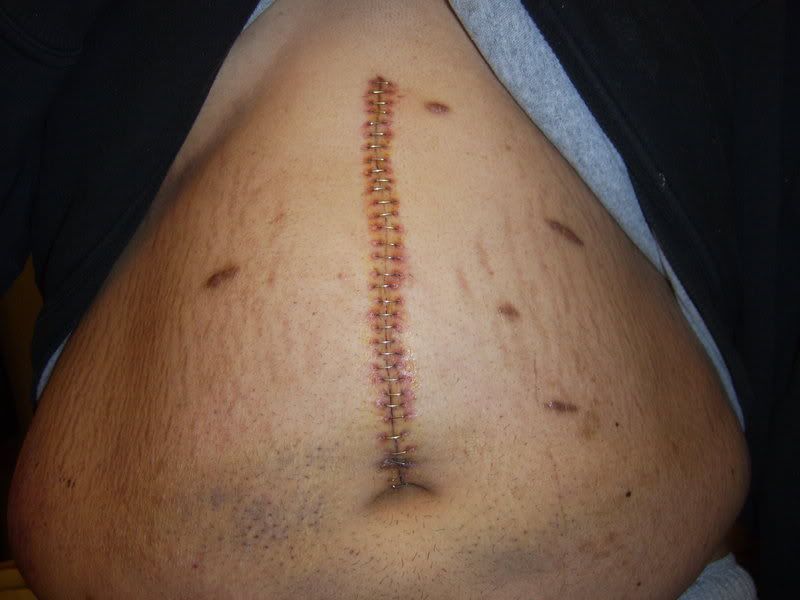 [My new lifetime scar right down the middle in addition to the laparoscopic scars]
Well enough of the depressing downer stuff, lets talk about what this whole website is really about, weight loss. And that I have done. So from my last journal entry in June I weighed 265 and with a combination of a Low Carb diet and attending college classes again I managed to lose 19 pounds and get to 246. But now after the accident and the removal of half my small intestines, I'm down to 225 losing 24 pounds in under a month.


[Finally home after more than a week in the county hospital]

[After getting rid of my hospital beard]

[Wearing my friend's hand me down size "L" T-shirt for the first time]
Ohyea, I forgot to mention, because of the staples, I had to cut my mane of long hair. =( I kept it long ever since Summer of 2005 and it went down to my back, It was my own personal vow to not cut it until I hit my goal weight. And when I did hit goal weight I was planning on going to that hairstylist on the reality show on the Bravo channel. Oh well, at least I dont have to worry about pony tails and shampooing anymore.


03.09.2007
Hi everyone, well its been 2 months, and i've lost another 20 pounds putting me at 205 pounds! So without further ado, heres the pictures.


[In my room wearing sweater that only fit 9 years ago]


[Another sweater pic]


[Dressed to go out. The jacket was too big for me at XL. But I have nothing else now]


[Trying out the "Blue Steel" facial pose from Zoolander, hahah]
Although i have been losing pretty rapidly since my accident, I still havent been working out which I know will be horror for me when I soon have to deal with loose skin issues. But I do plan on enrolling in a 24 Hour Fitness soon, my friend told me they have a deal now where $99 gets you a years membership, sounds good to me! As far as nutrition goes, by doctor told me that because of my accident I'd need an additional multivitamin each day making it 4 Flinstones vitamins daily, and an additional Iron suppliment. Thats pretty much it for my weightloss-related changes, ohyeah, and drinking with the friends is WAAAAYY cheaper than it used to be.


03.24.2007
Hey again, its barely been a month yet and I got another update for you, I lost 17 more pounds, putting me at 188 lbs, bringing me just 3 pounds away from goal weight [Best Lil John Impression Voice:] "YEAYY-AHH"

[rocking a polo shirt for the first time without worryin bout my man-boobs ]


04.28.2007
Hi all. Well its been another month and I am further away from goal than I was last month. D'oh! I was able to get down to 187 lbs because I had a bad cold last month that made me lose my apitite. Once I got over the cold and started eating like I normally do I gained 8 pounds back putting me at 195 lbs. The pics I'm posting are from yesterday of me dressed up to go to what my dad described as a "Hollywood Party", but later ended up being more of a yearly party from EntertainmentPartners Payroll services. So it was more like the behind the scenes hollywood people and lesser known character actors schmoozing. But my mom still deemed it necessary to finally photograph a thinner me at every moment in the alternate jacket she bought me for a family wedding last month. Well the party tent was well catered, prime rib, oysters, cheesecakes, etc. but only with finger popping sized portions, no full plate portion unless youre confortable lining up and walking away with 3 mini-plates in front of everyone (My mom sure was). The open bar however was superweet, jus like the 4 long island ice teas I got. =)


[ok, I admit this pose and angle weren't spontaneous]


[@ dad's office]


[My lame Don Corleone pose. Damn, my gut is still stretching my buttons]


[In the EP party tent at the L.A. Auto Museum]


07.01.2007
Hello there, this past summer has been definitely been of one of inner self discovery. Since my last update I've

lost another 15 pounds, putting me at 180 lbs. I've also discovered that when someone who used to be the butt of

all fat jokes for over 7 years among his highschool friends reverses roles and becomes the Thinnest one in the

group, it leaves the previous "alphamales"  in a less than jovial mood towards my newfound attention in clubs. If

anything you'd think they'd be proud that for the first time since graduating my all boy highschool, I could finally

exercise my "game" like they have, but no, they'd prefer to rush me into talking to someone new and then put me

down for not delivering when, where, and how they demanded. Keep in mind this whole talking to new people at

clubs exercise was never in my spectrum of living until 2 months ago, hell talking to ANYONE is still new to me,

being I live with my folks and am an only child. But despite all this newfound hostility, its really just them  giving

me my long awaited props in a kind of insecure way. Thats how I preffer to look at it.  Well as for updated images,

lets see, I redecorated my room, and I Visited the official 7-11 converted to a Kwik-E-Mart in Venice Beach.
                                            [Me and the guys on a typical Thursday Night in Downtown Fullerton]

[Art matches the shirt heheh]



[Defacing Apu the official shopkeep of the Venice Beach Kwik-E-Mart]

[These were pretty damn good, glazed, frosted pink, and sprinkled for $0.79]

[Me and Ralphie Wiggum]

[Marge, Me, and "Comic Book Guy". Yeah, thats an official Squishee Iced fruit drink in my hand]