Still at it!
Apr 14, 2008
I don't know if anyone is even reading this anymore but I decided to come here and update for posterity's sake.  

I've had a couple more fills since I last posted and have lost a total of 74 pounds now.  I figured out (read the posts below this) that I wasn't tight enough and the PBing was indeed form eating too fast and not chewing enough.  Now that I am at a better fill level I can't believe the difference!  The band truly does work!  I am much less hungry now and am full after a small meal.  

I do still use protein shakes, mainly for breakfast when I'm headed out the door for work.  It's hard for me to eat solid food in the morning but my job is very physical (nursing assistant) and I can't *not* eat something for breakfast or I just fall over.

Ironically my new job that I just mentioned is on the surgical floor of a Bariatric Surgery Center of Excellence and I help take care of post op bands, bypasses and sleeves!  I'm going to nursing school in the fall and who knows I may end up working in bariatrics when I get my RN!  Either way I am very excited to have a "new lease" on my band and my life.  Before losing 74 pounds I wouldn't have been able to start a new career in nursing.
---
Fill.... and an unfill.... and a plateau
Aug 25, 2007
About a month ago I went for another fill.  I felt I was pretty close to my sweet spot so we put 1 cc in.  Over the course of the next 2 weeks I played the "Am I Too Tight" game with myself.  I'd PB on something I shouldn't have and convince myself it was because I'd eaten too fast or not chewed enough.  I started eating a lot of soft stuff and avoiding almost anything solid.  Not good.  So I scheduled an appt. and we decided to take out 1/2 cc.  So I went from 7.5 to 8.5 and now 8 ccs.  I've not PB'ed since so I think it was the right decision.

And I've not really lost anything in about a month now.  I think my body has decided it's time to plateau.  No biggie.  I'm keeping at it and plan to start water aerobics so I'm sure the scale will move soon.  It's not going up and that's important to me!  At this point in almost every dieting effort I've made (about 60 pounds lost) I have given up and started to regain.  Not this time!

I also have an appointment next week with a foot doctor to see if he can cure me of my plantar fasciitis.  My left foot still kills me and I haven't been able to do much walking since June.

Ds started back to school this week and that was surrisingly hard for me.  He's in 4th grade and this is his last year in this school.  Next year he will have to transition to an all new building and all new teachers which is a big deal for him (he's autistic).

That's about it for now.  Thanks for reading all my boring life stuff.
---
Another fill and Evil Frosted Mini Wheats
Jul 27, 2007
I saw one of the NPs at my doc's office yesterday for another fill.  We added 1 cc for a total of 8.5 ccs.  I think I've got good restriction now.  I physically can't eat fast anymore.  And if I don't chew, chew, chew (something I'm lax with, bad me!) I get that lump in my chest feeling.  Not pain, just a discomfort that takes a minute to go away.
HOWEVER, I have now learned that mini wheats are a thing of the past.  I got so stuck on the late last night I wanted to die.  I never brought them back up, but I slimed for over an hour and when I tried to bring them up with a gulp of water all that came back up was the water and oh by the way, that hurt like hell!!  The really dumb thing in all this - I don't even LIKE mini wheats!  I was craving something crunchy and it was all we had in the house.  (I've learned that I cannot keep chips or crackers near me or I will eat the whole bag).
My husband is going to finish off the box for me and when it's gone he is going to cut out the logo from the front of the box and post it on the inside of the pantry door to remind me of the experience.  I think it'll be a great deterrant!
Here is the cute badge LaraNicole made, I'm so glad to have made it this far!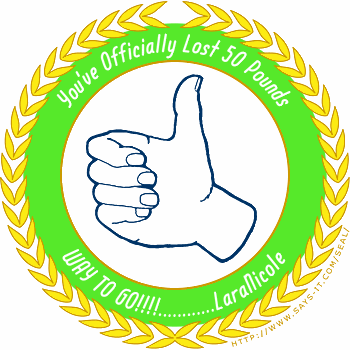 ---
The great exercise bicycle saga
Jul 16, 2007
So about 3 weeks ago I was doing really well with my walking program then my heel started to hurt.  Like make me cry kind of pain.  So I got it checked out and was dx'ed with plantar fasciitis which nixed my walking program for a while.  So I figured I would stalk craigslist for a less expensive, used stationary bike so I can keep exercising without having to arrange for babysitters for my kids while I go to the gym  to swim or whatever.  I found one and contacted the guy to set up a time to go look at his when my mom offered her bike to me.  Great!  Cancelled the appt to see the other guy's and moved mom's bike into my living room in the corner out of the way.  The first time I used it the pedal flew off and couldn't be fixed.  ARGH!  So I start looking on craigslist and Ebay for another one. Got tired of that pretty quick so I bit the bullet and went to Walmart and bought a new one.  Had dh haul the broken one out and I set about assembling the new one.  I shoulda called the toll free number on the instruction book to have someone come do it for a few.  What a PITA!  After about 90 minutes of sweating and getting grease all over me it was done.  I hop on to try it out....  OUCH!  A man had to have designed the seat on the damn thing, it hurt me in very tender places.  So I looked all over the internet and locally for a reasonably priced seat pad to fit the torture device I have to sit on to exercise and finally found one... in Alaska. 
  So I asked if they would put a buy it now on the auction and they did so I paid and they sent it out on Sunday (yesterday).  So this morning I get up and one of my 13 mo old twins has a fever so I haul myself and the twins out to the ped this morning which happens to me next door to a thrift store.  My daughter is fine BTW, the doc said it's just a virus and it'll blow over in a few days.  So we go over to the thrift store to see if they have any clothes for me since i finally went down a size.  And what is sitting outside by the door?  An exercise bike.  Looks brand new and has a nice looking wiiiiiide seat.  I push the stroller over and put the parking brake on to test drive it and omg the seat is comfy!  And it's only $25!  WAHOO!  SO I ran inside to quickly pay for it in case anyone else was eyeing it.  Then I called dh and told him we had to return the one from Walmart.  With a little eye rolling he did that.  God bless him, he's moved 3 exercise bikes in and out of our house in less than 2 weeks.  What he doesn't know is that I'm planning on buying an elipitcal machine this winter. 
---
Another fill, up to 7.5 ccs now
Jul 10, 2007
Last week I went to my surgeon's office for another fil with one of the NPs.  She had a little trouble accessing the port, the needle kept bouncing off the side of the port and she actually bent the needle!  But the next try she got it and I'm now up to 7.5 ccs.  I felt a little more restriction after I let the office that day and now, 5 days later, it has kicked in even more.  I have another appt. on 7/19 and may or may not get another fill then.  We'll see how the rest of the week goes before jumping on making that decision.
My plantar fasciitis is better, the night splint I bought on Ebay is the most helpful things I've tried so far so I think I can get back to doing some walking later this week.  I also got a stationary bike and probmptly broke it!  Wasn't my fatness, the pedal broke off the first time I used it.  Good thing it was free. 
  I'm going to get another one probably this weekend.
My wonderful therapist's newest advice for me is to plan each week's meals in advance and also to email myelf with each day's meals so I know what I'm going to eat and when.  I also came to the realization that eating the right things (at the right time too!) is like taking my antidepressants.  They work when you take them, sometimes so well that you think you can do without but really you can't.  I was thinking that if I skipped meals or delayed them that was good because then I would be consuming less calories.  This only gives me the munchies late in the afternoon and evening.  Once I realized this I was like DUH!  Oh well, penny wise and dollar foolish goes the old cliche.
---
50 pounds gone but feeling bummed??
Jul 02, 2007
I started tracking my weight at home in February (was banded 4/20) and since then I have lost 50 pounds.  About half of that was preop, which is why I'm a little bummed.  I feel like I should be losing faster, given that my BMI is pretty high compared to most bandsters.  I need to knock myself in the head and be positive about this!  50 pounds is a lot of weight, no matter when I lost it!  I just keep thinking I should be losing faster.  I see other people who have lost 50 as much or more than me and they didn't count preop weight.  Why do I compare myself to other people if it only makes me feel bad about myself?

I've not been exercising because I have plantar fasciitis in my left foot and it's very painful to walk.  And walking HAD been my source of exercise.  So I'm getting a stationary bike to use while my foot heals.  I gotta have something I can do at home.  So Friday I am going to look at a used Airdyne (made by Schwinn) and see if it'll work for me and hopefully bring it home with me.


---
2nd fill, vacation, birthday party, OH MY!
Jun 17, 2007
I can't believe it's been a month since I blogged last.  Life has been busy to say the least.  We had our twins' birthday party on 5/26.  Yes, I had birthday cake.  Yes, it was wonderful.  :)  I had my second fill on 5/31.  I'm now at 5.5 ccs in a VG band.  No problems at all with the fill.  Two days later we left for vacation.  I had a cold the whole time and didn't have much fun because of that and also just the stress of travelling by air with a 9 year old with autism and twin one year olds.  My kids had a great time tho so it was worth it.

I didn't lose anything during that busy, stressful time.  But since we got back from vacation I've gotten back on the bandwagon and lost 4 pounds.  My BMI is now below 50, yay me!!

My psychologist says I should focus on positive food behaviors.  Meaning I shouldn't focus on what NOT to eat, but rather make decisions on what TO eat.  So I'm working on that now.  It makes sense, the avoiding behavior was exhausting and it wasn't placing the focus where I think I need it: making conscious GOOD food choices 100% of the time.

So that's where I am going into this week.  My plans are to walk 4 days, make a meals plan for the week in my new software program and have some summer fun with my kids!
---
Had my first fill!
May 19, 2007
It went fine, no big deal at all.  I haven't felt much difference but I'm still easing back into my regular diet.  I hadn't lost any weight according totheir scale, which I thought was really good!  I'm only 4 weeks out and have no restriction.  I've steadily put weight on for the past few years so it was good to know that in 3 weeks I stayed right where I was!

I found out I have a VG band.  No big deal there either, I was wondering tho cause no one ever told me and I hadn't thought to ask any of the times I was in the office LOL!

In OT news - ds got his talking computer (he is autistic and cannot talk) and is doing fabulously with it!  He is making complete and appropriate sentences with it, as well as some babbling and pressing a zillion keys just to explore the thing.  I've gotten quite good at programming it, the speech therapist who is working with us was very impressed and halfway offered me a job!  I poo-pooed it at the time but thiking about it later I wonder if I should look into it?  I emailed her to see just how half hearted she was or was she more serious.

I started my next online class - I'm working toward going to back to school to become a nurse.  I took Anatomy and Physiology 1 & 2 in 05-06 and now I'm taking Medical Terminology mostly just to keep up my student loan status and also because i think it'll be a good review.  it's only a 5 week class and there are 16 chapers to get through so it's intense!  We're on vacation the first week of June and in that time span there are 4, yes FOUR, chapters due!  Dunno how I'm going to do it but I am determined to NOT do homework at the beach so I'm going to try to work ahead as much as I can.  This means I may have to cover a chapter every 1 or 2 days for the next 2 weeks.  YIKES!

Everything else in life is pretty good and very busy.  We're planning the twins' 1st birthday party and I ordered the cake yesterday for it.  There is a house around the corner that just went up for sale and we're seriously considering buying it.  It'll be a good move for us, our current house is reeeally small.  I love it but it's too tiny for 5 people.

Enough blathering on about nothing in particular.  I'll try to say something more profound next time.  ;-)
---
Met my first WL goal!
May 06, 2007
Sundays are weigh-in days at our house.  My husband and I weigh ourselves first thing in the morning and I put the numbers intoa  spreadsheet so we can see our progress.  Dave had been *thisclose* to Onederland the past 3 weeks and today he made it!  WAHOO!  I'm so happy for him.  
My weigh-in was great, I actually lost 5 pounds!  I'm amazed because I've been having a lot of trouble limiting my portions to Bandster sizes.  I have no restriction at all and the hunger is really hard to deal with!  I keep telling myself that it isn't going to kill me, that I'll get restriction soon enough (my first fill is in 10 days, I'm sure it'll take more than one but hey, one fill is better than no fill, right??).
I decided rather belatedly that I want to set little weight loss goals to keep myself motivated and mark my progress.  Losing 10% of my body weight seems to be a good way to start and VOILA!!  I'm there already!  
My next goal is getting my BMI under 50, which is just 5 pounds away!  My goal after that is 24 pounds away, I'm hoping that it's not so far away that I lose heart.
Like Dory said in Finding Nemo:  Just keep swimmin'!
---
2 weeks out was an exciting week in many OT ways....
May 04, 2007
To start I'll say that I am doing great.  I've moved on to soft foods per my surgeon, my incisions are healing well and are to that dry, scabby, itchy stage.  Weigh-ins at my house are on Sundays so I'll update my ticker tomorrow morning.  I doubt I've lost much, mostly because I haven't had time to exercise much because of both good stuff and bad stuff,  The bad first.....

One of my 11 month old twins landed herself in the ER for stitches on Monday night!  She was puttering around the kitchen with me while I was cleaning up dinner.  No big deal, we do the same thing almost every evening.  This time she pulls one of the chairs (heavy metal) over on herself and the back of it lands on her face!  At first I thought it was just a bump and she was crying from being scared but then i saw a little blood right beside her left eye (on the outer corner) and a small gash so off we trekked to the ER.  To make a long story short, she is fine, there is no damage to the eye itself, she got 4 teeny little stitches by a pediatric opthomologist, they had to put her out for the procedure so she had an IV, the whole thing was pretty traumatic for both of us, we were there for almost 7 hours and didn't get home til after 1 am.  Needless to say I was exhausted the next day because her twin sister gets up bright and early every day.

Now for the good....

My 9 year old son is autistic and is non-verbal.  He's as smart as a whip and is very frustrated about not being able to communicate with us.  On Thursday his long-awaited ACD (assisted communication device) arrived at the clinic at the hospital so again I treked down to Children's and had our first of many appointments for both he and I to learn how to use it.  I, being the more tech-savvy one of the family, get to program it and put in all the customized stuff specific to Kevin's needs.  Like he loves books so I loaded about 40 pictures of all the books he loves and programmed the keys to say the title when he presses them.  That part alone took me about 4 hours, I have so much more to do but it's a start!

To get back on topic, I saw my therapist this week to start dealing with my food issues.  I've seen this lady for about 5 years off anf on (more off than on though) and she has seen me though many other issues, but we've never worked on food.  So I started with that.  It is going to be great I think, in just that one appt. I learned so much from her.  I will always struggle with an abnormal relationship with food but with her knowledge and guidance I believe I can learn to cope with it and work with my band to lose weight.

So today I am going to get back on the exercise horse, so to speak, and get my butt moving again.
---
About Me
Feb 03, 2007
Member Since
---
Friends

29



---
Latest Blog

11
Still at it!
Fill.... and an unfill.... and a plateau
Another fill and Evil Frosted Mini Wheats
The great exercise bicycle saga
Another fill, up to 7.5 ccs now
50 pounds gone but feeling bummed??
2nd fill, vacation, birthday party, OH MY!
Had my first fill!
Met my first WL goal!
2 weeks out was an exciting week in many OT ways....
---