Vitamin D3 Dry
Where do you get it? Does it say dry on the bottle? I can never find it. All I find at the drug store is just vitamin D3. I asked at the drug dept. at walmart today and they said I would have to have a prescription for it. Is this correct is it a prescription?
I get mine from Vitalady online.  She is also a member here and frequent poster. 

You are supposed to use the "dry" Vitamin D, not the one's that come in the capsule and have a liquid inside...we don't absorb those.

They are pretty inexpensive and I think the choices are 50,000 units or 5,000 units for dosage strengths. 

Do you know how  much you are supposed to be taking?
Go to vitalady.com to order it.  It's not script. The "smart person" at your Walmart may have been thinking of the 50K IU D2 capsules, which are script, but they don't work well for post ops. Trust me, I've used these for almost 6 months with a rise of 6 points in my D level. DAVE
Dave Chambers, 6'3" tall, 365 before RNY, 185 low, 200 currently. My profile page: product reviews, tips for your journey, hi protein snacks, hi potency delicious green tea, and personal web site.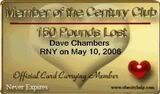 I take this, but who knows if it is the right thing or not.
http://www.amazon.com/Nature-Made-Chewable-Vitamin-tablets/d p/B0038MV8IU
I take 2 AM and 2 PM for a total of 1600 IU of D3 in addition to what is in the celebrate calcium.  My vitamin D was 53 before I started supplementing, and the lab missed this on my 6 month labs.  I have a slip to have it re-tested, but I haven't done it yet.
The ones I have are from  Walmart, Spring Vally brand they just say D-3 vitamin 1000 IU but I read on here that we should take D-3 Dry? I don't know what that means. I just bought some vitamins from walmart they are Spring Vally Ultra Women's Pack, Says they are new they are30 packets, one packet daily. Says they have 1000mg fish oil, 1800 IU D-3, 1100mg calcium( but it is carbonate) and 400mg cranberry and tons of vitamins.  I don't know if anyone would think it is a good choice but I'm giving them a try. Sometimes all this stuff gets a little over my head. Thanks. Judy
Dry means it's water miscible, not oil miscible.  It will dissolve in water.  It's not in oil.

Is it a tablet or capsule with powder inside?  If so, it's probably dry.

Is it a softgel that looks like a little football and has oily or gel-like stuff inside?  If so, it's not dry.

The calcium carbonate is not a good choice because we can't absorb that after RNY because we don't have enough stomach acid.

Kelly

No, that's not correct.  You cannot get D3 by prescription.  You can only get it over the counter. 

It may not say dry on the bottle, but if it's a tablet or capsule with powder inside, it's probably the right stuff.  If it's a soft gel with oily stuff instead, that's the wrong stuff.

I order mine from vitalady.com because I take 50,000 IU and you can't get that big of a dose in the store.  If you want a small dose, though, you can get it at Walmart.

Kelly

Thanks, Ihad  talked to the druggest and he said I can get it but I have to ask for it because it is behind the counter but he was out of it. I went back today and he wasn't there and the lady that waited on me said I have to have a prescription. She tried to sell me some capsules that you take one time a week so I said no and I will talk to the druggest next time I see him.  I think she just didn't know what I was talking about. I do buy D-3 over the counter but it don't say dry but it is a tablet. I just don't understand what they mean when they say it has to be dry. Does that mean Not to get softgels maybe?