Food Questions
I read bites and vites alot......i have found the protein coffee recipe, I know what protein drinks to buy from GNC for immediate post-op.     I wonder what kind of fage yogurt ya'll talk about?   Is it the small package with the separate compartment of fruit (hope hope hope so, cuz my picky picky self likes it) or is it that bigger tub of the plain stuff? (hope not hope not hope not)
Also, wondering if any of you are familiar with TEXMEX food, what would you eat?  We ate there today and I was reading the menu thinking......wow......what would I eat here if I already had the DS.
I would also like to know from any of ya'll that have "bladder" issues........will the need to pee every 6 seconds EVER go away after I start ingesting 64 oz of water a day.........cuz lord knows I have tried to increase my water consumption just to try and "get used to it" and lord talk about spending my whole day in the bathroom!!!
that's all for now!  thanks!
The way I do the Fage is buy it plan and add my own fruit and sweeten with Splenda. The little Fage with the side compartment of fruit is sweetened with sugar. If you're going to go low carb, you might want to check the carb content. You can also add protein powder to the plan as well as SF syrups and SF jam.

Bladder issues. lol I go less now drinking 64oz than I did before. Crazy, huh?

--gina


5'1" -- HW 195/SW 187/GW 115 July 08/CW 121 Dec 2012
                                 ******GOAL*******
Starting BMI between 35 and 40ish? 
Join us on the Lightweights Board!
DS on Aug 9, 2007 with Dr. Hazem Elariny
Sorry...it's the big tub of plain stuff.  LOL  I sweeten it with stevia.  Never eat it totally plain...gross.  Others will have a lot of ideas on how they sweeten it up a bit with torani or davini sugar free syrups and what not, but I'm pretty simple and I just like a bit of stevia.

Oh heck yes I love me some texmex!  I usually look over the whole menu to see if they have more creative texmex options or just the usual fare.  If it's the usual fare, I get fajitas and I don't eat the tortillas...and I usually try to get double beans, no rice.  Then I eat the meat and veggies with gobs of guacamole, cheese, and sour cream.

If you tell me the name of the restaurant in question, I don't mind looking up the menu and telling you what would be DS-friendly.

I guess if your extra weight is putting pressure on your bladder...it might resolve after losing weight.  I'm not sure.  I know stress incontinence (peeing a little when you sneeze) is helped a lot by weight loss.


5'9.5" | HW: 368 | SW: 353 | CW: 155 +/- 5 lbs | Angel to
kkanne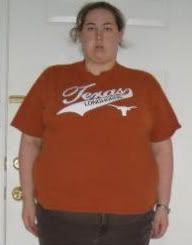 I ate the fage with the fruit compartment the whole time I was losing, but I know that a lot of people don't because of the catb counts. I'm eating the plain fage now that I'm adding back in carbs & I can put in granola.

I eat things with corn tortillas, like enchiladas. I also ate fajitas without the tortillas.

Hth!
The best yogurt is full fat Fage if you can find it.  It is the big tubs of plain Greek yogurt.  Then you add to it whatever you like.  I also buy Okios if I can't find Fage.

I like to add a LOT of splenda (I'm a sweet lover) and a little SF preserves to mine.  Love this.  Yum.

~Becky

I buy plain greek yogurt (there are other brands besides Fage,  although that one is good but expensive).  I generally don't eat it sweet - I crush a clove of garlic into it,  grate a cucumber,   add some cumin and sometimes a sprinkle of cayenne, a squeeze of lemon juice and a bit of olive oil,  and salt  & pepper.

A less expensive way of getting that type of yogurt is just to buy any ol' brand of plain yogurt,  and strain it in cheesecloth until it's the thickness you want.

 Can't really comment on the greek yogurt.  Never really liked yogurt in general.  I've tried and tried to eat it and just don't like it.  I do make tzatziki sauce to eat with chicken with greek yogurt but that's about it.

Pre-op I drank A LOT of water and was peeing constantly like every half hour.  There were many times when I would go to the bathroom and have to pee again almost instantly.  Since surgery I drink about the same amount and have to pee far less often.  I LOVE IT!

Mexican food I find is one of the easiest things to be able to find something to eat.  A lot of things are made with corn (corn tortillas, corn chips, taco shells) and I just stay away from the white flour tortillas.  Very early out you won't have room for much of these things but eventually you'll be able to find something to eat when out at a restaurant.

P. Poster
on 7/17/11 12:42 am
 I buy the big tubs of Greek yogurt, whatever brand I can find in full fat that particular trip.  I then add my own goodies to it- either sweet or savory, whatever I'm in the mood for.  I like lemon curd the best for my sweet add, and making it into tzatziki for my savory.  I also use it plain in place of sour cream, same flavor and consistency, more protein.  So, I'll make dips with it, or just slather it on food before eating.

Texmex, and Mexican are by far, some of my favorites as a postop.  They have great flavor, and I can smother them in guac, greek yogurt (or sour cream if we are out), cheese and salsa and even the driest or more difficult cuts of meat will go down like butter with all that fat and saucy goodness.  Refried beans with cheese and greek yogurt were one of my "go-to" foods early out, and they are still yummy.  I get fajitas a LOT, I'll usually eat one actually rolled up in a tortilla, and then just pick at the rest with a fork.  Same with burritos and such, I just take a few bites of the shell, so I can get to the yummy insides, then I just deconstruct and scoop out all the good stuff.  Taco salads are one of my faves- light on the lettuce, and double meat and cheese.  Chipotle is awesome as I can order a burrito bowl, hold the rice, small scoop of black beans, double meat, double cheese, guac, sour cream, pico and YUM!  One of those bad boys has about 70g of protein for the whole thing (I can now eat about 3/4 of one in one sitting, sometimes the whole thing).  There is an AWESOME Salvadorean place near me and I always get the same thing- its a steak, 2 eggs, a huge hunk of Salvadorean cheese, refried beans w/cheese, and some sauteed veggies.  Droooool.  I could go on and on.  I can ALWAYS find something high fat and high protein and make it work for me with Texmex or Mexican.

As for the pee deal, I also pee less postop.  YAY!

Thanks so much ladies.......ya'll rock!  @Kayla, the place we go alot here in G'town is called Dos Salsa.......but we go to Chuy's and Casa Ole if we are in RR or Austin.

I'm so glad to hear that I won't need to pee every 6 seconds in the future!