May 2, 2006
I remember a young girl in the 3rd or 4th grade recieving a valentine with a hippo on it, that read "Happy Valentine's Day, Tank! Tank was the nickname I was given in elementary school that name followed me all through school. After I graduated from high school, I met a wonderful man who did not care how I much I weighed. After a couple of years of marriage, I became pregnant with my first son. My doctor stay on me constantly about my weight, telling me "He did not want to have a heart attack delivering a fat woman's baby." A couple of years later, our second son was born with only a 10 lb weight gain. I was already big enough and I surely did not want this doctor to have a heart attack. I spent the next years being a stay-at-home mom and carpooling my children where they needed to be. All my time was focused on them so I did not take any time for me. They are both married now and have homes of their own. I have been on every diet that can be named and spent tons of money on weight loss programs. I just wanted to be slim and healthy for the first time in my life.

Everything changed for me in 2005, I attended a seminar on WLS with a dear friend and never dreamed that I would meet the criteria for the surgery. On July 14, 2005, I became a loser!!! i cannot believe how my life has changed. I have so much energy and boy do I love to go shopping! No more blood pressure meds and no more knee pain!

I wish I had found the website beforethe surgery but now I have found it and have taken advantage of all the posts and the questions that are answered.


May 6, 2006
I have reached the century mark-- a 102 lb weight loss. I never dreamed I would reach this point in my life!!! Now, I am so scared I will gain it back!!!
June 3, 2006
Things are good. I have come a long way, baby! I did not like myself for a long time and have had to deal with being obese for as long as I remember even as a child. I was the brunt of all the fat teasing at school and family events. One of sisters said lots of things that hurt my feelings. I would go home after family events and cry.
I am almost a year out and feeling wonderful! And yes I will say it "I am looking GOOD" I have never said that about myself!! Have a geat Day!
June 7, 2006
As time goes by I cannot believe it has been almost a year since my surgery. I stepped on the scales this morning and when that thing stopped on 127, I almost fell in the floor. I jumped off and on two or three times to make sure they were working right. That is a total weight loss of 108 lbs. It is my desire to help others make their WLS Journey so that they can have the same joy as I do!
June 8, 2006
Webster Dictionary defines "Success is achievement of something desired, planned, or attempted. " I have achieved something that I have desired all my life. I have found my true self that was buried under all those pounds of fat. A person who is happier than she has ever been in her life. I have renewed self-confidence that comes from feeling good about myself. I am in the best physical shape of my adult life. I have more fun shopping than I ever did eating a bag of cookies or a pint of ice cream. I know that keeping the weight off is my biggest challenge but with my new attitude and healthy lifestyle I know I can do it!
June 16, 2006
I had my first training session with obesityhelp.com for chapter leaders last night. I am so glad that I have made a commitment to help others on their journey through weight loss surgery. Not only am I learning to help others, the session was really helpful to me. Last night session was on digestion and how important our vitamin regimen and protein is. I am so looking forward to leading my support group and sharing my knowledge with each one. Thanks Kathy, the session was great!
June 21, 2006
I had my second training session last night. I learned so much and can't wait to share my knowledge with others. The Dunn Area WLS Support group is ready to be born, Our first meeting will July 17, 2006. I am so excited and so many have called to ask or emailed me for more information. I can't wait to see everyone!
June 23, 2006
I had my last training session with Kathy last night, I have graduated! I can not believe it has been almost a year since I began this journey. All the charts say I am normal, now, like I wasn't normal before! I guess I was normal in every way except my weight. Obesityhelp.com has helped so much and I have learned a lot from all the posts. I am going to the beach for vacation tomorrow and I will be wearing a much smaller bathing suit than I have ever worn in my whole life. WOW! Look out this girl is coming out!!! LOL
July 3, 2006
Just returned from Vacation, we had a wonderful time. I did really well with my eating and exercise. We walked every day! I am really proud of the things that can do these days. This surgery has made a complete difference in my life. I can not believe the things I can do now. I will be a year out July 14. It was so nice to meet Wendy Neighbors from MI, we met in the pool and started talking. She had WLS in February and is also a member of Obesityhelp.com. Small world!
Nancy and I had this picture taken at the beach on our vacation. She has just past her one year mark and looks great! Nancy is my dear friend and is the one who took me to the WLS seminar helped me get where I am today! Luv you, girl!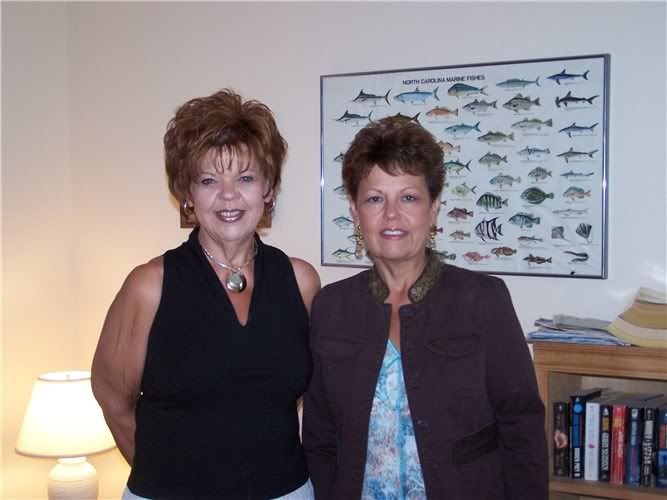 July 14, 2006
Today a year ago I was at Cape Fear Valley Hospital having a RNY, I can not believe a year has gone by. I have lost a 110 lbs and I feel wonderful. Would I do it again? a resounding YES! I am healthier than I have ever been and I am no longer taking blood pressure meds. My biggest fear is gaining it back and more as always before. The difference this time is that I have a wonderful tool to help me. I need to follow the rules. When I screw up, get back up and start again. The difference now is that it's not just about losing weight, but about keeping my body healthy and strong. Eating small meals more often helps me a lot. I think what counts is eating the right things.
I can truely say today that I like myself and I am not concerned what about what others think of me. That has been an issue for me all my life. It is not about what size I wear (even though I have gone from a 20 to an 8). It is about me being healthy and fit . I can do things that I have not been able to do in a long time. We painted our den and kitchen, I was up on a ladder and down on the floor and did not need anyone's help getting up. I enjoy walking and bike riding. Life is grand! I am ready to help others take their journey and in return It will help me stay on track!
July 24. 2006
I have not updated lately. I led my first support group meeting, I think it went well. We had about 8 or 10 people there and had a great time getting to know each other. We are looking forward to our next meeting. I have decided to take some classes at the community college, I have not been in school in a very long time. Things are good!
August 1, 2006
I had my year out appointment with Dr Classen this morning. He was pleased with my progress. He does not want me to lose anymore. He said that if I continue to lose he may have to put me on some supplements. I have never had that problem before!!!
I am now at 123 lb., I never thought in a million years I would see that weight. I am very happy where I am today compared to last year. It has been a grand year.
August 8, 2006
Today is the day! I leave for Venice, Italy for a visit with my family. The last time they saw me I had not had WLS so they are in for a big surprise. I am so looking forward to seeing everyone. My mother will be with me, she is almost 80 and feels this may be her last visit with her sisters. This trip is really for her! As a young girl, I was not very close to my mother and believe because of that and some others things I had weight problems. We are closer that we have ever been and I am so happy for that.
Caio! Italy here I come! See you in about a week!
August 17, 2006
Home from Italy. We had a wonderful time! My family was so glad to see us and it was the first time they had seen me after my WLS.
They continued to say it was so nice to see "less" of me. Venice was beautiful but was really full with tourist. Venice has more tourist this time of the year than actual residents. We did not know if our flight would be delayed due the threat but it was not. We could not have any carry-ons and had to empty our purses. We had to carry everything in a plastic bag on the plane. Security was very tight on the international flights.
September 2, 2006
Well, I took the plunge and went back to school. I thought I would be the oldest one in the class but there are a few people the same age as me. I haven't used my brain in this capacity in a very long time. WOW! The support group is going well, I am real excited about it. It is going to help me so much to stay on track. Next month, we have a personal trainer coming to speak on working out.
thanks to all the group for your support!
September 11, 2006
I wanted to share my pictures of Venice! I made a slide show for everyone to see, I hope you enjoy it!
September 26, 2006
It has been several weeks since I have update my profile. School is going good, doing a lot of studying. It seems that is all I am doing. I had my support group meeting last Monday night. It is growing and we are having great discussions. We have all areas of weight loss covered from pre-op, post-op and just thinking about it. I am very pleased with it and have made some great friends. I am doing well with my weight, it has been a little over a year since my surgery and I am maintaining my weight loss. Things are great and I am very happy!!!!
Photos

235
Before WLS

140
9 months out
About Me
Apr 08, 2006
Member Since
---
Friends

20





---
Latest Blog

10
My lastest picture
Happy Friendship Month-Top Ten Ways To Be A good Friend
Happy Almost Valentine Day
Christmas Eve 2006
WOW! I made it!
A Reflection......
Fall is here
---