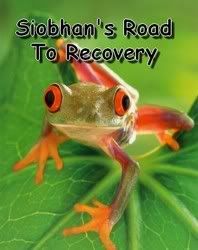 MY JOURNEY FROM 235 BACK TO 110!  


I am a 28 year old mother of three.  I have been overweight for about six years now.  All the rest of my life I was very thin, 110 max.  I even lost all my pregnancy weight after having my oldest son in 1999.  I hard a hard time after my son was born, having very little money and having to move into public housing.  I became depressed, and started having worse panic attacks.(I have had anxiety issues as long as I can remember)  My family doctor told me to take Paxil, as that is a good drug for both depression and anxiety/panic.  Almost immediatly after starting the med I started to gain weight, but I felt so much better mentaly that I didn't even care!  I woke up one day and looked in the mirror and realized "I'm fat".  Yep I let myself go all the way from 110 to 243.  I felt discusting! I then started all the fad diets and all the diet programs.  I have probably spent upward $5,000, and I bigger now then I was.  I did have some sucess with weight watchers, and going to the YMCA, lost down to 180.  Then gained it all back.  I also have a heart rythem condition that developed at age 10.  My heart would have "spells" of beating 200 beats per minute.  This usually happened when I would become anxious or exercise.  I had to quite playin softball, couldn't particpate in qym class or really play outside with my friends.  My mother took me to many doctors but no one could find out what the cause was, even with extensive testing and numerous trips to the ER.  I fianlly found a doctor when I was 19 that knew exactly what the problem was and how to fix it.  I had a cardiac ablation in Feb. of 1999.  The super fast heart rate has never returned, although I still take a beta blocker med everyday to keep my heart rate regular.  
           I have a husband that I have been with for 11 years.  He is the father of all my children.  Our relationship has become very strained since I have become so big!  He makes his "fat" comments sometimes and thinks I just need to stop eating.  I hope he realizes that I am having surgery to become healthy not just attractive ( although, that is a BIG plus!).  
         My mother is very unsupportive and says she will have nothing to do with me killing myself.  She refuses to read anything about wls, attend any support groups, or listen to anything I have to say.  If I bring it up, she will hang up on me.
        Ido have two very supportive sisters, and one very special "Aunt Judy".  She is my mother's sister and has been with me every step of the way.  She went to the inital seminar with me and all of my appts. with the surgeon.  She is very special to me and is always there to listen.  It is so nice to know that I am not completely alone and I know she will give me her honest opinion on everything having to do with wls! 
         I know this is long, but overall I just want to be healthy and live, REALLY live for my children.
  
About Me
Nov 29, 2007
Member Since
---
Friends

129



---
Latest Blog

10
Approved!!!
Psych appt. 1-29-08
Fourth Appt. 01-22-08
3rd appointment, December 18, 2007
2nd, appointment, November 27, 2007
1st appointment, October 30, 2007
October 11, 2008
September 28, 2007
August 20, 2007
July 23, 2007
---