I am a single mom to two wonderful kids. Of course, maybe they aren't considered kids anymore. My daughter Allison is 24. She has followed in my footsteps and is now teaching 4th grade in Arizona. I'm so proud of her. My son Aaron is 21. He attended UTI, Universal Technical Institute, to study automotive technology. He is now an automotive technician at  a local auto dealership! I am very proud of him, too. I teach junior high in the San Gabriel Valley. I have been a teacher for 26 years and absolutely love my job. I'm heavy into scrapbooking and love to go to all-day crops with my daughter. I can't wait to get started on my WLS scrapbook. Traveling is also a big part of my life and I like to visit new and exciting places whenever I can. I am fortunate that my kids love to travel, also, and will join me whenever they can. The picture of the three of us was taken during Christmas Break 2004 in Cabo San Lucas where we have a timeshare. We go there whenever time permits.I am at my highest weight of 279. My journey is recorded here in order from top to bottom.



Christmas in Cabo with the kids 2004


1/31/2005

I had an appointment with my PCP on Dec 30 of last year. I mentioned to her that I had been thinking of WLS. She talked to me of other patients she had referred and relayed that some had been very successful and others had not fared so well. After more discussion, and a review of the pre-requisites that Kaiser requires, she and I decided that I was probably a good candidate for WLS. My weight was 280, BMI was 41 and I have diabetes, hypertension and high cholesteral.

The doc sent me for a battery of blood tests, an EKG, and a delightful urine test that required a collection of 24 hours of urine, that then needed to be refrigerated. I met with her again on Jan 21st to review the labs. Everything looked okay except the liver/gallbladder test. The PCP told me that the elevated numbers could be caused by one of three things. First, hepatitis, second, gallstones, and third, the cholesteral medication that I currently take. She sent me immediately for a hepatitis blood test.

She also sent referrals for the nutritionist, the psych and the U/S for Gallbladder. I go to the psych tomorrow, Feb 1st. My U/S for gallbladder is Sunday, Feb 5th at 8:30 AM. The appointment with the nutritionist is set for Thursday, Feb 10. After the nutritionist I am going to drive to Riverside to try to make the 5:30 meeting at Pacific Bariatric. I know that I may not get sent there, but what the heck. I figure the seminar will not hurt me and I may just be getting a jump start on my WLS. It seems that after next Thursday, I will have all of my pre-requisites completed. Keep me in your thoughts and prayers as I journey towards a new me.

2/1/05

I was so nervous going to a psych. He turned out to be a great guy and someone I would go to again if need be. We talked and laughed for about half an hour. When he got to the question, "Do you drink any alcohol?", I had to be honest and said that I love beer. He told me I need to quit before Kaiser would ever consider WLS. He recommended that I go to the substance abuse clinic which was across the street. He also told me that he would highly recommend me for WLS. Somehow this man knew that I was hiding behind my fat. He could tell that I was ready for a relationship and encouraged me to visit him again after the surgery. He admitted that he wanted me to visit his friend at the substance abuse clinic so that he could document that I had taken care of the "beer problem." I am an educated woman, and somehow I never knew that 2 beers a night for a woman is considered binge drinking and a problem.

I visited Gary in the other clinic and he basically told me the same thing - stop drinking beer!!! I never considered beer a problem and used it to unwind after teaching junior high school students all day. Guess I need to find another outlet! Gary was great and really scared me when he pulled up my latest lab results. The high numbers with the liver and gallbladder were even higher! YIKES! He said the hepititis test was negative, so that was good. He is thinking the high numbers are related to the beer and should get better now that I am back to water. Keep me in your prayers, please.

2/5/05

I went for my gallbladder ultrasound early this morning. I'm amazed that Kaiser is open for this procedure on a Sunday. I got in early and had a really cute young male tech. He had the ultrasound finished in about 10 minutes. I asked if he saw anything unusual like gall stones, but he wouldn't tell me anything!! Glad he was a true professional.

I have my appointment with the nutritionist on Thursday and after that I will rush to the seminar in Riverside for Pacific Bariatric. I'm hoping that I can be accepted to PacBar and that they will send for all my lab results from Kaiser. I am trying to "rush" Kaiser, but, oh well!

2/11/05

I went to the nutritionist yesterday. There were four of us in the class. We filled out the paperwork, were weighed, and listened to the lecture. I was happy to see that I had lost a little over 4 pounds since I quit drinking diet coke and Bud Lite. I knew pretty much everything the RD was sharing because of this site. She informed us that we were some of the last to only have to have the one class with Kaiser. The policy is changing in April and Kaiser patients will have to go through classes.

After the class I rushed to the Pacific Bariatric seminar in Riverside. I made it in plenty of time. Filled out the preliminary paper and got weighed. Guess my socks weigh about 1/2 pound! I found that their scales showed me at a little over a 5 pound loss and the only difference was the removal of my socks. Hmmmmm . . . gotta watch those socks!!!

Dr. Murphy was the guest surgeon. He is a delightful man and a terrific presenter. After listening to him I have decided against the laproscopic surgery. I will now go with the open RNY. I have been thinking about this surgery for over a year. The fears have been very great. My father died of a blood clot after knee surgery and so that has stayed with me. After listening to Dr. Murphy, my fears have lessened. I now understand the importanace of the weight loss and exercise before surgery. I also bought a LARGE container of Pro-complex today. I will start this tomorrow for breakfast.

My mother died this morning. Her death was not unexpected and actually a blessing. My brothers and I feel that she is now with our father up in heaven. I saw her this morning and told both of my brothers that she died with a smile on her face. She was 87. I had the chance to tell both of my brothers about my WLS when they were at my house this morning. For some reason I didn't. I am telling myself it is because I do not have approval or a date yet.

I talked to my PCP's nurse today. Now that ALL of my labs/EKG/US and appointments are completed, she will fax the info to the head dude in LA who approves WLS for Kaiser. She told me I should hear something in 2 weeks. Keep your prayers coming!


2/18/05

I am so pumped! Something that has been worrying me for the past month is that I would not have anyone, besides my family, who would care about me. But now I have an ANGEL!!! I can't begin to express how happy I am that Yolanda Mello has agreed to be my Angel. Even though she is from "way up north" she will look after me! We "talk" almost every night. She has inspired and guided me more than she knows. Thanks Yo for being there for me. Let's hope that I get approved and get a date so you will feel needed!!!

2/21/05

Home today on another 3 day weekend. Sometimes it is sooooo nice to be a teacher! I called my PCP today at Kaiser and left a message. Her nurse called me back and said she sent the paperwork on Feb 14 and that it had to go to the Baldwin Park facility to be pre-approved and then sent to Rob Peterson at the Sunset facility for final approval. Hmmmmmm - wonder how long this will take!!

3/7/05

Interesting! I was told I would know about my approval within 2 weeks of referral. It has now been three! I called Rob Peterson last week and got a recording saying he was out of the office for a week and would be back on Monday, March 7th. I waited very patiently all weekend and called him again today on my lunch break. Another recording saying he was out of the office and would return on Tuesday, March 8th. I wonder if I will get another recording tomorrow giving me another date???? Only time will tell. I want to know NOW!!!

3/11/05

I called Rob Peterson on Tuesday. He told me that one paper was missing from the referral and that he had faxed everything back to my PCP on Feb 23!!!! I called my PCP and spoke with the nurse. I asked her if the paper had been sent to Rob and she said, "Oh. I wondered why he sent everything back. All your paperwork is sitting right here." AAAAAGHHHHHHH! If I hadn't called, it would probably still be sitting there!

I called Rob again yesterday and he said he had everything and that I was APPROVED! Yeah! He told me it would be two weeks before I would get my letter of approval in the mail. More waiting.

Tonight when I got home from work, there was a message from "your doctors in San Diego" on my machine. I called back, but their office was closed until Monday. It was the office of Pacific Bariatric. OOOOH HOOOOOO! I know they are going to tell me that I have to attend one of their seminars and fill out all the paperwork for them. Little do they know, I attended their seminar in Feb and will fax all this paperwork on Monday. Things are moving very quickly, now.

3/22/05

Got the call from PacBar today at work. They wanted me to come TOMORROW for my consults. Wow! I said that I had next week off for Spring Break and my appointments were immediately changed to Wed., March 30th. This makes things so much easier and I won't have to take time off of work yet. Dr. Tanaka will hopefully be my surgeon.

3/24/05

Today the consultation packet arrived from PacBar. I will be seeing Dr. Tanaka (surgeon), Dr. Judith Olmstead (psych) and Dr. Bhupinder Khehar (internist) on the 30th. I made reservations at a lovely hotel on Mission Bay and will get down there the day before. I will be well rested and ready for those appointments. Then I hear the waiting for approval starts again!!!

3/28/05

Started back to Curves today. Boy, has that taken me a long time. While being weighed and measured, I noticed that it has been almost one year to the day since I was last weighed and measured there. That means I have been paying them to be a member for 11 months and have NOT gone! Money to burn, I guess.
I weighed 267 which is 12 pounds down since January and 7 pounds lost since my PacBar seminar last month. I know I can do this! I have been eating tons of protein - shakes, protein bars, chicken breasts, cheese. I crave veggies and find myself eating lots of cherry tomatoes and broccoli between meals. I also tried a grapefruit from one of my fruit trees and found it delicious! This is really strange because we have lived here almost 20 years and I have NEVER eaten one before. Maybe it was the Pico de Gallo on top that made it so yummy. I will go to Curves again tomorrow morning then it is off to San Diego tomorrow afternoon. I can't wait! On the way down I will stop in Carlsbad to shop at the largest scrapbook store in So Cal. It's called "Ever After" and I usually leave a ton of money with them.


3/30/05

Today was the marathon day in San Diego. I made my stop at Ever After yesterday afternoon and then checked into the Handlery Resort on Hotel Circle. What a disappointment that hotel was. They gave my room to someone else early in the day and so I had to have a smoking room. I can't stand the smell of stale cigarette smoke especially in a closed in room that I have to sleep in! I opened up the slider on the balcony and the room aired out. When I checked out this morning, $40 was taken off my bill because of the inconvenience. Not too shabby, but still didn't make up for the nasty smell.

All the consults went well. Dr. Tanaka is a dear and not as harsh as I thought he would be. He asked me for my medications and of course they were in my envelope on the floor. I climbed down off the exam table, showed a lot of skin as that HUGE gown fell off my shoulder, and grabbed the envelope. I tried to hand him the paper I had typed out but he said to give them to him verbally. Hmmmmm . . . He told me I HAVE to have the surgery open because of my previous hysterectomy. That's okay with me. Then he asked if I had any questions and of course I had to climb down again, show some more skin (those gowns are really something!!!) and get my question paper. He was very patient. Answered everything and said the decision would rest with "the other two."

The psych was delightful. Her name is Judy Olmstead. Don't know why I was sooooo nervous!! She and I discovered that we had a lot in common. Everything from losing a family cat who had been with us over 15 years, to losing our moms in the past couple of months from the exact same thing, to our names being the same. We had very similar childhoods, too. I felt like I was talking with a friend instead of a psych. She asked me to come back to visit her after the surgery.

Then it was off to wait for the internist, Dr. Khehar I was there almost 2 hours early (12:10 for a 2:00 appt), so I decided to sit and read. During the day I finished almost all of Carnie WIlson's Gut Feelings. The doc was at lunch at the time. He took a very long lunch and finally saw me at 1:45. He asked me, "When did you first realize that you were overweight?" I said at about 10. He looked at me with big eyes and said, "So, you have been overweight for over 40 years?" Don't know why he seemed so shocked. Maybe it was because he was tall and lanky. He thought I would be an excellent wls candidate and wished me well.

So here I sit. The waiting begins again. Pacific Bariatric's paperwork says I will be contacted in 21 days. However, Myla, my caseworker, said it will be closer to 10 days. Then the surgery date could be another 2 months! Oh, I hope and pray that it is much, much sooner.

By the way, I asked Dr. Tanaka how long I would be in the hospital. He said 3 to 4 days. Then I asked if I had to stay in San Diego and he said yes, for a few more days after leaving the hospital. I know my kids will both have to work, so I am going to reserve the Summerset Suites since it is so close and I can walk to any appt I might have. I just have to hope for a Monday date so they can take me down on Sunday and stay Monday. Then, when I am ready to be completely able to return home, I will call one of the kids for a ride!!! My daughter is in the middle of student teaching and can not take off more than a day. My son is an automotive tech apprentice and I'd hate for him to miss work, too. I really don't mind being alone in a hotel. Figure I can get lots of reading and scrapbooking done!!


Oh - forgot to mention one important detail. I almost didn't qualify today because I lost about 12 pounds and my BMI is now under 40. Go figure!!

4/7/05

Wow! Last week at this time I was in San Diego at my meetings with surgeon, internist, and psych. Today I got the call from Pacific Bariatric asking when I wanted the surgery! I finally decided on April 27th. I am stoked!!!!!

4/9/05

BELIEVE IN YOUR HEART

Believe in your heart that
something wonderful is about to happen.
Love your life.
Believe in your own powers,
and your own potential,
and in your own innate goodness.
Wake every morning
with the awe of just being alive.
Discover each day the magnificent,
awesome beauty in the world.
Explore and embrace life in yourself
and in everyone you see each day.
Reach within to find your own specialness.
Amaze yourself and rouse those around you
to the potential of each new day.
Don't be afraid to admit
that you are less than perfect;
this is the essence of your humanity.
Let those who love you help you.
Trust enough to be able to take.
Look with hope to the horizon of today,
for today is all we truly have.
Live this day well.
Let a little sun out as well as in.
Create your own rainbows.
Be open to all your possibilities;
all possibilities and Miracles.
Always believe in Miracles.
~Author Unknown~ (thanks Konni)

4/13/05

Yesterday my kids took me out for my birthday. What a great dinner. We stuffed ourselves on sushi, teriyaki chicken and tempura veggies. I had a chance to tell them some more about my surgery. I also told them that this was the last birthday that I would be fat.

Today I decided to start a goal list. I know this will be on-going with many additions and hopefully many completions.
Goals


1. To get off all medications for hypertension, high cholesterol, and diabetes.(done except for 1/2 an atenonol for BP - 4/27/05)

2. To lose 50 pounds in three months. (done 7/28/05)

3. To be able to wrap a bath towel around me and have it stay. (done 7/20/05)

4. To be less than 200lbs by the time school starts again in September. (completed 8/20/05)

5. To get into the century club. (completed 10/27/05)

6. To be able to shop with my daughter and try on the same outfits. (completed 6/05) (wearing smaller pants than her - 9/10/05)

7. To comfortably wear the size 10 jeans in my closet. (9/23) (too big - 11/05)

8. To get the plastic surgery (tummy, arms, and eyelids) that I probably will need. (TT 7/06)

9. To wear a sexy bathing suit and not feel like a beached whale. (7/06)

10. To get to my goal weight. (170 lbs)(2/06)

11. To stay at my goal weight for many many years.(still there 6/12)

12. To be extremely contented and confident in life. (10/06)

13. To dance and my children's weddings (2/10)

14. To hold grandchildren some day.(3/12)


Surgery is in two weeks. Am I nervous? Yes. All of the what ifs are rearing their ugly heads. However, I have good friends who have had WLS and reassure me that I am making the right choice. Actually, it is the only choice. I also have a deep love for God and know that He will take care of me.

4/15/05

Just returned from an overnight trip to Disneyland/California Adventure with 54 junior high students. To say I'm exhausted would be an understatement. The kids were fantastic. Another teacher and I are the advisors for CJSF - California Junior Scholarship Federation. That club is for students who have a 3.8 to 4.0 grade point average. We have over 100 members in a school with 650 students. We have established a yearly overnight to Disneyland. The kids have to earn their own way (this year we sold Dominos' Pizza Cards) and complete 25 hours of community service. Last year we took 35 kids and this is what we planned for this year. However, the kids worked hard and we had to up our numbers to 54 this year!!!!


When I got home, I found that I had received my final packet from Pacific Bariatric. The reality of the surgery really hit when I saw the prescriptions for Lortab and Protonix. Eleven more days and a wake-up.

Next, I took care of all my email from the last two days. Most was junk, but one really excited me. It was from a lady who was inviting me to a new support group that she is setting up in Arcadia for Pacific Bariatric patients in the San Gabriel Valley. I can't tell you how long I have been praying for this!

Then, I received another email. This was from Tammara Rhone in Pasadena. I had written to her back in January about her experiences with Kaiser, etc. I never expected to hear from her. Tonight, after emailing back and forth she asked to be my Angel!!! I am so pumped! I now have two Angels - Yo, who is my online Angel from Fresno, and now Tammara who is going to be a personal Angel. We are planning on getting together a week from Monday before I leave for San Diego on Tuesday. And - she wants to start a support group in Pasadena (or reactivate one that was active previously.)

Ever have one of those hard-to-top days??? Well, this was it!!



| | |
| --- | --- |
| J | Joyous |
| U | Unreal |
| D | Distinguished |
| Y | Yummy |
| A | Awesome |
| N | Nutty |
| N | Normal |
| E | Enchanting |
Name / Username:
Name Acronym Generator
From
Go-Quiz.com
4/19/05
Today marks the one week countdown. I picked up my prescriptions today at Kaiser and reality has really set in. I still have not told too many at work exactly what kind of surgery I am having. I really don't feel it is any of their business. It has been so much easier to say I am having gallbladder surgery. I certainly don't want to hear anything negative at this point. Perhaps in a year I will tell. I wrote letters to my kids, Allison and Aaron, my brothers, Ray and Bob, and my close friends, Gary, Carol, and Ann Marie, today. Hopefully they will not read them.
4/23/05
The gathering today at Tom's Farms was great. I was finally able to see the people I have been talking to. I was really hesitant to go. Not because I am shy, but because I figured everyone was already in cliques. However, this group was fabulous. Everyone made me feel welcomed and I left with warm feelings and new friends.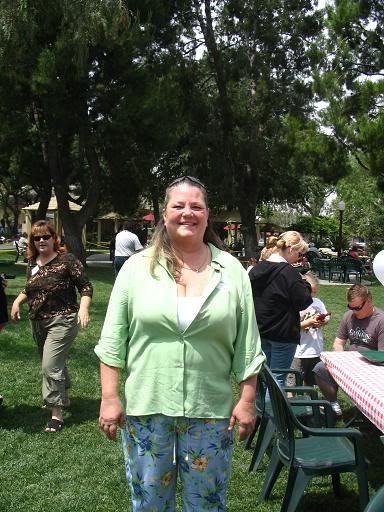 3 days before surgery - Tom's Farms
Just got off the phone with my Angel Yo up in Fresno. So good to hear her voice and encouraging words. What an inspiration she is. Just to hear someone tell me of the ups and downs of the surgery, even after two years out, is just oh so helpful. I know she is behind me 100% and will be there in spirit whenever I need her.
Just realized that I have two more days of food. I have been craving something, but I do not know what. Hmmmmm . . . I'll probably figure it out on Thursday!!!
4/25/05
Had dinner (my last big meal) tonight with my Angel Tammara. What a great and inspirational person she is. She answered all of my questions before I could even ask them. She calmed my nerves and I am finally at peace with this surgery. Today was my last day at work for a few weeks. All of the students wished me well, as did the teachers and other staff. I have to admit that I NEED a break from teaching for awhile. Those junior high kids have hormones galore this time of year.
I'm off to San Diego tomorrow for pre-ops and then it's surgery for me on Wednesday. My surgeon is Dr. Tanaka from Pacific Bariatrics. Surgery will be at Scripps at noon. Any and all prayers are most welcomed!!
Judy(whowillbealoserintwodays)
4/26/05
I HAVE WALKED THIS LONELY ROAD MOST OF MY LIFE. IT IS NOW I FEEL I DESERVE LOVE AND RESPECT AND THAT IS WHY, ON APRIL 27TH, I AM HAVING WLS . . . FOR ME, SO I CAN LIVE LIFE, THE LIFE I HAVE ALWAYS WANTED BUT HAVE MISSED OUT ON BECAUSE OF MY WEIGHT. TOMORROW IS THE FIRST DAY OF THE REST OF MY LIFE. I AM DOING THIS FOR ME, SO I CAN BE THE WOMEN I AM INSIDE.           
Dr. Tanaka and me at one week
5/6/05
My rebirthday was April 27th. After I was rolled (wheelchair) into the prep area and the IV started, my daughter helped me put a sticker upsidedown on my forehead for the anesthesiologist that said CONCENTRATE!! Another was put on my lower belly that said, "While you are in there, will you please remove all chocolate and beer glands?" I remember both the anesthesiologist and Dr. Tanaka cracking up and making sure the rest of the surgical team read them, too.
Surgery took 1 hour and 15 minutes and I was in recovery about an hour before being brought to my room. It was sooooo good to see my kids and know that I was okay.
Recovery was great and I was doing well until I went to a bariatric exercise class on the day after surgery. I was encouraged to go by the physical therapist. In fact, she came and got me. The room was small, crowded and very hot. I got light-headed and passed out! I had told the instructor right before I did it though, and I never hit the floor. When I came to I was surrounded by all kinds of doctors. I later heard that a code blue had been called. My surgeon even came out of another surgery to see if I was okay. I went for a cat scan and was moved to the cardiac floor. I stayed there for two days while my kids had no idea what was happening or where I was! They kept calling my original room and the phone just rang and rang. They figured I was asleep or out walking. Everything turned out to be okay and the "episode" was probably caused by excitement along with all the other factors.
When Dr. Tanaka came to see me the second day after surgery (first day after my episode) he informed me that he had been able to remove all the chocolate glands but could not get to the beer glands! Guess I'll have to watch that addiction!!
So, I ended up staying in the hospital an extra two days and then stayed in a local hotel for two more days. Pacific Bariatric requires that all out-of-town patients stay until their first week follow-up. I made lots of new friends both those who visited me and those I met in the hospital. It was hard to say goodbye. However, I know we will keep in touch and compare notes!
I must be one of the lucky ones as far as pain goes. I hit the morphine pump a total of 6 times. YES, 6 times in five days. I just didn't need it. I also was able to shove a pillow under my stomach the second night and slept on my side/stomach. I now sleep on my stomach (with my binder on) with no pillows. There was just no way I was going to sleep on my back! I haven't had any surgery related pain since the first day out in the hospital. Although, it sure hurt like hell to sneeze or cough for a week! Gotta love those little squishy pillows held tightly on the stomach.
I walked a lot in the hospital, more while at the hotel, and am now up to a mile here at home. I can easily drink about 72 ounces of water - unflavored! I am still on clear liquids and can't wait to get to soft foods. I really like the way drinking hot liquids feels, and love the chicken broth w/lemon pepper, decaf teas, and apple juice heated up with a dash of cinnamon.
6/02/05
Drove to San Diego yesterday for my one month check-up. It took me 2 1/2 hours for an appointment at 10AM. I checked in at 9:48 and was back in my car for the drive home at 10:15. PacBar is nothing like Kaiser. I would have sat in the waiting room for at least an hour and a half at Kaiser.
I felt my weight loss was very low compared to many who post. But, Dr. Tanaka was very pleased. I lost 29 pounds the first month and have gone from a size 20 pants to a size 14. Not too shabby if I do say so myself. He also gave me the okay to swim, return to Curves and add soft veggies to my diet. Next week will be all the other veggies. I wonder if this means I can try lettuce?? Probably not.
I went to Curves as soon as I got home and boy did it feel good. Returned again today and was officailly weighed and measured. I lost inches all over!! Here are the stats: bust minus 3.25 in, waist minus 4 in, abdomen minus 3.25 in, hips minus 3.25 in, thighs minus 2.25 each, arms minus 4.50 each! Not too bad, huh? Curves does not measure things like neck, wrist, calves, earlobes, etc.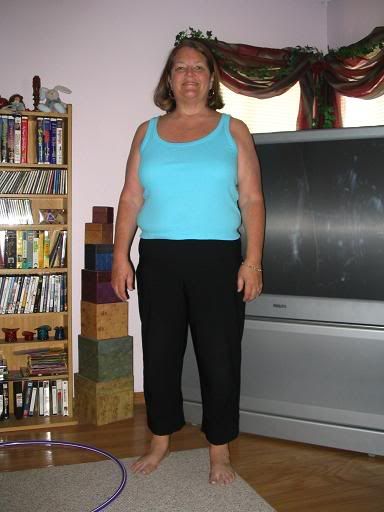 One Month Out
So far I have recieved 3 statements from Kaiser. They total over $39,000 that Kaiser is paying in full. Gotta love insurance. I sure don't know how people get by without any.
Ten more days of teaching and then I'm off for the summer. I plan on returning in September with a new svelt body (hopefully with not a lot of hanging skin!!)
6/18/05
I want to post the words of an "inspiration" song on here that I stole from Bobby. It is "Open Your Eyes" by Alter Bridge. I think it hits it just right for my situation, and I'm sure for a lot of other obese people too....
OPEN YOUR EYES (by ALTER BRIDGE)
Looking back I clearly see
What it is that's killing me
Through the eyes of one I know
I see a vision once let go
I had it all
Constantly it burdens me
Hard to trust and can't believe
Lost the faith and lost the love
When the day is done
Will they open their eyes
And realize we are one
On and on we stand alone
Until our day has come
When they open their eyes
And realize we are one
I love the way I feel today
But how I know the sun will fade
Darker days seem to be
What will always live in me
But still I run
It's hard to walk this path alone
Hard to know which way to go
Will I ever save this day
Will it ever change
Will they open their eyes
And realize we are one
Still today we carry on
I know our day will come
When they open their eyes
And realize we are one
Will they open their eyes
And realize we are one
It's hard to walk this path alone
Hard to know which way to go
Will they open their eyes
And realize we are one
Lost the faith and lost the love
When the day is done
Will they open their eyes
And realize we are one
I weighed in this morning at Curves. I am NOT losing nearly as quickly as most other people on this board. I am at 224 pounds which is only a 37 pound loss since surgery 7 weeks ago. My grand total is now 55 pounds.
I went to get measured for a new bra today at Creative Woman, Wizard of Bras. I have never been measured before. I just knew that the 42DD that I was wearing was getting a little big. Well, to my surprise, I wear a 38G. Yes, that is G. Wow, I bought three new bras and couldn't wait to get home to try one on with some of my clothes. I tried one with a tank top and I look HOT! What a difference a correct fittng bra can make. All this time I was smashing myself into a DD.
6/19/05
My daughter and I have been busy shopping getting ready for our two week trip to Cabo. I can actually fit into some of the same pants as her. WOW!!! Since I still have about 50 pounds to lose, I guess this means I will one day be smaller than her. This is mind-boggling.
I am also going on a Caribbean Cruise with a friend in late July. I know I need to get something to wear for the two formal nights, but I will wait until I get back from Cabo. The cruise is still about 7 weeks away, so I KNOW I can lose some more ugly fat by then!!!
7/02/05
I went to Curves today for my official monthly update in weight and measurements. Down 16 pounds this month. At first, I was really disappointed in the weightloss. I read of others on this board who are losing over 30 pounds a month. But . . . when I really thought about it, 16 pounds is over a 1/2 pound a day. At this rate I will reach my goal in three months. Wishful thinking! I lost inches all over again!! Here are the stats: bust minus 2.25 in, waist minus 2 in, abdomen minus 3.75 in, hips minus 2.75 in, thighs minus 2.50 each, arms stayed the same. Not too bad, huh? This makes a grand total of 30 1/2 inches lost (in the areas Curves measures) in two months. I can live with this! Of course I had a different measurer this time. Oh, yes. Since surgery, my body fat has gone from 45.30% to 40.40%. Hmmmm . . . wonder what it is suppose to be.
7/30/05
Back from Cabo and off to the Caribbean tomorrow. I ended up losing weight in Cabo while at an all-inclusive resort for two weeks. Not too shabby if I do say so myself. I plan on being very good on the cruise, also.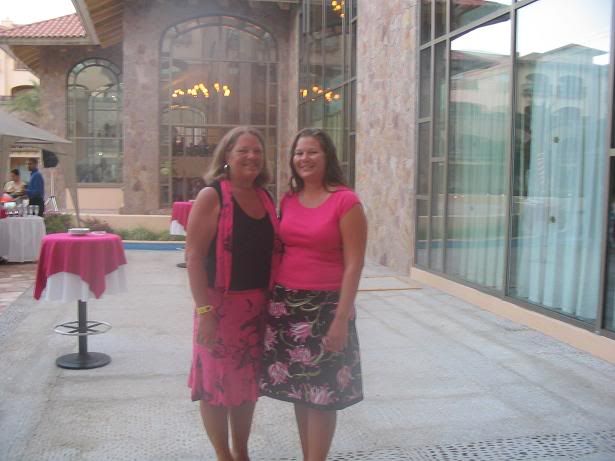 My daughter and me in Cabo - 2 months out
My three month appointment with Dr. Tanaka went well yesterday. I weighed in at 208 and therefore made my 50 pound by three month goal. YEAH! I will get measured at Curves upon my return from the cruise. All of my bloodwork was great. I started on Calcium today but do not have to worry about iron at this point.
I have a new addiction, though. I LOVE shopping. I have been out with my daughter for the past few days as we get ready to return to work in September. I discovered that I can easily fit into size 12 pants at New York and Co. Today I even had on size 10 jeans and had them buttoned and zipped. I bought them even though they were a little snug. Sure hope I don't forget them in my closet next month when they should fit!!
8/08/05
The Caribbean cruise was great. I knew there was lots of food on cruise ships. Just never realized that I was surrounded by it 24/7. I took my own water bottle that held 64 ounces. I kept it with me out by the pool and on shore excursions. There were so many passengers who were soooo envious of that bottle. By sipping all day, I was easily able to stay away from food and foofoo drinks. Cruise ships now have special selections for the carb and fat conscious person. I also took my Magic Bullet and made my protein drink every morning. I am happy to say I lost 7 pounds during the week!!
Kennedy Space Center - 3 months out
8/22/05
I'm home from a very relaxing week in San Clemente. The beach weather was nice and cool. I slept really well at night. My daughter and I did lots of "scrapping" while there. We schlepped all our scrapbook stuff with us. I started my WLS scrapbook and am proud to say I got about 24 pages complete!
While at the beach, I became an ANGEL! I am so pumped to be Dennis Love's angel. He is getting ready for surgery at Scripps with Dr. Tanaka. He is making a very wise decision in my opinion. WAY TO GO, DENNIS!!!
I am happy to say that I got on the scales this morning and I am now at 196! I'm in WONDERLAND!!! Or is it "Onederland?"
8/27/05
Just had to add today that I went to an All Day Scrap with my daughter. This means we were with a group of women from 10AM to 10PM working on our scrapbooks. I had not seen some of these women since April before my surgery. One of the women looked at me today with a puzzled look on her face. Finally she asked me if I had had a boob job! This was just tooooo funny. Now that I have lost over 80 pounds my 36G boobies really stand out!
4 months - in the backyard
9/10/05
I am becoming a real clothes horse now. I LOVE to shop and buy new clothes. Some of them I am buying a little small so I will have them next month!! Actually, I went through my closet earlier this week and found some new pants that are now too big. Shucks - I missed out on wearing them. Oh, well.
Today at Curves I was weighed and measured again. Down to 190. Also, lost another 17.75 inches in the areas that Curves measures - bust, waist, abdomen, hips, thighs, and arms.
9/18/05
The weightloss has really slowed down lately, but I'm thinking that is a good thing. I am now only 17 pounds from goal in only a little over 4 1/2 months. I will reach the Century Club after the next 8 pounds of ugly fat drop off. Hmmmmm . . . with everyone losing weight, where do the pounds go? Are they floating around in the atmosphere somewhere? Just something to ponder.
Last night my oldest brother got married. My sis-in-law died of cancer almost two years ago. It was so great to see a smile back on Ray's face. My new sis-in-law makes my brother so happy. She is a welcome addition to our family. My daughter, 23, and I were having our pic taken and my new sis-in-law's brother thought we were sisters! Great for me, but not so great for my daughter.
Allison and me at Ray's wedding
10/01/05
This morning I weigh 185. Seems like the weightloss is really SLOOOOOOOW now. Looking back at my profile, I guess I did lose about 8 pounds since school started a month ago. Fifteen pounds to go to goal.
Wearing a size 10 is mind-boggling. I haven't been this size since 1986 after an Opti-fast diet. I love to shop and try on clothes. I also love to buy them. At the beginning of the school year on Sept 1, I looked in my closet and decided to see how many days I could go to work without repeating any item of clothing - skirts, tops, pants, or dresses. I am happy to say that my clothes and I have lasted 22 days so far. I have worn a completely different outfit every day. And . . . I still have lots that I haven't worn. I look like a friggen advertisement for New York & Co and Kohl's.
I am now an Angel to not only Dennis, but also Carlos who had his sugery last week. Carlos is doing great. I will try to visit him soon. Dennis's surgery has been put on hold because he had a mole, (or was it a gopher?), removed a week ago. Dr. Tanaka does not want to take a chance, so Dennis has to wait for the path report. His day will come!
Last week I joined Missy, Dana, Carnie Wilson and a host of others in Long Beach for the 'Walk From Obesity' 5K walk. My friend Nancy James, who has lost a whoppin' 200 pounds after WLS, went with me. We had a blast and easily walked the walk.
Missy, Dana and me
Carnie Wilson and me
Today is a pre-walk with Curves to get in shape for next weekend's 'Walk for Hope to Cure Breast Cancer' 5K walk. My daughter and a bunch of friends will also walk, along with my ex, Paul, who will run the 10K. This is an important walk for all of us since we have family members no longer with us, who had treatment at the City of Hope. Besides, we don't have far to drive, since the City of Hope is here in Duarte.
10/20/05
The 'Walk for Hope' was great. Paul, my ex, had to ask my daughter later if it was me he had seen! He hasn't seen me in quite a while, although we talk all the time. BOY, was he surprised!!!
I'm down to 181 today. I am getting anxious to reach the 100 pound mark so I can be a part of the Century Club. I am determined to make it by Oct. 27, one week from today, which will be my sixth month anniversary. I know I can do it.
Wearing a size 10 only lasted a few short days. I am now wearing a size 8 in my pants. As you can see by my new picture, I still have to wear a M/L in tops because of the huge boobs. I don't think I will have to have much plastic surgery except on my arms to get rid of the batwings. Also, the tummy is a little droopy after this surgery and my hysterectomy in '02. Other than that, I've been very lucky, especially considering I'm 54.
10/27/05 My sixth month anniversary and down 100 pounds. What more do I need to say? I went down to Scripp's yesterday to visit my "angelette" Dennis. He looked terrific!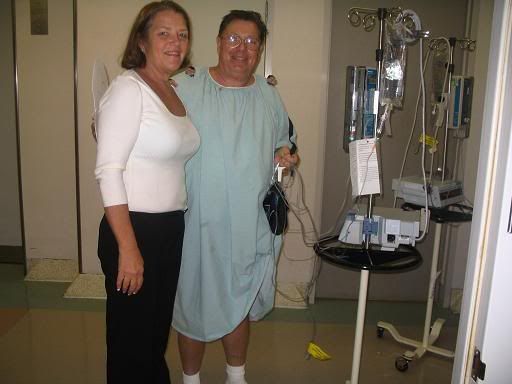 Dennis Love and me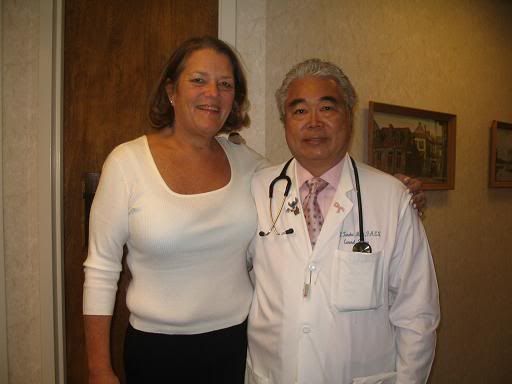 Dr. Tanaka and me - 6 months
100 pounds gone, October 2005
11/29/05
Thanksgiving weekend, all five days, was spent in Arizona with my daughter. She has signed a contract to teach 4th grade in Phoenix. She is so excited and brings smiles to my face when she talks about her new job. My weightloss is virtually at a standstill. I have only lost one more pound, putting me at 176.
Thanksgivng in Arizona
12/26/05
Tomorrow will be my 8th month surgiversary. What a fantastic journey it has been. I feel healthy and alive and sexy!
Christmas was at my brother's house yesterday. As soon as I got out of the car, I was greeted with, "Hi, bones!" from my nephew. The whole day was one wow after another. I was taking most of the pictures, but was constantly asking others to take my picture, also. What a change that was over past years!! Down to 175.
Christmas with my two children 2005
01/01/06
A new year is here and along with it some new goals.
* get back on track with the exercise
* complete the four week April2005 challenge
* STOP DRINKING BEER!!!
* reach my goal or better by my 55th birthday
* get out more
* drink more water like I did at the beginning of my journey
* become a part of a worthwhile support group
* complete more 5K walks
These goals are written in no particular order. I just want to accomplish all of them. I think the STOP DRINKING BEER goal is the most important for my health and continued weight loss. I know I'm not supposed to be having any carbonation at all, but, oh, it tastes so good. I hereby solemnly swear to lay off the beer and any other carbonation or alcohol.
On a side note, I went to the Long Beach Saturday Coffee Time yesterday and loved it. I really enjoyed seeing and talking to some of the people I met at the Halloween party. I need to get out more and I'm planning on trying to continue joining the Long Beach group every month. I know I need to be with others who understand me and what I have been through and continually go through because of WLS. And the OH group in Long Beach is a fantastic group to be with.
I would love for everyone reading this to know that you are important to me. You were brought into my life for a reason. It may be known or it may never be known as to why, but there is a reason our paths have crossed. You have changed me in someway. Be it small or larger than life, your life is forever a part of mine.
Happy New Year to everyone. May 2006 be a great year. May goals be reached or set. May your date be set. May you become a loser or continue losing. May your life be forever changed for the better.
1/14/06
This year is proving to be a "winner" so far. I now have a new "angelette", Gus Hernandez. He and I have been "talking" for almost a year. We both go to Kaiser West Covina and have shared quite a bit. I am so happy that is he allowing me to be his Angel.
Today was Carrie's "last lunch" and a large group of us helped her celebrate at Dave and Busters in Ontario. I was finally able to meet Gus in person. He and his wife, Anna, are wonderful. I love watching them interact together. They are such a loving couple. I can't wait until both of them are LOSERS!!!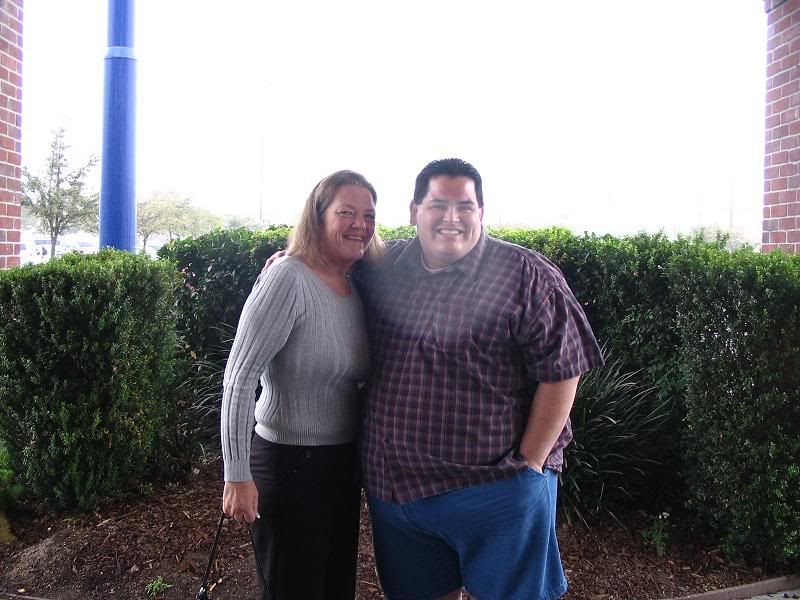 Please note the GLOW around our heads. Must be heavenly powers, huh?
2/3/06
Not much to report. I am still at 175 which is just fine with me. I am healthy and content so have fulfilled another of my goals.
2/27/06
I'm now at goal. I decided to give up drinking beer and the last pounds just flew off. HURRAY!!
3/2/06
Today my classes are celebrating "Read Across America" day which is a celebration of Dr. Seuss. I found the official 2006 "Read Across America" song which is outstanding. The lyrics are perfect and express my feelings about my life at this time.
MY TIME
After all of the hard work
And all of the things I sacrificed
Now I finally know my worth
The whole of me it has no price
I thought I'd never make it this far
I underestimated myself
And though my life has truly been hard
Now I know the greatness of my wealth
I'm rich in love
I'm rich in peace
I'm rich in hope
I'm rich indeed
I'm ready
This is My Time
All that I'd hoped for is mine
It's mine, it's mine
See I can have anything
See I can do anything if I believe
I've learned what you want you have to start first
You can't just sit back and wait on anyone
You've got to put your best foot forward
Have faith and take action
'Cause you never know where that road may lead
You can't be afraid to take that chance
You've got to sow and plant your seed
Adapting to any circumstance
You'll know when that moment comes
And childish things are put aside
When you've learned to embrace your true self
And you really begin to live your life
3/4/06
The San Fernando lunch was a blast! Here is my 10 month pic.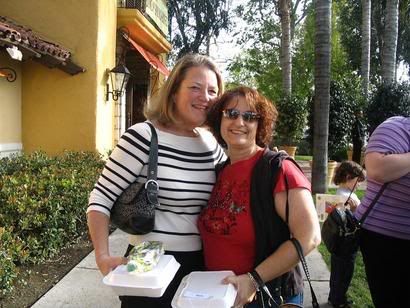 Stacie and me at El Torito
4/7/06
FREAKED OUT - SEVERE SHIN PAIN
Please assure me that this sudden shin pain on my left leg is NOT a blood clot!!! The pain developed after I spent almost the entire day sitting with my legs crossed. I only feel it when I stand or walk. There is NO pain when in a reclining positon. I will be a year out on the 27th and still freak out at complications.
4/12/06
Gus's last lunch on April 1st, was a great success. Everyone and their grandmother seemed to be there. I went to San Diego on the 2nd to be with him and his family. His surgery was on Monday, April 3rd and everything went without a hitch. Here's a picture representing the eleventh month out for me.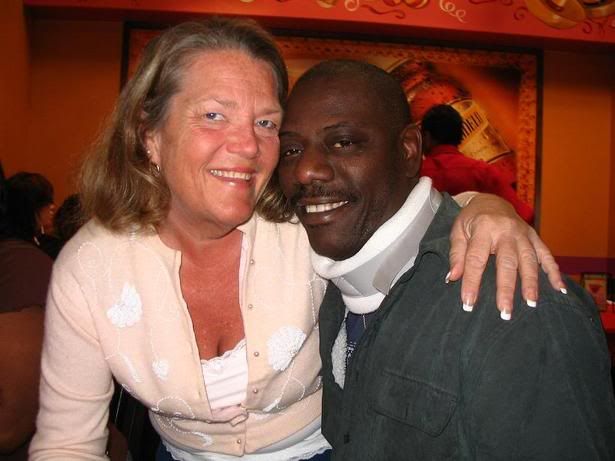 Lee and Me 11 months
I turned 55 today! I sure feel a lot younger and am told that I look younger, too! Last Friday I posted that I was having severe pain in my left shin. Several of you suggested I go to urgent care which I did. I was told to apply heat and take Tylonel. I haven't posted much on it since because I felt like such a whiner. Well, the pain has continued and the swelling started yesterday. I'm talkin' major swelling. I was in Urgent Care again last night for three and a half hours. Luckily for me my own PCP was the doc I got to see. My leg had her stymied. She was pretty sure it was not a clot, and sent me for xrays to make sure nothing was broken. Once again I was sent home - this time being told to apply ice and keep it elevated. There was no change so I went back to Urgent Care today. This time I ended up seeing a PA who specialized in orthapedics. He knew immediately that it was a shin splint! I leave tomorrow for Phoenix to spend a few days with my daughter. The PA gave me a prescription for Viacadin with Codine!!! This oughta get me through the next few days! When I return on Thursday I have to go get a cast put on my leg.
4/20/06
No cast needed! I ended up taking only one Vicadin because I didn't want to have to take it. I did take Tylenol though. The swelling is gone and so is the pain. YEAH!!!
4/23/06
Yesterday was Tom's Farms. I had a great time as usual and took lots of pictures. I'm so glad I was able to make it and not have to stay home because of a stupid cast. Guess I can't wear heels to work any more.
4/27/06
Today is my one year surgiversary! What a great year it has been. I have many new friends from the OH board. I'm so glad I finally decided to start attending OH functions. I have lost 109 pounds and all medications. I am wearing 8/10s which is not too shabby for an old 5'9" lady. Life is good.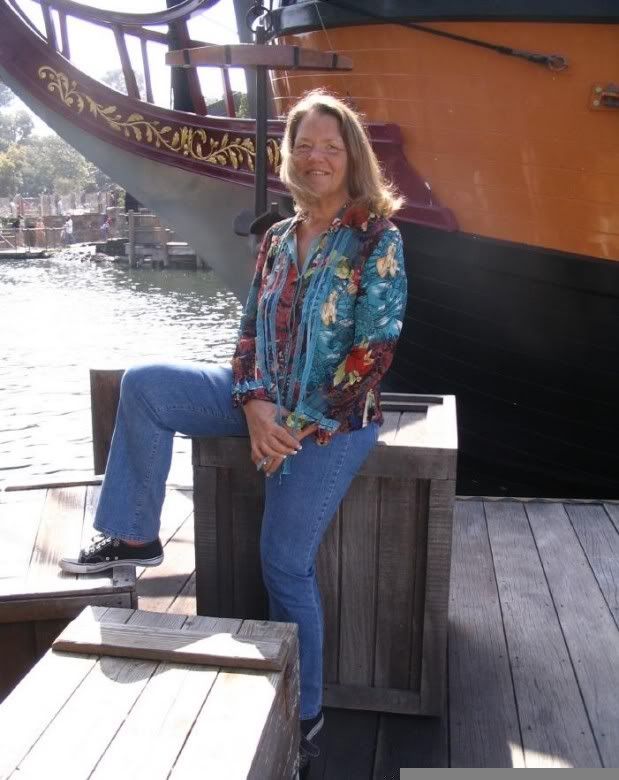 Pirate JusyAnne aka Leggs at Disneyland 4/06

4/30/06

Gus and I will be attending the San Diego lunch today. Last night a group of us met at TGIFridays and helped Mary Ann celebrate her birthday. When I got home, I was pleased and honored to see that I am now an ANGEL to SueBee Honey. She will be having surgery on May 3rd. Can't wait 'til she's with the rest of us on the Losers' Bench.


5/22/06

Just completed my third consult with plastic surgeons. I met with Dr Katzen at his seminar on the 8th. He told me I did NOT need anything done with my breasts. He recommended an "inverted-T" abdominoplasty. Then I saw Dr Yoho in Pasadena who specializes in Lipo. He told me I did not qualify for lipo because I did not have any fat on me. HUH???? He also said no breast lift and recommended an "anchorcut" abdominoplasty. My final appointment was with Dr Kent. Once again - no fat, no need for anything to be done to the breasts. He recommended a "fleur de lis" abdominoplasty. In other words, all three recommended the exact same surgery just using different names. I booked my surgery for July 18th with Dr Kent. I get back from Cancun on July 15 and will have pre-ops on July 17. I will then have about six weeks to recover before the new school year starts. I am stoked!!!

5/27/06

Thirteen months out and feeling great. Here's a pic of me with two of my little angelettes.



Sue, Judy, and Gus

7/16/06

Spending two weeks in Cancun with my kids was a great treat before my 'fleur de lis' abdominoplasty. I did things this summer that I would never have been able to do before WLS, such as climbing the highest Mayan Temple in the Coba area, rapelling down a 200 foot cliff, and riding a zip line 300 feet above the jungle floor.





Me, Aaron(21) and Allison (24) at a swing bar on Isla Mujeres, Cancun


7/23/06

I am now 5 days post-op from my 'fleur de lis' abdominoplasty with Dr. Brian Kent in Orange, Calif. I am walking upright, driving, and have been without meds since the first night. Hopefully these fricken drains will come out on Wed. when I return for my next appt.

7/27/06
Nine days post plastics at Bubba Gump's on Santa Monica Pier!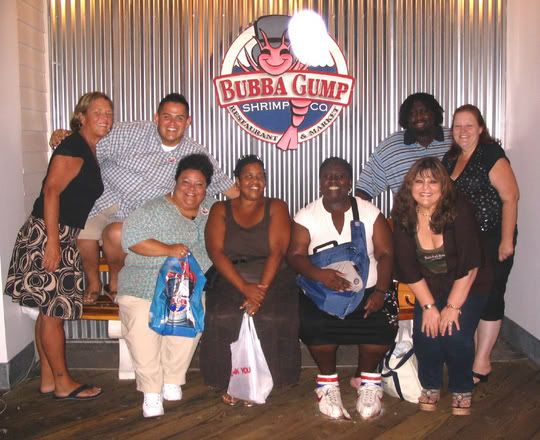 My Angelette Gus and his wife Anna and me

">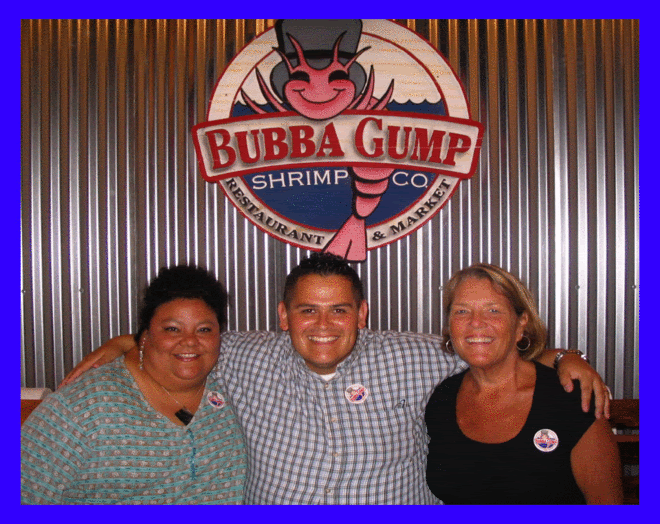 9/23/06
It has been several weeks since I have updated! My drains worked themselves out at days 8 and 10. The result was a huge seroma that has had to be aspirated twice a week. The first aspiration was over 450ccs. My last aspiration, last Tuesday was 75ccs but this was after 8 days. I am so totally in love with Dr. Kent and his staff. I don't even mind the drive to his office after work, even though the freeways are a mess at that time. I am hoping to have my arms done next summer. I want to look like Sheryl!!


9/30/06
Today was the Walk from Obesity. I walked again this year in Long Beach. We had a great group: Nichole, Gus, Kevin, Jackie, Melissa and Mom (and Donna Martin), and me. Instead of being a 5K walk, it turned out to be a 5.5 mile walk! But, we all made it. A few of us want to start repeating the same route on Saturday mornings. Here's a pic.




Skinny butts of Angelette Gus and me 11/5/06 I spent a fantastic day at Magic Mountain with some of my favorite people.  We had a blast.   
Here's a picture of the group.
Here's another picture of my Angelette Gus, Darroll, Jilliecats, Joseph (Gus' brother) and me on Goliath.  We kept riding Goliath again and again and again because there were so few people at the park.  December 27,  2006 What a great year I have had.  I am an Angel to three terrific RNY Angelettes, Dennis Love, Gus Hernandez and Sue Berry, and also to PS Angelette Melissa Alfaro.  I am still at goal and feeling great.  

Here is a picture taken on Christmas Day of my two children and me. (please don't look at what we are holding) Best wishes to everyone for a fantastic 2007. 



    April 13, 2007 Not too shabby for 56 years old! (that's me on the chaise) 




 May 5,2007 Craig Park was a blast, as usual.  Sheryl and Scott always plan a teriffic day.  Here's this year's picture of two of my Angelettes and me.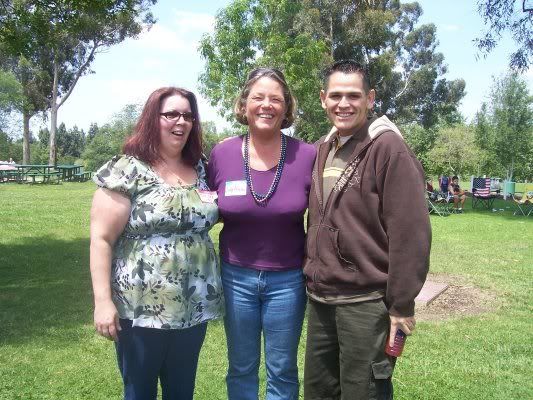 June 20, 2007
Well, the end of another school year has come.  Each year of teaching seems to go faster and faster. Four more years and I can retire!!!  YEAH!  My kids and I are busy getting ready for our trip to Cabo.  Allison will be bringing two of her friends and Aaron is also bringing two of his friends. They will ALL keep an eye on me!!  Once we get down there it is just one big party.

June 28, 2007

I have a new Angelette.  Her name is Roslyn and her surgery was on Tuesday.  I enjoyed being with her for the beginning of her new life. I also finished reading The Kite Runner while sitting in the waiting room.  This is a definite read for everyone along with A Thousand Splendid Suns and Water for Elephants. (I know these should be underlined but I can't find the option for that!) Allison and I each have about 15 books for Cabo.  We will be there alone the second week and we enjoy sitting by one of the pools and reading.


Roslyn a day after surgery.  Isn't she gorgeous?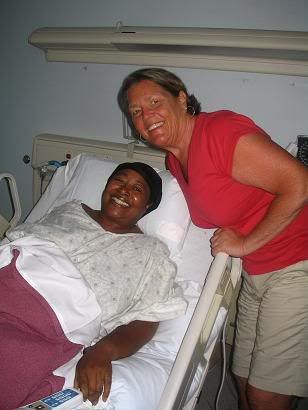 October 21, 2007

Hmmm . . . .  It's been awhile, huh?  I have done so many things since my last update.  The most exciting was a cruise with my friends to Mexico.  My BFF and I went horsebackriding.  This is something neither of us could do a few years ago without breaking the horse's back.  We loved it and so did the horses!!