10 months post-op
Jul 25, 2009
Just copying my latest AW posts from the DS board:
Today was my 10-month surgiversary. I didn't lose all my weight in 6 months like some, but I'm still losing slowly (3 pounds this month) and if I never lost another pound I would still be thrilled with this brand new life. I ran into an old friend on the street tonight and the poor man could barely string a sentence together. It was something like, "Anna...you're so... slender...and so... blonde!" ROFL I love those WOW moments.
I had a bit of a meltdown in the dressing room at Cato's last night though. When I walked into the store, I automatically went to the right, to the plus sizes. But I quickly realized I wasn't going to find a damn thing that fit. Holy Crap! Was I going to have to walk to the
other
side of the store? How embarrassing will that be?? Surely there's nothing over there to fit me!! I had to force myself to go over there. So I was trying on several shirts, mostly XL (yes, not 4x! not even 1x! XL!) and as god is my witness, every one of them swallowed me alive. I lost it. I just started bawling like a baby girl right there in the dressing room. I came home with 2 brand new shirts, size Large. Plain old "L".  And do you know that when they put those regular sized clothes on sale, those bad boys are cheap as hell??
Then, this morning, as I have done every "casual Friday" morning for the last 4 months, I tried on my dream jeans. You know the ones. The ones you saved from your skinny days hoping someday to get back into them? Well, this was the morning. I actually wore them to work:
But I digress. I promised ass pics.
First, my pre-op ass in all it's glory, playing in the fountain downtown at the last NADS meeting before my surgery:
And now, that self-same ass today, getting into the truck on the way to work: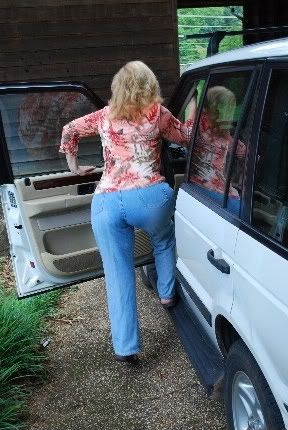 Viva la difference!!
AND THIS POST:
Sorry. Don't mean to be attention whoring so soon after my last session, but I promised Shani I'd post a pic of my new outfit. I'm a drummer for an African dance troupe, Poza, here in north Alabama. We performed yesterday for the W.C. Handy Music Festival.
Here's my new African garb: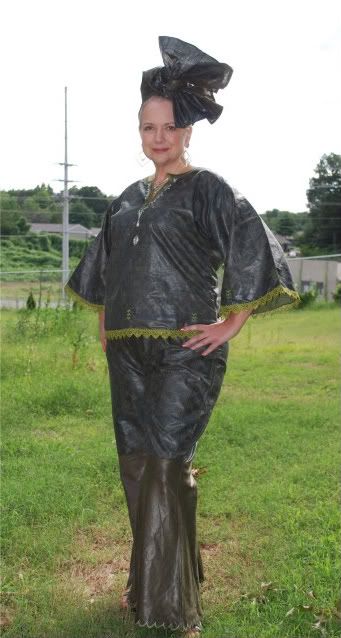 That is all.
1 Comment
About Me
Jul 25, 2007
Member Since
---
Friends

125





---
Latest Blog

24
2 months post-op
One Month Post-op
---